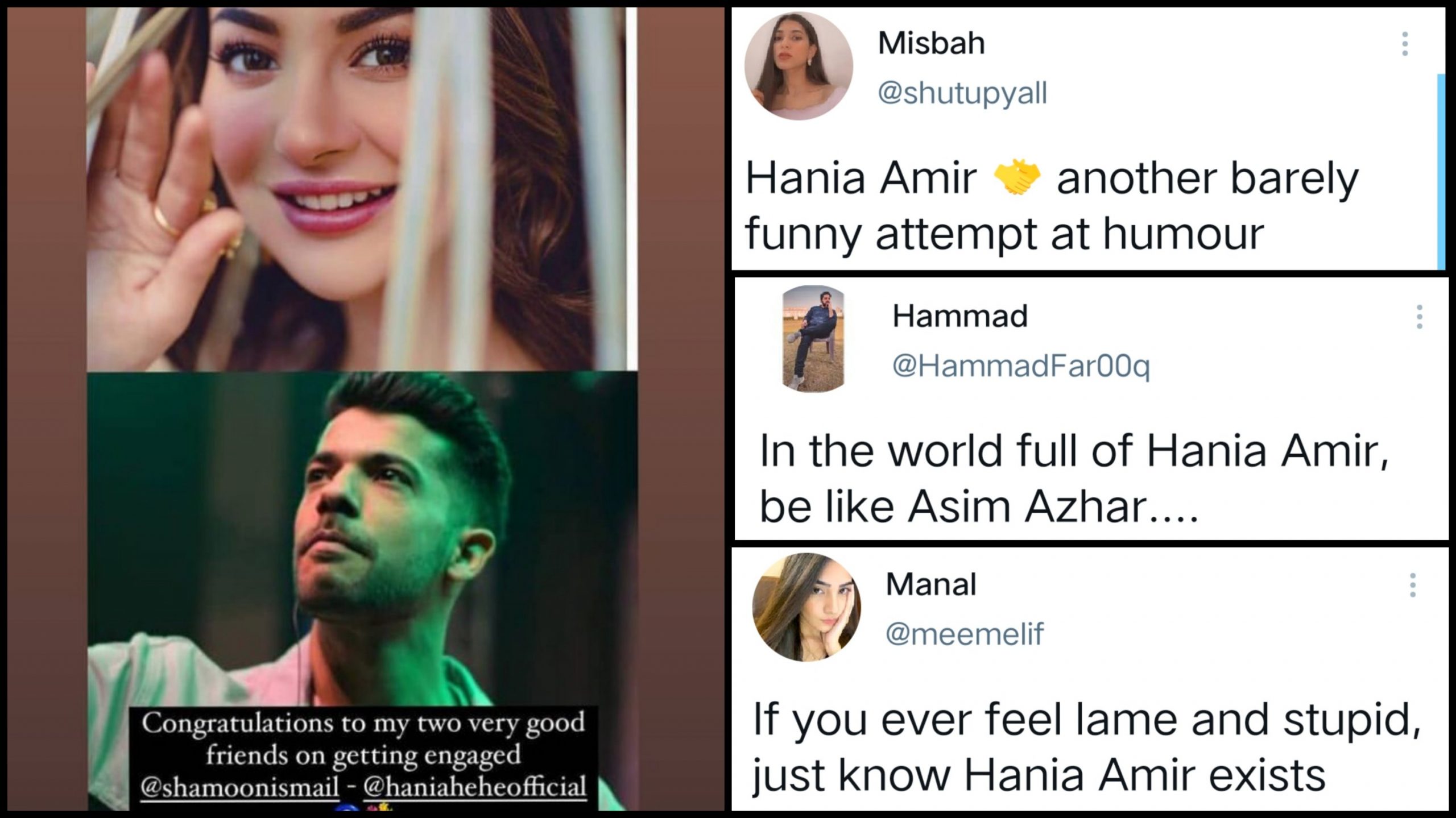 Hania Aamir, in an attempt to fool her fans, posted a mysterious photo to her stories which seemed like an engagement announcement.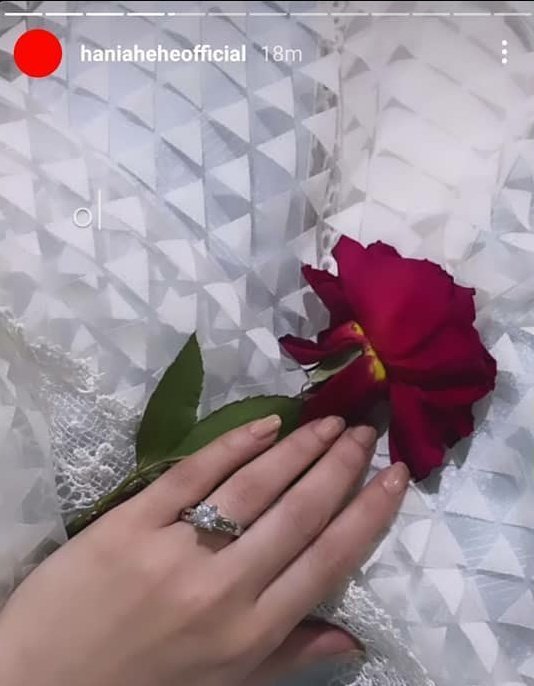 Her friends too played along and congratulated her revealing that she was engaged to musician Shamoon Ismail: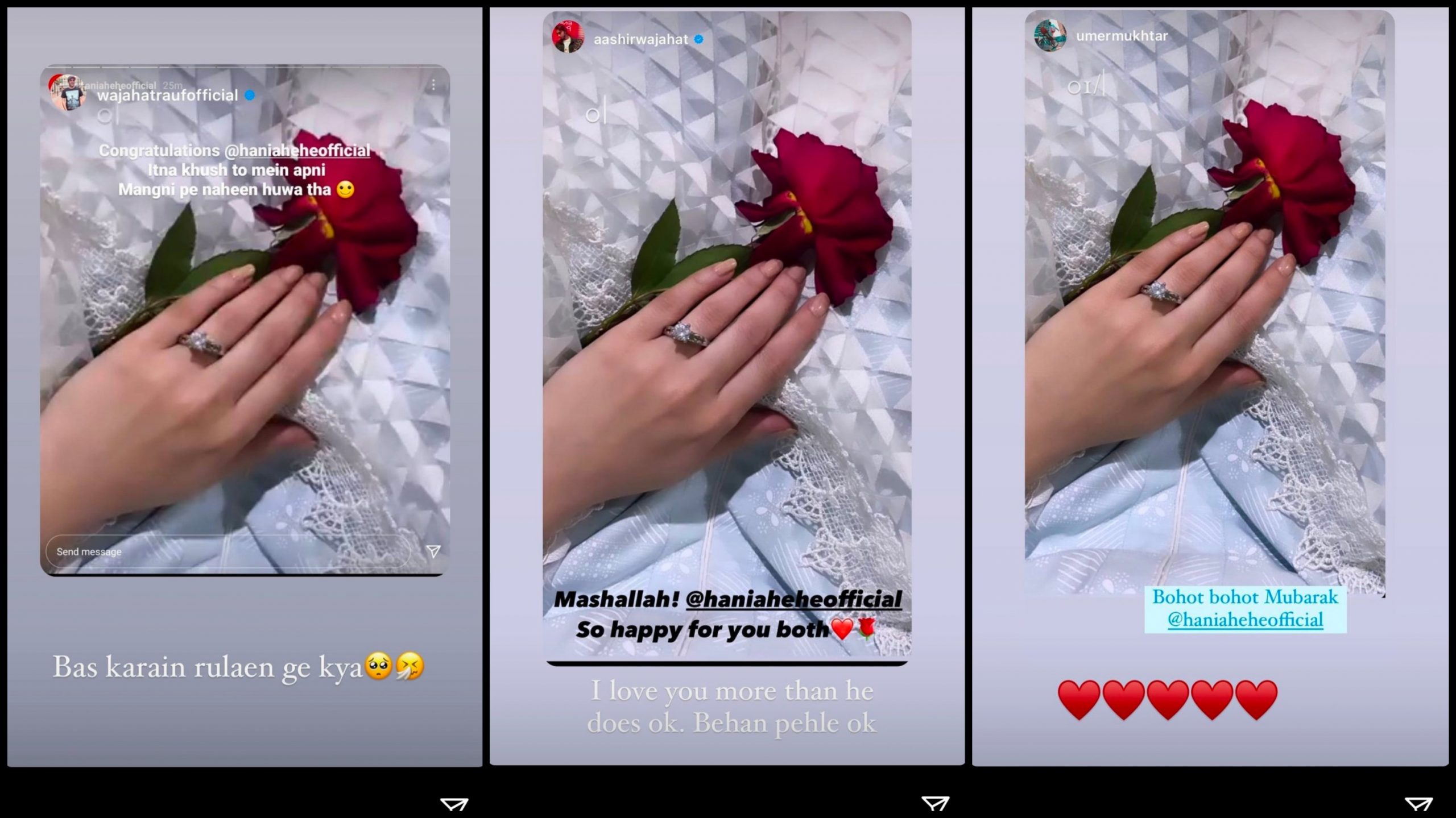 But it seems as if she'd underestimated her fans because literally no one was buying it except a handful!
Hania Amir, the prankster!😂 pic.twitter.com/xKg2ktc7jI

— Tahreem🌸 (@tweetsbytahreem) April 1, 2021
Fans tweeted out their reactions:
Hania amir and Shamoon Ismail got engaged hmmm pic.twitter.com/E1tMgfRInq

— Assad Bajwa (@oyebajwey) April 1, 2021
People found her prank to be very obvious:
Is it just me or Hania Amir's April Fools story is very very obvious? 😭😭😭 pic.twitter.com/xMf0fSWivf

— Kashaf | Oshaz stan (@tiredcavalier) April 1, 2021
People weren't too amused!
Hania Amir 🤝 another barely funny attempt at humour

— Misbah (@shutupyall) April 1, 2021
People were calling it one of the worst pranks they'd ever seen:
Damn I have seen some really bad pranks but this Hania Amir one was probably the worst ever

— soha n. (@SohaTazz) April 1, 2021
People were quick to call her an attention seeker:
Hania Amir – If word 'Attention seeker' had a face 😑 pic.twitter.com/FKN13HcbtT

— T O O B A 🦋 (@LazyEngr9) April 2, 2021
People had questions:
when will hania amir grow out of her 'acting dumb because you think it's cute' phase. we've all been through it sis but it's getting dragged way too long now

— a (@Abbasayy) April 1, 2021
People wanted her to 'grow up:'
hania amir wali attention seeking harkatain main olevels main karti thi wtf grow up pls

— Rabiya (@rawbaeyaa) April 1, 2021
There were memes!
Hania Baji's turn today! pic.twitter.com/cJoCqDZrfO

— Sarrah 🥀 (@saltysarrah) April 2, 2021
Hahaha 😂
hania amir to shamoon ismail rn: pic.twitter.com/D1TOQe41iC

— sheela khan pathan (@sheelakijawanii) April 1, 2021
Wah wah wah wah!
Hania aamir : haha april foolsss

Everyone who knew it was too obvious : pic.twitter.com/0F0SAc3F6z

— Huzaifa. (@HuzaifaQureshii) April 1, 2021
People thought that her agency was running out of ideas to keep her relevant:
hania amir, iqra aziz, yasir hussain all are managed by the same PR agency and that agency is seriously running out of ideas now 🤷🏻‍♂️

— anastipu (@teepusahab) April 1, 2021
And while people were calling her out, her fans quickly came to defend her:
If you don't like Hania Aamir, just don't see her posts. How hard is that? She won't stop doing what she does because Iftikhar from Gujranwala doesn't approve of it. You can only control what you allow into your life and not other people's actions.

— Manahil Saeed 🇵🇰 (@manahil__saeed) April 2, 2021
Exactly!
Hating on Hania Aamir wont make ur already miserable life any better tho

— Sana (@sanababarbutt) April 2, 2021
Makes sense!
Grow up, peeps. Uska account, uski life, uske dost, uske prank and the most important one: USKI MARZI!
Let her be! 🤧#HaniaAamir

— A. 👑🦋 (@BadassKuri) April 2, 2021
We're wondering the same!
i genuinely genuinely wanna know why did it affect y'all SO much? i mean i get that was barely funny, not even a haha, not even a chuckle worthy but what exactly made y'all so pissed? #HaniaAamir

— Fizzaahh⁷ (@raahipyaarke) April 2, 2021
What did you think of Hania's prank? And do you think the backlash she's getting is justified? Let us know in the comments below!