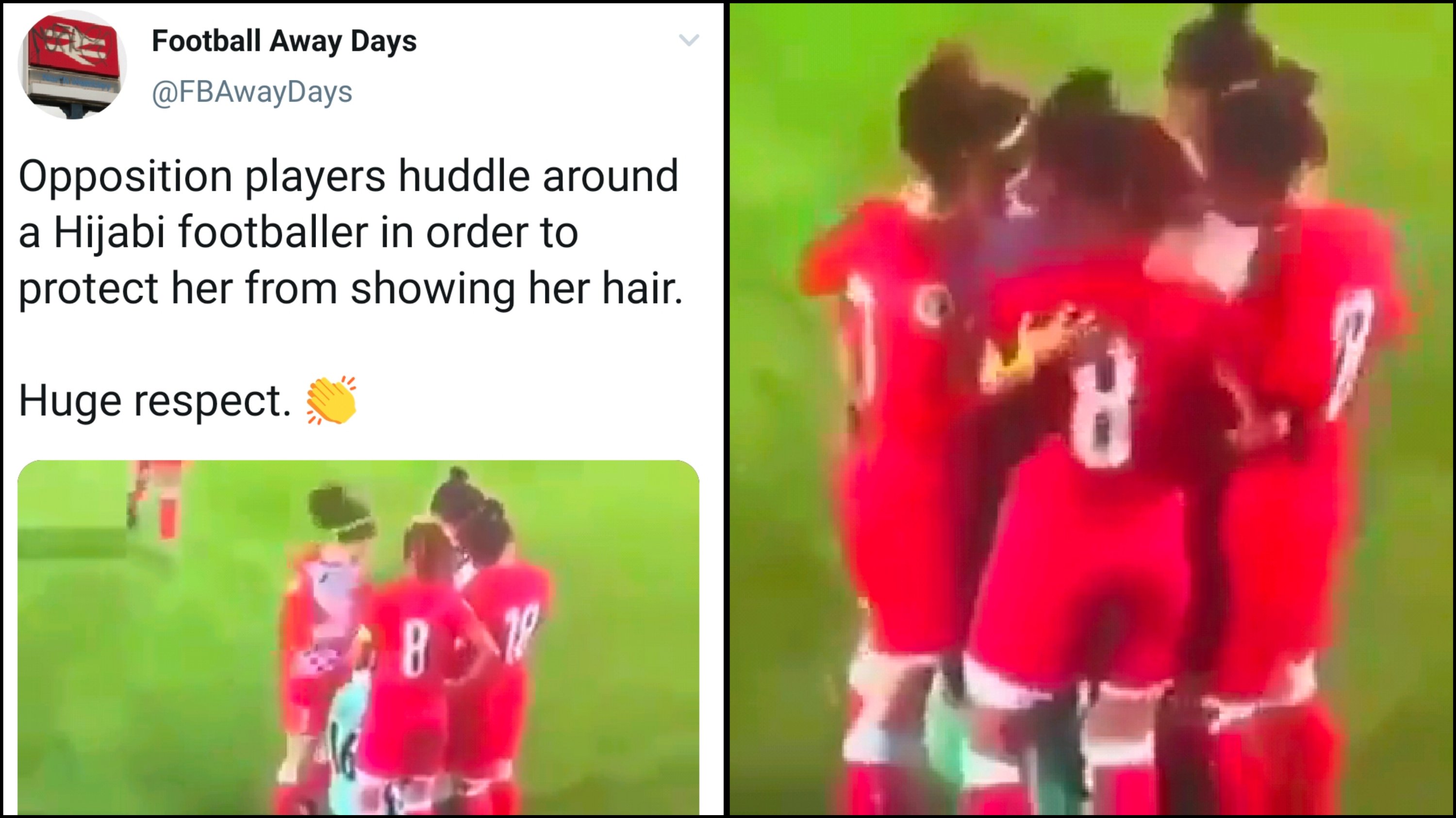 In a World where Islamophobia is at its peak, you don't see supportive people everyday, but today you will! In a football game, a hijabi player's hijab was on the verge of coming off, revealing her hair in front of the audience but the girls from the opposing team came to her rescue and huddled around her as she fixed it:
Opposition players huddle around a Hijabi footballer in order to protect her from showing her hair.

Huge respect. 👏 pic.twitter.com/AD2gF7DKXq

— Football Away Days (@FBAwayDays) October 14, 2019
This heartwarming gesture was shared on Twitter and has gone viral since then. People are lauding the girls for respecting her hijab:
@AnnaForFlorida beautiful moment in football, something positive for a crazy day

— Achariya (@tanyarezak) October 14, 2019
It sure is 💓
Sisterhood is both beautiful and powerful

— C🍸 (@ChrisMartiny) October 14, 2019
Absolutely first class!
It's her culture and fair play to those who actually ran over to cover not just those immediately around her.

You may not fully agree with the culture behind it, but the players actions are first class

— John holroyd (@Johnholroyd14) October 14, 2019
Who run the world? Girls!
World should be given to women for a reboot. This is epic🏆

— jami (@jamiazaad) October 14, 2019
People were moved by the gesture:
Brings a tear to my eye honestly when I'm seeing so much hate in other places

— 🌼 (@ruenoor) October 15, 2019
People were sending their respects to the girls:
Agreed, and respect for tweeting it.

— Seaside Reds (@RedsSeaside) October 14, 2019
Soo much respect ❤️

— Hasss (@HX54NXX) October 14, 2019
Respect ! pic.twitter.com/bfbm1uitwg

— N K (@zwhisperer13) October 14, 2019
Even people from across the border were living for the gesture:
@Jakenhoyle class that. Some things are bigger than sport. From a Vishnu Hinduism supporter.

— Buju Bantam (@chrisnewell84) October 14, 2019
White people privilege:
Funny how people are islamaphobic on this post but as soon as an English player get some stick it's a different story

— Aaron (@Aaron2wba) October 14, 2019
Just helping a sister out:
I love how the red team just calmly step into place, no hesitation.

— Kathleen Wright (@kathleen_wright) October 15, 2019
Yes!
And there was applause for their kindness.

— Maia (@maiainmi) October 14, 2019
People also stood up for the hijabi football player who was getting hate for wearing hijab:
Anyone laughing at this is straight on stupid. It's her culture and well done to the other players for helping her

— Danny (@dannymards) October 14, 2019
And while people were busy mocking her, many came to her defence:
This is kindness and respect. Shame on all of you mocking those that show kindness and respect to her deeply held values.

— Liz Holcomb (@LizHolcomb) October 14, 2019
Some, despite having their reservations about hijab, was all praise for the girls:
not sure what to take from this. I applaud the opponent for respecting the woman's culture but am struck by how absurd that culture is

— AJ (@bikeage66) October 14, 2019
Us too!
Best thing I have seen on Twitter today x

— Zahid Bhatti (@Zeddy_b786) October 14, 2019
People were appalled at the notion of covering up, but were given great explanations:
Nothing bad it will happen if a girl accidently let's a nipple slip. However, if someone covered her, she would feel appreciative. This is less stakes but it's the same logic. To her, her hair is modesty and she wants it covered up.

— Poacher Winger (@MagicianinChief) October 14, 2019
People were all about unity and diversity:
#Respect 🙏. That's football is all about. Football is about all about unity of diversity of this world. Female players have great class.

— Man City Quetta (@ManCityQuetta) October 15, 2019
And while there were a few questions raised,
So how many times does this happen in game? Cause it's gonna put a lot of stoppage time on?

— michael horsman (@mickylove22) October 14, 2019
They were answered aptly:
Less than the amount of time other players spend rolling around pretending injury.

— Heather Wallace (@burntcopper) October 15, 2019
What do you think about this sweet gesture? Let us know in the comments below!