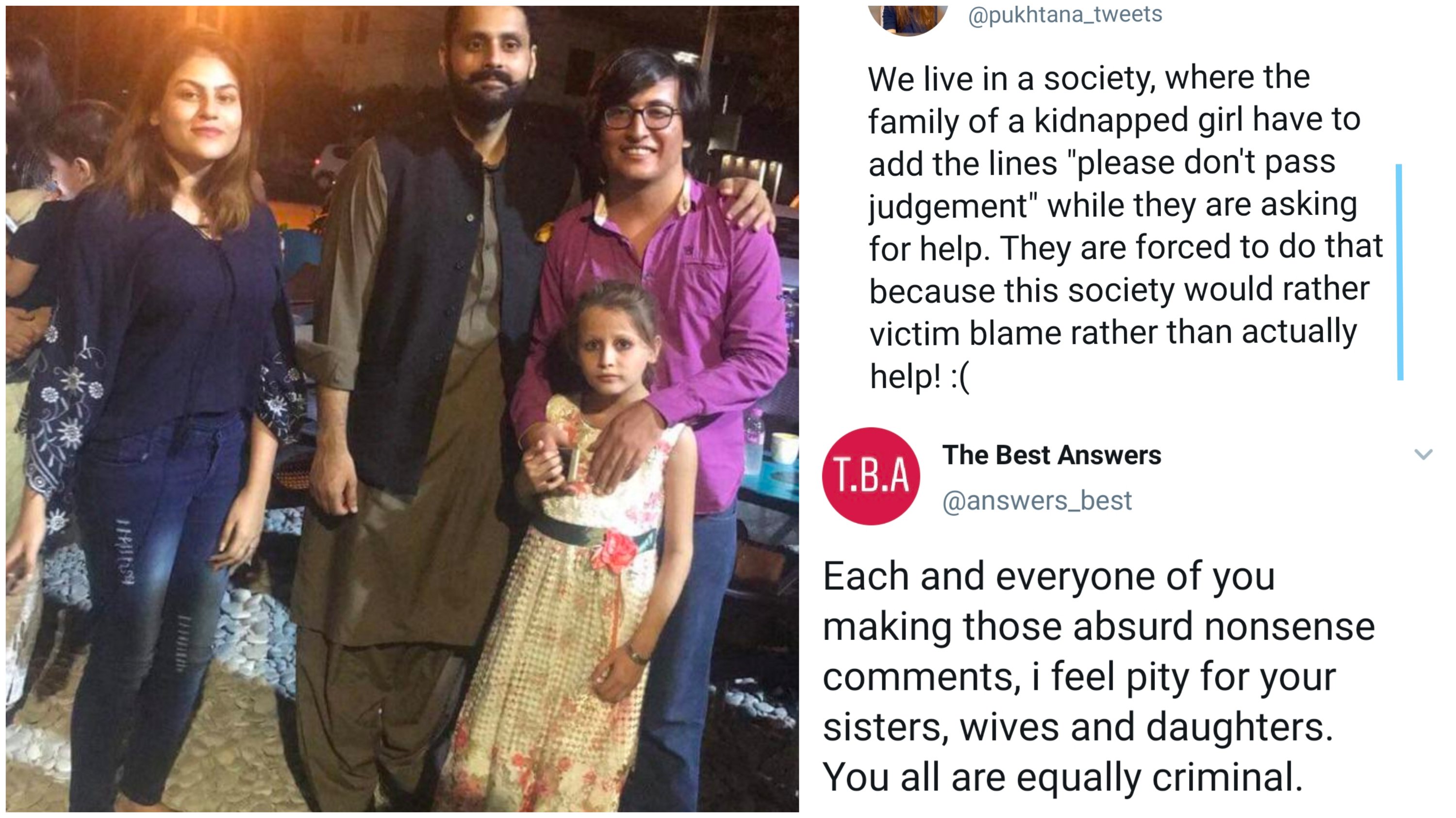 A girl named Dua Mangi was out with a friend Haris when 4 armed men kidnapped her and shot her friend 6 times as he came to stop them. The news along with the profile and pictures of the girl has been making rounds on social media as friends and family are desperately looking for information: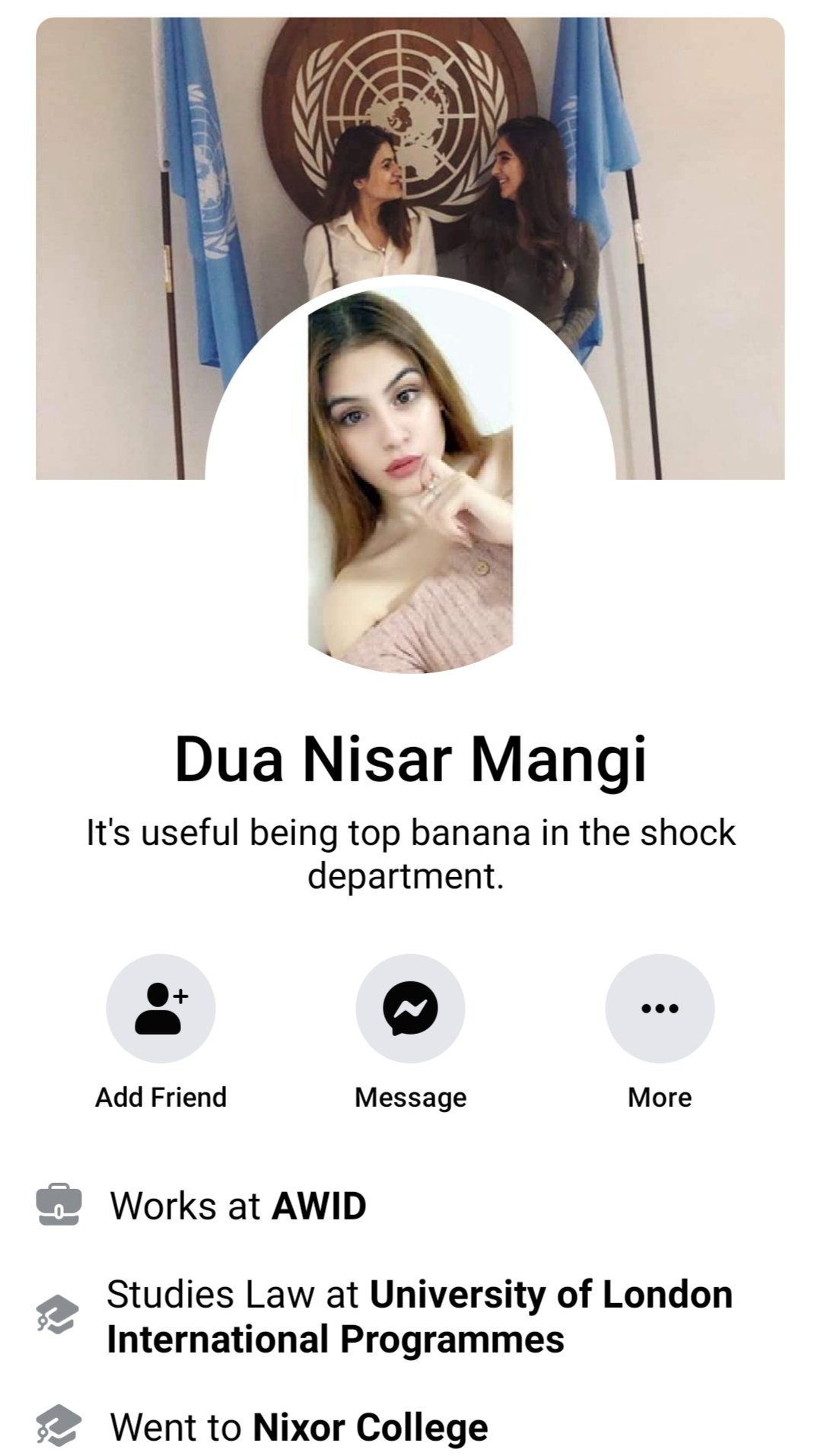 And while many are upset and scared at the sad state of affairs, some desi men think she deserved it and have made the most vile remarks under the posts:
So last night, someone i went to school with, Haris Fatah, was shot, and is in critical condition whilst his friend Dua has been kidnapped from a famous Dhabba in Karachi. The news was circulated to help search for Dua. But some ppl reminded us why Pakistan is in the state it is. pic.twitter.com/7XcKzCblt8

— Najib Shaikh (@NajibShaikhs) December 1, 2019
People were shocked at the comments coming from men at such positions:
Ffs an FIA officer?! And theres more too pic.twitter.com/Wti6tnZmMz

— Najib Shaikh (@NajibShaikhs) December 1, 2019
Beyond disgusting:
"Kidnappers ne hath acha marliya" disgusting pic.twitter.com/wiIQKWg5Tk

— Najib Shaikh (@NajibShaikhs) December 1, 2019
Umm, what even?
"Aisi nangi larkiyoun ke saath aisa hee hona chahiye" "stupid feminists ke saath aisa hee hona chahiye" You'd think one day the Pakistani man would just shut up. pic.twitter.com/qujRjjujpP

— Najib Shaikh (@NajibShaikhs) December 1, 2019
Empathy what?
It's no new matter that ppl can be incredibly insensitive but these are surely new lows even for Pakistani men? Families and friends are going through the worst rn, Dua's still missing and your input is "apna khana khud garam karo"?? And then they ask why Aurat March is so imp? pic.twitter.com/kiPrHjSdE8

— Najib Shaikh (@NajibShaikhs) December 1, 2019
Not sure who raised these men:
There's more crap

"Well done kidnappers" pic.twitter.com/vUGf4THeub

— Najib Shaikh (@NajibShaikhs) December 1, 2019
Trying to find the logic here:
"Aur Bano Feminist" what the fuck pic.twitter.com/RmYwc6oHaz

— Najib Shaikh (@NajibShaikhs) December 1, 2019
Many were furious at the comments:
I am done with social media.

A girl gets kidnapped and all these "social media pages" put up her pictures with clickbaity headlines.

And the awaam somehow finds a way to blame the victim in the comments with the most disgusting things imaginable.

If u think like this,FUCK YOU pic.twitter.com/9dOU3cL7jI

— Shehzad Ghias Shaikh (@Shehzad89) December 1, 2019
This!
Tum burqa pehny hui larki ko nhi chorty
Tum darullAmaan me rehny wali ko nahi chorty
Tum apny khandaan main rehny waliyon ko nahi chorty
Tum apni bhen, or beti tak ko nahi chorty#DuaMangi #DuaNisarMangi

— Reshail Muzammil (@reshailawan) December 2, 2019
There's a dire need for us to improve as a nation:
I can't fucking believe people. Somebody's daughter is missing since a day and somebody's son is fighting for his life but rather than praying for their safety and their families' patience, all that these assholes can do is utter bullshit. #DuaMangi

— Aneeqa♔ (@shimmerxglimmer) December 1, 2019
"What was she wearing? She invited the kidnappers:"
Four armed men kidnapped #DuaMangi and shot her friend, Haris Fatah, in #Karachi's Bukhari Commercial area of DHA. But #Pakistani men are busy in carrying out character assassination of the girl and questioning her dressing style instead of condemning the incident.#DuaNisarMangi pic.twitter.com/0a9eIH8wLb

— Andrea Rose (@Andyrockz2012) December 2, 2019
Sick!
so these comments I read about #DuaMangi and her appearance probably being the reason of her abduction made me ask just one question."THAT LIL GAL ZAINAB FROM KASUR WAS WEARING WHAT WHILE SHE WAS KIDNAPPED AND RAPED AND MURDERED?" Please if you can't pray for her safety, shut up.

— Asad (@gostudyasad2) December 1, 2019
Some were appalled at the media being silent:
Wait so it's normal for a girl to be kidnapped and the mainstream media to stay silent, and yet have the audacity to blame "feminist" for demanding justice and security for woman on streets #DuaMangi

— aima (@brownaima) December 1, 2019
"Not all men are trash:"
Incidents like these make us pseudo feminists you assholes ignoring them bastards who actually kidnapped a girl who was just freely roaming around as citizen of this country like any one of you guys .
Phir kehtay hein mard trash Kiun hotay . #DuaMangi

— Maida🌞 (@maidanotmadeeha) December 1, 2019
We hope so too!
I hope this 'Employee of Civil Aviation Authority' is fired, jailed and is never allowed to work for anyone, ever! #DuaNisarMangi #duamangi https://t.co/XjHteWMEps

— Natasha Kundi نتاشا کُندی (@NatashaKLondon) December 1, 2019
Absolutely true!
Khaled Hosseini- "Like a compass needle that points north, a man's accusing finger always finds a woman. Always."#DuaMangi #DuaNisarMangi @BushraGohar @nidkirm @nailainayat @zoiatariq pic.twitter.com/KGWYUbb8qJ

— Andrea Rose (@Andyrockz2012) December 2, 2019
Sadly…
We live in a society, where the family of a kidnapped girl have to add the lines "please don't pass judgement" while they are asking for help. They are forced to do that because this society would rather victim blame rather than actually help! 🙁#DuaMangi https://t.co/7Yh5t8sB31

— Safia diya (@pukhtana_tweets) December 1, 2019
Judging others is our national hobby:
It is honestly nobody's business what Dua was wearing why were they meeting or what they were doing. No one has the fucking right to take a gun to someones head and kidnap a girl#PrayforHarisFatah #duamangi #prayforduamangi

— Hafsa (@HafsaaHayee) December 1, 2019
A man actually argued that the kafan may have been too tight, so…
To the whole 'she-asked-for-it' gang.
Did Zainab, on her way to Quran class, also ask for it?
Did the children raped also ask for it?
What about the women whose dead bodies were dug out of their graves and raped…were they 'uncovered'? #duamangi

— Rida Khan (@RidaAKhan) December 1, 2019
People were scared:
The kidnapping of #DuaMangi seriously tells us how unsafe and horrible our society is. Even posh areas like Dha are not safe anymore(lets just not talk now about how fearfully people would be living in common areas🙂)

— Khadijaaa (@__deejavu) December 1, 2019
Is this Country even safe for women anymore? From children like zainab, jannat to teenagers like #DuaMangi and to even women who are raped in their graves! Where is humanity gone? Should we call such country a homeland? Home is where you're safe, and tbh nobody's safe here.

— Khadijaaa (@__deejavu) December 1, 2019
When will people stop victim blaming?
A girl is abducted & her friend is shot. But lets find out wht she ws wearing? Beghairat qaum tub kaha hotay ho jub chacho soye hue niece ko rape karkay maar deta hai, kabar mai mari hue aurat aur hospital mai paralyzed mareez ko nahe chortay. Janwar tak nahe choray. #DuaMangi

— Saadia Bakhtawar (@SaadiaBakhtawar) December 1, 2019
#DuaMangi abducted. Haris Fatah gunshot trying to protect his friend Dua from getting kidnapped and here we're as a society that is blind to any crime and intolerant of any emotional pain. People may not realize the damage that they are doing by placing the blame on the victim.

— Krinza Momin (@Krinzahere) December 1, 2019
Mards need to quit blaming the victim #DuaMangi In a country where a paralyzed woman gets raped in an ICU, dead woman gets raped in her grave, clothing should not b made into an excuse.

Feminists mustn't use this as an opportunity to trash hijab..1 must try to protect themself.

— Ayesha Siddiqua (@AyeshaAgenda) December 2, 2019
Desi society in a nutshell:
#DuaMangi – a young girl, got kidnapped & some people are saying that she "deserves" it because she wears sleeveless tops. Welcome to our desi society where the fingers will be always pointed towards the woman no matter what even if she's raped, kidnapped or harassed. Shameful!

— Salmaan (@SalmaanSabir) December 1, 2019
What do you think about the vile comments people have been making? Let us know in the comments below. Hoping the girl returns home safely!