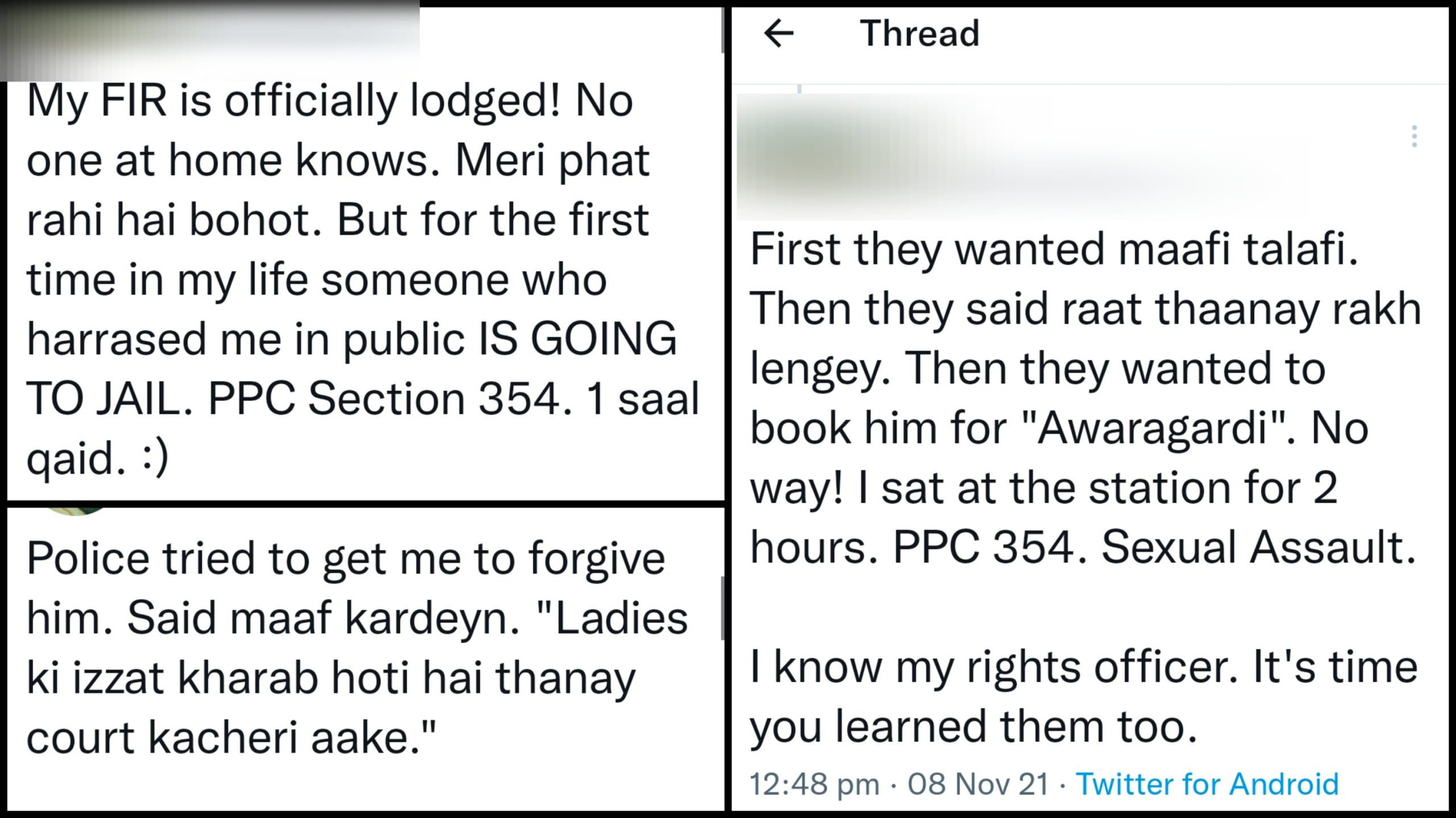 A girl on Twitter shared how she successfully filed an FIR against the man who harassed her in public: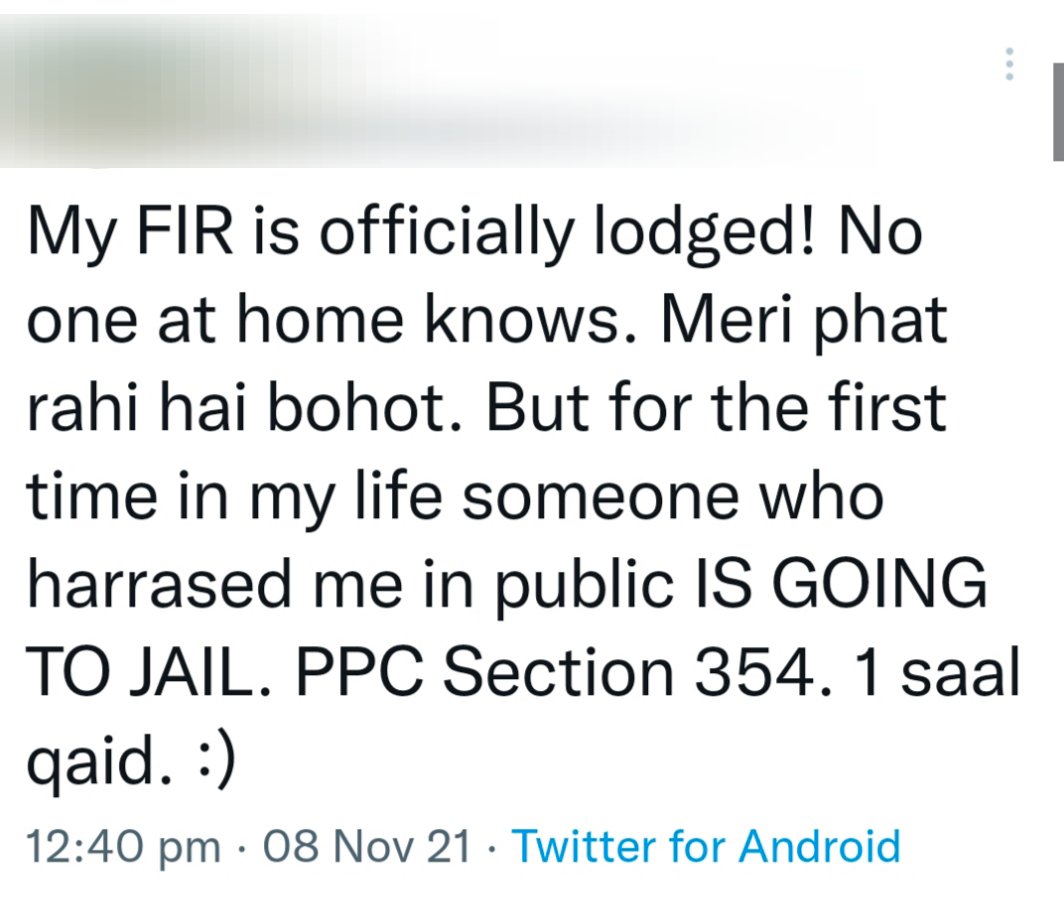 Hoping that the accused will be held accountable, she further shared how the police tried to dodge the matter by asking her to forgive the man outside of the court, but she refused: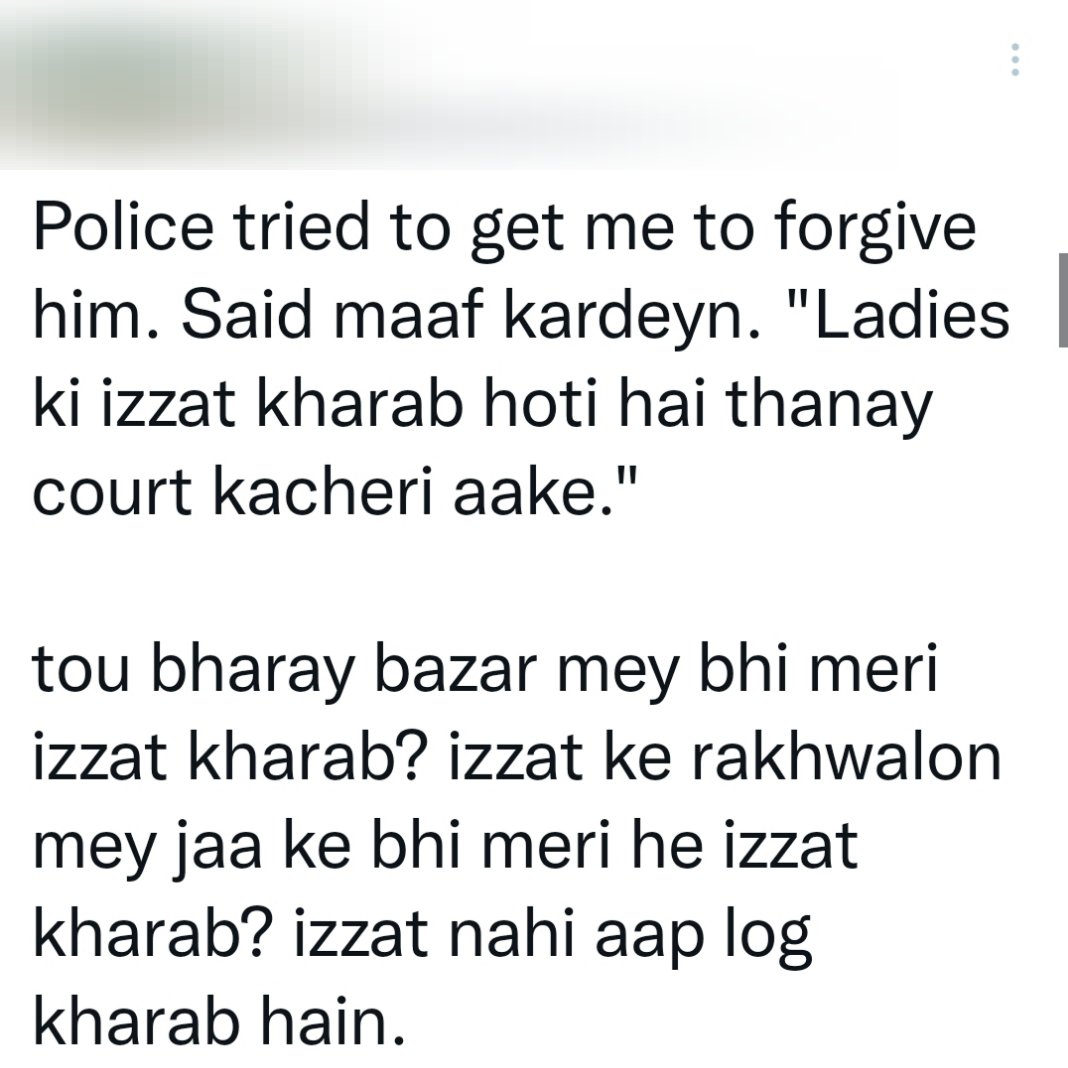 Providing video evidence of the exchange, the girl was adamant that the accused be tried and punished for sexual assault rather than 'awaaragardi' that the police were booking him for: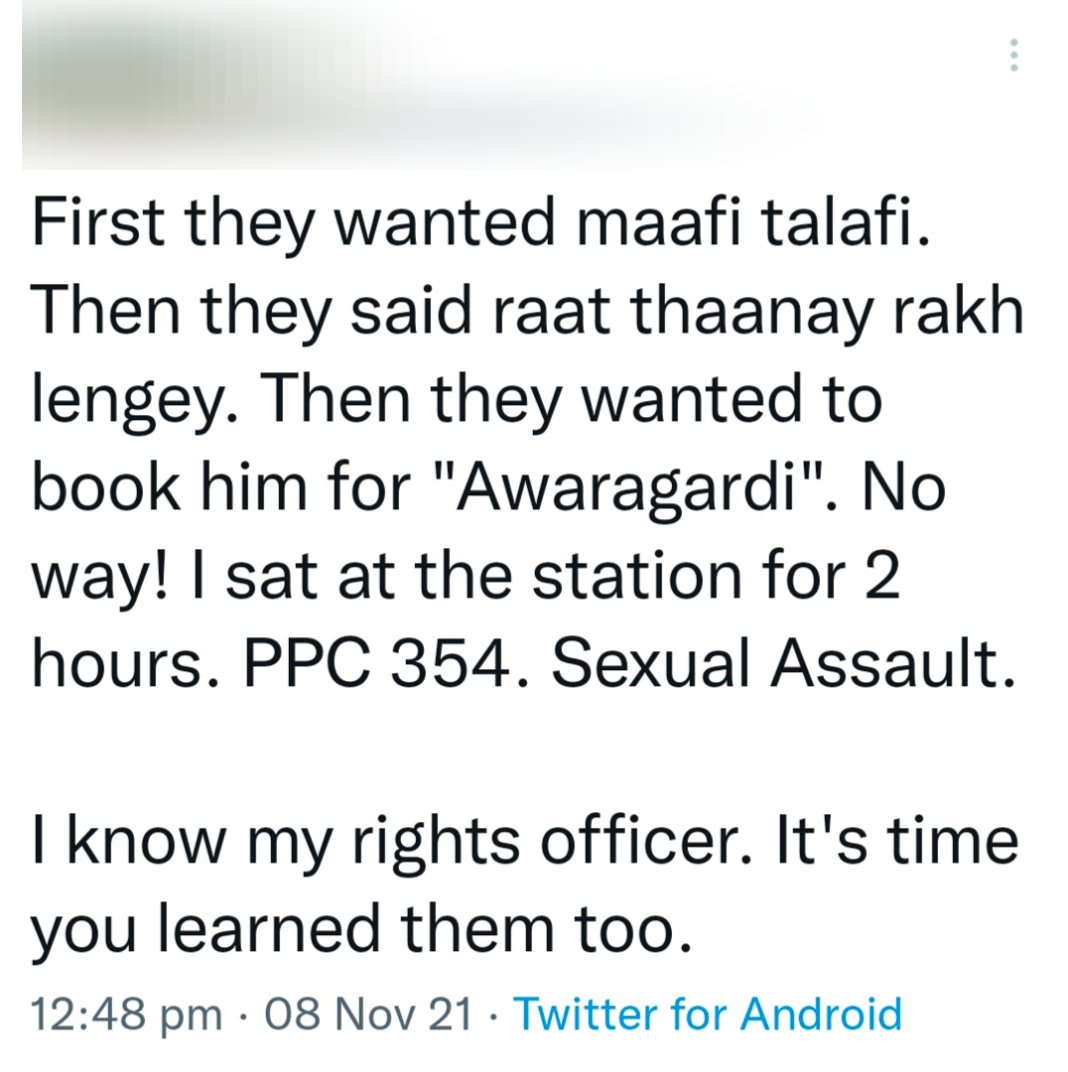 And tweeple are rooting for her:
Super proud of you and shame on our officials who force the survivors and victims to shut up and "forgive" instead of doing their jobs. https://t.co/z4XSVjtjum

— Laiba Zainab (@Laiba_Zainab) November 8, 2021
People were inspired by her:
the way this woman is my inspiration in life, one day I too will have enough courage, I hope https://t.co/mWvYGM4xH0

— raising hell (@saidwhaa) November 8, 2021
SUCH A BRAVE WOMAN. TOTALLY INSPIRED. 💯😎❤️🔥 https://t.co/SLKpCOgMSm

— Mahnoor Khan (@i_mahnurkhan) November 8, 2021
People extended their support to her:
👍 I Salute YOU. Hum aap K sath hain, baki police or authorities K isse drama bazi main meri bhen b shaheed hogae lakin police wale paise lety rahe murderer se. #justiceforquratulain#JusticeForNazimJokhio #curruptsystem#justiceforNoor #justiceforwomen #JusticeForQuratulainAnnie https://t.co/hSk3ElPYCx

— Azizullah Anwar 🇵🇰 (@Azizbaloch78) November 8, 2021
Yes!
More power to you💫 https://t.co/1a6IEA7csd

— Sumi🍴 (@High0nTea) November 8, 2021
👍
PPC Section 354. Sexual Assault. One year imprisonment. I know my rights officer. #StrongWoman https://t.co/FmoMfEgpl2

— bookscache (@bookscache) November 8, 2021
People were lauding her for setting an example:
More power to you!👏
you have set an example https://t.co/B9qBG0pQ3t

— Miss Panadol |aimanay Stan account| (@Msspanadol) November 8, 2021
People wanted her to share procedural details so that others could do the same:
Well done @maulana_banana – takes a lot of courage and determination

Please share procedural details so more women can come forward and take their public (and private!) spaces back in #Pakistan https://t.co/uOPv7IQ9Ci

— Ravale Mohydin (@Ravale_Mohydin) November 8, 2021
People were happy!
So happy to read this.
This is Awesome 👏 👍
Everyone's mother and sister should feel safe and every laanti must be punished. https://t.co/qt0iSrhlpH

— Ahsan 🇵🇰 (@ab_bandit) November 8, 2021
Some had no hope:
Bailable offence, the accused will go scot-free till the trial ends. Moreover, the punishment is up-to two years, or fine, or both. In the end, it's the discretion of the judge as he can reduce the sentence to a minimum of whatever days or months he like.

2013 MLD 395 case law. https://t.co/fycYOocssg

— Shajee (@shajeegardezi) November 8, 2021
Aameen!
So proud of you, may we all gather the courage to do this ameen https://t.co/78WAEhoS8O

— Agirlhasnoname (@feminista98) November 8, 2021
Same!
Proud proud proud of you. ❤️ https://t.co/sdlBkhPUMP

— ردا (@sajidridaa) November 8, 2021
🙅‍♀️
This is amazing. More power to her and to every girl reporting her harasser. https://t.co/MsV3jwRSJh

— Nida (@nidafg_) November 8, 2021
Yes, please!
YASS!! IMMENSE POWER TO U QUEEN! All they know is how to quiet our voices. such a powerful move to not stand down. all women under such circumstances need to start doing same👏👏🙌 https://t.co/4A0aWo4Pab

— . (@bummer___) November 8, 2021
People were suggesting she involves her family:
Welldone, I hope it will be easier for you during the court sessions.
Just one question, why no one at home knows that?
I suggest to involve your family in all crucial matters of life. https://t.co/Jy5NbsjSIJ

— Umer Siddiqi (@sidd_umer) November 8, 2021
Absolutely!
Bravo. This is how these creeps should be treated. I always recommended that such crimes against women in particular and society is general should be incorporated in their CNIC record.
Secondly, we need half of our police force to be women police officers. https://t.co/0tYwi8EamF

— Yaserrr. (@seditiousmusing) November 8, 2021
It was the best thing some had read!
BEST THING I READ IN A WHILE ❤ https://t.co/s2gqxhEXx2

— Birdie 🕊 (@ridzxiii) November 8, 2021
People were hoping to be as brave as her someday:
I wish I had the courage. I wish more of us are able to do this https://t.co/Jib79sibfZ

— 🗡🩸🕯 (@asmetheoblivion) November 8, 2021
More power to you 💪
Allah mjay bi himmat dy to be this brave. https://t.co/vg0mHUkliK

— 🦋 انعم 🌻 (@annannum_j) November 8, 2021
What do you think of her story? Let us know in the comments below!