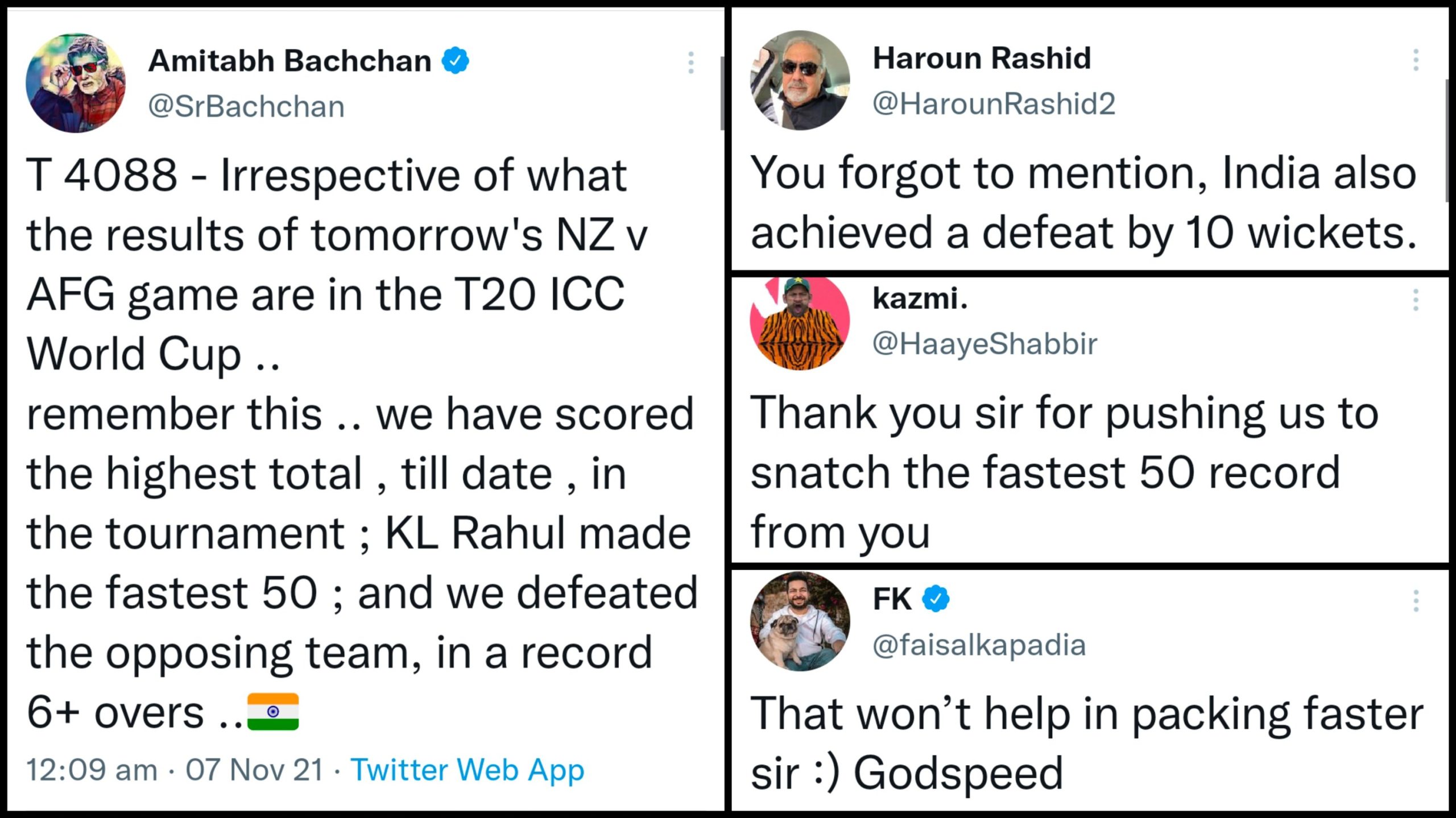 In an attempt to cheer up team India, Amitabh Bachchan took to Twitter to share some of the achievements the team had scored. Still hoping to get into the semifinals if Afghanistan had won, the Bollywood star's tweet became the talk of twitter after New Zealand beat Afghanistan, kicking India out of the tournament.
T 4088 – Irrespective of what the results of tomorrow's NZ v AFG game are in the T20 ICC World Cup ..
remember this .. we have scored the highest total , till date , in the tournament ; KL Rahul made the fastest 50 ; and we defeated the opposing team, in a record 6+ overs ..🇮🇳

— Amitabh Bachchan (@SrBachchan) November 6, 2021
With their match against Namibia today, India will still not be able to qualify for the semi-finals if they win. Mentioning the achievements in his tweet, Amitabh Bachchan also reminded people how KL Rahul holds the record for fastest 50 in the tournament, but that too was replaced by Shoaib Malik who managed to score 54 runs in 18 balls and netizens have got no chill!
You forgot to mention, India also achieved a defeat by 10 wickets. No other team in this tournament managed to achieve such an overwhelming defeat. Congratulations!

Sorry but you just walked right into that 😂 https://t.co/zdP7HfI9uc

— Haroun Rashid (@HarounRashid2) November 7, 2021
So, Shoaib's 50 >>> KL Rahul's 50:
But KL Rahul made the fifty in powerplay while Shoaib Malik's whole innings was based outside the powerplay with fielders spread out everywhere. Malik hit 6 sixes as compared to 3 of Rahul. Malik scored 54 off 18 while KL Rahul scored 50 off 18.

Shoaib Malik > KL Rahul https://t.co/BFySBlEhit

— Wajahat Kazmi (@KazmiWajahat) November 7, 2021
😎
And India was also the only team got beaten by 10 wickets. https://t.co/KfmrJEUugJ

— Ayesha (@mysticAashi) November 7, 2021
Brutal!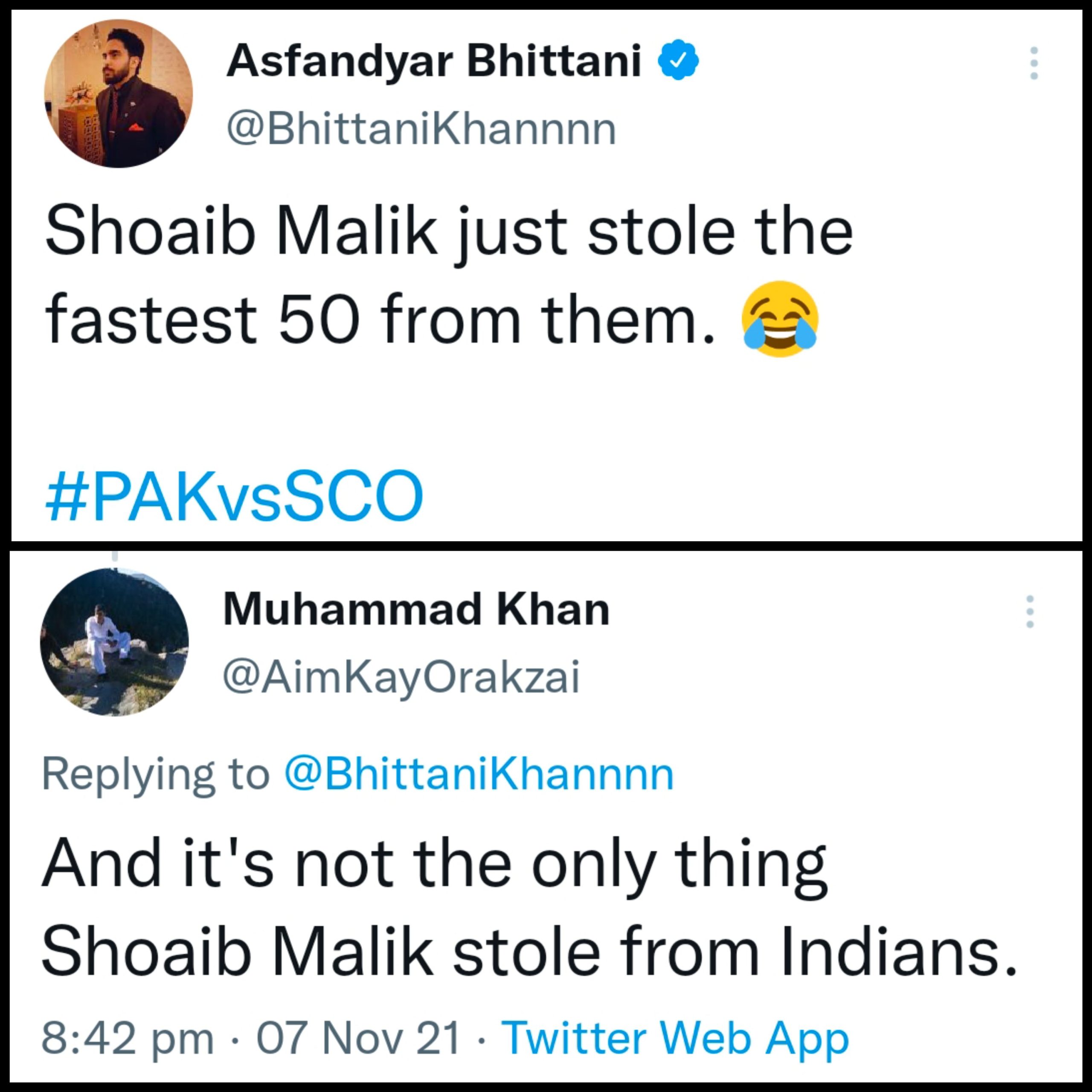 People had the funniest reactions:
Amitabh bachan rn: https://t.co/jZ0aVy6TYw pic.twitter.com/JY1pNRzJko

— Arzum 🕊 unbeatable 5-0 (@azalulzaleel) November 7, 2021
Shots were fired!
That won't help in packing faster sir 🙂 Godspeed https://t.co/nHL6fiedW7

— FK (@faisalkapadia) November 7, 2021
Ab araam hai?
Amitabh bachan: KL made the fastest fifty

Shoaib malik: pic.twitter.com/ioAPrmORAC

— zed (@w1tvh) November 7, 2021
Hahaha!
that's india's version of 'tum jeeto yaan haro sunno, humai tum se pyaar hai' https://t.co/ICRb9AjpKT

— m. (@manalkhawaja_) November 7, 2021
Especially Shoaib Malik!
& then Pakistan cricket team took this tweet seriously. https://t.co/fM3c9TP0Jv

— Humna. (@Humnayyy) November 7, 2021
#ThankYouAmitabhBachchan:
Thank you sir for pushing us to snatch the fastest 50 record from you https://t.co/MzIgn23NO8

— kazmi. (@HaayeShabbir) November 7, 2021
Hassan Ali's wife too!
Saniya Mirza is the only Indian going to Semi Finals

— شاہ میر۔ (@iShahmir) November 7, 2021
Savage!
No one can beat Pakistanis sense of humor. I repeat, No one!! pic.twitter.com/ixnEkvP6bp

— Amnah Jabeen (@AmnahJPlus) November 7, 2021
😂
Sir esi khushi mein ye kheer khayen pic.twitter.com/Hv3yAOd2Qs

— Insta @Faizanriaz_ (@catharsiss__) November 7, 2021
Hahaha!
AUR ISI BAAT PE AAPKO MILTA HAI DAAAAABUR KA CHAVANPRAAASSH

— Moochar (@AsliBinLaden) November 7, 2021
Dead 🤣
— Hemant Mehta (@Hm79H) November 6, 2021
Semifinals mei!
Shoaib Malik to Sasural pic.twitter.com/ne0OWReNJ7

— Jasir Shahbaz (@LahoreMarquez) November 7, 2021
Facts!
Harbhajan Singh asked for a walkover from Pakistan and India got thrashed. Amitabh Bachchan bragged about KL Rahul's fastest 50 and it got replaced by Malik.

Issi liye kehte hein kabhi ghuroor nahi karna chahiye

— mnl (@meemelif) November 7, 2021
🔥
Babar with more 50s in this tournament than India *will* win matches.

— Aimun (@bluemagicboxes) November 7, 2021
True that!
All the other celebrities and political leaders delete their old tweets so people don't dig up stuff like pakis do with Imran khan, this poor guy can't even do that if he ever finds himself in such a situation, it'll just mess up his numbering system. https://t.co/C2FTl5Y6yM

— Rumpoptarts (@rumpoptarts) November 7, 2021
😈
Malik took that 50 away. One thing less to cheer now https://t.co/ZViErptLHY

— Dr. M i r (@MYUwrites) November 7, 2021
👍
exam mai paas nahein hua tou kya hua handwriting tou sab se achi meri thi ❤ https://t.co/MzIgn23NO8

— kazmi. (@HaayeShabbir) November 7, 2021
Are you enjoying the cricket banter this year? Let us know in the comments below!