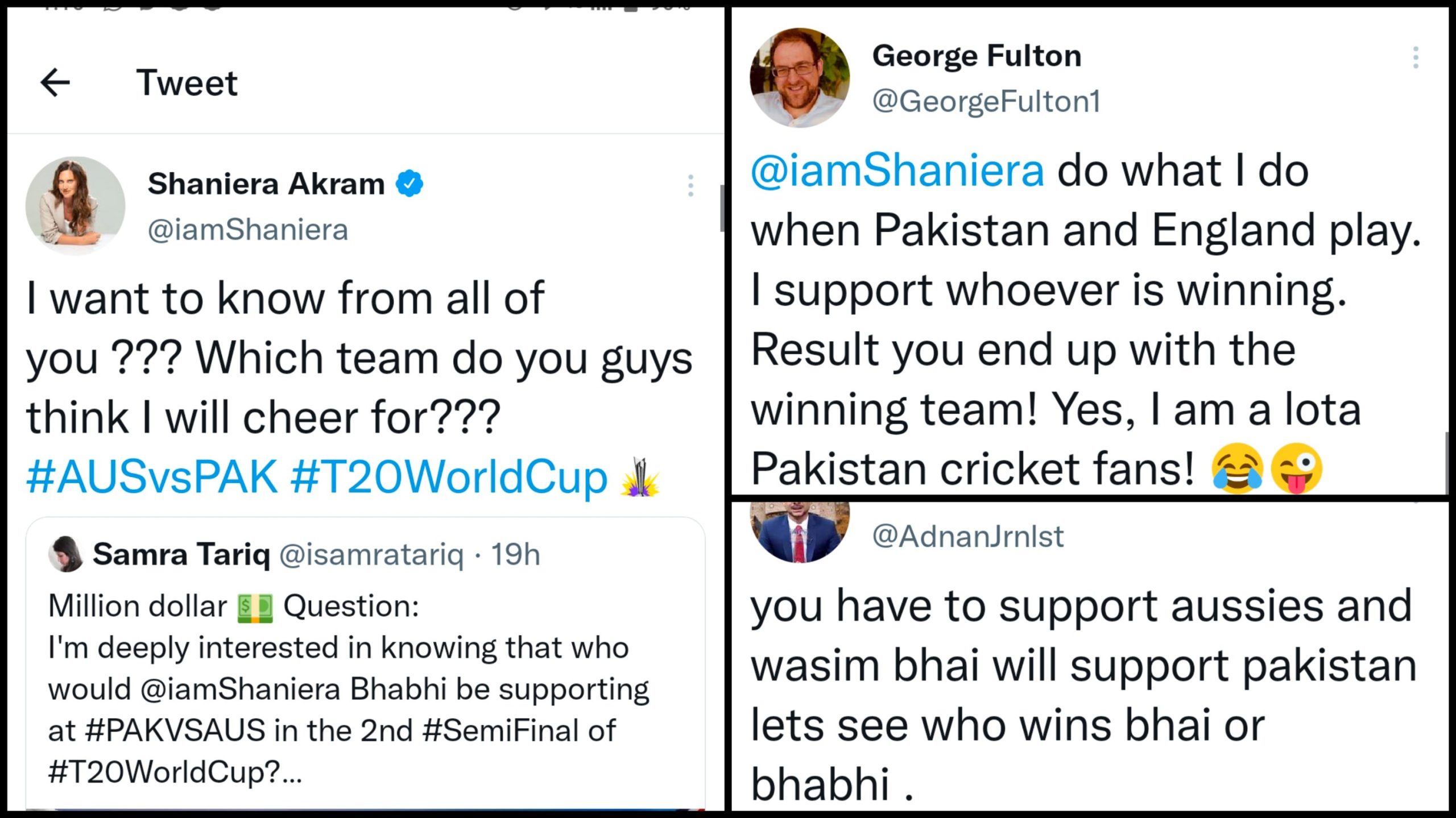 With Pakistan qualifying for the semifinals, it will be facing Australia from the other pool in the semifinals. And while the nation's morale is high, thanks to the brilliant team, people can't help but wonder what team Shaniera will be rooting for:
I want to know from all of you ??? Which team do you guys think I will cheer for??? #AUSvsPAK #T20WorldCup https://t.co/kSgaWqariM

— Shaniera Akram (@iamShaniera) November 8, 2021
And they're taking their guesses!
Cheer up @iamShaniera the glass is half full.
You're one of those few lucky ones who would be celebrating a WIN no matter whoever loses. #PakvsAus https://t.co/EsGZsgUWeA

— Syed Sabir Shah (@SyedSabirShah2) November 9, 2021
There was advice from George Fulton:
@iamShaniera do what I do when Pakistan and England play. I support whoever is winning. Result you end up with the winning team! Yes, I am a lota Pakistan cricket fans! 😂😜 https://t.co/FpMfJWr9JF

— George Fulton (@GeorgeFulton1) November 9, 2021
Middle ground?
There is nothing wrong in you supporting Aussies on Thursday but we hope on Sunday you will be supporting Pakistan 😉 Good luck

— Tahir (@Tahir2412) November 9, 2021
Yeh cheez!
Bhabi, You have the right to support BOTH teams… don't worry we Pakistanis will always Love and Respect You…, just celebrate every moment of this upcoming cricket match…!
🤩👏🇵🇰✌🙏👍

— Absar A. Shahzad (@absaraks) November 9, 2021
Be with the winning team in the end!
Wear the shirt of Australia but hold the flag of Pakistan , show a combine love for both nations @iamShaniera 🇵🇰❤🇦🇮

— Basit Ali Shalmani💧 (@Basital75025083) November 8, 2021
Yaaaas!
It doesn't matter. You'll always be family. 👍👍

— Bilal Habshi (@MBHabshi) November 8, 2021
Yep!
You have the freedom to support any country you like bhabhi; one's your homeland and one's your home rn #T20WorldCup #AUSvsPAK https://t.co/rmHQlScN0H

— khadija💫 (@deejaaxx_) November 9, 2021
Absolutely!
@iamShaniera which ever team plays good cricket on a particular day in ground should be supported by every one. https://t.co/w3rXUqiZuQ

— aftab (@aftab05555551) November 9, 2021
Lol, what?
I think, Pakstralia or Australistan https://t.co/7Y7X18cRZI

— I Hayte me. ok? (@SHAHERYARMALIK7) November 9, 2021
🤷‍♀️
It's funny actually. Whichever side wins, the trophy is coming home for u. https://t.co/UHxEMGxXMr

— Count De Swabi (@GhalibKaCzn) November 9, 2021
Shots were fired at India:
If you support Pakistan in Australia at least you won't be put behind the bars, though if you were in India & caught celebrating Pakistan victory that would have been a different case. So, you can choose any team without fear of facing any consequences!😀 https://t.co/Xiou74Bs8p

— Kamran Yousaf (@Kamran_Yousaf) November 9, 2021
Let's see:
you have to support aussies and wasim bhai will support pakistan lets see who wins bhai or bhabhi . https://t.co/zHEstkpSxq

— Adnan Khan (@AdnanJrnlst) November 9, 2021
People wanted her to take advice from Sania Mirza:
please take advice from @MirzaSania https://t.co/7GmbIcAHQZ

— Zohaib Iqbal (@iamzohaibiqbal) November 9, 2021
Exactly!
And a million dollar answer, most appropriate. Don't push a Pakistani wife into a tight corner by asking embarrassing questions. https://t.co/6sk811cW1B

— nasim siddiqi (@nasimsiddiqi786) November 9, 2021
Baat toh sach hai:
Feel free to cheers for both teams, Both are yours 🇵🇰 VS 🇭🇲 Beautiful Bhabhi 💜 https://t.co/h3DUszPA2g

— Scheree 5/5 (@DaPakistaniBabe) November 9, 2021
Uhhhh!
Good bahus only support their susral. 👻 😼 Didn't your husband tell you this before shadi?
🤭🤭🤭 https://t.co/3LWtoxgcCi

— Faiqa Salman (@FaiqaSalman) November 9, 2021
No judgement from us:
We would love to see you cheer for Pakistan 🇵🇰 but if you decide to cheer for Australia 🇦🇺 we can understand 🥲 https://t.co/L4FfLY5r1y

— Ishtiaq S MIrza (@IshtiaqSMIrza2) November 9, 2021
Jo baat hai!
Its okay Shaniera, you can support whoever you want. Alot of Pakistanis who live in Australia support Pakistan and nobody judges them for that!
You'll still be our beloved Bhabi even if you support Australia. 🙂 https://t.co/ocVxIZvipv

— Bilal Ahmed Khan (@_Ibn_e_khan) November 9, 2021
What team do you think Shaniera will be cheering for? Let us know in the comments below!