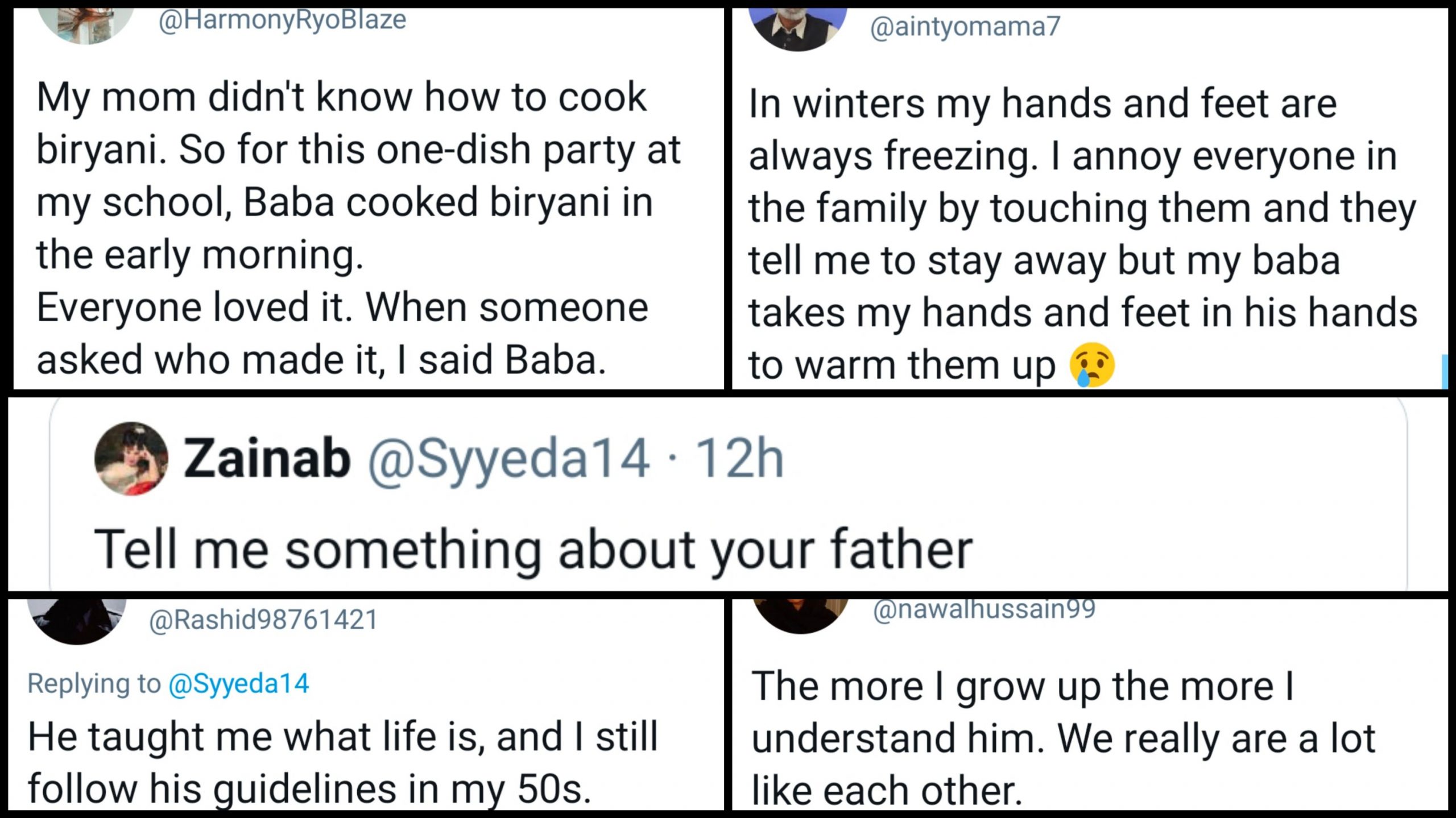 Celebrating Father's Day yesterday, netizens have been sharing the most precious little photos and memories of their fathers. A Twitter user went on to ask fellow tweeple about their fathers:
Tell me something about your father

— Zainab (@Syyeda14) June 20, 2021
And the replies are absolutely heart warming!
My mom didn't know how to cook biryani. So for this one-dish party at my school, Baba cooked biryani in the early morning.
Everyone loved it. When someone asked who made it, I said Baba.
So on Parents-Teachers meeting, my class teacher complimented baba's cooking skills. https://t.co/FHJgRSeOY7

— Heer (@HarmonyRyoBlaze) June 20, 2021
King!
He was the one who taught me the definition of Feminism and called me a feminist.
When I was young he would make all siblings sit around him and read us poetry of rebelliousness.
He still sends me articles and reading materials that will help me understand different issues.

— خراب عورت (@KharabAurat) June 20, 2021
Sajji over history exam anyday!
He told me he was an A* student in his time, topped his university and that I inherited my intelligence from him. I found out his intermediate report card then. He was absent in history because he was having sajji with his friends 👍 https://t.co/UqPWNxufRF pic.twitter.com/KhComAkfC2

— faizan 🇵🇸 (@Broiler_Choocha) June 20, 2021
🥺🥺🥺
Mom doesn't like mehendi so when i was little, papa would put mehendi on my hands every chand raat 🥺 https://t.co/3BNWl9FfMS

— Ushnaa🐾👻 (@Lanaschild_) June 20, 2021
Ooof ❤️
Chain smoker,nothing & no one could convince him to quit. But the day I was born,was the last day he smoked. Showed the same will power in fighting Parkinson's just for my sake. He expressed both through words & action his immense love for me. While he was alive I feared nothing. https://t.co/rKwLtfWtQw

— Saman Jafriسمن جعفری (@SsamanJay) June 20, 2021
Hahaha, dads and their obsession with 100% battery:
His phone is always on charge. Even when it's at 100%. I always steal the charger from him https://t.co/NBKeN2DgM6

— sarah ahmed (@unnessarahly) June 20, 2021
Same!
The more I grow up the more I understand him. We really are a lot like each other. https://t.co/FiU1AfUTs7

— nawal hussain (@nawalhussain99) June 20, 2021
Gotta love dads!
Every day, very early morning, while I am asleep, he puts my cellphone on charging and places it on my study desk when it gets fully charged.💚 https://t.co/ed0zWROlFy

— Sundas Khan (@KhanTimess) June 20, 2021
Awww:
every night after coming from his work, he would ask us "namazen kitni parhin?", "tilawat ki?", "MTA dekha?" and then finally about how our school was that day. He's been doing this since as long as I can remember and I appreciate him so much for this 🤍 https://t.co/I6QRDcf3Po

— Qayoom. (@moongphalii) June 20, 2021
We need more people like him!
the best thing about my father is that he focuses too much on education ……too much to tell in words …..I have seen few men like him who focus on getting education like him.he believes in quality education so
I studied from one of the top schools and colleges of the city https://t.co/JHnDdu2ocY

— گمنام (@Gumnaam61) June 20, 2021
So relatable!
He used to call me "Kaka", his baby and he would also treat me like one, even after I got married and had my own child. I loved knowing that I didn't have to be a grown up around him, I was always his little girl. https://t.co/n4h8Fs3Lkw

— Saman Tariq (@stariq88) June 20, 2021
Haha, all dads!
Has the loudest sneeze in the neighbourhood https://t.co/6fGWY3qd66

— Honda Civic 2006 (@slightlyused8) June 20, 2021
Gotta laud his passion!
My Father Sacrificed his Exam for Cricket.. 😂 https://t.co/Xxf2SEYWqW

— I b r a h e e m 🇵🇰 (@Ibraheeeeem92) June 20, 2021
So precious!
When I was born he prayed to God to let him live the same number of years that he lived, so he can spend the rest of the time with me. https://t.co/YLSCl3pFeD

— Muhammad Zain (@zain175) June 20, 2021
We stan this king!
Papa stepped in and played the role of both father and mother. When everyone asked him to re-marry after mother, he stood with his daughters and paid our fees in millions (by selling car and plots) when we we faced financial downfall. https://t.co/KRe6XfaNBP

— Zamnah. 🇵🇸 (@anaaresistanam) June 20, 2021
We're melting!
In winters my hands and feet are always freezing. I annoy everyone in the family by touching them and they tell me to stay away but my baba takes my hands and feet in his hands to warm them up 😢 https://t.co/oiaMc82o5H

— free Palestine 🇵🇸 (@aintyomama7) June 20, 2021
❤️❤️❤️
My father used to oil our hair, used to cry when we were sick and take care of us day and night. #fatherdaughter #FathersDay https://t.co/RXMEpKAR4Y

— سدرۃ المنتہٰی (@SiddraaRana) June 20, 2021
Wow!
Whatever i will say about him will always be not even 1% of how much he has done but he was a Man who once single handedly resolved a Major Issue between 2 groups who had killed members of each others family. Even the Molvi saab after his Jinaza talked about that. https://t.co/MBL1B00JYx

— Taimoor Zaman (@taimoorze) June 20, 2021
Love it!
Oh, also, he's a great cook Masha Allah!
Whenever mom's busy with duties, he cooks for us. 🥺 https://t.co/JCpwjr90PQ

— Sarah (@Itna__Sarah) June 20, 2021
Same 🥰
He was always in all my PTA meetings and I don't remember a single one where he didn't come out and kiss my forehead ✨ I lived for those ❤️

— Maryam Batool (@mbrizvi12) June 20, 2021
What a strong man!
Was a daily wage labourer. Rose to a province's top most postition for a government office. Defeated cancer once with a smile on his face. And died at the age of 60 to another cancer years after. Still have to meet a person who is not sad over his demise. May Allah bless him.

— Shanshanay (@Shanshanay1) June 20, 2021
Such a sweet man!
My father never gets angry,never raises his voice,never complains about anything…we can talk about ANYTHING with him…He loves to hear stories from this grandkids..on family dinners he serves his grandchildren first,then us n he is the last one to eat .. ALWAYS…

— Homaira Latif (@HomairaLatif) June 20, 2021
Most of us can relate!
He taught me what life is, and I still follow his guidelines in my 50s.

— KMR (@Rashid98761421) June 20, 2021
👏👏👏
He has taught me how to respect women. He trained me to understand how me and my wife are equal in real terms.

— Zeeshan (@zeeshancma) June 20, 2021
Same 🥲
The q made me too emotional to type out a coherent response. But loving the answers.

Cherish your dads and for the ones who have lost them…hang in there best you can. He would want you to.

— Sam (@CallyCaladrius) June 20, 2021
What are your fondest memories of your dad? Let us know in the comments below!