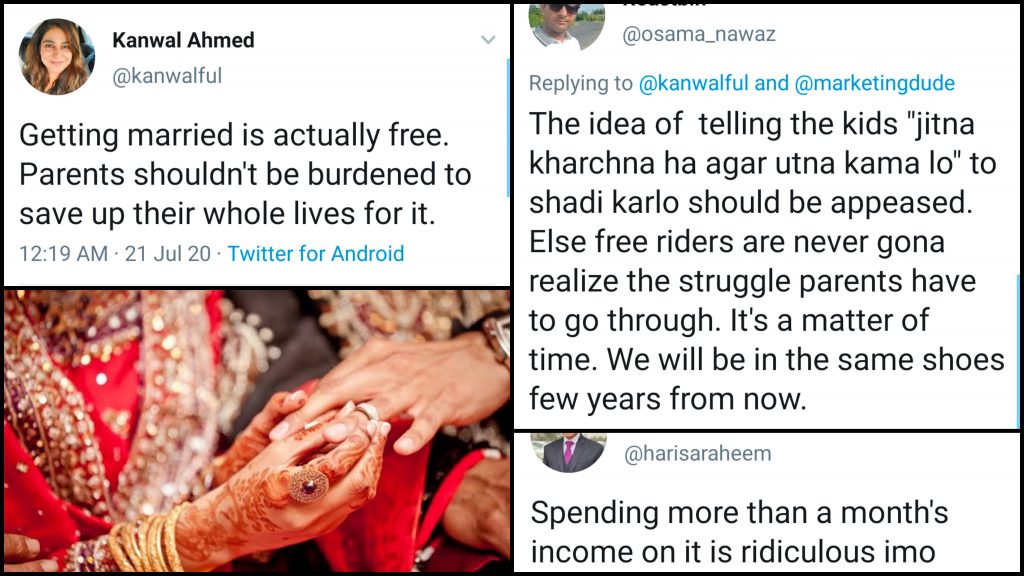 We live in a society where parents would rather save up for their daughter's jaheiz instead of her education and this is problematic!
Taking to Twitter, the founder of Soul Sisters Pakistan, Kanwal Ahmed, shared how parents shouldn't feel burdened to get their children married:
Getting married is actually free. Parents shouldn't be burdened to save up their whole lives for it.

— Kanwal Ahmed (@kanwalful) July 20, 2020
And people had lots to add to it!
Parents are actually preparing to free their kids for the rest of their life ! Some gather money ! Some invest in their education! And some invest in their up bringing ! To face all kind of crisis bravely and independently without taking any help

— Mubeen (@MubeenFatma) July 20, 2020
Many agreed how we'll be in the same boat later:
The idea of telling the kids "jitna kharchna ha agar utna kama lo" to shadi karlo should be appeased. Else free riders are never gona realize the struggle parents have to go through. It's a matter of time. We will be in the same shoes few years from now.

— Roastbin (@osama_nawaz) July 21, 2020
Many thought that the groom's mother should put her foot down:
Not only that girl's family shouldn't be burdened with jahez and stupidly insane tradition of gifts for the groom's family including extended ones as well, its upto the groom's mother to put her foot down to rampant unnecessary rasams let the couple start their lives with barkat

— Uzma Husam (@husam_uzma) July 21, 2020
He's got a valid point!
Weddings are one part of our lives totally controlled by women in the family. From selection of the bride to costs and other formalities. If there are two sisters in a family both wsnt as much dahej as her sister got. The burden can be finished but ghe women wont agree

— Dr. Farooq Kifayatullah (@FarooqKifayat) July 21, 2020
For some, it all comes down to the salami money:
How abt the economy rooted in the institution of marriage?
I mean, parents generally agree with the thought that weddings should be lowkey but they've been giving away so many 'salaamis' that the moment you're going to tell them that's how you'd want it, they won't agree😅

— Minhaaj (@sur_inqilabi) July 20, 2020
Yep!
Factssss! You just need to pay the nikah khwaan and Walima is obligatory for a Muslim Marriage which are both the boy's responsibility so the girl's parents legit shouldn't have to live such a burdened life 😐 https://t.co/0ZfqugfdsR

— Husn Hai Suhana (@Fatmounh) July 21, 2020
Many thought spending more than a month's income to get married is absurd:
Spending more than a month's income on it is ridiculous imo https://t.co/2syeoIioZ7

— Haris Abdur Raheem (@harisaraheem) July 21, 2020
Exactly!
Self awareness is needed to achieve this by parents & couple to spend less. It requires open conversations, mutual respect, empowered relationships that are willing to accept each other without any congratulations from outsiders. Fear of judgement is the cancer of our weddings. https://t.co/g7mv62fNow

— Nayha Jay (@nayhajayart) July 21, 2020
People were sharing examples of a simple wedding from history:
I swear sometimes I remember how in Fatima Radi Allahu Anhu and Ali Radi Allahu Anha's wedding, guests were served dates among one or more item and it's … I mean, we all have always had the choice to make our lives easy and calming but nope

— Saba (@sabafarrukhozil) July 21, 2020
Many called it a subjective matter:
This is a fact but the reason/s why it has become so expensive are too many to list and the debate regarding why it has become that costly can continue for a life time.

It is a subjective matter and has too many variables

— chaarasaaz (@chaarasaaz) July 20, 2020
Absolutely!
Exactly. They've already done what they needed to do. Stop burdening them for ur wedding functions and dowry in their old age.

— Bella (@_akkiz) July 20, 2020
It definitely is!
It's so heartening to see that young couples are now opting for small intimate weddings MashaAllah

— Uzma Husam (@husam_uzma) July 21, 2020
What do you think about this new trend of simple weddings? Let us know in the comments below!