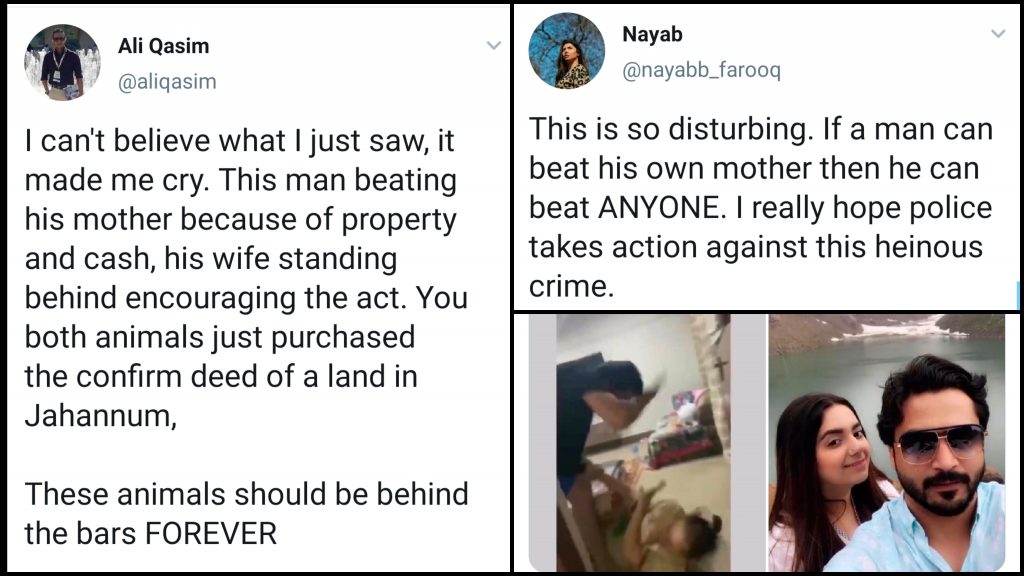 Everyday something or the other goes viral on the internet, but today, a shocking video of a son beating his mother over property and cash is circulating all over social media, breaking everyone's heart:
I can't believe what I just saw, it made me cry. This man beating his mother because of property and cash, his wife standing behind encouraging the act. You both animals just purchased the confirm deed of a land in Jahannum,

These animals should be behind the bars FOREVER pic.twitter.com/MI4wf3Rwcp

— Ali Qasim (@aliqasim) July 21, 2020
The video was shared by Zoobia Meer, whose mother was being beaten by his brother and according to her, the police released her brother an hour after they filed the FIR and the man has now run away:
ZOOBIA MEER SPEAKS OUT! pic.twitter.com/zuWghLLiEZ

— Izzat Riaz 🇵🇰 (@izzatriaz) July 21, 2020
And the netizens are furious, shocked and heartbroken all at once:
Women bear 9months pregnancy to face this??? Women bring up them and give their full lives with struggles to them for this??? Horrible. https://t.co/fLGbrS0D4o

— . (@Faaatiiimaaaaa) July 21, 2020
We hope so too 😔
This is so disturbing. If a man can beat his own mother then he can beat ANYONE. I really hope police takes action against this heinous crime. https://t.co/8Fo6ADZw9C

— Nayab (@nayabb_farooq) July 21, 2020
People wanted an example to be made out of the man:
An example should be made out of this man so no woman ever needs to be dependent on her son. My heart bleeds for the woman who gave birth to a man like him. #sharetoaware pic.twitter.com/TJqwlu4oSo

— Izzat Riaz 🇵🇰 (@izzatriaz) July 21, 2020
Even we couldn't watch the whole video, it was too heart breaking:
Before this video I had always thought I could watch any video but, I couldn't watch this. It makes me cry who would do this I can't believe this. https://t.co/saRAJZbfv1

— Jahanzeb Hussain Qureshi 🅙 (@JahanzebHQ) July 21, 2020
The video had people in tears:
That was horrible, watching this video made me cry. No words to explain the pain of his Mother, Surely he had ruined his Jannah!! https://t.co/uj2UjYPnPS

— Rida Fatima (@ridalashari__) July 21, 2020
Exactly!
Saw this video and I'm disgusted to the core. I mean raising hands on your mother is peak jahalt and jahanumi act. Dunya m b jahanumi akhrat m b.🙏🏿 https://t.co/gMxSengnzp

— Euphoria💓 (@tubaz1997) July 21, 2020
Heinous!
Even our constitution doesn't have laws for such act because a normal person will never do this… no matter how evil he is but he will never beat his mother.
Even if our judiciary system fails to give this mother justice, Allah won't spare him. https://t.co/lF8CVw85Zx

— Safa (@safam97__) July 21, 2020
People were shocked:
My heart is in pieces. A son is beating her MOTHER mercilessly. I am shocked. How can a son do this to his MOTHER. 💔😭
pic.twitter.com/nZCWal8LJ6

— Shahjhan Malik | #WearAMask (@shahjhan_malikk) July 21, 2020
People were calling it Qayamat:
This is Qayamat, enough for today. Few hours ago a girl named Zoobia Meer posted this video on her youtube channel in which her brother is beating his elderly mother with his wife. pic.twitter.com/TDM7rURuA8

— Afshan Tayyab (@QueenAfshan) July 21, 2020
People wanted to see him behind bars asap!
how can a person be so so disgusting, vile, pathetic, to beat his own mother for cash, etc …. he should be sent behind the bars immediately !!!

Easy way to book a place in Hell for himself https://t.co/Ns3mKEVxDB

— Salman (@SalmanJpt) July 21, 2020
Waqayi!
Hum sb pr #corona jese azab to bohat e choty hain. We deserve worse…!!! 😔 https://t.co/ZbQ2e74yWq

— Fizza Khan (@Fizzay_Alizai) July 21, 2020
People couldn't believe what they had seen:
Dikhny me acha khasa sensible lag raha koi unparh ganwar b nahi phr b jahanum khreed le dunya py lanti dekhna ha to issy dekh lo

— SaRaayayyy (@nzr_ka_tika) July 21, 2020
People were calling it unacceptable!
Absolutely abnoxious & unacceptable in any society and in a Muslim household unforgivable. Both the fiendish son and his disgraceful wife must be immediately arrested and strictest possible punishment must be given and both must be named & shamed publicly so all can spit on them

— Senator T Mashhadi (@SenatorMashhadi) July 21, 2020
People were praying for the mother:
Uffff my heart is crying for this mother. I wish there was some way to help her and get her away from these pieces of shit! Allah reham kare iss maa par. I wish this guy and his wife nothing but pain and sorrow for eternity

— 👩🏻‍💻 (@tafreeeh) July 21, 2020
Beshak!
Ye dunya Makafat-e-Amal hai, ese logon ke saath es se bhi bura hoga and sari dunya dekhe ge

— Oh, Lady Mania! (@OhLadyMania) July 21, 2020
Some had Pakistani dramas to blame:
THIS IS WHAT MAJORITY PAKISTANI DRAMAS SHOWS, THEY REALLY BEEN INFUSING THE HATE AGAINST MUMS AND MOTHER IN LAWS IN PEOPLE'S MINDS, MAJORITY OF THE DRAMAS. https://t.co/ZDfmrKfT2B

— احسان. (@ahsaan_wajid) July 21, 2020
What do you think about the video? Let us know in the comments below!