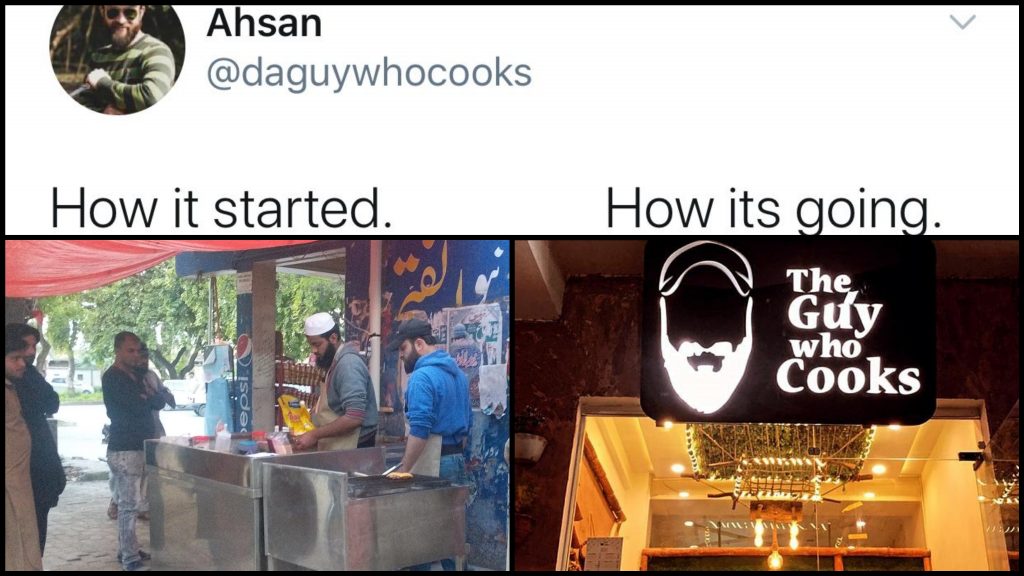 If you're feeling a little de-motivated, we've got just the thing you need to read today. A guy on Twitter shares his journey from starting with a stall to now finally opening his own food place:
As opening of my cafe is around the corner i couldn't help but look back at the days when i started this journey, what u see didn't happen in single night,took me years, most of u don't knw but now i feel like y'all should knw that i started this journey with an outdoor stall 1/4 https://t.co/HnnRI0Quej

— Ahsan (@daguywhocooks) September 14, 2020
He shared how he started with a very basic setup:
There was no shop, just one tarpal on top, table and grill.
It was very rough, it was a real struggle now when i look back i only began to thank Allah for his countless blessings. pic.twitter.com/rPqSYsUuRx

— Ahsan (@daguywhocooks) September 14, 2020
Even though the resources were limited, his passion drove him to struggle every day:
I am nt sharing this story and pictures for some social media clout but as a motivation to all who are struggling with their goals and passion, for the love of passion you have to do anything, never be afraid of doing anything, don't feel ashamed even if u have to start from zero pic.twitter.com/HtDDGU3ATc

— Ahsan (@daguywhocooks) September 14, 2020
He had big dreams:
When i was running my stall, i used to look at the shops in awwe & think that one day I'll be there IA. Now i am here alhamdulilah.
This is my journey.
Let this story be a hope, courage and motivation for yall who struggling in life, career and job.
Much love for y'all 💞 pic.twitter.com/qXVMj4vBSC

— Ahsan (@daguywhocooks) September 14, 2020
And today he's finally achieved his goal:
Just remember, hardwork, positivity and good thinking ( naik niyat ) is the key to success.

— Ahsan (@daguywhocooks) September 14, 2020
And the netizens are so proud of him!
So proud of you !!!! you deserve so much success!!

— 𝒄𝒂𝒌𝒆 𝒃𝒂𝒃𝒆 (@mishap29) September 14, 2020
His story inspired many to follow their dream:
I'm impressed!!! Literally you are a perfect example of motivation and success because you believed in yourself and you did it. Congratulation and wishing you all the best in your new adventure!

— MJ. (@MidhaJameel) October 7, 2020
Yes!
I remember people commenting on your cooking pictures that you should open a restaurant and you replying like I know right but I can't right now. Glad to see you've practically made it. No looking back inshallah

— Jibran T. Siddiqui (@jibransiddiqui) September 14, 2020
People were sending prayers his way:
May Allah bless you more you came along way must be proud.
More power to you man 👍👍👍
Best of luck and kindly share your address if possible ill love to be there asap.

— Sohaib Ali (@SAK_Ktk) October 6, 2020
People had suggestions:
Ma sha Allah!
What an inspiration!
May Allah bless you with immense success – ameen
I am sure you do this already, but fix a small portion for charity every month.

— AAziz Khattak Bu Fatima (@kinarakash) October 6, 2020
People were so happy to see him get what he deserved:
Aaaaaaa im super happy to see this. U deserve all the attention. I hope your cafee gets biggest reach and im gon be one of them.

— Bubbles. (@CallMeAlweena) September 14, 2020
People were calling it a real success story:
The real success story. Impressive bro and wish you all the good luck. https://t.co/7CtGiihuWZ

— ذوالفقار علی (@Ali1979Zulfaqar) October 6, 2020
His story gave people the much-needed dose of motivation:
This guy is amazing 🤩 a real motivation https://t.co/HEKJu7HwID

— NK (@iEmNK) September 19, 2020
Agreed!
A story of Persistence and Determination. 👏🏻💙 https://t.co/N9sOXCCQhC

— Rohit (@ThanosWasRight_) September 14, 2020
People found the thread wholesome:
Wholesome thread of the day https://t.co/aIEKXEjkad

— Ifra (@Ifra_J) September 14, 2020
It does:
Mashallah, hard work definetly pays off https://t.co/9PVhwlnXpR

— Shaf butt (@Shaf16565625) September 14, 2020
Spot on!
Start, work hard, nothing is small, it's a start to something big. https://t.co/cN4DfrcsFC

— Altamash Murad (@AltamashMurad) September 14, 2020
His story became a source of giving renewed hope to others:
Congratulations Ahsan!
Very happy for you alhamdulillah. I'm on a similar path, I have miles to go but your thread gave me renewed hope just now.
Best of luck with your new and exciting journey! May Allah grant you success, ameen. 📿

— D. (@choppywriter) October 7, 2020
His story reminded people of a movie:
You are a true inspiration. Hats off to you Sir. Your story reminds me Will Smith's movie. "Pursuit of HappYness".

— Saeed Khalil (@saeed8319) September 14, 2020
Aameen!
This gave me goosebumps.
May Allah help every struggling person. Ameeen. https://t.co/HXF1IsKbhy

— RamshaJ.🌻 (@NotyourDrWatson) September 14, 2020
For those wanting to visit, the cafe is at G8 Markaz and we wish the man all the very best for his venture! What do you think about this guy's story? Let us know in the comments below!