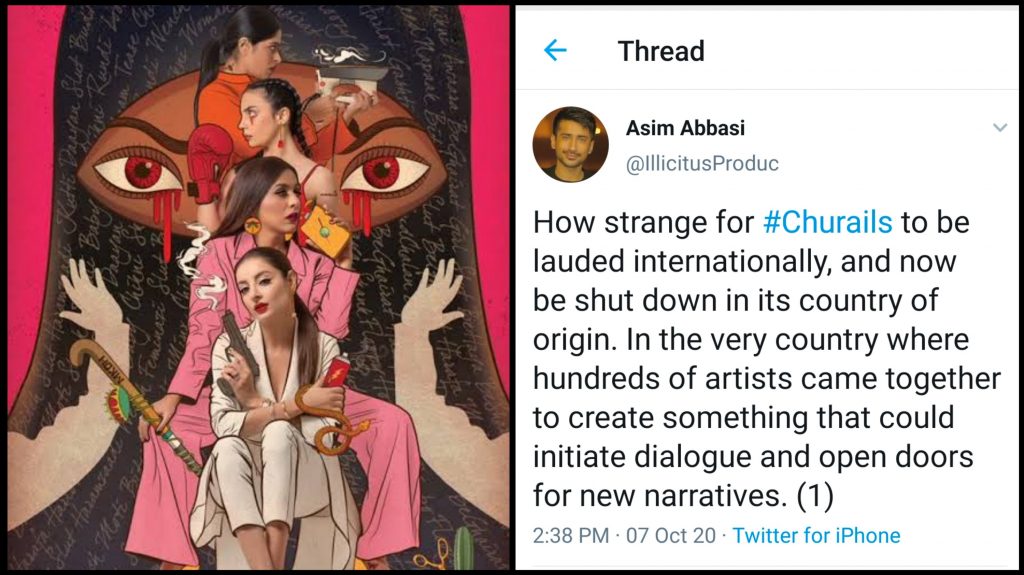 Churails changed the cinematic narrative in Pakistan with a spectacular start after it first released. People all over the country loved it for its raw and unfiltered storyline that many found themselves relating to.
And while the applause kept pouring in, there were people who just couldn't stand the series. After numerous complaints to PEMRA and other authorities, Zee5 took down the web-series as confirmed by Asim Abbasi:
How strange for #Churails to be lauded internationally, and now be shut down in its country of origin. In the very country where hundreds of artists came together to create something that could initiate dialogue and open doors for new narratives. (1)

— Asim Abbasi (@IllicitusProduc) October 7, 2020
Asim took to Twitter to share his disappointed he was at the artistic freedom being squashed:
Artistic freedom squashed because it is wrongly perceived by some as a moral threat. Predictable, and yet, still disappointing. For this is not just my loss. This is a loss for women and marginalised communities that this show meant to re-represent. (2)

— Asim Abbasi (@IllicitusProduc) October 7, 2020
He also shared that this action was a victory for all the misogynists and a loss for everyone involved:
This is a loss for all actors, writers, directors and technicians across Pakistan, who were hoping for digital/OTT to be their saviour. And it's a home-run for all the misogynists who have once again proven that they are the only voice that matters. (3)

— Asim Abbasi (@IllicitusProduc) October 7, 2020
And people had a lot to say!
We enjoy abusive, vulgar content from Bollywood, H-wood, Spanish, wherever it is from.
But if a Pakistani series contains a few explicit scenes, we get triggered.
Look at YT trending section, many abusive Indian content is there but we are not up to support our own Pak artists. https://t.co/jhs92NivPY

— Jehad Zafar (@Jehad_Zafar) October 7, 2020
Actress Mansha Pasha had her reservations:
Unfortunately we are moving towards a Zia-esque time of Moral policing. Meanwhile the state silences journalists, runs after biscuit ads and begins its bans on OTT content.
What started off as a causal critique by bloggers of what content should or shouldnt be on tv has now https://t.co/86aAm9i0FW

— Mansha Pasha (@manshapasha) October 7, 2020
Journalist Haroon Rashid was left disappointed:
This is disappointing and a huge step back for the Pakistani entertainment industry. Stop brushing real issues under the carpet. Stop glorifying domestic violence and normalising misogyny on TV. Stop restricting women from having a fair platform to be their unapologetic selves. https://t.co/QozBYHKQMR

— Haroon Rashid (@iHaroonRashid) October 7, 2020
Comedian Shehzad Ghias called the country 'ban-istan:'
About time we discard the ban culture:
Pakistan is going backwards while the world goes forward. #Churails is a show that shows you the mirror. This is what your society is like. A mixed bag of social issues. You can bury your heads in sand but your social issues will still remain.

How is banning it going to help? https://t.co/aQ7ErasbSk

— Natasha Kundi نتاشا کُندی (@NatashaKLondon) October 7, 2020
The country is definitely on a banning spree:
This banning spree has gone completely out of hand. Sab kuch ban kardo. Women's health websites online, a biscuit ad and now this. https://t.co/wSbw3ncQyx

— Madeeha Syed (@madeehasyed) October 7, 2020
People were disappointed at thought provoking content being banned over and over again:
Dramas like Meray paas tum ho are top rated in Pakistan but #Churails gets banned. Everything thought provoking gets banned as they feel threatened by critical thinkers.@IllicitusProduc you have done splendid job in portraying the realities of our society. @sarwatgilani https://t.co/F21JCWtsFi

— karima khan (@karimakhan14) October 7, 2020
People were pointing out the hypocrisy:
we like to watch series like @YehHaiMirzapur , @SacredGames_TV but when it comes to @wearechurails to hamari phat ka hat mein a gae hypocrisy https://t.co/hGUQYFND3d

— DanishwarLarka (@OxygenChahya) October 7, 2020
Some thought we deserved trash like MPTH:
We deserve meray pas tum ho and all the similar trash https://t.co/8EF9mbxmQU

— Desi Typowala (@hamzamjad) October 7, 2020
Film-makers in the making found it disheartening:
as someone who aspires to be a filmmaker one day instances like these only fuel my desire to leave the country and never associate with it again https://t.co/W7uKGKwusj

— spooky peaches 🍑🍂 (@prrunuspersica) October 7, 2020
Many felt that the people who had gotten it banned saw a reflection of themselves in the series:
People who got it banned are actually just scared of their own reality being shown on the screen.
Bravo! I watched churails multiple times and made my family and friends watch it too and guess what they frekin loved it. So fed up with these hypocrites in our country 😡😡 https://t.co/L3qooKO7Em pic.twitter.com/2at0hReJcT

— Saher (@Saher_Aftab_) October 7, 2020
Even the critiques who weren't impressed disapproved of the ban:
Found #Churails to be deeply flawed and gimmicky but it sucks to see it banned. Art shouldn't be banned, whether you agree with it or not. This will not stand. https://t.co/6bFWcAVt9l

— Rahul Aijaz (@RaulAjz) October 7, 2020
People were losing faith:
This is bull shit. Pakistan is a horrible place to be a creative anything. https://t.co/OP3taBlkhu

— Tabish Habib (@piphanypop) October 7, 2020
Agreed!
This should not happen in any civilized country,as much as we can disagree with certain things we do not approve of depicted in popular culture and media,banning things shouldn't be happening anywhere in the world. #Churails remains to be a radical work of art we all need to see. https://t.co/PuHJr8kmxf

— Salman Khan سلمان خان सलमान खान 🏳️‍🌈 (@ImGreenGuru) October 7, 2020
Facts!
This patriarchal and misogynist society can never see a strong character in women because it makes them uncomfortable and degrade their positions. https://t.co/K1TUvK8Qz2

— Muhammad Shazaib (@Mshazaib94) October 7, 2020
People had questions:
How difficult is to not watch things that make you uncomfortable? Why do we want to control everything?
Everyone watches similar content produced by hollywood and bollywood but can't see our own industry trying something different. https://t.co/2jSNYfIMlr

— Charsulli Gardulli (@sarmadard) October 7, 2020
People were heartbroken:
Maybe it becomes an ill-fated craft if done with love and sincerity…
Such a heartbreak.
And no, there is no silver lining here, getting banned isn't "cool" as some people would say to try to make you feel better. https://t.co/RovVnFVUPS

— fatimahsattar (@effblackk) October 7, 2020
Kya keh saktay hain…
You can't watch inappropriate stuff in pakistan but you can rape a girl and harass children and bully and do murders and all the HARAAM STUFF OK

— Ayeshaha (@Ayeshaha1) October 7, 2020
People were appalled at how all the misogynists felt threatened by a show:
never streamed on national television and they still had to censor and remove it thats how much this country hates women empowerment they felt so threatened by a SHOW ???AN ONLINE SHOW I CAN'T KEEP UP PAKISTANIS ARE SO EMBARRASSING. https://t.co/bpPwZ3scEr

— zi (@missthicqie) October 7, 2020
People were feeling all sorts of ways:
I'm not a violent person but sometimes I really want to slap some sense into the authorities (read: men). Leave it to them to like booty pics in the sheets, ban books/ads/national shows in the streets. Hypocrites. https://t.co/3wvWcBkRNz

— Safia (@_safiamahmood) October 7, 2020
Hypocrisy at it's best:
it's so embarrassing how pakistani audiences are dying over game of thrones and watching foreign shows regardless of the sexual/violent content, but when a good show is made about women, it gets censored or banned for " immoral content " like how pathetic is that? loved churails https://t.co/3hPwJbwn3b

— ahmad (@ahmoodytude) October 7, 2020
Frail egos:
The fragility of men's ego is such that strong women characters even in movies and serials (let alone in real life) make them so uncomfortable that they badly want all these to be banned https://t.co/Pw8SN5AnF1

— Not-So-Wise Man (@NotSoWiseMann) October 7, 2020
What do you think about the ban? Let us know in the comments below!