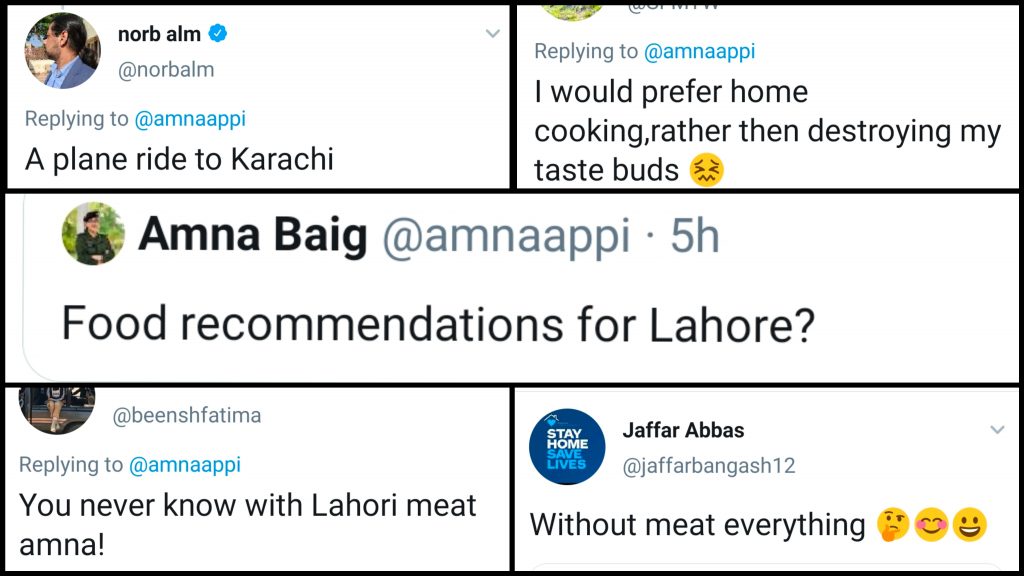 Everyone's favourite Amna Appi has been looking for food recommendations in Lahore:
Food recommendations for Lahore?

— Amna Baig (@amnaappi) October 6, 2020
And people have the funniest replies!
A plane ride to Karachi

— norb alm (@norbalm) October 6, 2020
True, true!
You never know with Lahori meat amna!

— Beenish Uzair (@beenshfatima) October 6, 2020
Come on, it ain't that bad:
I would prefer home cooking,rather then destroying my taste buds 😖

— SHAH (@SFMTW) October 6, 2020
😂
جنگ شروع ہو جاتی ہے لاہوریوں میں ایسے سوالوں سے

— Naeem Saeed (@hakeemsaeed) October 6, 2020
Some had lost hope:
You won't good food in Lahore, weather it's chicken mutton or veges all cooked in same hot spices n tastes chillies 🌶

— KBA Mohsin (@KbaMohsin) October 6, 2020
Okay…
Without meat everything 🤔😊😀 https://t.co/UEzv8QYNSO

— Jaffar Abbas (@jaffarbangash12) October 6, 2020
Yaaaas!
There are so many you need 4,5 days!

— Hussnain shah (@thandprogram_) October 6, 2020
And while others had no faith in Lahori food, actual foodies offered their best recommendations!
Try Sumo if you're in the mood to splurge. Veera 5 if you want Chinese. Bhaiyya Kebab in Model Town for solid mystery meat!

— Syed M. Saad Ahsan (@saadahsan) October 6, 2020
There were definitely mouth watering recommendations:
Khan Baba. Go for the qeemay walay naan, stay for literally everything else. The evenings are quite pleasant now, which is perfect for spending an hour or two walking through the old, old food street *behind* the fancy place like Cuckoo's. Eat. Everything.

— Asad Khawaja (@asadmkh) October 6, 2020
Oof, brain masala for breakfast 😍
Sadiq Halvai on Ferozepur Rd. for Puri Chanay and if you want ambiance as well then go to Bundu Khan in Liberty. They also serve Brain Masala for breakfast.
Coffee is on me if you want to meet the family 🙂

— Sa'ad Mohamed سعد محمد (@DesiMountaineer) October 6, 2020
Yum!
Hlwa Puri = Sadiq Halwa Puri (Railway Station)
Fish = Sadeeq Machli Farosh (Garhi Shahu)
Samosa = Sheikh Ji (PIA Road)
Pani Puri = Molvi Sahab Gol Gappay (Railway Station)

— Nauman (@TheBal0ch) October 6, 2020
Khan baba was a clear winner:
khan baba in chauburji. nothing else is worth qeemti waqt and aamdan.

— Umair Javed (@umairjav) October 6, 2020
Salivating!
Gully Bites for some spicy and hygienic paratha rolls bihari kabab in Gulberg opp. Raja sahib.

Grilled Moroccon chicken from english tea house.

Mutton kunna/Hi tea from spice bazar.

Mutton qeema naan/Mutton Qorma from Khan Baba Chuburgi.

Kerhai from lakshmi Chowk Nadeem Butt

— Jawad Arif (@MakhdooMM) October 6, 2020
Our personal favourite!
Johnny & Jugnu

— Dawar Butt (@theLahorewala) October 6, 2020
So hungry!
The burning giraffe, Gaia, eataly, and ofcourse the classics including Butt Karahi, Capri for nashta, Goga for nashta again. Also Hareesa from Gawalmandi is amazing.

— Ali Rizvi (@Rizvinator) October 6, 2020
😍😍😍😍
Rina's Kitchenette. Cosa Pizzeria. Yuzu Pan asian takeaway. Fuschia. Aylanto. Lahore Chatkhara.

— Mahbina (@MahbinaW) October 6, 2020
Haye, our love for samosas!
Just go to ModelTown and buy at least 2 plates of Samoosaz from Amjad sweets and enjoy

— Muhammad Osman (@MuhammadOsman18) October 6, 2020
Butt Karahi for the win!
Butt karahi lakshmi chowk. Best karahi in Lahore.

— zeeshan Ahmad (@zeeshan1853) October 6, 2020
What are your favourite eateries from Lahore? Let us know in the comments below!