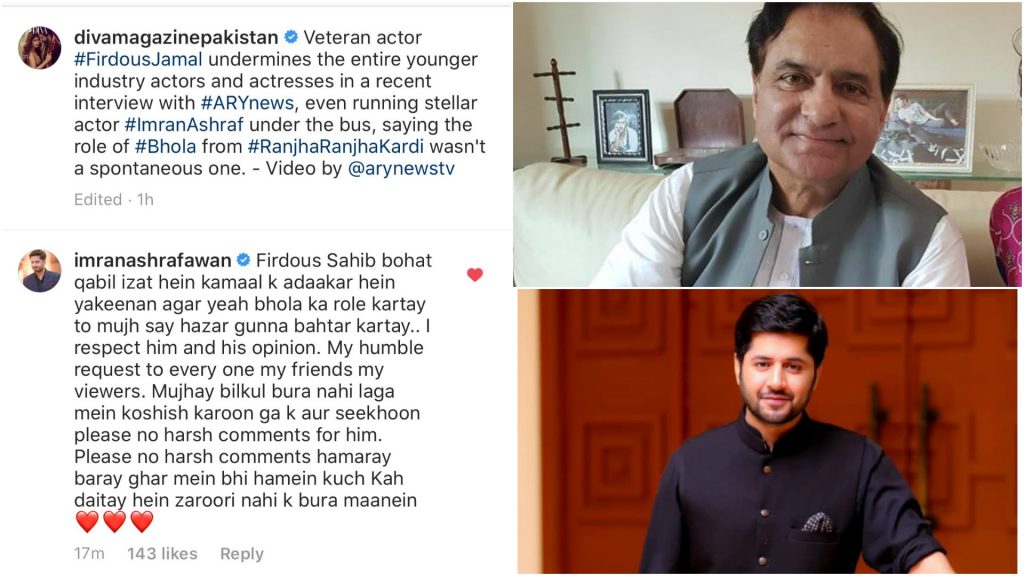 First it was Mahira and now it's the younger lot altogether evaluated and criticized by Veteran actor Firdous Jamal. In a talk show, Firdous Jamal, when asked about who he thinks has a bright future in the industry, said that he didn't think anyone from the current lot has what it takes to act:
Appearing at ARY News, the host called out on the current lot of actors and actresses for lacking the essence of a real actor. When the host mentioned Imran Ashraf who has been an absolute favourite all around the country for his acting in Ranjha Ranjha Kardi as Bhola, Firdous undermined him as well saying that he was just acting and not actually behaving, which is what a real actor does in Firdous Sahab's opinion.
He further elaborated that he doesn't get the hype around Bhola because this isn't a role that's been executed for the first time on screen, he quoted that such roles have been executed by actors in the past and the problem is that this generation hasn't seen them. And the internet immediately came forward to bash him:

Many argued how this vicious circle of seniors undermining the juniors needed to stop!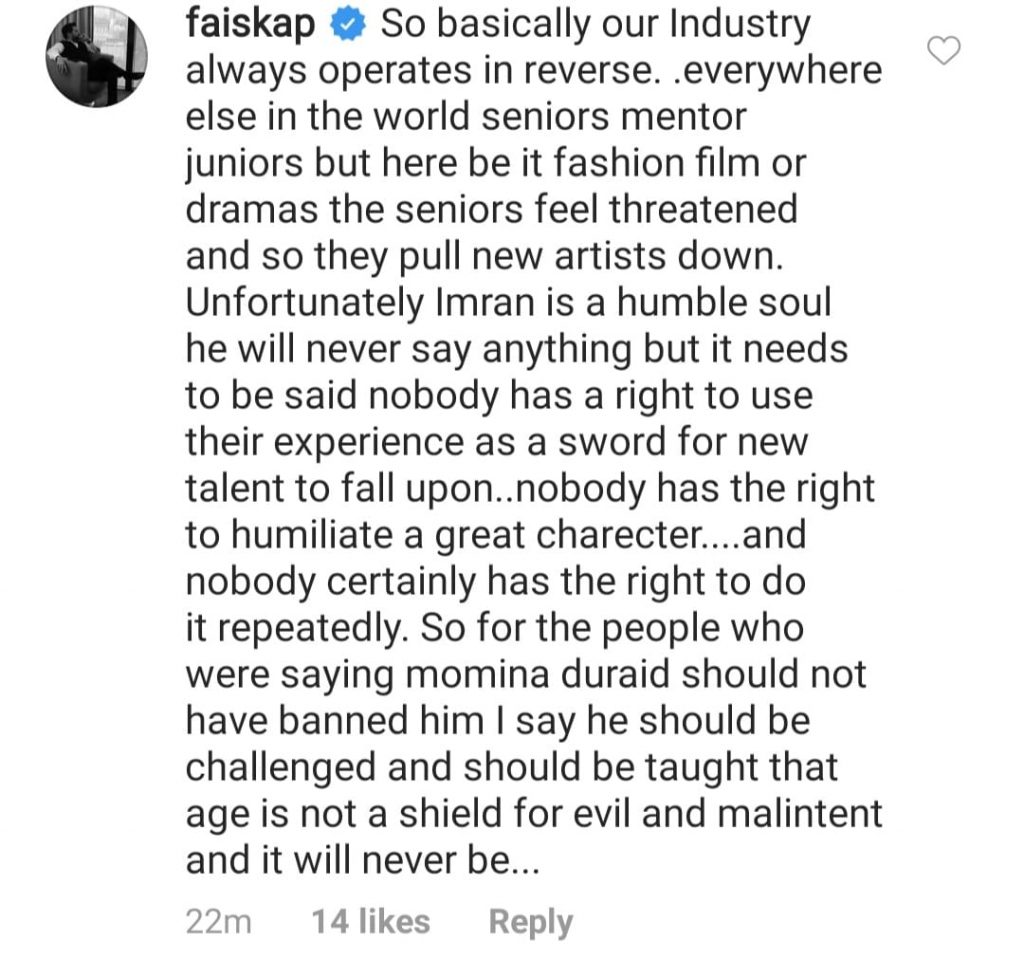 Many were angry at his remarks:

Some thought Momina Duraid was right in having him banned from her projects:

Fans were disappointed: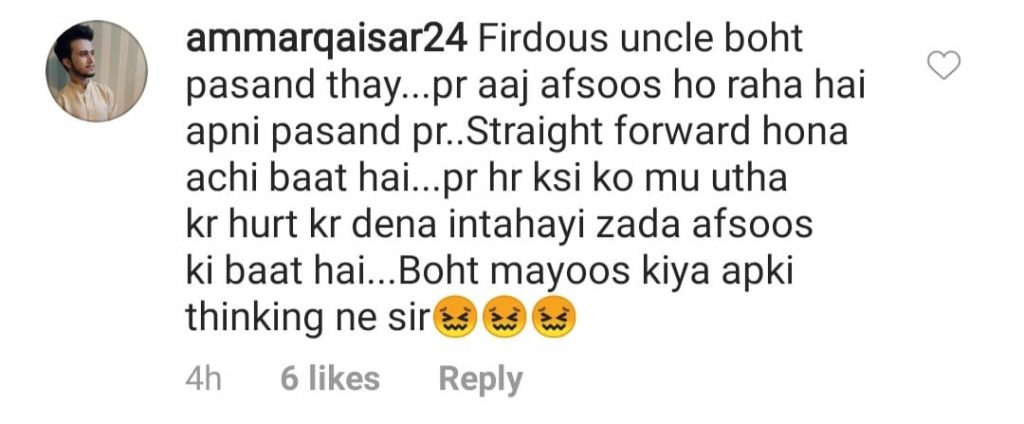 Many blamed him for having s superiority complex:

Many found him to be blatantly mean:

Many dragged his son in their comments: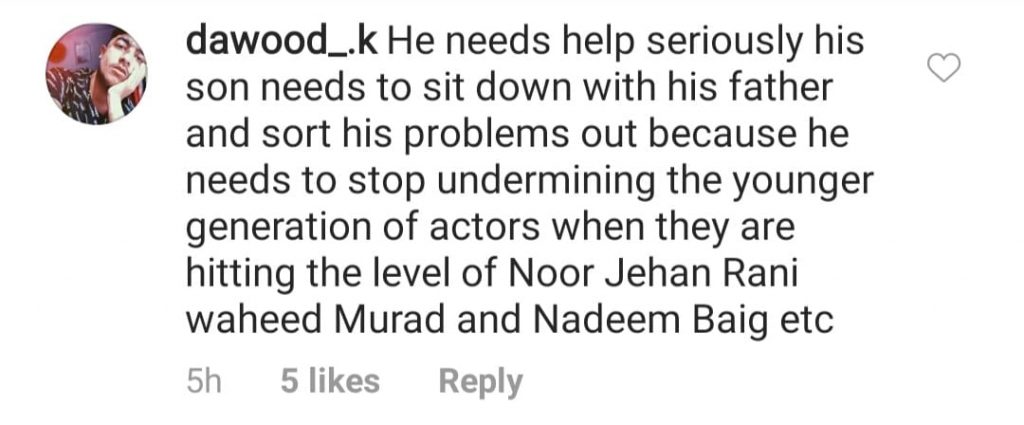 Many thought he was the one who needed to behave:

Many suggested that he calls the junior artists personally and share his advice with them: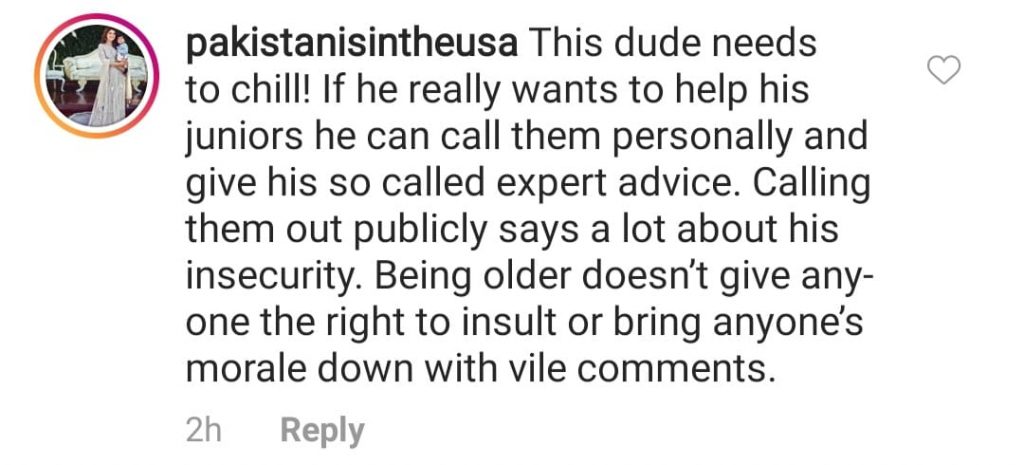 Many thought he was salty about not getting work in the industry:

All people wanted from him was appreciation where its deserved:

But Imran Ashraf being the humble man he is, immediately came to Firdous Sahab's defense in Diva Magazine's comment section, telling his fans not to send him hate or mean comments: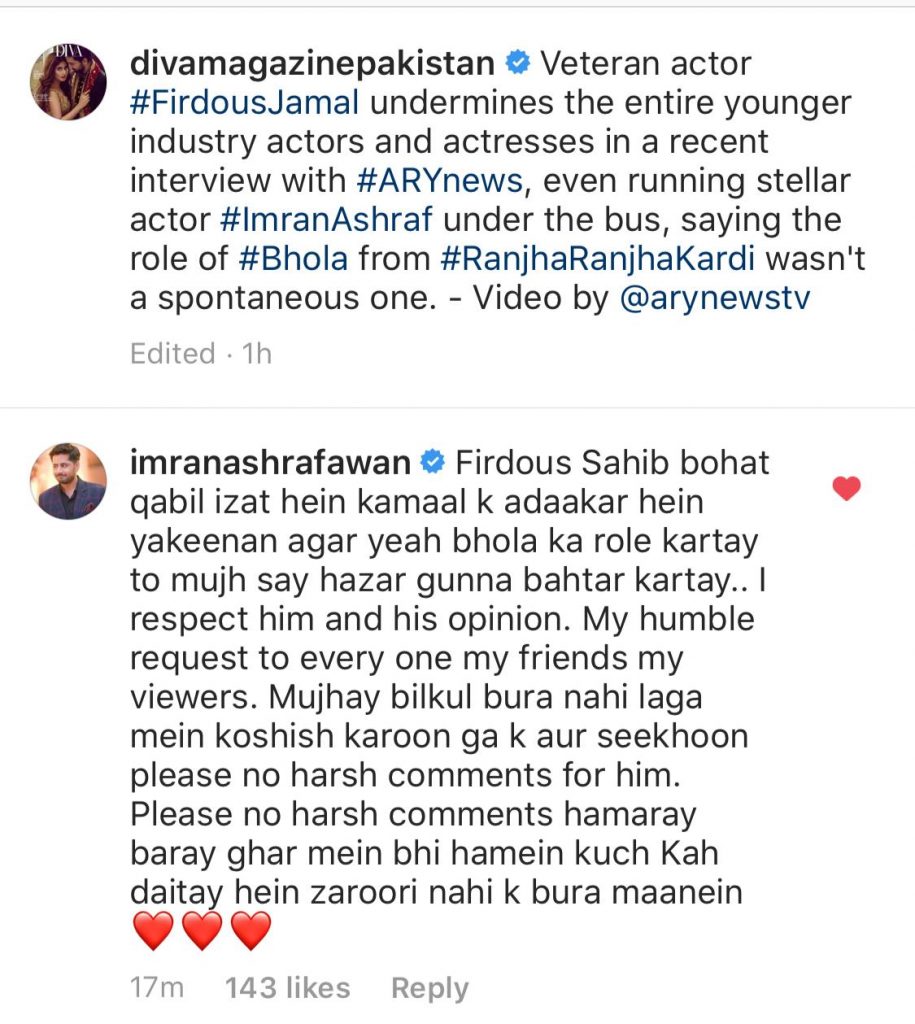 Imran's gesture has really won his fans' hearts and it only goes on to prove how Imran has a heart of gold! And his fans made sure they showered him with tons of love and appreciation for this gesture: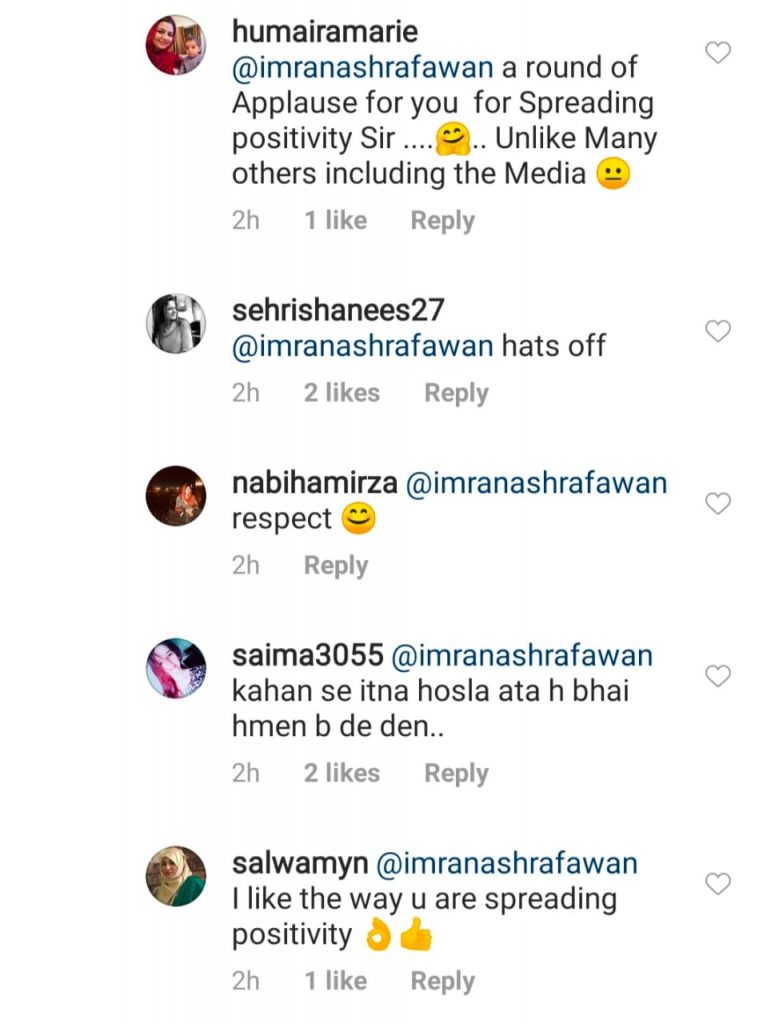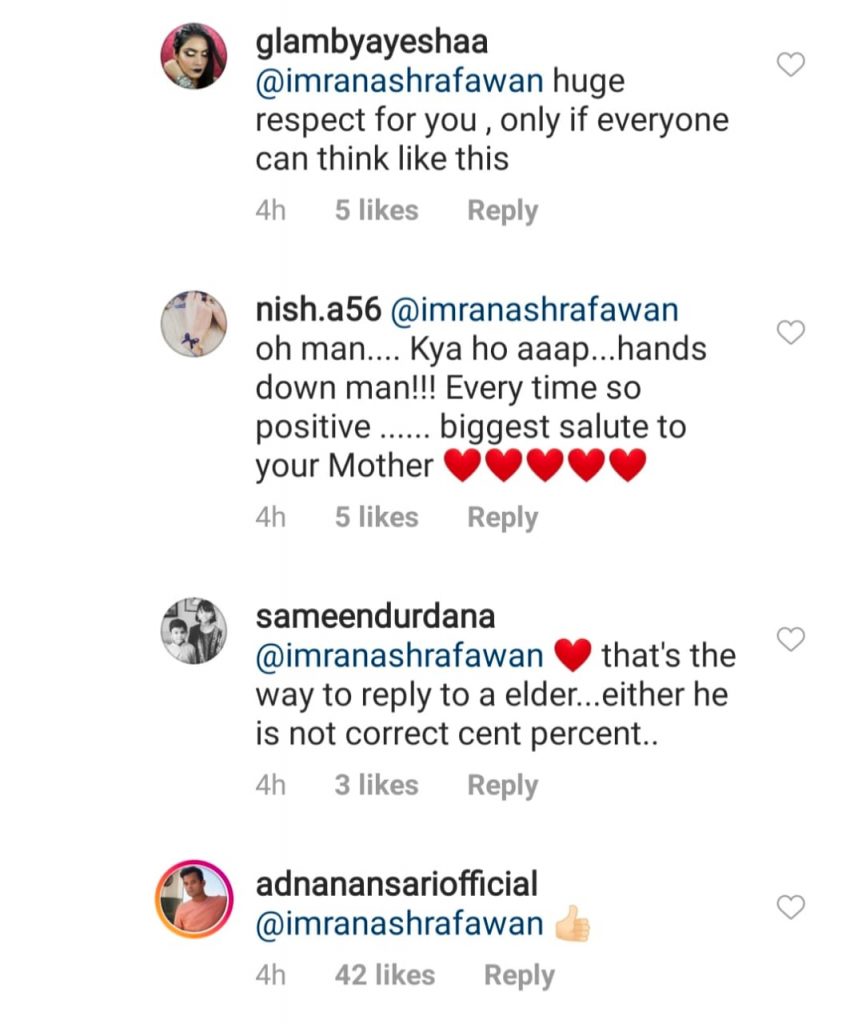 Firdous Jamal also commented on Iqra Aziz's role as Noori in the same drama and called her role to be 'pretension' rather than what he calls true acting. And there were people who were supporting his stance on the current lot of actors and actresses:


Personal attacks were made: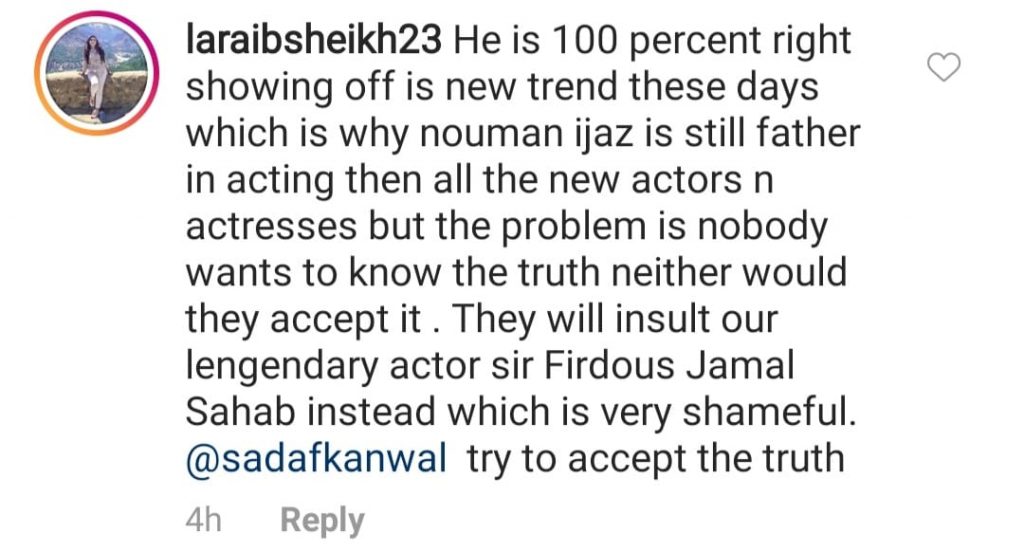 Many suggested that he starts an academy of his own to educate and train the younger lot: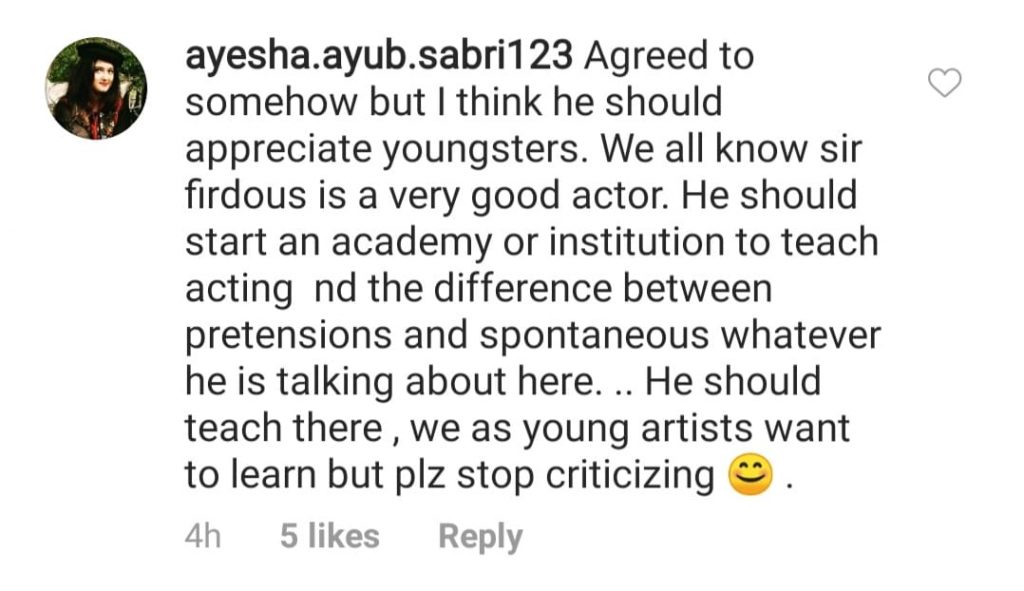 There were many who agreed:



Some questioned the mean and hurtful comments being directed his way:

What do you think about Imran's reply to Firdous Jamal? Let us know in the comments below!