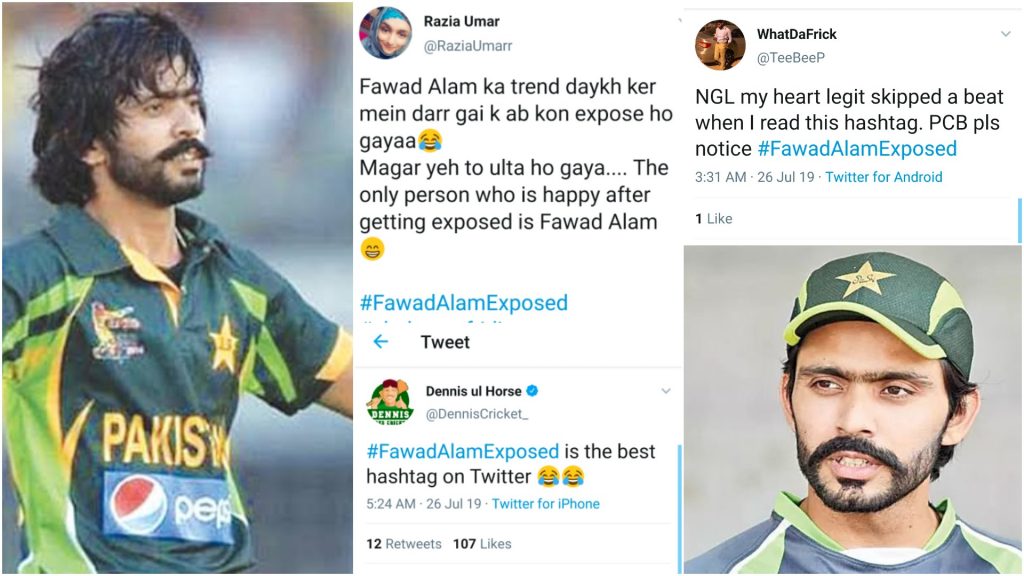 Last couple of weeks have been absolutely ground breaking. From Ukhano to Mohsin Abbas Haider to Imam ul Haq, the revelations have had the internet shook! And amidst this exposing trend, people at twitter came out with the hashtag #FawadAlamExposed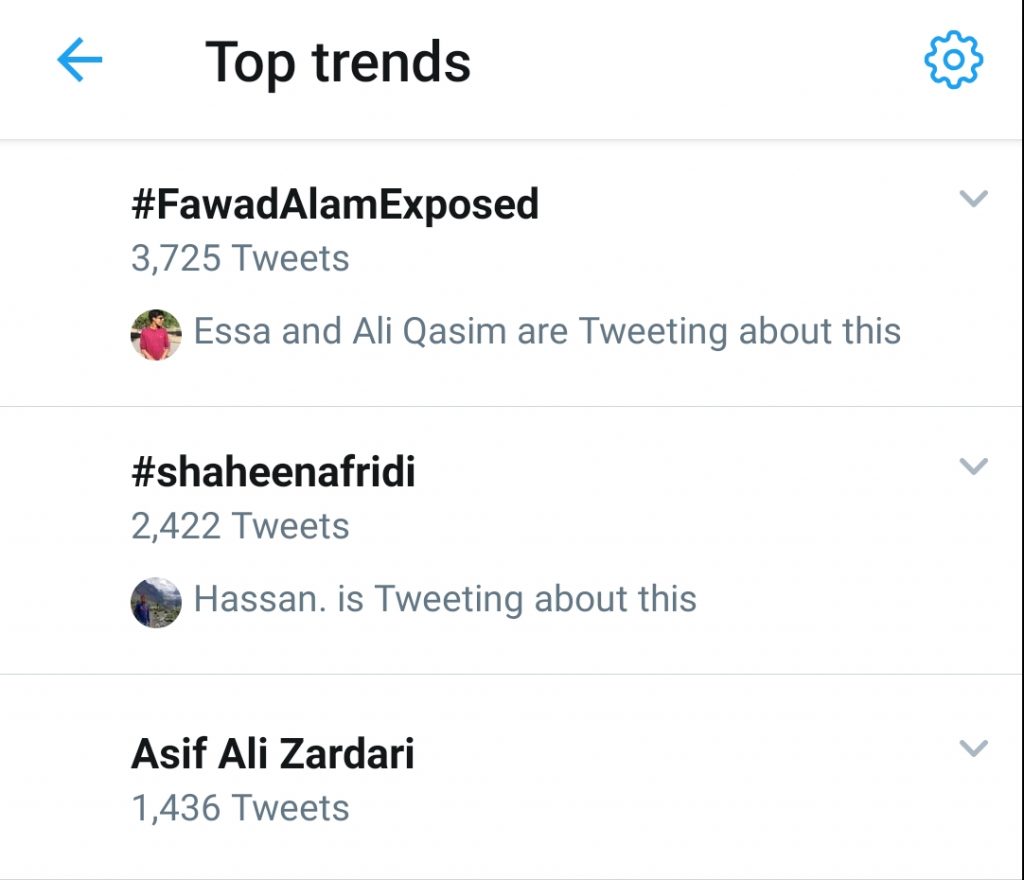 The first time we saw the hashtag trending, our hearts did skip a beat but when we explored the hashtag we were relieved! The hashtag has been all about exposing the greatness of Fawad Alam on the pitch. People have been questioning PCB's decision for not selecting Fawad Alam in the team:
Its sad that this nation has become a graveyard of merit. The highest average first class player is still struggling to find his place in the team. #FawadAlamExposed

— Ali (@AliE0198) July 25, 2019
People were shook!
I was shocked after seeing #FawadAlamExposed trend on top.

But there was BIG surprise after opening the hashtag.

— T. (@Being_Tammy) July 25, 2019
Time's up!
This is it PCB! Cricket is a game of sport but the tables have been turned, the time has come to expose Fawad Alam!

Yes i want to expose Fawad Alam for his brilliant performance as a batsman in Pakistan Cricket Team, yet not being selected by PCB#FawadAlamExposed pic.twitter.com/aEhREszX5T

— Imad Kazmi (@imadismm) July 25, 2019
Pictures were leaked!
It is the time to expose Fawad Alam for his performance…. PCB must take notice now!!!! Look at this leaked pic#FawadAlamExposed pic.twitter.com/c0oVFEUzz6

— Kanza Sohail (@KanzaSohail98) July 25, 2019
SAME!
I had a mini heart attack until I went through the tweets, I officially hate the word "exposed" now. #FawadAlamExposed

— 𝔄𝔯𝔬𝔲𝔟 (@artbyaroub) July 25, 2019
Achievements were exposed, one after another!
✔ 💯 on Test Debut

✔ An average of 41+ in Test Cricket

✔ 11000+ First Class Runs

✔ First Class Average of Over 55

✔ 30 Hundreds 💯 and Still counting

✔ 58 Half Centuries

✔ Avg. Of 50 in last 9 Consecutive Seasons

Still Not Suitable for Pak Team? #FawadAlamExposed pic.twitter.com/OlI5xXz1iw

— Bilal Khan (@khanbilal_) July 25, 2019
Uff, dara hi diya!
Times up for you too Mr. Fawad Alam!

Now we will raise voice against what PCB did with your career, and they must answer it..#FawadAlamExposed

— Muحaّmad Shahزaib Paٹni🇵🇰💕💯 (@SHAHZAIB_PATNI) July 25, 2019
Personal data was leaked, his twitter bio for instance 😂
Fawad Alam's twitter bio says "a cricketer who dreams to play for his country" but it's so heartbreaking how talent here has no worth. He's one of our best players, it always has been so unfair to him still he remains silent. I wish he gets what he deserves #FawadAlamExposed

— Izma. (@IzmaSiddiqi) July 25, 2019
People were exposing his talents:
@iamfawadalam25 is performing with bat since so long but no one bets an eye. So we decided to use the POWER OF WORD EXPOSE because people of Pakistan loves star plus type things.#FawadAlamExposed for scoring 10k runs and still waiting for a chance.

— Momina Sarwar 🇵🇰 (@iamhafeeezgirl) July 25, 2019
Fawad Alam is one of the best cricketer but he hasn't been playing international cricket for a few years now. Pakistan selection committee ignores the best talent which is why we are lagging behind. Pickup the pace! #FawadAlamExposed pic.twitter.com/PPYn5BzglY

— Ambreen (@itx_halloween) July 25, 2019
In the year 2009, Fawad became the first Pakistani cricketer to score an overseas Test century on debut versus Sri Lanka but is PCB giving the best cricketers any chance?
NO ❌#FawadAlamExposed pic.twitter.com/dEEIMJK73n

— Imad Kazmi (@imadismm) July 25, 2019
"FAWAD AlAM" the name of consistency, his batting Average is 55+ in first class. He also perform very well in international level for Pakistan but unfortunately He has got dropped from the Pakistani squad and has got very limited chances to prove his talent..#FawadAlamExposed pic.twitter.com/1qF4hRPuO1

— S O H A I L👓 ( سہیل) (@M____sohail) July 25, 2019
Fawad Alam – He scored 10,172 runs in First Class Cricket thus far. It is surprising that Fawad Alam couldn't get a place in any category of PCB Central Contract.#FawadAlamExposed pic.twitter.com/VofBavGMxx

— Aamir Bangash (@aamirsayss) July 25, 2019
An all rounder!
He can bat, he can bowl, he can field. He has proved in the international arena with his cricket stats but yet he is ignored#FawadAlamExposed

— Umer Vlogger (@Umer_Vlogger) July 25, 2019
People were wanting Fawad Alam on the team:
You know what real Talent is?

When the public starts chanting Bring Back Fawad Alam, yes he is out of our national team just not because he is a quality batsman but he is also a backbone of this Pakistan Cricket. Imam Parchi should be replaced with Fawad Alam. #FawadAlamExposed pic.twitter.com/pNtWK7yX3T

— Danish Kaleem (@danesh_kaleem) July 26, 2019
The angry cricket guy made an appearance:
*Pcb announces team for world cup 2019*

Fawad alam: #FawadAlamExposed #pcb pic.twitter.com/p1g76A6xVz

— Wasay Ali (@wa10says) July 26, 2019
Tips on stamina were shared 👀
He eats healthy meals to gain stamina 😉 and on fields his performance is too good#FawadAlamExposed pic.twitter.com/sxAkvtuVUj

— AL -RAZI (@razii_says) July 25, 2019
Comparisons were made:
Imam ul haq First class average 34.46

Fawad Alam First Class average 55.37#FawadAlamExposed

— Aamir Bangash (@aamirsayss) July 25, 2019
People were just as shocked to see the hashtag trending:
Fawad Alam ka trend daykh ker mein darr gai k ab kon expose ho gayaa😂
Magar yeh to ulta ho gaya…. The only person who is happy after getting exposed is Fawad Alam 😁#FawadAlamExposed #shaheenafridi #ImamUlHaqExposed

— Razia Umar (@RaziaUmarr) July 25, 2019
NGL my heart legit skipped a beat when I read this hashtag. PCB pls notice #FawadAlamExposed

— WhatDaFrick (@TeeBeeP) July 25, 2019
Nearly had a heart attack when I saw #FawadAlamExposed

Oh no! Not again 😨

Luckily it's exposing Fawad Alams talent #PCB #PakistanCricket #Pakistan #ImamUlHaqExposed #Pakistani

— 👦Saqib Rum👧 (@Kayani1s) July 25, 2019
When i first saw #FawadAlamExposed i thought yeh bhi aisa nikla… but after looking at some tweets i realized it for a good cause…. @TheRealPCB plz plz plz give him at least a chance… #FawadAlamExposed #ImamUlHaqExposed #shaheenafridi #PCB

— Arsalan Ahmed (@arsalanahmed014) July 25, 2019
Reactions were shared:
Fawad Alam's mixed reaction on watching the trend: #FawadAlamExposed pic.twitter.com/TslnUzGiy4

— Imad Kazmi (@imadismm) July 25, 2019
The cat is us!
1st: #FawadAlamExposed
2nd: after reading some tweets. pic.twitter.com/146KnUez8r

— Hina (@hi_9a) July 25, 2019
Many agreed to using social media platforms for this cause:
This is something we should use our Social Media platforms for!#FawadAlamExposed https://t.co/fEdvydLnUe

— Kinza Azam. (@GETT_LOSTTTT) July 25, 2019
And while many were loving the trend, some thought it's a bad way to promote him:
This trend #FawadAlamExposed is such a bad way of supporting him. It doesnt look nice. Shallow minded people are thinking that maybe Fawad was also caught fooling around with girls or something…

— Chayy Bee (@ChayyBee) July 26, 2019
What do you think about this unusual trend? Let us know in the comments below!