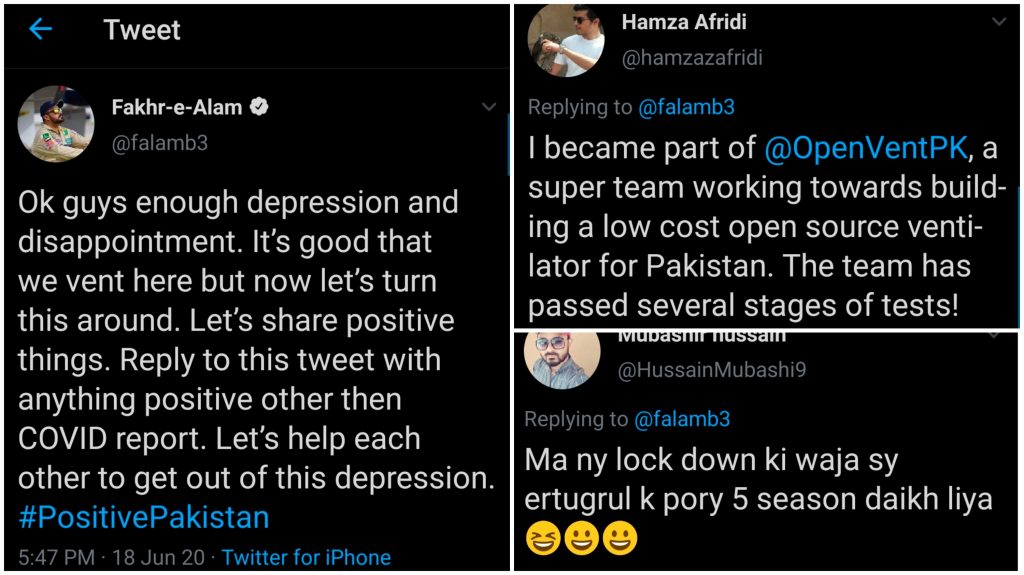 With parts of the country's major cities being sealed to contain the virus, people have been feeling a little blue.
And to give them the much needed dose of positivity and happiness, Fakhr-e-Alam came up with the idea of people sharing the positives in their lives:
Ok guys enough depression and disappointment. It's good that we vent here but now let's turn this around. Let's share positive things. Reply to this tweet with anything positive other then COVID report. Let's help each other to get out of this depression. #PositivePakistan

— Fakhr-e-Alam (@falamb3) June 18, 2020
And the replies are absolutely wholesome!
I became part of @OpenVentPK, a super team working towards building a low cost open source ventilator for Pakistan. The team has passed several stages of tests! pic.twitter.com/2Tl7ON9qiB

— Hamza Afridi (@hamzazafridi) June 18, 2020
More power to you!
I am from telecom company – can't give details at the moment. But working on a mechanism/database to donate and receive plasma. Geographically split and will be accessible to every Pakistani with a cell phone free of cost Insha Allah.

— Uzair (@alvieuzair) June 18, 2020
Cheers!
– A lot of students passed #CSS2019 !
– So many started their small businesses from home, something they weren't able to put focus on before.
– I became a CPA (Canada) this year

— Mahin (@MahinAdnan) June 18, 2020
Okay, wow!
I start painting while #COVID__19 lockdown.
So few words please 😊#PositivePakistan pic.twitter.com/b5tfmk5bXd

— Ikram ❗️ (@Mi09A01) June 18, 2020
Mashallah!
I started reading tarjuma tafseer, Alhumdulilah 9 siparahs complete. And believe me…. Dil aur dunya dono badal gaye, aur abhi 21 baqi hain. Us k baad kya kya karishmay hoon gain, soch kr hi excited ho jati hoon.

— Heer Malik (@HeerMMalik) June 18, 2020
Haha, some had their own ways to deliver news:
I lost my wallet today (negative)….it was empty (positive) as I'm broke (negative) but very happy (positive)

— junaid jahangir (@Junaidspeed) June 18, 2020
It helped many do things they hadn't done before:
The one and only thing positive thing I can share is that for the first time I kept Shawwal fasts all thanks to Corona…. rest everything is leading to restlessness…

— Muhammad Shahzeb (@MShahzebMalik) June 18, 2020
Haha, this one's for all the gamers out there:
Sir today i won my 1st game out of 10101010201 games in pubg

— Fahad Aziz (@fahadaziz_78) June 18, 2020
Way to go!
I Quit Cigarette , Its been more then 3 weeks now 🙂

— Danish Amin Merchant (@danish112100) June 18, 2020
Amazing!
Yep .. Someone I know lost 9 KG s during lockdown 🤫🤫🤫

— Raja Shaheryar Khan (@Shaheryarkhan90) June 18, 2020
Jo baat hai!
Positive news is that we understand family strength more than before. We are able to control our budgets. We learn the time value. We are more healthy. We learn how to do the works in a shorter time and other ways to earn bread without spending 12 hours at office.

— Naveed (@NNaveed1984) June 18, 2020
People were enjoying the mango season!
Delicious 😋 Pakistani Mangoes 🥭 are the blessings. Having them in front of you is the best positive thing. Respect 🇵🇰!! Stay safe and blessed.

— DR.FAROOQ (@DrMFarooque) June 18, 2020
Haha, Ertugrul fever!
Ma ny lock down ki waja sy ertugrul k pory 5 season daikh liya😆😀😀

— Mubashir hussain (@HussainMubashi9) June 18, 2020
Yaaaas!
I got rid of toxic people,started confronting people who needed some sense of self-realization. https://t.co/C6KBSJUowr

— Sim ✨ Hina & Savaira 🎈 (@alyshaxbadami) June 18, 2020
People were lauding Fakhre Alam for his achievements:
Sir Fakhr-e-Alam is the first Pakistani to circumnavigate the globe. And Sir I am looking forward to reading your book Mission Parwaaz how can I get in Pakistan as long as it doesn't matter offline or online. Love you Sir my mentor, my inspiration. @falamb3
Regards, Imtiaz A fan https://t.co/j8lpp0RQVa

— Imtiaz Banglani 🇵🇰 (@BanglaniImtiaz) June 19, 2020
Some were replying with a pinch of humour:
— Azeem Shah 🇺🇸🇵🇰 (@axeemshah) June 18, 2020
People were loving the comments!
Comments under this post are everything😌 https://t.co/PX2W9k5n15

— Tahreema Abbas (@tahreema_abbas) June 19, 2020
What's that one positive thing that happened to you? Let us know in the comments below!