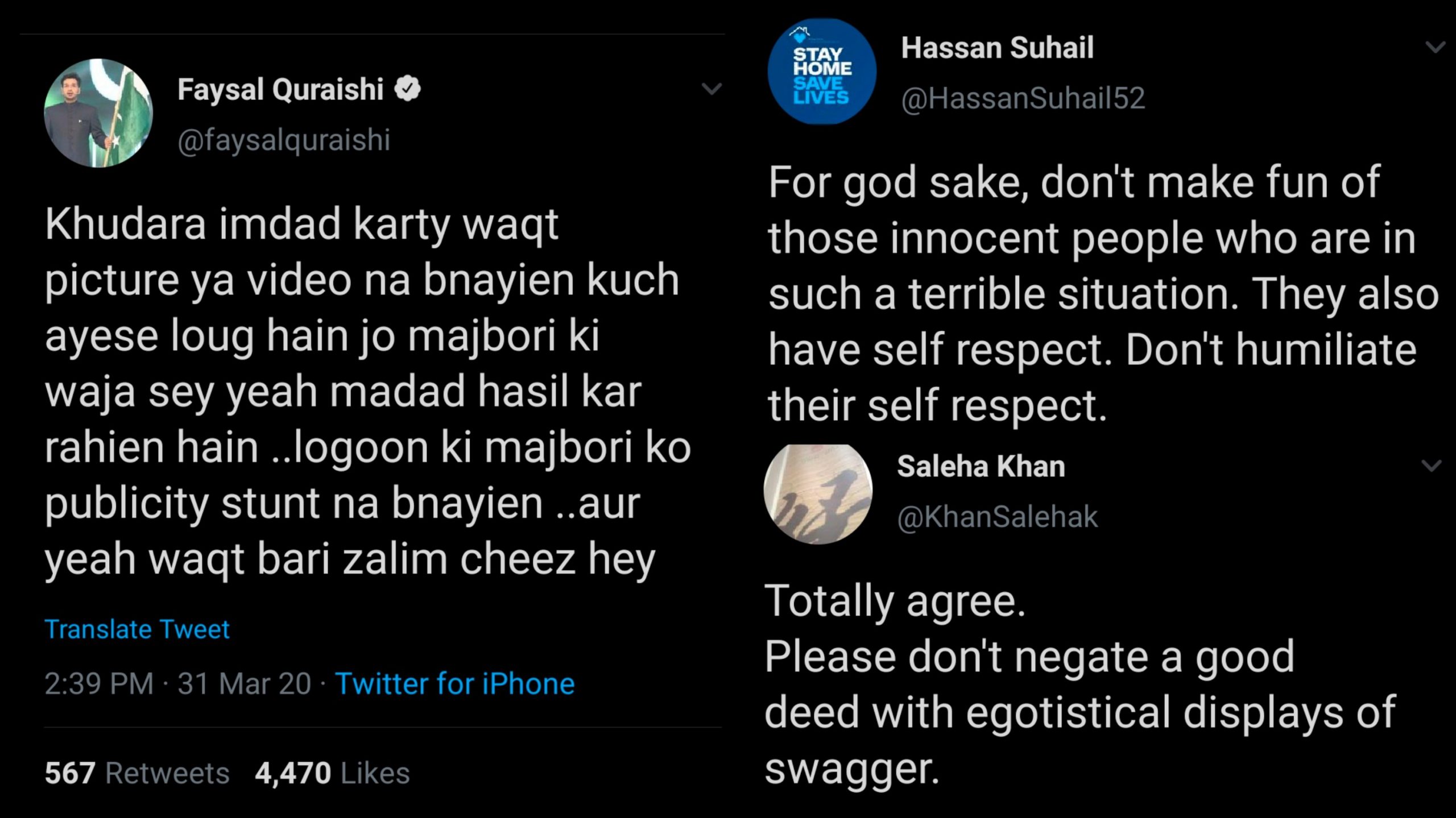 As the lockdown continues country-wide, several labourers have been struggling to make ends meet with their extremely limited resources and in this hour of need, people from all walks of life have been generously donating and helping the poor in forms of monetary and ration needs.
And while this kind gesture is commendable, many people have reservations about posting this whole act of charity to social media including Faysal Qureshi who voiced the concerns of many through his tweet:
Khudara imdad karty waqt picture ya video na bnayien kuch ayese loug hain jo majbori ki waja sey yeah madad hasil kar rahien hain ..logoon ki majbori ko publicity stunt na bnayien ..aur yeah waqt bari zalim cheez hey

— Faysal Quraishi (@faysalquraishi) March 31, 2020
And people actually stood by him and what he had to say:
True. While giving donations always take care of people's self respect. Because time passs but regret left. Please help others secretly 🙏🙏🙏🙏

— nareen khalid (@KhalidNareen) March 31, 2020
Cricketer Mohammad Amir hoped that people understand the message:
Very true Allah kare ub inko samj b aye k is message ki faisal bhi

— Mohammad Amir (@iamamirofficial) March 31, 2020
Actress Zarnish Khan was on board too!
I can't agree more!

— Zarnish Khan (@XarnishKhan) March 31, 2020
People were mentioning ahadith to support the statement:
One who gives charity will be amongst the seven types of people who will be in Allah's shade on the day of judgement.

"…a person who practices charity so secretly that his left hand does not know what his right hand has given…." – Bukhari https://t.co/Z79XT8Qhxp

— Annie Zia (@anniez90) March 31, 2020
People wanted it to stop already:
100% agreed. Please stop this nonsense dikhawa or publicity. Help others and don't even tell to your family. https://t.co/M2KKRAxj73

— AllisWell (@MuhammadVaccas) March 31, 2020
Many were urging others to stop humiliating the needy:
For god sake, don't make fun of those innocent people who are in such a terrible situation. They also have self respect. Don't humiliate their self respect. https://t.co/afoAhZvJ9y

— Hassan Suhail (@HassanSuhail52) March 31, 2020
People absolutely agreed:
Yeh Cheez bhai Jan. Yeh ki na apne 100 any durust baat. Yahi ek cheez hm logon ko smj ajaye k Neki kro dikhawa mat kro to sab theek ho jayega. If u did something for people but to gain attention or publicity this is such a bad way of showing your good gesture. Allah Qubool kre!👍 https://t.co/pZ3MpNZ4hV

— Aliyan writes (@call_ansari) March 31, 2020
Some thought it was for the display of swag and ego:
Totally agree.
Please don't negate a good deed with egotistical displays of swagger. https://t.co/rhpnz2sLp0

— Saleha Khan (@KhanSalehak) March 31, 2020
Many deemed it to be disrespectful:
Yeah please don't!! It's very inhuman and Disrespectful.. 😔😔 https://t.co/0uNNh8GeI8

— Fahad Ijaz (@Fahadmughall) March 31, 2020
Beshak:
PLEASE 🙏 waqt bohot zalim cheez hai https://t.co/eBheXTUNip

— Gul Ali (@GA_gulali) March 31, 2020
People were sending prayers to others:
Agreed. Fame k bhook may log ajj bhi yahe kur rahay hain sir… ALLAH HIDAYAT DAY SUBKO https://t.co/9IeOBZXOnw

— Moienali (@Moienali10) March 31, 2020
Some felt that they were only helping others for fame:
ایسے کیسے نہ بنوائیں تصویر بھاٸ؟
امداد دے ہی رہے ہیں جو لوگ نری مشہوری کے لیے! https://t.co/nDNxtv936N

— عمير مغل (@umairafsar) March 31, 2020
نیکی کے ثبوت اکھٹے کر رہے کیمرے میں شائد ☹️ https://t.co/oSTJGxOcjt

— فرخ ریاض (@farrukh1127) March 31, 2020
Unfortunate:
Exactly safaid posh isi lie bahr lenay b ni atay k pics bna letay ☹️😐

— Ume Habiba🇵🇰 (@HabibaMalikBSR) March 31, 2020
Facts:
ہماری قوم کا ایمان..
نیکی کر اور شوشل میڈیا پر ڈال..😕

— HαSnαin AhmeĐ (@HaSnain_AQ1) March 31, 2020
Some shared how it takes away from the ajar:
Even if that is not their majboori we should not do this, this wont be counted as an act of kindness. Because it's matter of God n us.

— ARPNA🌪 (@The_Nihilistic) March 31, 2020
People were appreciating him for actually speaking out against this show off:
Finally somebody said this🙏🏻

— Bushra Fatyma (@bushra_fatyma) March 31, 2020
Please!
Donate for the sake of Allah not for publicity 🙏 pic.twitter.com/3oa5JUWSTT

— Misbah Malik (@MisbahM63284168) March 31, 2020
Some blamed it all on celebrities:
The picture trend has been set by the celebrities and unfortunately our people follows them blindly without thinking of the consequences. Allah ko naa dekhaye wahi tu sb dekhnay r sun'nay wala hai 🙏

— Aasiya Ali (@DrAasiyaAli1) March 31, 2020
People were also quoting what the Quran says:
Couldn't agree more.
As Allah Swt says in the Quran
"If you disclose your sadaqaat, it is well, but if you conceal & give them to the needful, that is better for you".

— Neelam (@NeelamDubai2608) March 31, 2020
Some had a midway solution:
Yes you can upload the picture of ration packets to motivate other people but avoid to upload the picture of thoes people who are recieving these ration packets ☺

— Tehreem (@Tehreem13655629) March 31, 2020
i agree with you.. It's not good to make someone picture and post them on social media… If you people want to Motivate other for good work what you can do is to Take picture of things you give not of people… Hope so you guys understand my message

— Munhil Asghar (@MunhilA) March 31, 2020
Some begged to differ:
qaum ko jagane k liye kabhi kabhi zaroori b hojata hai.. jo dikhta hai wo bikta hai.. waise ji jaise kharbooza karboozay ko dekh k rang pakarta hai.. i think we shouldnt jugde them.. im 100% sure u are doing an effort too.. lekin humari qaum kuch dekha dekhi b kaam krti hai 😑🤦🏽‍♀️

— Maira Khan (@mairaamir) March 31, 2020
Some were actually thanking him for the tweet:
Thanks Faysal bahi is tweet k liye. Mere comments se to koe fark ni parr raha tha shayad ab kich tabdeeli aae.

— Sammer Iqbal (@SammerJadoon) March 31, 2020
Do you agree with what Faysal Qureshi has to say? Let us know in the comments below!