They say taking images is like freezing a moment in time and seeing the richness of reality in it, yet, in many ways, a photograph captures more than just that. It explores dichotomies of life that sometimes are invisible to the naked eye. And trying to look at this exact uniqueness and contrasts in our Pakistani icons has been one such person for the last three decades – who himself is a no less than a legend – the ever enigmatic, Tapu Javeri.
Capturing and archiving the lifestyles and moments of entertainment history and the socio-cultural fabric in his journey, Tapu has been a constant in the fashion and lifestyle industry and will always remain the one who began it all.
Now, looking at some of the most memorable shots that Tapu has captured in his career, Diva explores the way we were as narrated by the photographer…
Imran Khan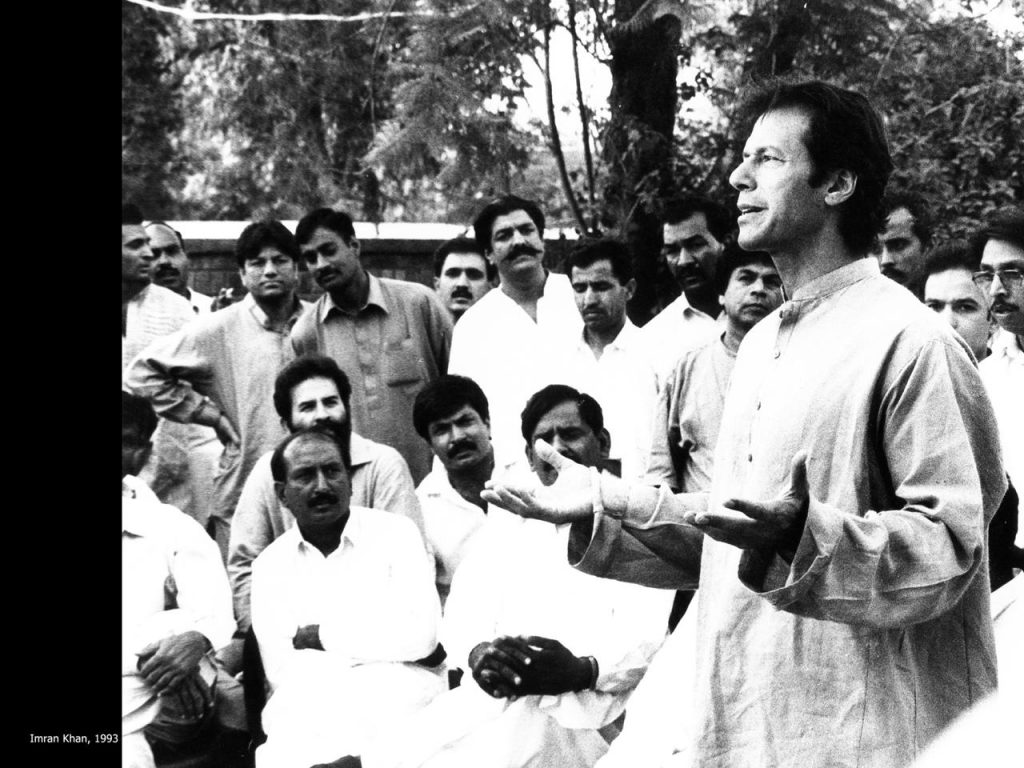 "This was Imran Khan, that I shot for Xtra, and it was at one of his earliest jalsas ever. We followed him around when he was doing his talks for Shaukat Khanum. At that time he was quite aspirational to become PM , and I captured this when it looked like his hands were in this praying manner."
Nusrat Fateh Ali Khan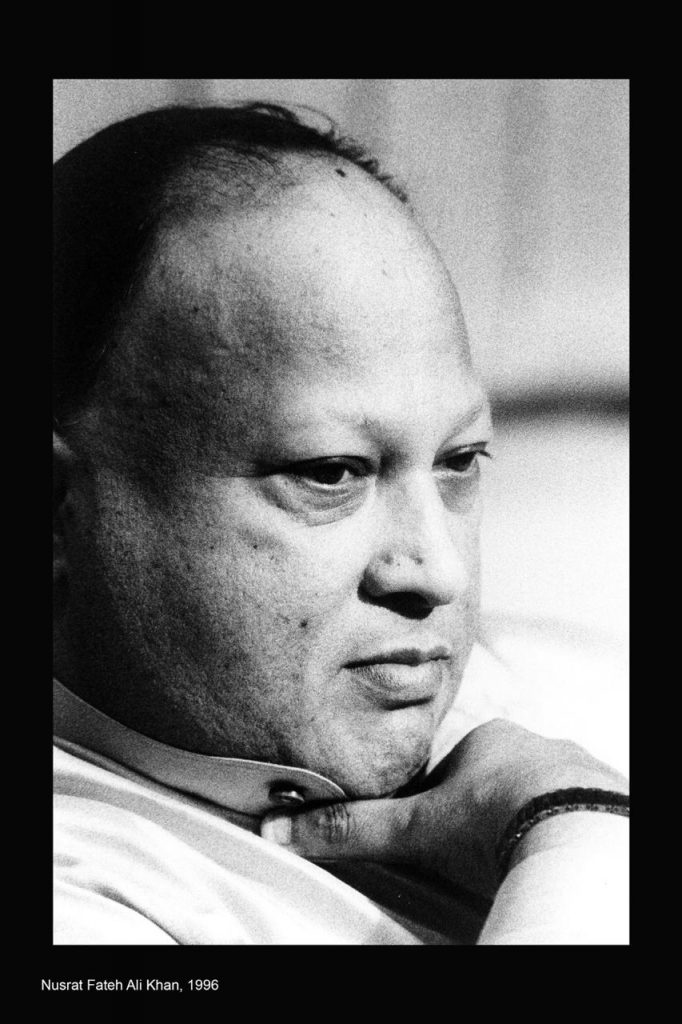 "The amazing Nusrat Fateh Ali Khan, he was such a charitable person. I took this photograph of him in the 90s, backstage at a concert where he was getting ready. This was a concert at Gymkhana, and I really wanted to do his photoshoot there but the organisers were a bit wary. Nusrat sahab saw this and asked me if I had a kurta, which I didn't, yet he found me one and made me sit with him on stage!"
Bakhtawar and Bilawal Bhutto-Zardari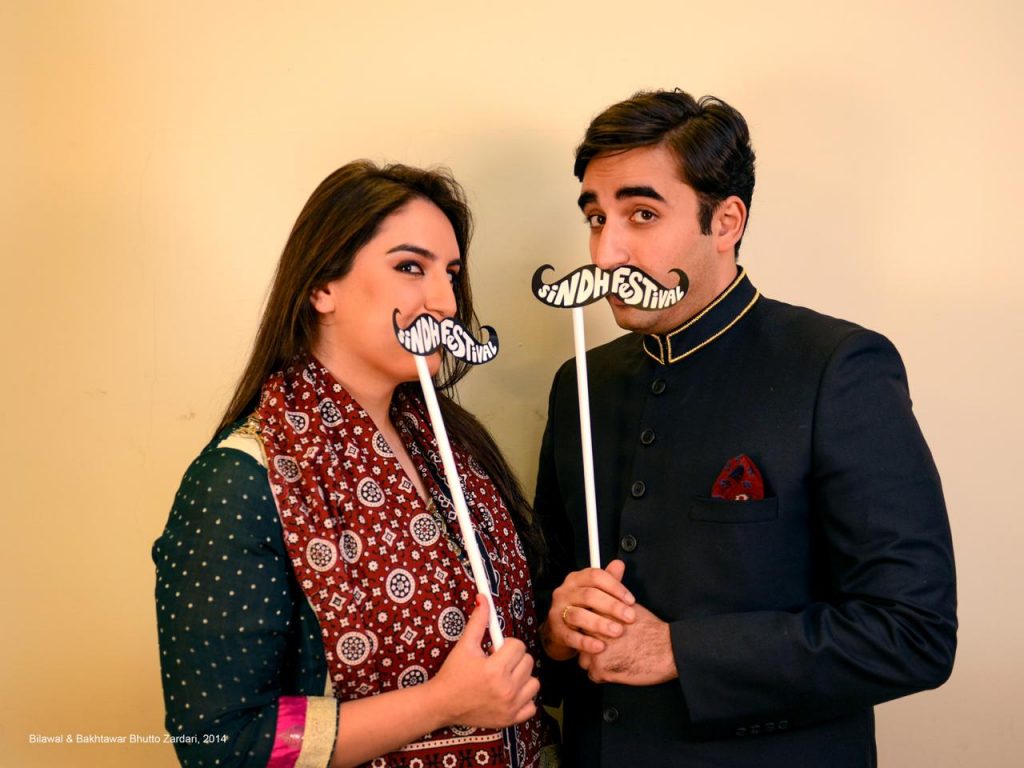 "I've always said as a photographer, you can get the people in front of the lens to do almost anything you want them to do. These two siblings – Bilawal and Bakhtwar Bhutto-Zardari, were interested in promoting their Sindh Festival, and these images were done when I had seen these moustaches lying around. It was an intimate moment between them and I quickly took it."
Samina Peerzada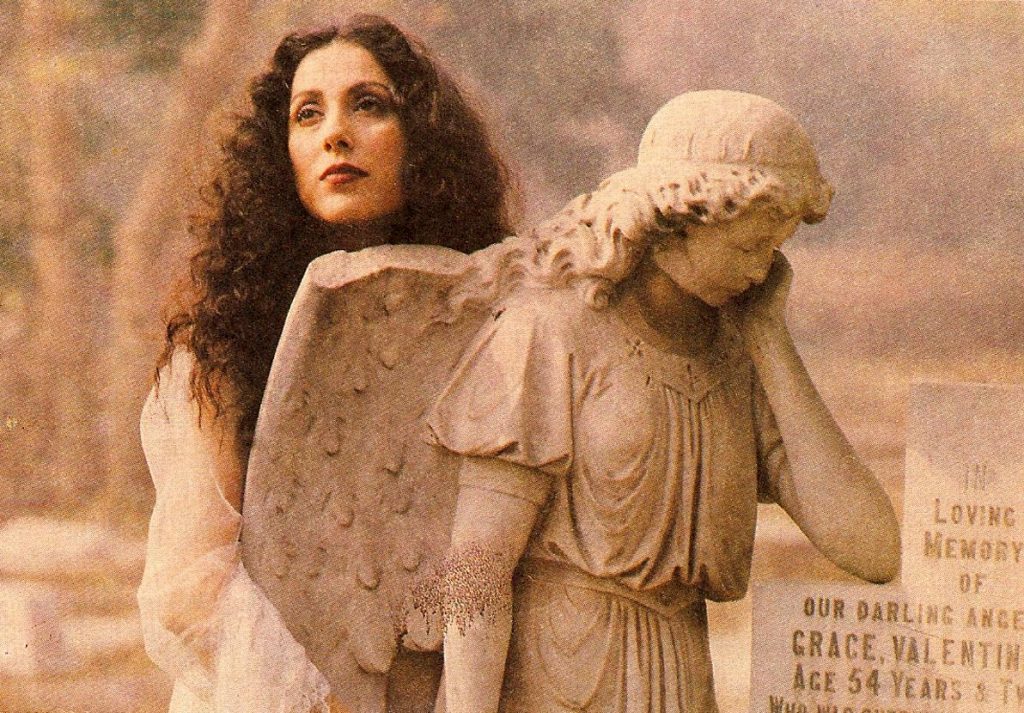 "This is Samina Peerzada shot in Lahore at the Christian Graveyard. I wanted to do this shot, and Samina fit the bill. We both turned up at the graveyard at 5 am in the morning and we convinced the then caretaker of the graveyard that Samina was practising for some role, where she was playing a Christian person. We walked into the graveyard and we did this shot! The odd thing is these negatives were destroyed in a fire in my studio."
Resham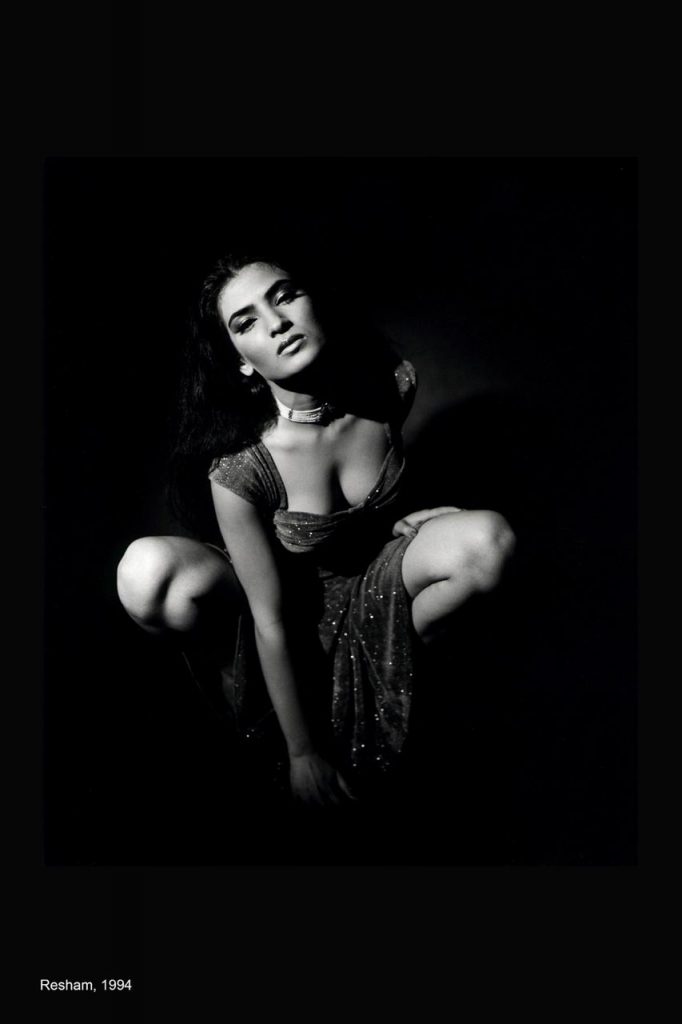 "A steamy shot of Resham, this was done for Xtra. Fifi asked me what I wanted to shoot her as. The initial idea was to shoot her like the Oscar award statuette, so we had her done in gold makeup in a gold bathtub – which to this day is lying in my backyard, and we shot that image, however, this one we didn't publish. But, this image was shot in such gorgeous lighting and she had great energy in front of the camera, that I love it!"
Anwar Maqsood Hameedi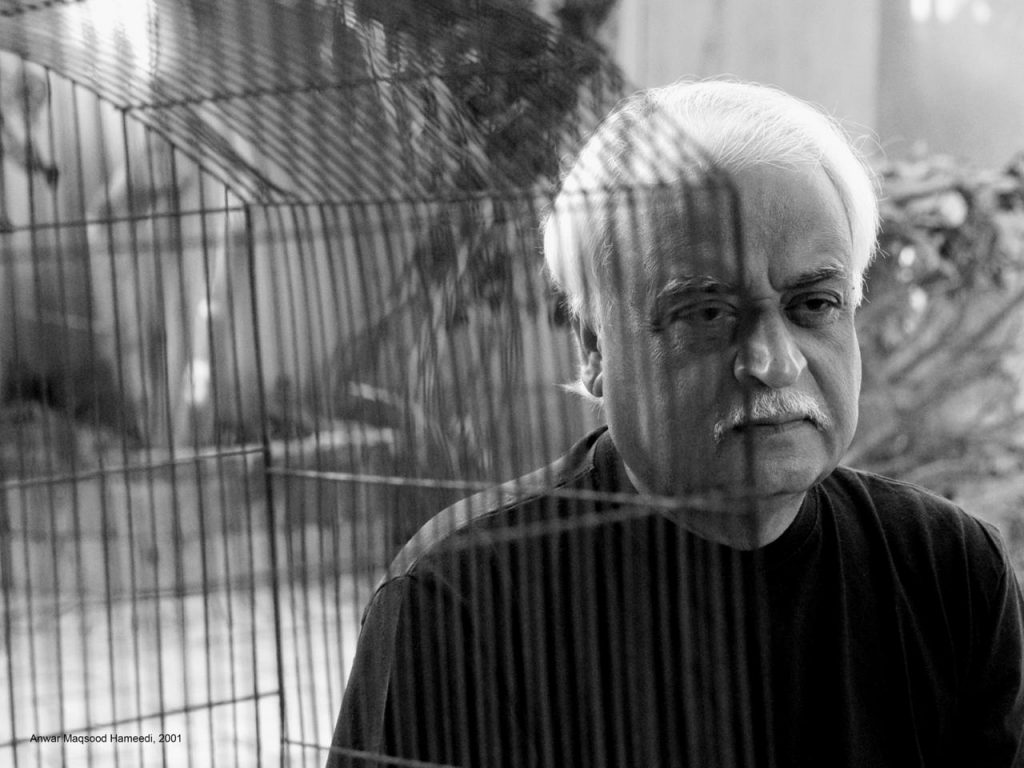 "Anwar Maqsood, the enigmatic poet, I shot this image for my first book I, Voyeur, which was a collection of portraits of Pakistani known people. He's a really shy person in front of the camera, much like his family — and I include his son in the shyness too.  So, to photograph him, he insisted I put something in the middle, so we ended up using this birdcage, and it came out really interesting! He recited so many poems while I was photographing him!"
Hina Dilpazeer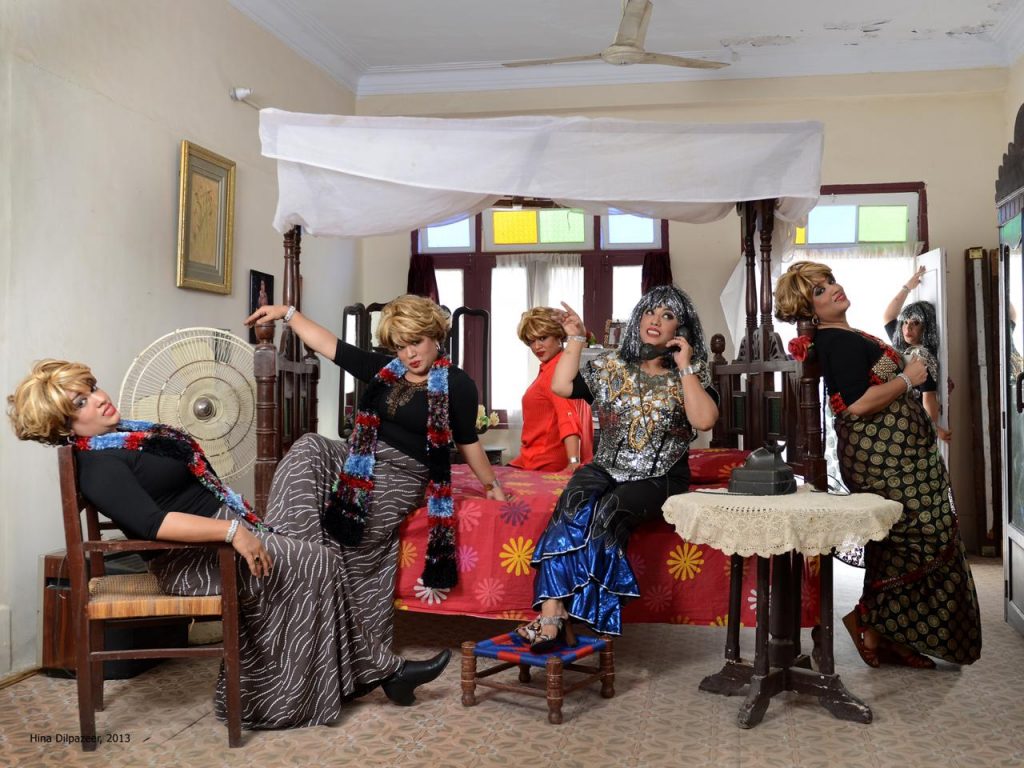 Hina Dilpazeer is just an amazing person, and she has so many facets to her personality that I thought that if I am doing her portrait, I can't do it in one picture. We shot this on the sets of Qudussi Sahab Ki Bewa, and we set the camera on the tripod and took multiple shots of her in various areas and layered them together."
Shabnam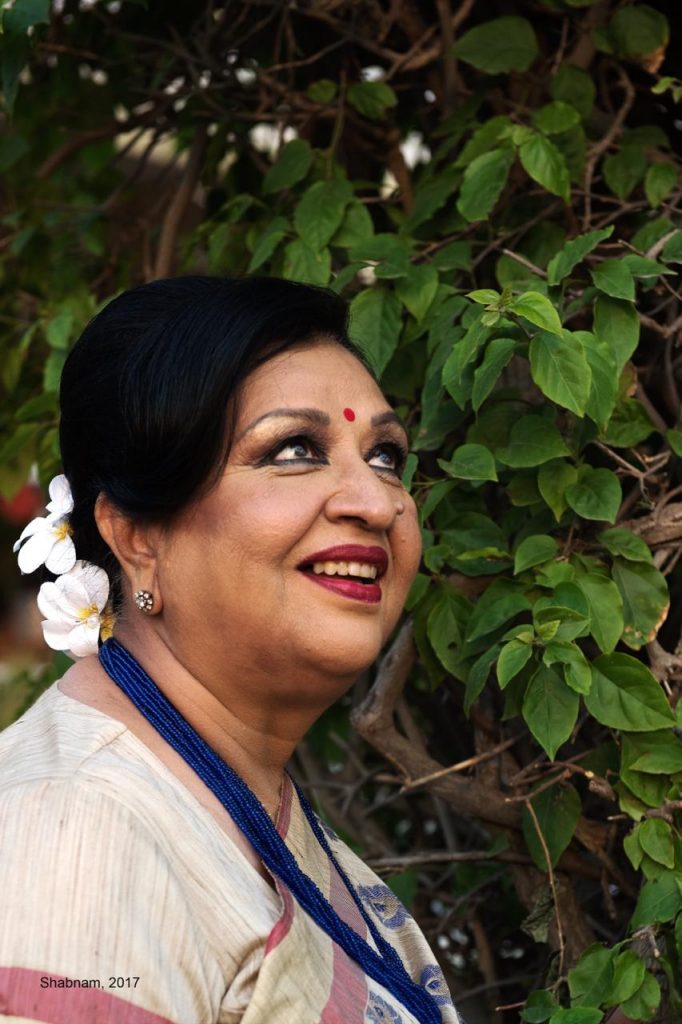 "By the time I came into photography, Shabnam had already left the country. It was wonderful to see her in 2017 though when she came for the Karachi Literature Festival."
Kavita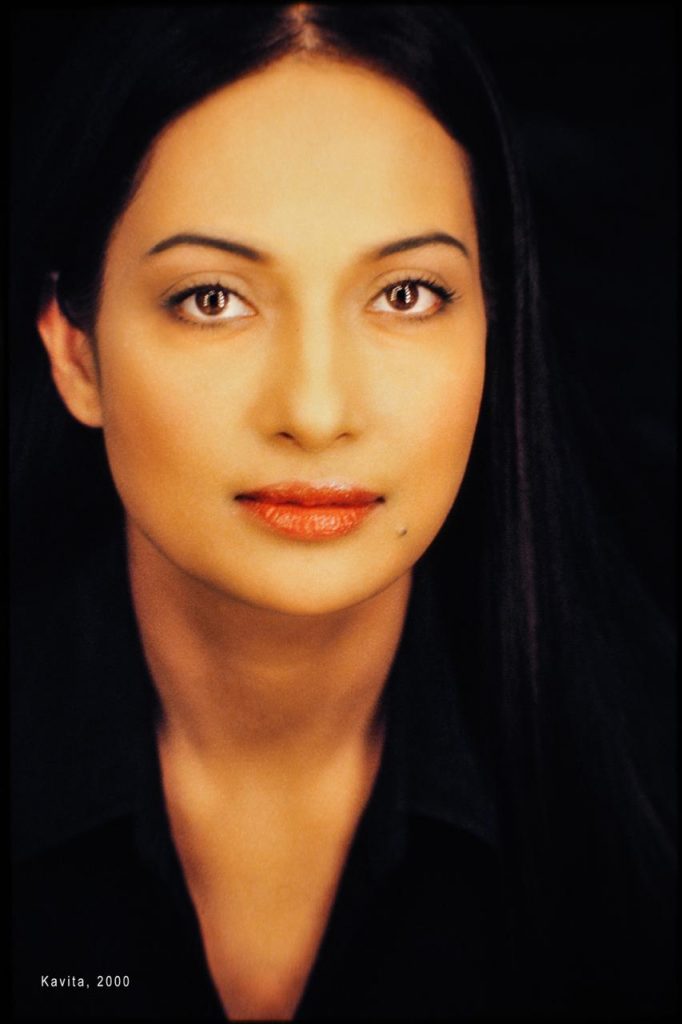 "I've known Sangeeta for a long time, but by the time I met Kavita, she had disappeared. She turned up at my studio out of the blue, and my servant told me an actress had come to visit me. I had no idea who she was, and I see this lady was there in ripped jeans, top and a scarf and I realised it's Kavita. I hadn't seen her in centuries! After this, we became really close friends. But then, all of a sudden she disappeared once again. She once claimed that we were only allowed to meet her because her jinns allowed it!"
Rani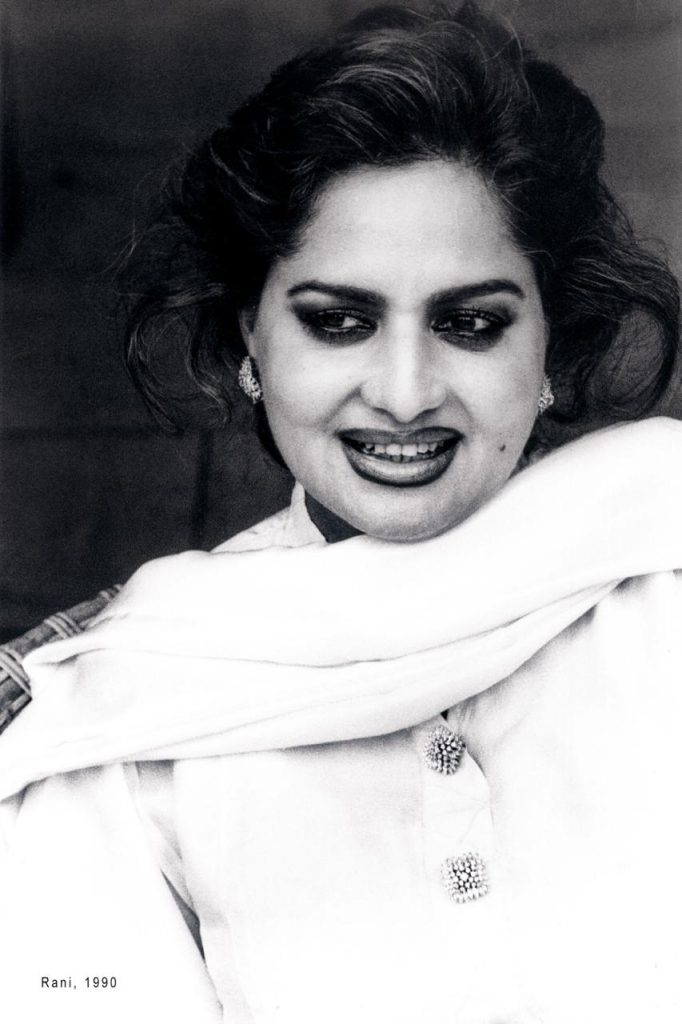 "Rani was the first celebrity I ever photographed and in fact, I had always been a big fan of her after watching Sita, Maryam, Margaret. I was doing this for Herald, I went to her house with my camera, she was so welcoming and fed me these wonderful cupcakes, which I had never in my life seen before. Her house was interesting as it had nothing but photos of her everywhere!"
Shaan Shahid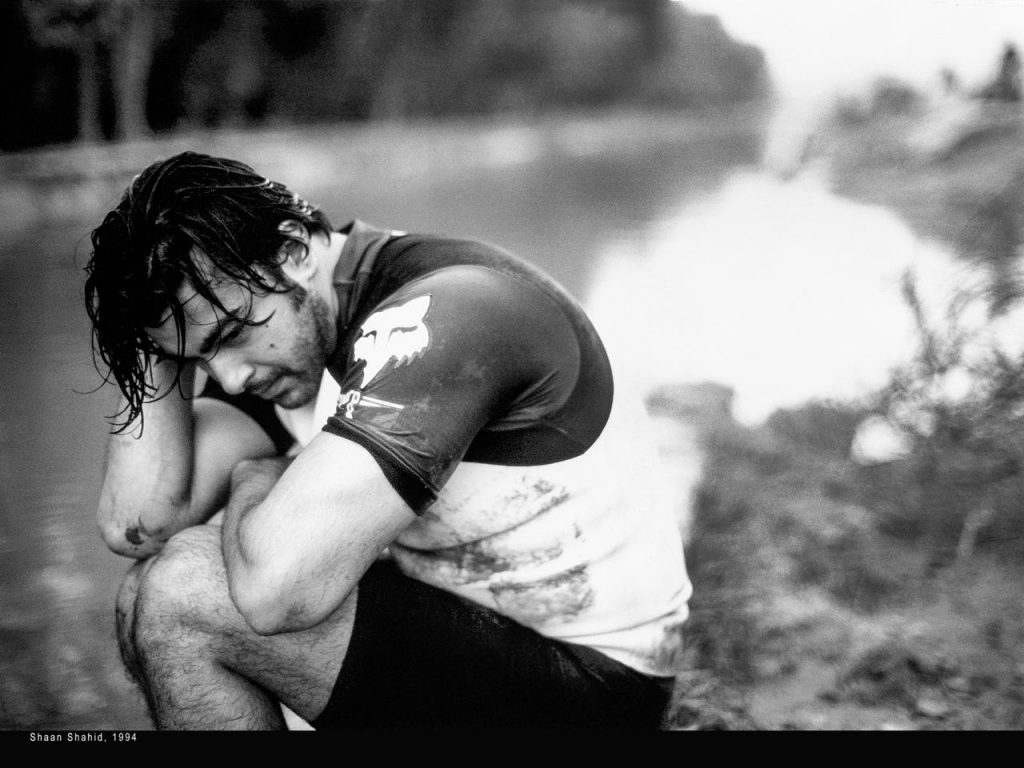 "Wonderful Shaan! This was done for Xtra, and it was shot either at the Faisalabad Mor or the Lahore Canal. We took him there and we wanted him to swim there and all. Interestingly, in the image, it looks like it's all empty and peaceful, but it's only because right behind me there were like a billion people looking at Shaan, it was hysterical!"
Nazia Hassan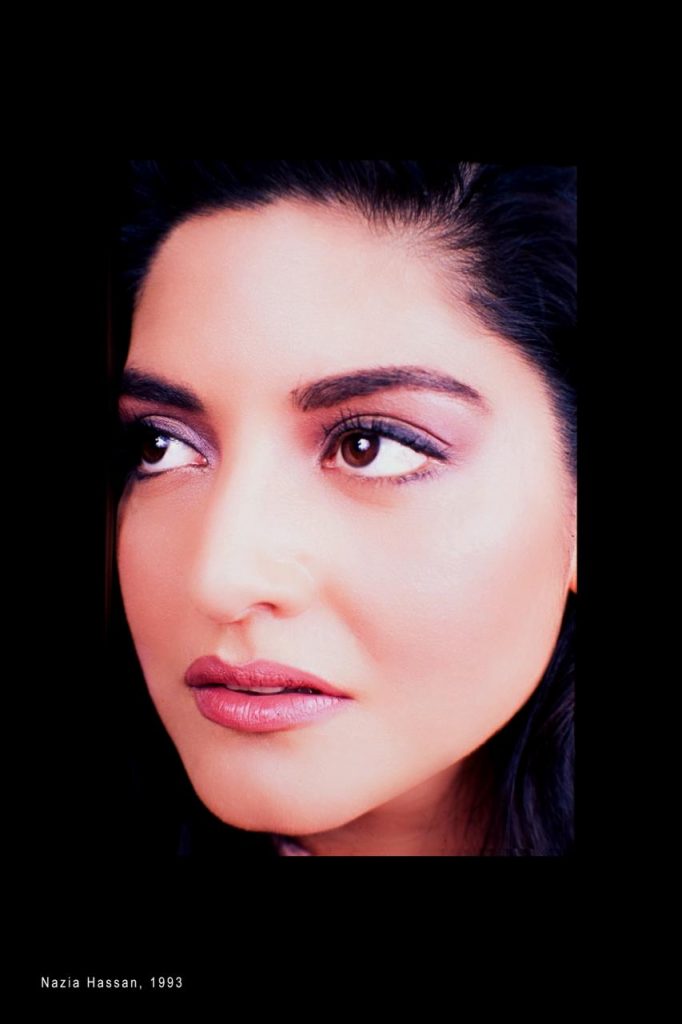 "This is my only remaining photo of Nazia, this was for a shoot with Nabila, where we had to restyle her, as she had already left her career by then. It was a beautiful shoot, where Nabila got these gorgeous roses and she was styled with a ring of roses around her. But, unfortunately, the images were destroyed and this was the only image left."
Reema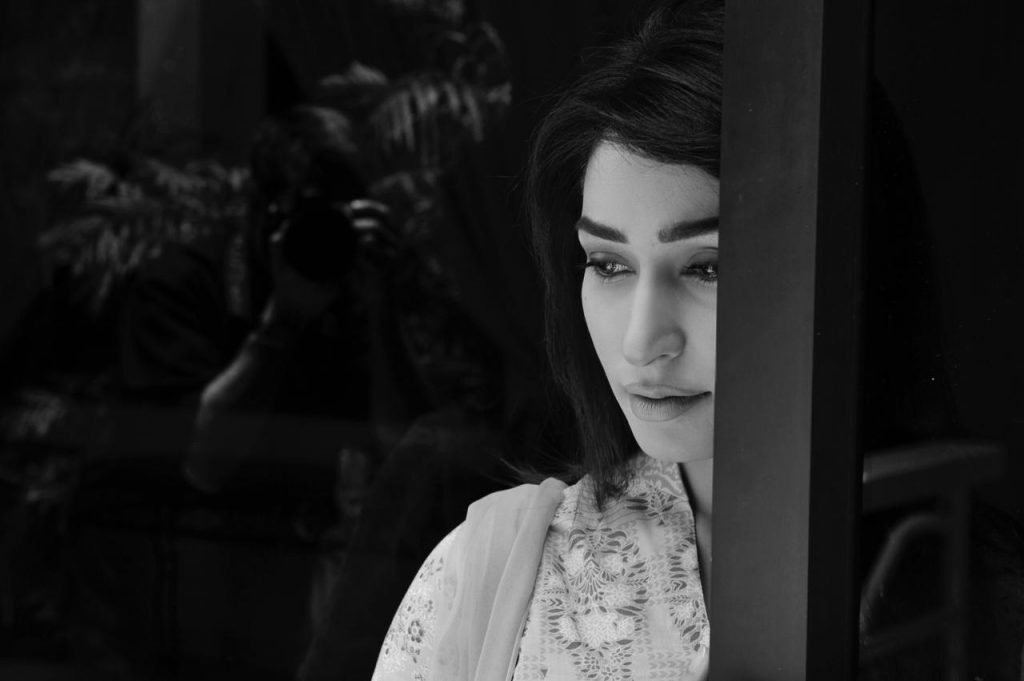 "The gorgeous Reema, this was for my book assignment, Dou Rukh with Arif Mehmood, where we photographed the same people and showed our own visions of them through our lens. I photographed Reema at the PC Hotel lobby, and she looked a bit sad, so I asked her to peek out and I took it."
Noor Jehan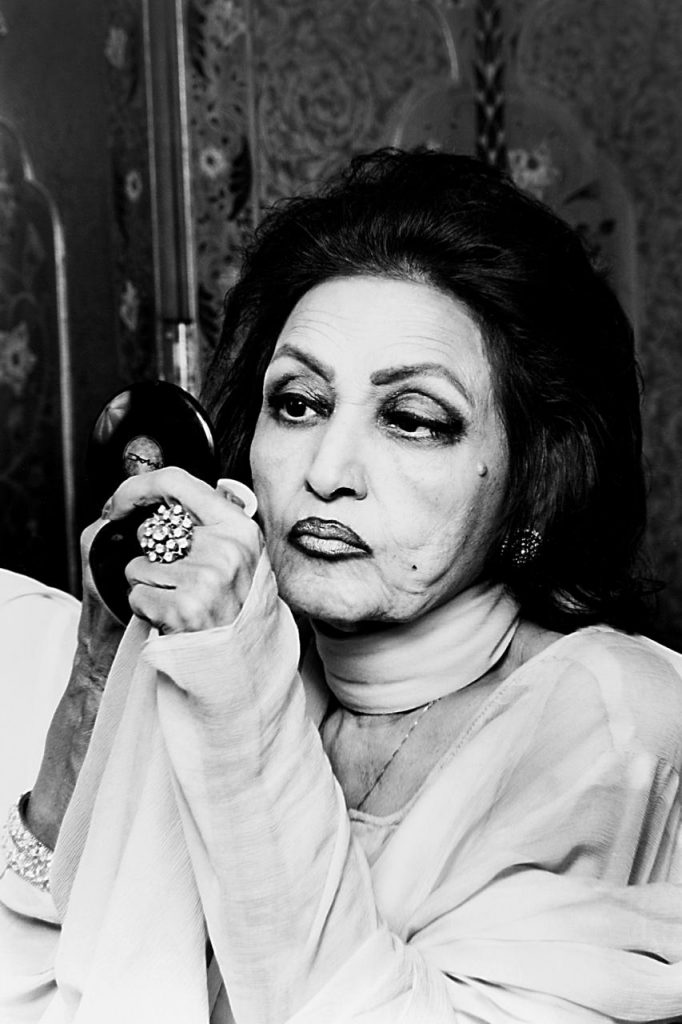 "A candid shot of Madam Noor Jehan, we did a shoot with her and Sonya, and it was my biggest dream to take her photograph, even though I had known her for a long time. This was madam doing her own makeup and being enamoured by Zainab's MAC makeup. She asked me at the shoot, who I was and who my father was and I told her. She quickly asked me to call my dad and spoke to him and said 'Hassan, mein mar rahi hoon, mujhe diamond dilado.' I can never forget that.
Iqbal Bano
"An amazing musical icon, Iqbal Bano – I remember, Mubashir Khan asked me whether I wanted to photograph her and I said, of course, I do and I ran from work and came to PC Hotel. I was ready to take her photo but she asked me to wait and said 'pehle mein apne zevar pehnoongi.' She ran in, got decked out and then only was I allowed to take this."
Meera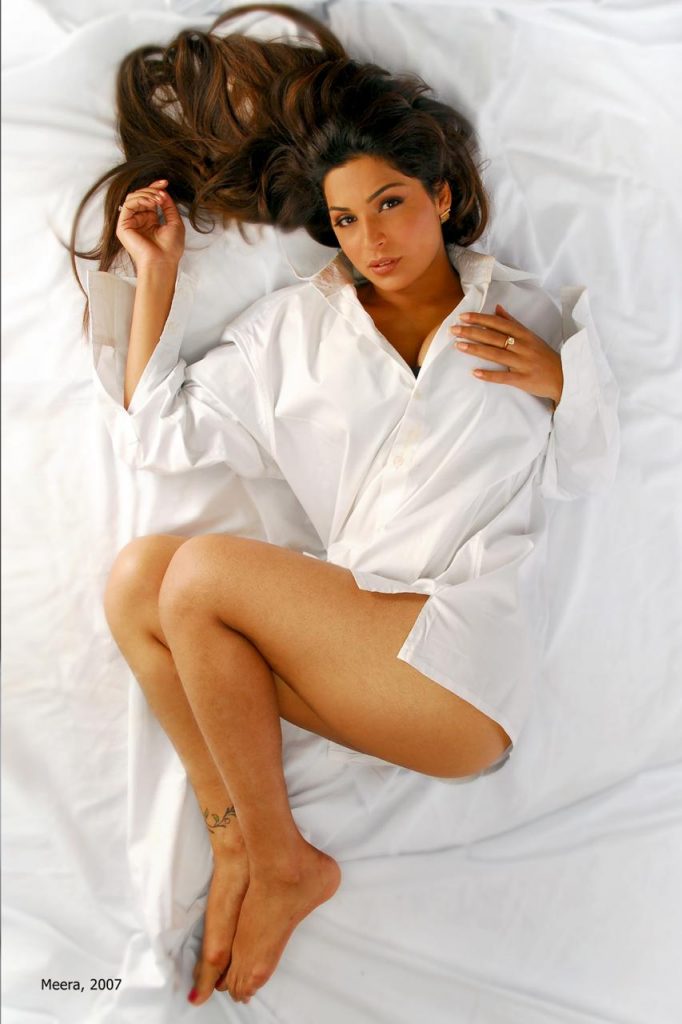 "A controversial photo of Meera, I remember this was the first collaborative photoshoot we did called 15×4, where four photographers photographed fifteen celebs at the same time, and this was my shot of hers. I thought the sexiest thing to have her in would be to show her in a men's shirt and I took this. This image was exhibited at IVS and the curator had an issue with this image and asked to get it removed. I got angry and to prove my point against censorship, I took out a marker and I cross-hatched her legs to make it look like she was wearing fishnet stockings."
Nadeem Baig
"Nadeem Sahib is a real icon and I have tried to photograph him several times, but he's always shy. This time, though I got him because I am friends with his son. I asked Faisal to convince his father, while they were going to a shaadi. He was wearing a suit and I just took this photo!"
Faryal Gohar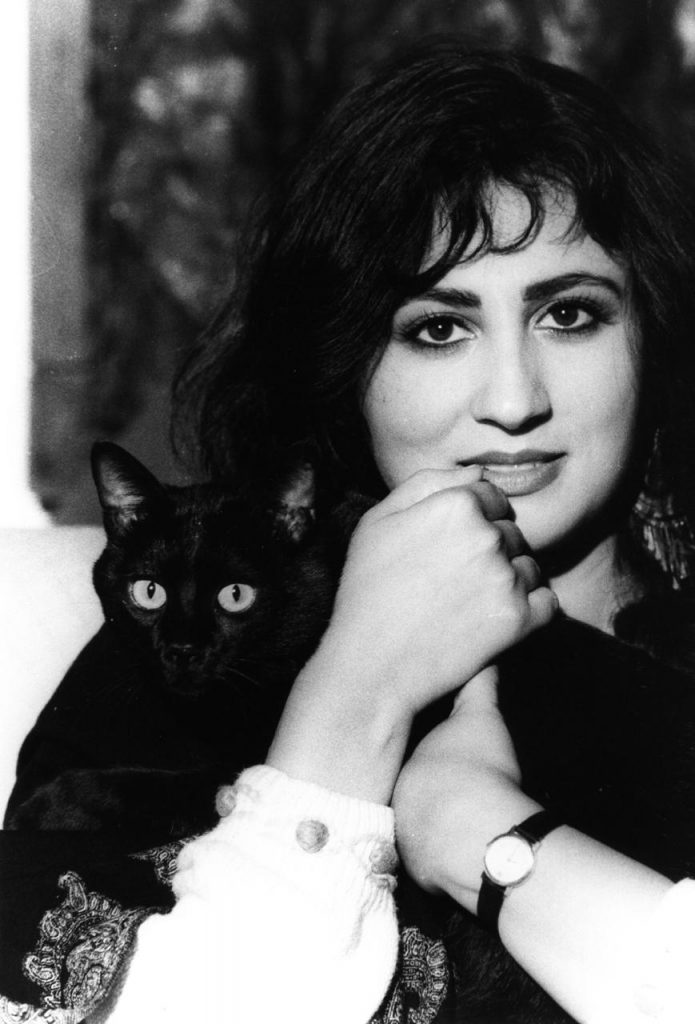 "A casual shot of Faryal Gohar, which was done at Tariq Amin's house, in the heydays of the style mafia, where we all used to come together at Tariq's. A shoot would happen because there would always be a photographer, stylist and designer available! Here, Faryal posed with Tariq's cat."
Moammar Rana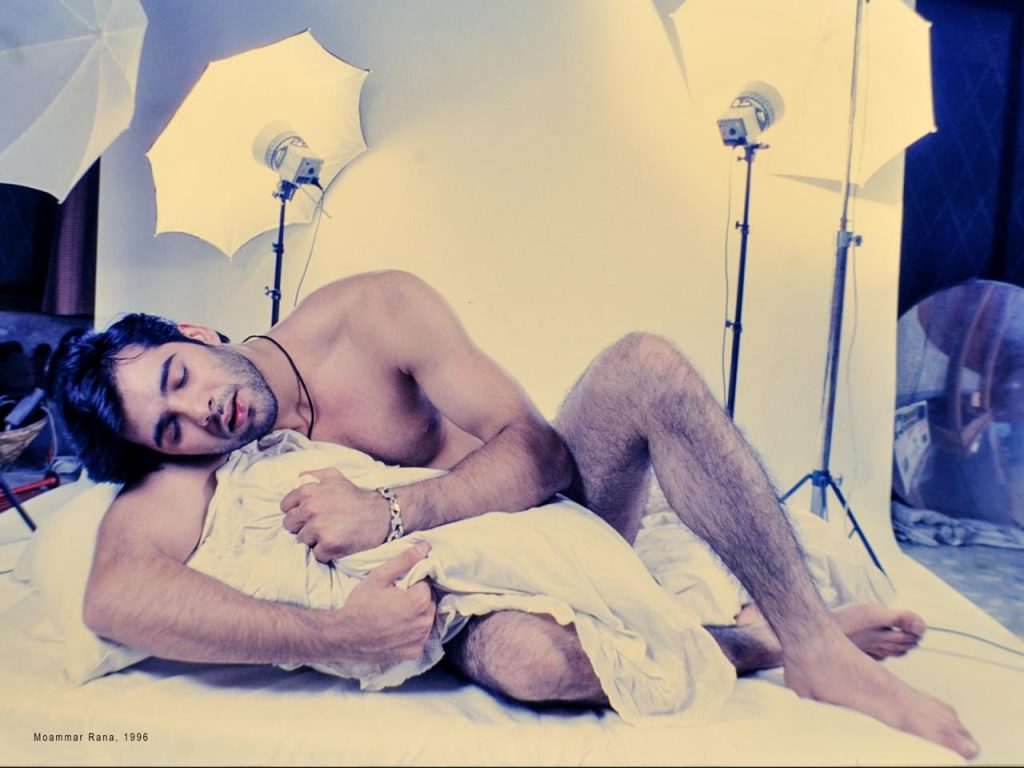 "This was Moammar Rana for Xtra Magazine and we were doing an issue where the theme was 'in bed with…' and we had to ask celebs what they wore to bed. When we asked Moammar, he said he wears nothing! I asked him how we'd do that, but he promptly stripped down and took up a pillow and this photo was shot!"
Babra Sharif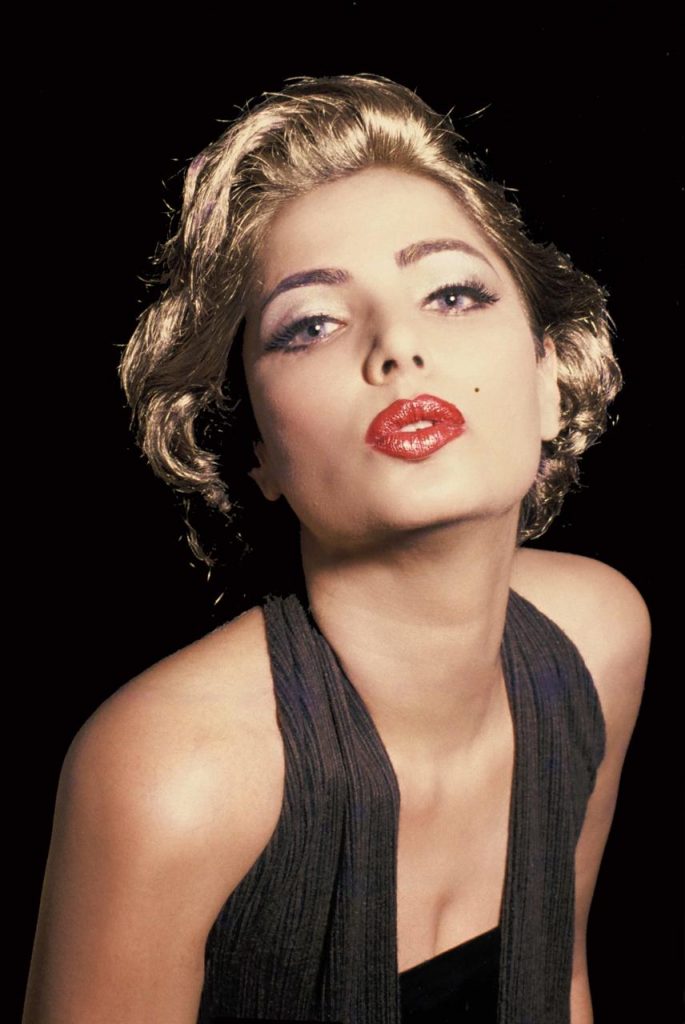 "This shot is from the 'BabraCadabra' shoot, which Fifi and I did for Herald Magazine. We styled her as several Hollywood icons, where, in this one, she was Marilyn Monroe. Here, Nabila Surprised us all when she took a spray can, and spraypainted Babra's hair blonde!"
Check out Tapu's Instagram here.