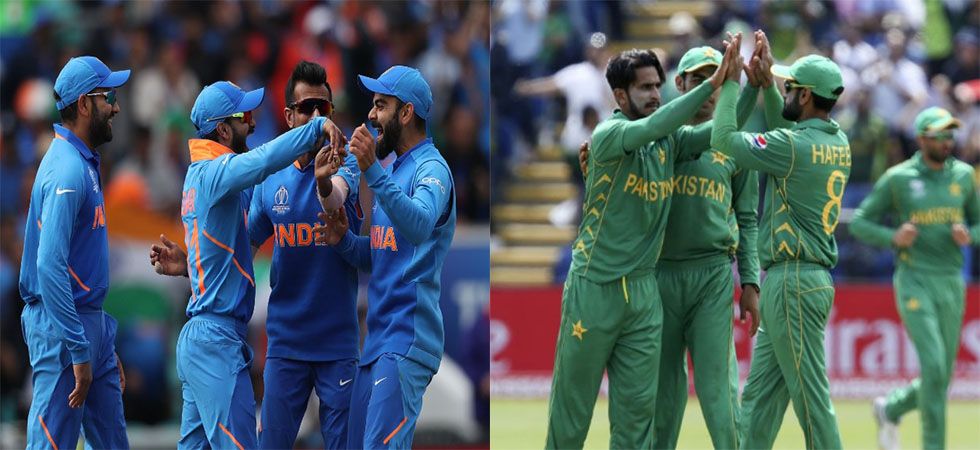 As the World Cup moves forward, we are now looking at one of the most exciting matches of the tournament that will take place between Pakistan and India tomorrow. When it comes to cricket between the two countries, its rivalry!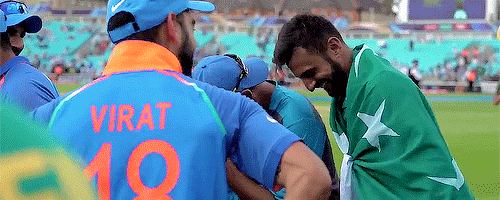 Even though the match will be taking place tomorrow, the hashtag #PakvsInd has been trending on number 1 since the past 3 days, THAT'S HOW EXCITED THE FANS ARE!
Muhammad Amir thanked the fans for their immense love and support:
Humbled by the support from the fans and the entire world. Your prayers are what fuel our passion. We will go out and give our 100% inshallah. But no matter what happens, never stop supporting green! Dana dan Green! 💚🇵🇰#Danadangreen#Eatgreensupportgreen#PakvsInd pic.twitter.com/sfPfJ8bZ5X

— Mohammad Amir (@iamamirofficial) June 14, 2019
Even Shoaib Akhtar thinks rain will take over!
Sunday looking a bit like this. Haha#PAKvIND #CWC19 pic.twitter.com/rTO70ru6UY

— Shoaib Akhtar (@shoaib100mph) June 14, 2019
Many are afraid of the weather forecast for tomorrow, including us!
Manchester weather forecast 16 June Sunday #PakvsInd pic.twitter.com/jhqb69mgOC

— Uzair Chaudhary (@UzairCh07) June 15, 2019
PC to the rescue!
Only solution we have for this match #CWC19 
#PakvsInd pic.twitter.com/xgICV1V2Z9

— Syed Ali Sarim 🇵🇰🇵🇰 (@imAviator) June 15, 2019
Yes!
Dear Pak and Indian fans…don't cross your limits in tomorrow's match..respect both nations and their players as well..#PakvsInd

— zaanooryy (@zaanoor1) June 15, 2019
Some are still convinced that this World Cup is the same as that of 1992…
#PakvsInd *Guarantee ye world cup pakistan ka hai*
1992 = 2019

Suppose 1992 LHS & 2019 RHS
So,

1992 = 19+9+2 = 30
2019 = 20+1+9 = 30

LHS = RHS
Hence Proved

— Israr Adil (@ISRARADIL4) June 15, 2019
Botham danced like this in 92 and Root in 2019 ab b na samjo tum loog yeh #CWC19 apna hi hai #PakvsInd #PAKvIND pic.twitter.com/Y1iK5wbUgy

— hamzakaleem (@hamzakaleem5) June 15, 2019
While the others are looking at them like:
In 1992 WC Pakistan lost its 5th match..
What a coincidence that the 5th match in 2019 WC is against India

Pakistani fans be like : pic.twitter.com/P7701gk64J

— Diplomatic Doctor © (@psycho_sif) June 15, 2019
Fans are ready with their jerseys and flag!
All set for the #PakvsInd match. Let's hope rain doesn't have other plans for us…🇵🇰💚✌🏾 pic.twitter.com/GGYJJJGsMh

— Taimur K Bandey (@TBandey) June 15, 2019
Many are praying for rain
Pakistani team wishing for rain on their next fixture against India😂#PakvsInd pic.twitter.com/C8aOVO0kjK

— Fifty Shades Of Haramzadagi (@haramzadagi) June 12, 2019
Many did not want to get their hopes high, because of #PakvsAus
Them: Pakistan will surely win against India this Sunday.

Me who watched whole Pak vs Aus:#PakvsInd pic.twitter.com/86ZtX8Wz5s

— Minato Namikaze (@naruto_k_waalid) June 14, 2019
Many want this guy in the audience, again!
Rt 👉🏼 Who wants to see him in the next match to represent our mood ???@ICC @cricketworldcup @TheRealPCB @ESPNcricinfo #PakvsInd pic.twitter.com/VjXfTkTQZG

— Ayesha Khalid (@ayeshakhalid7) June 13, 2019
ICC not coming slow with the match date:
@ICC is not comming slow 🔥
#PakvsInd pic.twitter.com/EqvyoFDw0G

— Mubeen Khalid (@MubeenK58448884) June 11, 2019
So much more than just a match!
It's not just a match it is emotions of 2 nations #PakvsInd pic.twitter.com/14JYS1a1gZ

— selena///نادان (@ApMtlabi) June 15, 2019
The heat is actually on, even literally if you're in Karachi!
The heat is on!
Its Pakistan vs India 🔥❤️
60% chance of Rain!
Hope so we will see this Clash! #PakvsInd

— Muhammad Zubair (@zubiiisays) June 15, 2019
GOOSEBUMPS!
This Sunday, we fight against all odds. We fight against history. We take, our final stand. #PakvsInd @AmmarAshraf @TheRealPCB @aaliaaaliya @Aligulpir

— Ali Chughtai (@alic88) June 15, 2019
And then we have Gayle, a favorite across both borders, playing it safe!
And then we had Junaid Akram, raising important questions!
India vs Pakistan. Re: Star Sports & Poonam Pandey#khalliwalli#ganjiswag pic.twitter.com/R1oVOJ3ceo

— Jamil Haider Mughal (@jamilhaider13) June 15, 2019
Let's hope that Pakistan wins the match on Sunday and proves that we're the real deal! GO GREEEEEN!