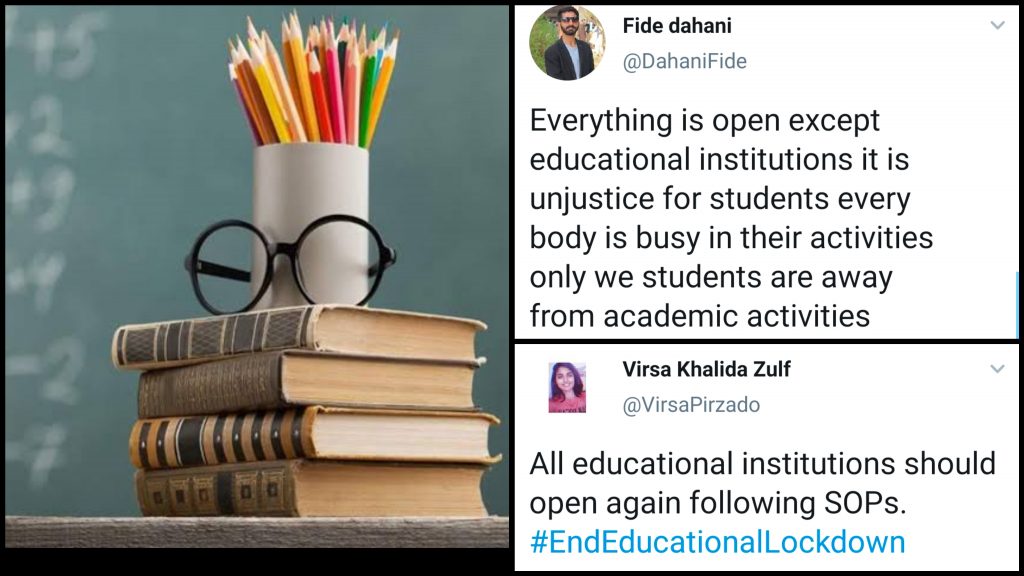 Schools and all other educational institutes have been closed since March 17th in an attempt to avert the spread of the novel coronavirus and classes have been shifted online.
Not happy with the online classes, students are taking it to twitter to protest against the online classes and are demanding that all educational institutes be opened up under SOPs:
When everything is opened under SOPs to save Economy, Trade etc. So why not Educational Institutes to save Education?#EndEducationalLockdown

— Sindh Students' Council (@sscsindh) August 4, 2020
Students also presented a list of problems they felt when it came to learning online:
The Educational Inst: must be reopen ASAP b/c of:
1. Poor learning
2. Academic dishonesty at peak
3. Pathetic internet connection at certain areas
4. Insufficient results for students to complete their Assignments
5. Improper studying environment at home#EndEducationalLockdown

— Ali Saqlain (@AliSaqlain__) August 4, 2020
Students in joint families, even with considerable int: connectivity can't study bc of the fact that there is literally no space. There are too many pple crowded in one house and it's hard to focus with classes, lectures, homework & constant interruptions#EndEducationalLockdown

— Nida Ali (@NidaAli27852763) August 4, 2020
Not everyone has the privilege to take online classes from the comfort of their living room.
Many of students face serious issues like loadshedding, Internet connectivity and congested space at home so state must reopen educational institution.#EndEducationalLockdown

— Ambreen Raza🌻 (@AmbreenRaza110) August 4, 2020
People had questions:
How long do students have to compromise on their education, while the rest of the world is moving forward with the new reality?#EndEducationalLockdown

— Ali Saqlain (@AliSaqlain__) August 4, 2020
it's been 5 months to education Lockdown……
Malls , Markets and even the restaurants are being also open But our education system is still closed
WHY just WHY 🙏#EndEducationalLockdown

— Natalia Khan (@Natalia82540) August 4, 2020
Some were busy throwing shade at the country itself:
Welcome to Pakistan
Where markets shoping malls and wedding halls are more important than education #EndEducationalLockdown

— Mishiii (@Bloomindreamer) August 4, 2020
Some were calling the lockdown a mere drama:
It's been 5 month that our all educational institution are closed!

Your online class 'Drama' & online exams 'Drop Scene' can not be called 'Education in Process'.

It means we're living without 'Education' since last 5 months،.

Now, 'STOP' this Drama & #EndEducationalLockdown

— Dr Ayaz Parhiyar (@ParhiyarAyaz) August 4, 2020
Some thought they were being deprived of their basic right:
We are being deprived of compulsory education Education is our basic right.#EndEducationalLockdown

— Aftab Sindhi (@AftabSindhi17) August 4, 2020
Many shared how the online class strategy has failed:
#EndEducationalLockdown
The idea of online classes has been completely failed & students of Sindh are demanding end of educational lockdown. @MuradAliShahPPP @SaeedGhani1

— Mir Keeryo (@ImamKeerio1) August 4, 2020
Some students apparently suffered from traumatic situation:
Education has never been a priority here, that's why fake "Online Classes and Exams" were taken which gave zero result and we students suffered from this traumatic situation. No more drama#EndEducationalLockdown

— Asad Khoso (@AsadKho35562550) August 4, 2020
Students were sharing how they were missing their academic activities:
Everything is open except educational institutions it is unjustice for students every body is busy in their activities only we students are away from academic activities #EndEducationalLockdown @BBhuttoZardari @CMShehbaz @SassuiZafar @SaeedGhani1 #EndEducationalLockdown

— Fide dahani (@DahaniFide) August 4, 2020
Some believed that students could practice social distance more effectively:
#EndEducationalLockdown
Student's of school and universities can maintian social distancing more properly than those uneducated people walking in markets and those liberals dancing in banquets

— Saleem Sahito (@Ali_Saleem022) August 4, 2020
People had a lot to say:
When everything is open in pakistan under SOPs, thn why not educationl institutes. If Doctors hve said we've to live with COVID then Why they are delaying nd wasting precious time of students who can't afford expensive education who wants to go schools#EndEducationalLockdown

— Areeba Ayub (@AreebaAyubKhan1) August 4, 2020
There were memes after the hashtag became the top trend on twitter:
Backbenchers after seeing #EndEducationalLockdown on top trend😂😂 pic.twitter.com/LJkm0ItZxU

— Sayyam Farash (@Sayyam_Awann) August 4, 2020
The demands were clear and concise:
All educational institutions should open again following SOPs.#EndEducationalLockdown

— Virsa Khalida Zulf (@VirsaPirzado) August 4, 2020
What do you think about this demand? Should educational institutes reopen? Let us know in the comments below!