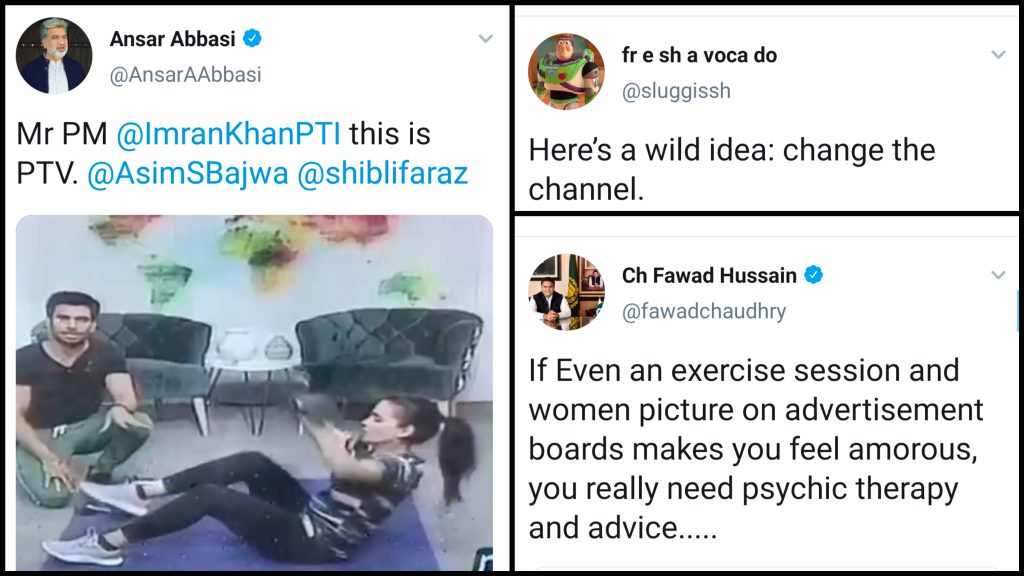 With moral policing being the national hobby of our people, Editor Ansar Abbasi questions a harmless exercise routine being shown on PTV:
Mr PM @ImranKhanPTI this is PTV. @AsimSBajwa @shiblifaraz pic.twitter.com/hpoTxEF4TJ

— Ansar Abbasi (@AnsarAAbbasi) September 21, 2020
And people are coming at him with the most savage replies!
The way I see it, PTV is teaching women basic home work out routine so they can take care of their health. https://t.co/iuPt1ubdlw

— Maria Memon (@Maria_Memon) September 21, 2020
Exactly!
Sir if you got your mind out of the gutter you could probably learn a thing or two about maintaining a healthy lifestyle https://t.co/PFIPfCkxLZ

— dk (@daanistan) September 21, 2020
Ali Gul Pir had questions:
I am appalled!!! How can PTV show people exercising! When I'm at home struggling to get up from bed after eating a whole large pizza! This is hate speech or might I say hate crunch #gandisoch #tharkiBabay https://t.co/kIR03AOFcD

— Ali Gul Pir (@Aligulpir) September 21, 2020
Haha!
Ansar Bhai is right! Does PTV have no shame? This is horrible form. https://t.co/8V7RaXNmZm

— Arhum (@arhuml92) September 21, 2020
People were trying to look for the problem that Ansar Abbasi was seeing:
Absurd and totally illogical. It's good that PTV is airing programs that teach women to stay healthy. Also during exercise one must wear exercise gear. There is nothing objectionable in the program. https://t.co/NLbdoQEEiI

— Taimur Rahman (@Taimur_Laal) September 22, 2020
People wanted more of such programs:
I agree. Well done PTV. We should have more fitness programmes. Will cut weight, blood pressure and heart problems just to mention a few. https://t.co/mqbtljw2r5

— Abbas Nasir (@abbasnasir59) September 21, 2020
Shots were fired:
The only shameless thing here is a man who think it's okay to openly admit that his mind is deeply in the gutter. https://t.co/XxvR9NsOmm

— Nida Kirmani (@NidaKirmani) September 21, 2020
Even Fawad Chaudhry was concerned about him:
If Even an exercise session and women picture on advertisement boards makes you feel amorous, you really need psychic therapy and advice….. https://t.co/1Xb9tDwr5R

— Ch Fawad Hussain (@fawadchaudhry) September 22, 2020
Kisi haal mei khush nahi:
men: women should work on strength training and self defense.
also men: https://t.co/R8nswjzdRs

— Maryam (@maryamful) September 21, 2020
🤷‍♀️
Appalling that women are depicted exercising on TV. In the Islamic Republic, good pious women must remain noticeably unhealthy as evidence of a life spent in sedentary invisiblized seclusion behind closed doors. Let's not give little girls any ideas. https://t.co/TIbRCVdko1

— Ammar Rashid ☭🌹 (@AmmarRashidT) September 21, 2020
Many thought he wanted women to do nothing:
Ansar Abbasi sahab objecting to a woman exercising reflects the deeply embedded sickness in our society. The objective is simple: invisibilize women. They dont want women doing anything: working, studying.. apparently not even exercising. Only problem is them & their sick minds.

— Imaan Zainab Mazari-Hazir (@ImaanZHazir) September 22, 2020
Some pointed out how men protested on opening gyms shirtless:
Anyway this your reminder that men took to the streets shirtless to demand that gyms pe reopened in the middle of a pandemic. https://t.co/6nch3elSY8

— Aimun (@bluemagicboxes) September 21, 2020
People were calling the sexualizing of a woman exercising a part of rape culture:
sexualising and objectifying women doing normal everyday things like working out is also rape culture. https://t.co/Oc7hryY6RE

— Hamna Zubair (@hamnazubair) September 21, 2020
His tweets suggests that its likely:
How is this a bad thing? Don't tell me you get turned on by exercise? https://t.co/EK3KA49AQ5

— ST (@shobz) September 21, 2020
People were calling him a potential rapist:
Now that is a potential rapist #ansarabbassi beware girls . Don't sit with him alone in a room. https://t.co/HO0ChSwPrb

— غنوة العيتاوي بوتو (@GhinwaBhutto) September 22, 2020
People had feedback for PTV:
Seriously, PTV! You should improve the set and furniture!! Also work on the transmission quality! It is our national TV. Make us proud! Even Ansar Abbasi seems concerned! https://t.co/CktNoDCm7F

— Riz1 🇵🇰 (@riz1janjua) September 21, 2020
Savage!
But for the likes of you, even PTV is Playboy TV. https://t.co/sQezR0buNe

— Naila Inayat नायला इनायत (@nailainayat) September 21, 2020
Apparently:
fellas is it haraam to work out https://t.co/YyI5ySRqi9

— shaytani liberal (@iamkuds) September 21, 2020
People were lauding PTV for such programs:
What's wrong here? These type of programs are helpful for the women who don't have gym facilities, they can learn from them to adopt a healthy life style. Pr ap jese log to Har achi baat main bus keery nikaalo. https://t.co/XMFi4mdyDL

— سنڌياڻي (@Sindhiyaani) September 21, 2020
People couldn't down the misogyny they'd seen in the past few weeks:
#CCPO nay kaha "woh aurat 12 baje kyun nikli…."
In sahab ko normal workout pe aitraaz hai. There aint no chance of progress if we are surrounded by such misogynists. https://t.co/LU9puj8kxT

— Mustafa Abdullah Baloch (@MustafaBaloch_) September 22, 2020
People had suggestions for him:
Yep, that is PTV and that's some good content too!
Put your negative thoughts aside and start working out. You might find it more helpful than just staring at the woman's body. https://t.co/HNKF6lPSuL

— karishma Ali (@karishmaAli22) September 21, 2020
And it's fairly simple to operate:
Ansar sahib, you do realize that you can just change the channel when you come across something you don't like, instead of watching and getting mad about it? Most TVs have that feature 🤷‍♂️ https://t.co/XN9hs62gYG

— Khurram Qureshi (@qureshik74) September 21, 2020
Here's a wild idea: change the channel. https://t.co/9FDw7v2s2K

— fr e sh a voca do (@sluggissh) September 22, 2020
Slow and steady, okay?
THIS IS SHAMEFUL ATLEAST PUT 8KG ON BOTH SIDES https://t.co/alT4te05hP

— SAAD (@simpsaad) September 21, 2020
People wanted him to talk on real issues:
How about you talk on real issues? pic.twitter.com/9zjEUxU2lO

— mohom (@annoyyyinlady) September 21, 2020
If only you could have shown similar outrage on motorway case https://t.co/vrisKp97P0

— Moochar (@AsliBinLaden) September 21, 2020
Marvi Sirmed wanted to know what was wrong:
And what exactly is wrong with this? She is just working out. What kind of sick pervert sees anything sexual in it? Abbasi sahib, seriously, you need to get a life. Puhleeeeez 🙏🏾

— Marvi Sirmed (@marvisirmed) September 21, 2020
What do you think about Ansar Abbasi's take on women working out? Let us know in the comments below!