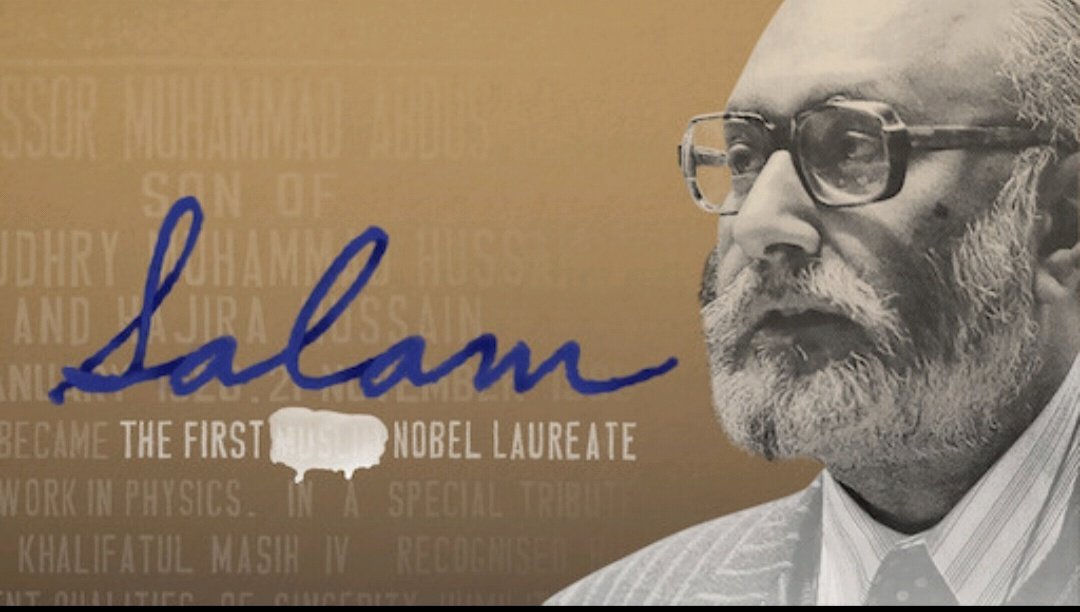 One of the most anticipated documentaries on Pakistani physicist Dr. Abdus Salam was finally released on Netflix titled 'Salam – the first ****** Nobel Laureate,' the asteriks standing for the word Muslim.
Ever since its release, the documentary has moved many to tears, including us. The hashtag #SalamOnNetflix was trending for a little while on Twitter and the internet has spoken!
#salamonnetflix is an exceptional piece of work serving to highlight the true shortcomings of us as a nation. Dr Abdus Salam gave his country too much importance, much more so than it deserved. A state that doesn't recognize it's heroes only serves to regress, not progress.

— Emad Ahmed Mir (@emumir8) October 3, 2019
People shared how the documentary gave them an insight on his life:
Thankyou for making #salamonnetflix I didn't know much about him, and now I do. It's an amazing documentary.

— MM (@Disconsolateme) October 3, 2019
People were appalled:
Just watched the documentary Salam – The first****** Noble Laureate. A story of a man who was committed to his religion, his country and his field of Physics. Rejected by his own country in the name of faith.. #salamonnetflix

— سید سہیل احمد (@SuhailAhmedSyed) October 3, 2019
People shared how they watched the documentary with their kids for them to know their real heroes:
So glad, #SalamOnNetflix now. I remember taking my son to UCL in Feb to the screening of this amazing docufilm on Dr. Abdus Salam Sb. So important that our kids know about their real heroes!

Icing on the cake was meeting with the producer Zakir Thaver Sb. #AbdusSalam pic.twitter.com/cMy89pV5m6

— Bilal Mahmood (@bilalmahmooduk) October 4, 2019
Activist and lawyer Muhammad Jibran Khan wished how the youth could be inspired by him:
Congratulations Pakistan on the @Netflix release of the doc on our 1st Nobel Laureate #AbdusSalam. We censored our history to erase his memory. May aspiring youth across the country view it & like him be inspired to dream, believe & achieve the seemingly impossible @salamdocufilm

— M. Jibran Nasir (@MJibranNasir) October 4, 2019
The documentary reduced many to tears:
Just watched Salaam & I cannot hold back my tears. Offered our brightest mind a college football team role, used him as a political pawn, legislated against his community, then "honored" him for ulterior motives & then removed "Muslim" from his grave. Shameful. #salamonnetflix

— Osama Bin Liaqat Mir (@oblmir) October 4, 2019
Saw #SalamOnNetflix today. Couldnt stop my tears…What a man, what a mind, what a legend. Some real eye openers on brainwashing, opportunism, political gain & the likes highlighted. You were, are and will always be a hero #AbdusSalam 🙏🇵🇰

— Sophiya (@SophiyAnjam) October 3, 2019
Just watched #SalamOnNetflix. Teary eyed, I got to know how he was so passionate about science. How our country treated and used him for the dirty politics and disowned him just because of his faith. Still he loved his country from the core of his heart.

— A. (@littlebiskoot) October 3, 2019
People loved dr. Abdus Salam's passion for his country:
People were loving every aspect of the biopic:
An absolutely brilliant biopic of Dr Salam is now on Netflix.

A story of an incredible journey of Pakistan's greatest scientist.
A story of joy and sorrow.
A story of pride & grief.
A story of a patriotic
A story of Salam.

A Must Watch for everyone in Pakistan.#SalamOnNetflix https://t.co/YK5V2oaptQ

— Shaan (@Shanyousaf6) October 2, 2019
People were left heart broken:
#salamonnetflix was tragic, frustrating as a Pakistani and extremely heart breaking. We keep devaluing some very important assets of our time, and in the end have no one to look up to, no set point of inspiration, instead left being pulled from both ends in a complex tug of war.

— //tollcrane/ (@tollcrane) October 4, 2019
This documentary about Dr Abdus Salam broke my heart. How could we be so cruel to him? He didn't deserve to be abandoned by his own country. 💔 #salamonnetflix

— Gulabo (@Maahwash) October 4, 2019
Many had questions:
A person who said that he got central idea of his theory from quran was forgotten because he was denoted/declared as a Non Muslim.
Jazakallah پاکستان.,#salamonnetflix

— Taimoor Shumail Rajput (@bahirKmulk) October 4, 2019
Many were ashamed at losing an asset so important:
Watched this documentary last night and I just couldn't decide if I should be proud or bitterly ashamed of being a Pakistani #salamonnetflix

— Kashif Raza (@kashrzaa1) October 4, 2019
The beginning and the end of the documentary is such a tragic note. The view of his gravestone, him finally resting in his own country that he loved so much.

"Allah gave him world recognition and Pakistan defaced the word 'Muslim' from his gravestone." #salamonnetflix pic.twitter.com/2RM7VBkkOM

— Kaptaan (@PatientZeroDay) October 3, 2019
Noble prize winner for electroweak unification theory. Played a role in the nuclear energy and contributed to development of atomic bomb project of Pakistan. "Scientific father". Many other achievements, world acknowledged him, but sad Pakistan lost a GEM. #salamonnetflix #salam

— Haróòn (@HaroonMuhammad5) October 4, 2019
Even the ones who know the true narrative, thoroughly enjoyed:
Just watched #salamonnetflix, although I already know the story, this gives a unique perspective of struggle, loyalty, rationality and spirtuality! @salamdocufilm #Netflix pic.twitter.com/nxn3fOqJZV

— Shaafi Bharwana (@Shafisial) October 4, 2019
People agreed how the documentary had a lesson for everyone:
A beautiful piece on #Netflix to see #SalamOnNetflix

Says a lot about a man. Everyone may get different lessons from his life. For me – persecution increases the ambitious ones in their mission

Great service to faith, country and science pic.twitter.com/FTLm402NPg

— Imam Abdullah Dibba (@ImamDibba) October 3, 2019
People expressed how things still haven't changed:
Just finished watching the documentary about Dr. #AbdusSalam and super annoyed at how people play God just for political opportunitism. Also sad that things still haven't changed much! #salamonnetflix

— Hania (@han3yy) October 4, 2019
People were quoting excerpts from the documentary and how true they were:
Watched #salamonnetflix as soon as I reached home. About man, Dr. Salam, all I can say is that I agree with his son's statement that he was a gift from Almighty.
And, the documentary itself is the tragic tale of Pakistan. Every Pakistani must watch it and lament!

— Aamer Khan (@AamerMKhan) October 3, 2019
The netizens are definitely recommending it to others:
"Either I must leave my country or leave Physics. and with great anguish I chose to leave my country"
Just finished this masterpiece.
Highly recommended.#SalamOnNetflix pic.twitter.com/gopdLuMZqj

— Awais Ahmad (@awaisqarniee) October 4, 2019
Many also suggested how the documentary should be aired on national television:
#PrimeMinisterImranKhan
Please feel proud to start your documentary thing with ,Showing #salamonnetflix on National Tv..And tell Pakistanis ,how to become a Hero, even your own people stand against you…

— yasir mumtaz (@yasir_champ) October 4, 2019
Have you seen the documentary yet? Let us know in the comments below!
Disclaimer: the views expressed in the tweets do not necessarily reflect those of Diva Magazine.