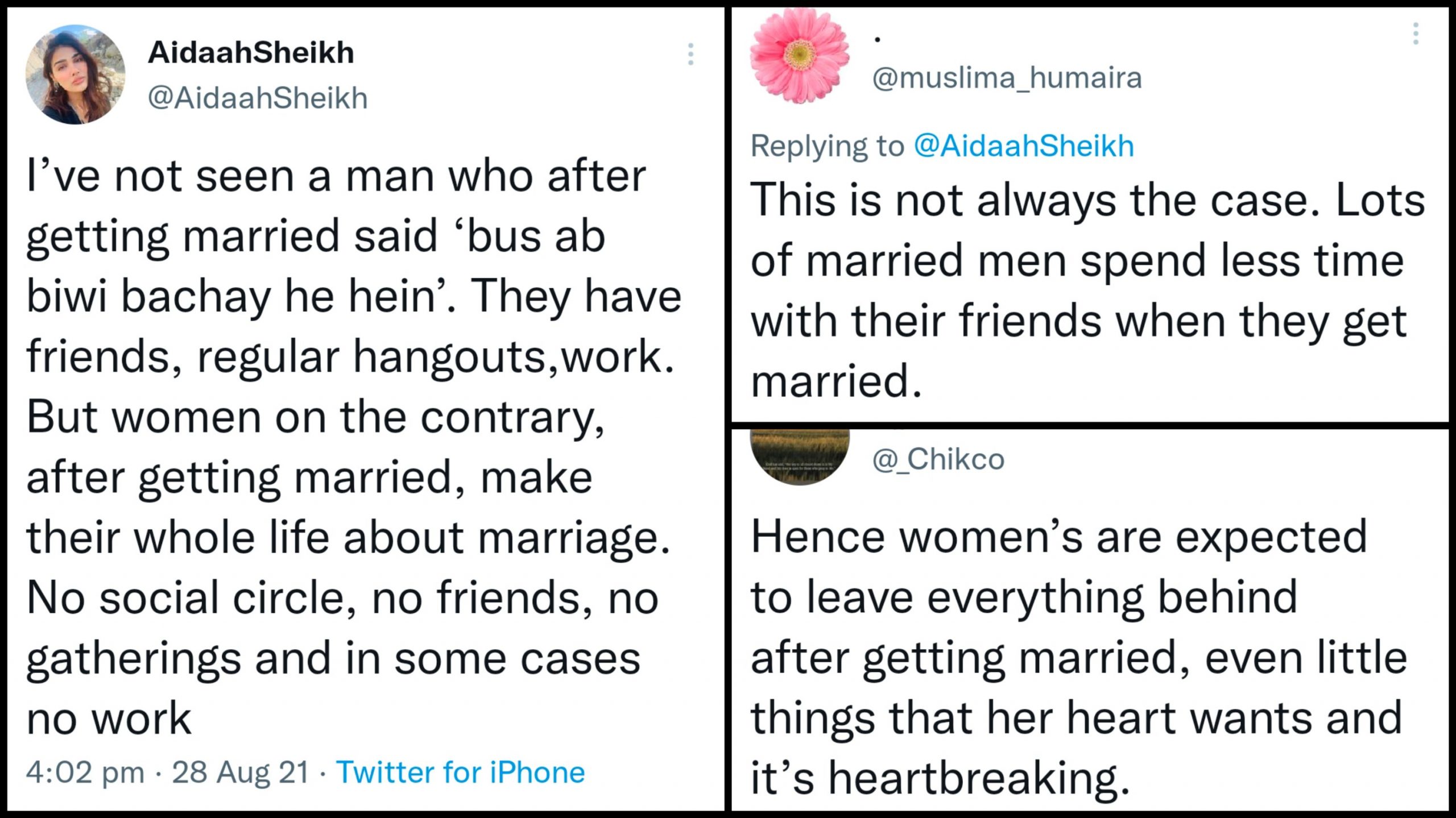 Twitter, despite all the hilarious memes and relatable tweets is often a place where people come together and debate on various topics, from city wars to food wars, you name it!
And today people are discussing how they've generally seen women give up their friends, hobbies and social life after marriage, while men still tend to enjoy their life:
I've not seen a man who after getting married said 'bus ab biwi bachay he hein'. They have friends, regular hangouts,work. But women on the contrary, after getting married, make their whole life about marriage. No social circle, no friends, no gatherings and in some cases no work

— AidaahSheikh (@AidaahSheikh) August 28, 2021
And it's sparked quite the debate:
This is one thing I aspire to never do, keep hobbies/time for yourself you're not supposed to morph into your partner or his family. Keep your identity and the things that bring you joy, any sane partner won't take those from you. Losing myself in a marriage/motherhood is a no. https://t.co/OiBKA3xUBs

— sal 🇵🇰🇦🇫 (@medicisall) August 29, 2021
People found it to be the reality:
So true. Watching my married friends' lives revolving 'just' around their kids and husband make me run away even from the idea of marriage. Make it simple & easy guys😢 https://t.co/fqrieMitG3

— Hamda 🇵🇰🇵🇸 (@heyhamdah) August 28, 2021
People were sharing what they saw their fathers do:
Well I have seen my father being such man… He had a very social and active life as a bachelor but when he settled down, he usually spend his time either at work or with us, his kids… He was an unusual man though… ❤️ You really won't see many like him https://t.co/9COh4l74oI

— Fannan 🇵🇰🇵🇸 (@jaybukhari19) August 28, 2021
My father left all his friends after marriage while my mother still has her college friends even today. Personal experience equals personal opinion only. https://t.co/EAiVOyVZU5

— Umair waheed 🇵🇰 🍴 (@Umair0094) August 28, 2021
Agreed!
Women do invest a lot more to maintain the marriage. Wouldn't have said it, if I hadn't seen cases like these. https://t.co/7nOFgF3EGx

— M. Saim Maqsood 🇶🇦🇵🇰 (@SaiMaqsooD) August 28, 2021
Men were also sharing how they too lose their friend circle:
And you wont believe it but the fact of the matter is that guys do loose their friend's circle after marriage. Those daily friend gatherings turn in to once or twice a year meetups. https://t.co/THJHiZ0e4j

— Aamir (@aamirtanoli) August 28, 2021
Definitely!
Discourse needs to change big time! https://t.co/7XWwljaR9d

— Umayah Idrees (@UmayahIdrees) August 28, 2021
But we need to Change This 🙏 https://t.co/0xV8dh0TBh

— زہرہ 🇵🇸 (@freemefromworld) August 29, 2021
True!
I do everything lol? true that your priorities change after marriage and kids but it doesn't necessarily mean you gotta kill your dreams too it all comes down to you and your partner and how you let each other grow as individuals. https://t.co/iPc6dFG2io

— Z (@zeenaqviii) August 28, 2021
💔💔💔
Hence women's are expected to leave everything behind after getting married, even little things that her heart wants and it's heartbreaking. https://t.co/URwoK21G2v

— 🐾 (@_Chikco) August 28, 2021
This needs to stop!
Yes. I saw my mother stop seeing her girlfriends. Dad played bridge with his buddies twice a week. Why? Why are women expected to give up their relationships and support networks? https://t.co/hF0x9K1Pte

— Amna Mirza (@amnamirza) August 29, 2021
People were sharing what life was for them:
Meray bus abh iss Duniya mein sirf bivi Bachay hi hain! https://t.co/bxxtO1LehH

— Mubashir 🛡 (@Introspkt_) August 28, 2021
People were sharing how they've seen men prioritize their family over friends after marriage:
I have seen so many of my friends after marraige avoiding hangouts and late night cafes. They are out there and doesnt mean you've not seen its not happening.

— JZ موجستي (@mindtheGup) August 28, 2021
Since it's not true for all ladies similarly there are more men who devote their whole time to family and family only. Friends come once or twice a year 💐
So chill out and know the life of middle class not the upper class

— Shahmir plays (@PlaysShahmir) August 28, 2021
This is not always the case. Lots of married men spend less time with their friends when they get married.

— . (@muslima_humaira) August 29, 2021
Makes sense:
there's a popular saying in male friends that 'abh toh iski shadi hogae hai yeh kahan milega' and that's actually true too, 3 of my friends got married and before we used to meet daily, now we meet like once in weeks or sometimes months.. so it depends can't be generalized

— Moïz (@WakeUpMoiz) August 28, 2021
What do you think? Let us know in the comments below!