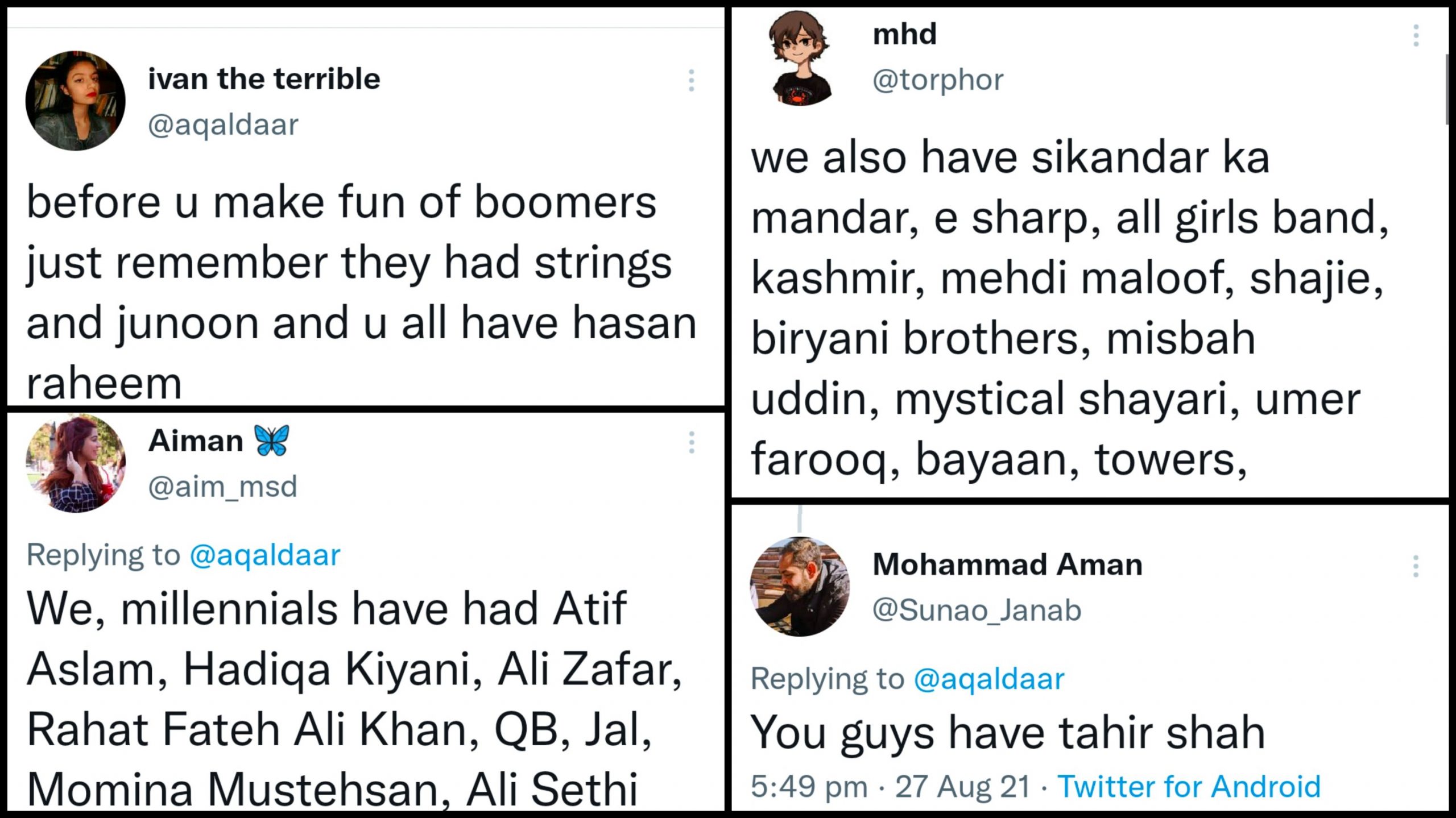 If there's one thing every generation remembers, it's the music of their era! And every now and then we see people saying how they had the best music growing up and pretty soon we'll be one of those people too. Taking to twitter, someone tried throwing shade at millennials and gen Z by reminding them how boomers got to witness some really iconic bands like Junoon and Strings:
before u make fun of boomers just remember they had strings and junoon and u all have hasan raheem

— ivan the terrible (@aqaldaar) August 26, 2021
And people have a lot to add:
We, millennials have had Atif Aslam, Hadiqa Kiyani, Ali Zafar, Rahat Fateh Ali Khan, QB, Jal, Momina Mustehsan, Ali Sethi etc.

— Aiman 🦋 (@aim_msd) August 27, 2021
And they're all brilliant!
we also have sikandar ka mandar, e sharp, all girls band, kashmir, mehdi maloof, shajie, biryani brothers, misbah uddin, mystical shayari, umer farooq, bayaan, towers, natasha noorani, ali suhail, maanu, hassan & roshaan, the sketches, the tamaashbeens, abdullah siddiqui & more https://t.co/mIgLreDGrT

— mhd (@torphor) August 27, 2021
Ah, that flex!
We have coke studio 😎 https://t.co/H00WyN6A2Z

— Rollz 🇵🇰 (@LegenWirLos) August 27, 2021
Nope!
real question do you guys think thirty year olds are boomers https://t.co/IkYCH2ljnl

— amal (@pakistanned) August 27, 2021
Shots were fired:
You guys have tahir shah

— Mohammad Aman (@Sunao_Janab) August 27, 2021
True!
There's no comparison between the two!!! but Hasan Raheem is not to bad either tbh

— muhammad arsalan (@Marsalaann) August 27, 2021
*chef's kiss*
bayaan, towers, sunny khan durrani, abdul hannan, zaeden, omar mukhtar, annural khalid, amna riaz, jimmy khan, and (prateek kuhad).
someone needs exposure at urdu music, i see.

— dot (@harve1ta) August 26, 2021
People agreed that she was spilling facts!
Facts

— sinn (@mohsinnnmk) August 27, 2021
Straight up facss

— redlobiaa (@lobiaa_) August 27, 2021
True that!
Strings broke through the boomer phase and gave us a couple of good songs before they left though

— Abdullah Khalid (@itsabdullahboi) August 27, 2021
And cherish both!
we have both as we can listen to them both

— aayan (@boobiesluvr69) August 27, 2021
…
Who is hasan raheem? 🌚

— Mario (@supermarriioo) August 27, 2021
Sure do!
We have shamoon Ismael 😎

— ozghar khan (@warsamawa) August 27, 2021
Yaaaas!
that wasn't boomers that was millennials get it right ok n we have asrar sexy and abida parveen nonbinary legend yes

— agha ♡s aqi (@SERP0PARD) August 26, 2021
Oh, those days!
cant forget vital signs… now all we've got is young stunners and
the likes </3 https://t.co/nIxNmnORfq

— Ayesha Mubashar (@ayeshaamubashar) August 27, 2021
What do you think about this take? Let us know in the comments below!