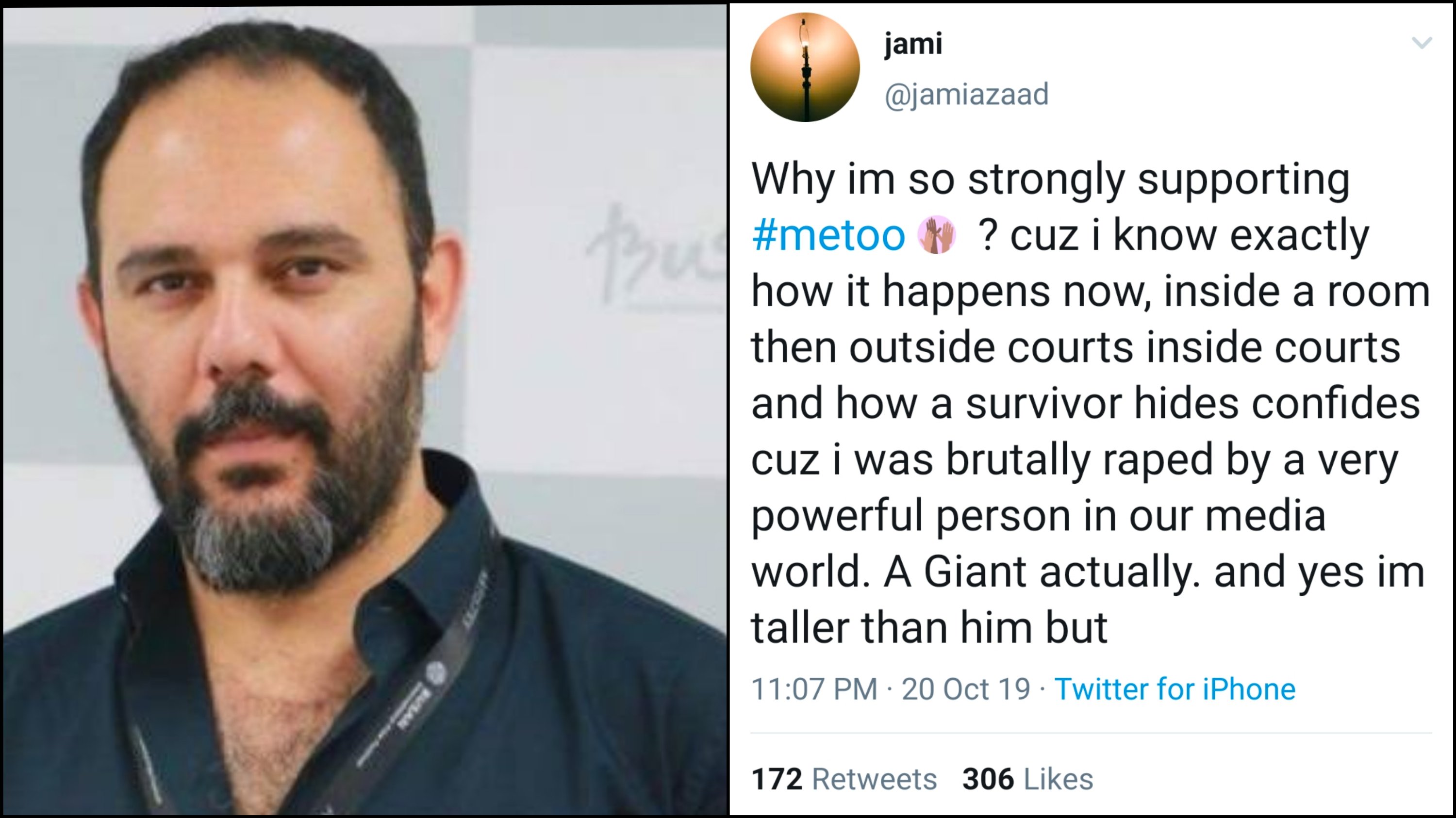 Film maker and director Jami has always spoken in favour of the #MeToo movement and a lot of people have questioned him a hundred times why he supports the movement as much as he does. Jami finally opened up about why the movement means so much to him, because he himself has been a victim to it.
In the wake of people dismissing the #MeToo movement after a teacher from MAO college committed suicide on the allegations of harassment, Jami took to Twitter to support the movement by sharing his own experience:
Why im so strongly supporting #metoo ? cuz i know exactly how it happens now, inside a room then outside courts inside courts and how a survivor hides confides cuz i was brutally raped by a very powerful person in our media world. A Giant actually. and yes im taller than him but

— jami (@jamiazaad) October 20, 2019
Jami further shared how the sudden advancements had him shocked and frozen to respond:
I froze not sure why yesss it really happens and happened to me. Till this day 13 years ve passed i curse myself why i didnt take his eyes out but i was so close to this guy a friend, doing his mega shoots for his mega high end books and museum launches etc may be thats why my

— jami (@jamiazaad) October 20, 2019
Jami then explained how he opened up about the traumatic experience to others, but they laughed it off:
system shut down… or i couldnt believe WTF is going on. I told my few close friends but no one took it seriously. I told them so many times with the name of this tycoon but as if im a joker or something. YES high end friends top end friends in media didnt do anything. I spent 6

— jami (@jamiazaad) October 20, 2019
Jami then shared how he resorted to therapy to try and get over the trauma:
or so month in agha khan with a therapist and the usual pills zanax or some shit screwed my head and then i left pk for few months to reboot. He came to my Fathers funeral also and instead of crying for Papa (who got to know before dying that im destroyed) i was hiding inside my

— jami (@jamiazaad) October 20, 2019
Jami then shared how he still hasn't gathered enough courage to name the culprit:
own home telling Mother who was also busy with her pain to run out and stop him from coming in. Fiasco fucking cant even cry for my papa. Till this day i dont ve the courage to come out and name him. Its super tough. I know my own buddies will laugh and joke or whatever shit

— jami (@jamiazaad) October 20, 2019
He then shared how it was due to the lack of support from friends and family that he didn't have the courage to name the guilty:
we all desi do. Im writing this now cuz #metoo is under attack and im ready to partially vomit out my own experience. Its all true what the victims says and how they say or hide. Its all an exact same pattern a victim goes thru like clock work as if DNA has a SOS gene to shut up

— jami (@jamiazaad) October 20, 2019
He then stressed on the importance of keeping the #MeToo movement going for victims like him and many others:
or they all will rip u apart in the society. So one wrongful death doesnt mean all victims r fake and liars. Im pissed that they r attacking the movement and victms so im coming here today after 13 or so years to say 99.99% survivors r telling the truth always. No doubt ever!

— jami (@jamiazaad) October 20, 2019
Jami then shared how the movement gave him a sense of direction and a way to help others suffering:
I never use to fight or this angry on social media or absurd in any way but after the incident i ve no clue how to shut up now for the victims and survivors. My personality changed in few months and its very erratic the way i talk but i promised myself i will stand for all #metoo

— jami (@jamiazaad) October 20, 2019
He ended the thread by calling his confession a suicide:
i know its a suicide what im writing right now but this is important before they harm the movement. I know now they all will attack me also, oh BC why u stayed quiet till now? Oh maan ka L…tuu mard hai ya kunjri? rape kur deita na usska pulut kur etc all attacks but its time.

— jami (@jamiazaad) October 20, 2019
After Jami ended the thread, the internet came forward to support and stand with Jami:
You are a very very brave person to come out and say all this. We believe you and we stand by you. Do not feel compelled to tell more than what you're comfortable with, to anyone.
This it utterly utterly horrible. I wish I could hug your pain away 💔

— chunky pandey (@blurmynamepls) October 20, 2019
People thanked him for finally speaking up:
I'm so, so sorry for all the violence u have had to bear and suffer, from the rapist to those who belittled or dismissed your pain. Thank you for standing up despite knowing the risks. Thank u for ur courage and heart. I hope you find your peace and receive the support u deserve.

— sana is in retrograde ♐ (@allahsfav) October 20, 2019
It takes courage, it takes courage, it takes COURAGE to speak out about something so traumatic. More power to you Jami. SO BRAVE OF YOU. SO SO BRAVE. #MeToo

— Rida (@RidaLodhi6) October 20, 2019
People extended their support and sent prayers his way:
Very very brave of you to come forward. This is heartwrenching. Sending strength and best wishes your way. More power to you!

— umair. (@UmairNajeebKhan) October 21, 2019
People assured him how it's never the victim's fault:
Respect for your empathy in sharing your experience to help ppl in dealing with similar situations of their own. Always need to remember that it's never the victim's fault. Hope ppl learn to comprehend unequivocally the criminality of the perpetrators rather than judge victims 🙏

— Zohair Nanjiani (@znanjiani) October 20, 2019
People lauded him for the bravery:
You ARE taller than him, in every way. Because you have had the courage to put this out there. He is an insect of a man, he has done this, or tried to do this, to others too. I know that for a fact. You don't owe anyone any answers. Thank you for your bravery.

— Lovely Lapparr (@KacchweKiJawani) October 21, 2019
People assured him that he wasn't alone anymore:
Jami all my respect for you and more. You aren't alone. Many of us have been victims. #MeToo isnt just about rape and attacks on women, but yes many men and children.
You have shown immense courage and strength! Speaking up is for sure being strong.
Keep fighting.
💪💪

— Joe Tipps (@TippsJoe) October 20, 2019
We stand with you, you are not alone. Thank you for being brave & speaking up. I hope one day you will get justice & that asshole pays for the pain he has caused you.

— Han (@rehanna83) October 21, 2019
Many urged that he shares the name of the predator:
Good job Jami. But I was waiting to read the name of the predator. These predators destroy lives and mental health of so many young boys and girls. Name that bastard. Lets name him and shame him.

— rebel (@Mehmoods8) October 21, 2019
Name and shame.

— Shahzeb Zaidi (@ZaidiSahaab) October 21, 2019
And while the replies were full of love and support, there was a prime example of why the movement needed to be dealt with seriously:
Any proof of this? are you a prophet that we should punish the accused without proof and only on mere accusations? It may make you angry but that is not how it works.

— MUB (@MUB29791528) October 20, 2019
And Jami made sure he gave him the answer he deserved:
Exactly point of this post. What proof u need? My rectal exam or check his Ring that cut me open from inside or the Dna on the ring? But issue is if u really want truth not just confusion creation against #metoo and all victims men women then u shud just go fix the law etc system

— jami (@jamiazaad) October 20, 2019
What do you think about the movement being under attack? Let us know in the comments below!