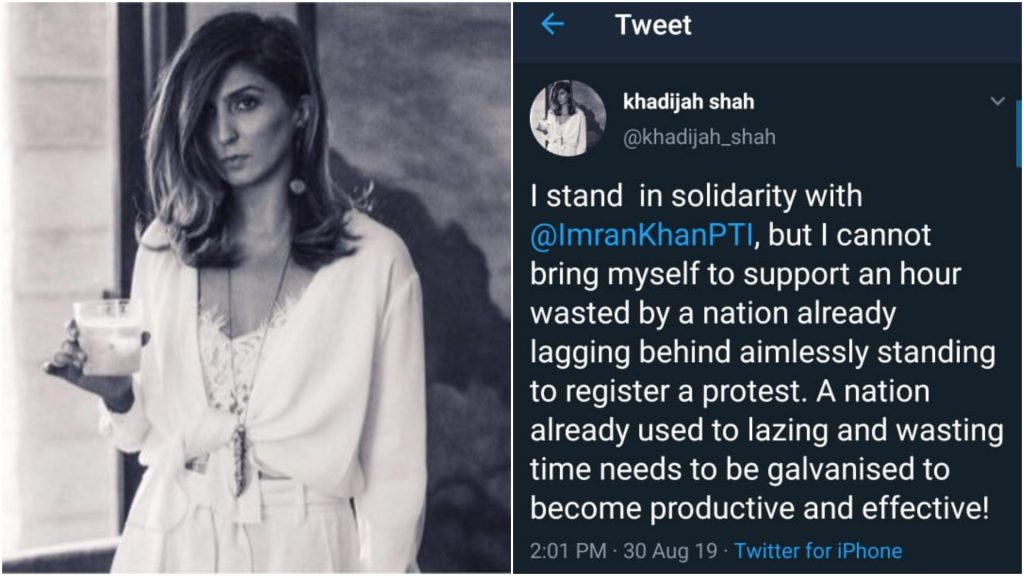 Khadijah Shah is one of the most renowned names in the fashion industry right now. Answering PM Imran Khan's call to celebrate #KashmirHour, the country came out to stand in solidarity with Kashmir today. And while a lot of celebrities were seen supporting the movement, Khadijah had her disagreements:
Pakistan the only way to make your voice heard is through economic strength. No amount of standing will make the world take notice. Educate, Create and be indispensable- I'm sorry to burst the bubble

— khadijah shah (@khadijah_shah) August 30, 2019
According to Khadijah, the peaceful protests being held all over the country won't get the world to take any notice. And people had mixed opinions about it, some agreed with her:
On point!

— FHK, MD (@drfudk) August 30, 2019
Education is of utmost importance.

— Adnan Khan (@idikhan) August 30, 2019
Thanks khadija at least u talked about ground realities

— iramr (@iram_rana1) August 30, 2019
I strongly second your words @khadijah_shah .

— usman azam gondal (@azam_usman) August 30, 2019
Truest words have been spoken. Thinking the world will pity us won't do anything.

— Fawad (@fad70) August 30, 2019
And while some agreed with her, many disagreed with her:
There is no bubble, really…. but a protest ought to be registered too.

— Bleed-Green (@BleedGreenCa) August 30, 2019
Some believed it was symbolic:
Pakistanis know this very well. That was symbolic. Sorry to burst your bubble too

— Khadeeja Meharunnisa (@Khadeej38491725) August 30, 2019
Many thought her idea was that of bakhts:
This reads like 'ignore Kashmir issue for the next 20 years'. Less vile than what the bakhts are saying but same messaging.

— Pagliaccio (@faisal_parla) August 30, 2019
Some schooled her on why protests are done:
Economic strength isn't the only parameter by which your protests will be heard.
Protest are held for solidarity of the oppressed and for attention of the world. It highlights the issue.

— AA shah (@pakistaniboy444) August 30, 2019
Some reminded her that the Kashmir issue is a pressing one that needs attention:
Are u suggesting to "stop" any kind of struggle, try and intention and wait for our economy to get better? Our economy will strengthen, Pakistan will flourish but there are matters which are important to be dealt with NOW or we will always be waiting. #KashmirIssue #kashmirhour

— Haseeb Ahmad (@Haseeb_ahmadx) August 30, 2019
Some thought the only bubble that needed to be burst was the one around her:
Only bubble that needs to be brust is the one around you. No denying the importance of economic strength. There are more economically strong muslim countries in the world please let me know when they got their voice heard on ANY these issues just because they have strong economy.

— Raza 🇵🇰 (@Alira2a) August 30, 2019
Some partly agreed with her, but they also knew that something urgent has to be done for Kashmir:
That would take a generation and in the next 25 years, J&K would be a Muslim minority state. No amount of education and social uplift would help them win freedom from Indian rule then.

— Taimoor Ashraf (@taimoorashraf) August 30, 2019
Khadijah also came back at a few who disagreed with her:
Unfortunately your solidarity doesn't help them unless you can actually affect change. And you cannot affect change unless you matter. That is reality. Why do you think #India or #Israel can commit genocide on a whole land and it's people with impunity. #wakeup https://t.co/LOQegz6eRb

— khadijah shah (@khadijah_shah) August 30, 2019
Sure stand all you want to show solidarity, but please also show resolve in combating poverty, illiteracy and religious fanaticism in your own country, so that one day we don't just stand but can also effectively dictate, protect and preserve the integrity of our lands and rights https://t.co/1DIWQj0Ovo

— khadijah shah (@khadijah_shah) August 30, 2019
She then tweeted how she stands in solidarity with Imran Khan but she just doesn't support time being wasted on such protests:
I stand in solidarity with @ImranKhanPTI, but I cannot bring myself to support an hour wasted by a nation already lagging behind aimlessly standing to register a protest. A nation already used to lazing and wasting time needs to be galvanised to become productive and effective!

— khadijah shah (@khadijah_shah) August 30, 2019
And people really came at her:
How many hours do you waste a day watching television or what not? How much time do you waste on Twitter alone? But that is all far more important to you than Kashmir. Noted!

— SocialPariah (@Non_granta) August 30, 2019
Some reminded her of the Friday timings:
Half* an hour. Also, isn't it mostly juma break or off at schools after 12?

— Fehmeen (@fanwar28) August 30, 2019
its friday…and its break in almost all the offices for jumma prayer.
Want to sound cool??try something else

— Ammar (@itsammartarik) August 30, 2019
Also a nation that always takes 12 to 3 off on every Friday….

— Sri🇮🇳ka 🏏 (@YousafYounas_1) August 30, 2019
Nothing was wasted. After 12 on Friday everything is usually off including Banks. Solidarity had to be shown. Period.

What if this lame ass logic was given during Arab spring movement

— Tehreem (@T_H33) August 30, 2019
Many challenged her to come up with a better solution:
Thank you. Pls come up with a better Idea to highlight Kashmir issue. It's not an hour it's an attempt to keep movement alive. Difference of opinion is respected.

— HP (@PirzadaHunain) August 30, 2019
Some called her out:
Soliderity should be with kashmiris not with ik. Second if you cant spend 30 minutes in a week for kashmiris then you dont have right to talk about kashmiris. Have a good life.

— nomi ali (@star_dashing) August 30, 2019
It does not hurt much to make up for the "loss" by working an additional half an hour spread over five days of the next week. Too taxing?

— Unprecedented (@soft_signal) August 30, 2019
Maybe a waste to you but not to the others. Perhaps you haven't seen the misery and suffering..how MashaAllah you lucky privilege.

— Sakina Samo (@sakinasamo) August 30, 2019
Many showed how #KashmirHour is trending on number 2 worldwide:
World Wide Trends
I think its 1st time ky is tarha world wide trends mai Kashmir Highlight hua hu… pic.twitter.com/LLgJVOeco3

— Syed_Shaheer_Offical (@Kakakhail007) August 30, 2019
Many thought it's just how you look at the cause:
Depends how you look at the cause. Perhaps a waste to you but not to others. These gestures and protests hold significance

— Haris Masood (@HarisMasood07) August 30, 2019
Some thought she needed to rethink her priorities:
Your tweet gave me an impression that you seriously need to sort out your priorities.

— Haider – Monto🤠Φ (@Syed_HaiderAli_) August 30, 2019
What do you think about Khadijah's tweets? Let us know in the comments below!