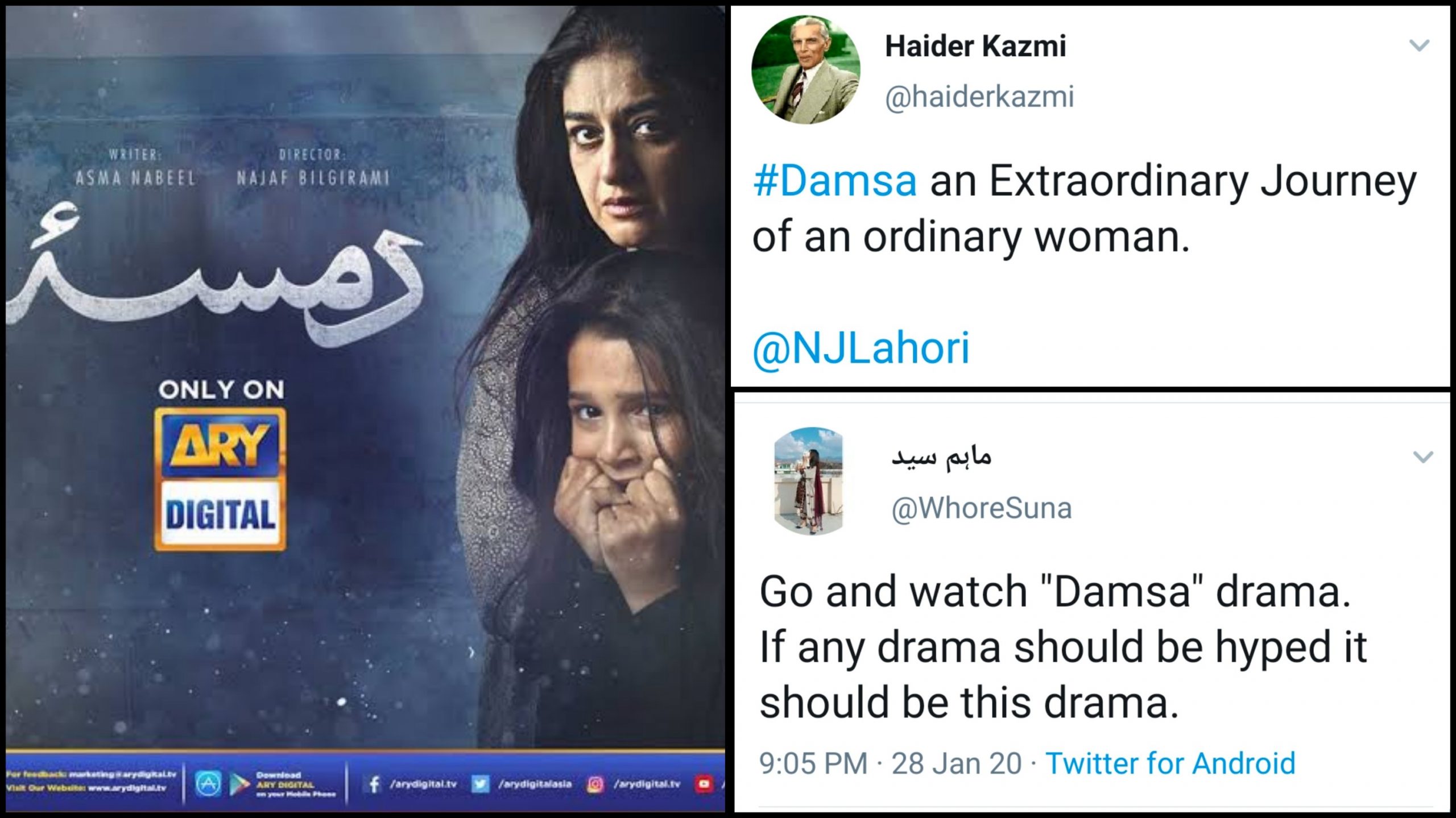 Based on child traficking, drama serial Damsa aired its last episode last night ending on the note we all were hoping for: Damsa and Areeja coming home. And Nadia Jamil dedicated her performance to the children of the country:
Last episode of Damsa today. A journey ended. I have learned so much from this story. It has made me stronger & my faith & conviction in the path j have chosen stronger. This performance is dedicated to the children of Pakistan. The ones who fight the odds & will win InshaAllah🙏

— Nadia Jamil (@NJLahori) January 29, 2020
And the internet has nothing but good things to say about the drama:
Damsa proved to be an excellent effort to point out a number of problems in the society, especially taking care of kids. My youngest son wouldn't watch it in the beginning but now he is a fan of you and all characters . We all have do do our best to protect our kids. Great job https://t.co/HnZsoDZEoi

— Javed Aziz Khan (@JavedAzizKhan) January 29, 2020
This scene gave us goose bumps too!
Ahh! This scene melted my heart. .#Damsa is not only a drama it's a bitter truth of our society 😔. But a very good ending of damsa. Lots of respect to u @NJLahori and the entire team.❤️ All the actors did brilliant job but you are a gem Nadia anty❤️ pic.twitter.com/GAdkMcj3Ci

— Rumesah Mashhood (@Syedaa_Tweets) January 29, 2020
The last two episodes had us tearing up too!
Just watched Damsa.
What an amazing drama. ❤
My mom and I both were crying seeing the reunion scene 😭😭🤧
Child trafficking is a severe issue.
Such issues really need to be highlighted.#Damsa

— عریشہ شاہد (@Areesha21) January 29, 2020
Absolutely, the child actors were brilliant!
#Damsa was such an amazing drama all the cast was splendid even the child actress did a great job and @NJLahori what an acting you did. You make me emotional. I love the ending. Lots of respect to you and the entire team❤️

— Rumesah Mashhood (@Syedaa_Tweets) January 29, 2020
Maa waqayi maa hoti hai:
I couldn't hold back my tears.
What a positive ending.😭😭😭
'Maa.. Maa hi hoti hai'@NJLahori you were flawless throughout the show 😘👏
& lil artist👌
These kind of dramas deserve our attention & hype!
One of the best #Damsa 👏 pic.twitter.com/UZukE5ODIW

— Ayesha-عائیشہ 🇵🇰 (@Ayesha_ZaYain2) January 29, 2020
Some were keen that Damsa deserved all the hype in the country:
People use to give importance to those dramas that don't have any really worth except dialogues and memes like #MerePassTumHo and neglecting the strong message of #Damsa about child abuse,child labour.I don't understand what are we doing and where are we going?

— Mujahid Malik 🇵🇰 (@iamMujahidMalik) January 29, 2020
The drama gave everyone something to think about:
"If you want to meet hope… meet a mother" today another journey ended. #Damsa is just one story. it ended. But their are so many stories on the roads and they don't know or may be they are looking or waiting for their happy endings. Start questioning#damsa #writer @NJLahori pic.twitter.com/ncA1Qd0YNc

— Asma Nabeel (@asmanabeelAN) January 29, 2020
People couldn't stop praising Nadia Jamil for playing Areeja:
I hadn't seen Damsa from its start but started from the middle, you have nailed it.. Hats off to you for your acting skills and portraying a bitter face of out society @NJLahori

— Iqra Bashir (@IqraBas66612700) January 29, 2020
Never understimate the power a mother holds within her:
Bestest Drama #Damsa,Drama was made on great theme. Hats off performance by @NJLahori played the role of best mother👏👏 & showed amazing acting, her determination & courage inspire all women❤️

— ayexhakhaan (@ayexhakhaan) January 29, 2020
Nadia baji ur acting is #sensational 4 me itz oscar winning performance! #Damsa is nt jst a play.Ending episodes r emotional n impactful.Strong women cn also b Vulnerable bt Mother is Vigorous in their aim.Mother faith cnt b shaken #ChildTrafficking Mafia mst b exposed@NJLahori pic.twitter.com/XaBZSqvRea

— Sundas Shabab (@SundasShabab) January 29, 2020
People wanted more dramas like Damsa:
@NJLahori will miss damsa, please do make another drama with these kind of issues. Damsa or uski maa ki acting lajawab thi❤

— bruh. (@Pakistanii01) January 29, 2020
Aptly put:
#Damsa an Extraordinary Journey of an ordinary woman. @NJLahori

— Haider Kazmi (@haiderkazmi) January 29, 2020
Many thought Damsa was the drama that should have been played in the cinemas:
#Damsa 's last episode was the one which was supposed to be shown in cinemas instead of #MerePaasTumHo but we don't have any #Danish left .We are a nation of messed up priorities and morals#RIPSanity
Watch #damsa it gives you solutions @ImranKhanPTI@ShireenMazari1 @NJLahori pic.twitter.com/voG2HyCKVI

— Saba Arif صباعارف (@Saba_A_Kahlown) January 29, 2020
People acknowledged how this was an issue they'd never thought about:
@NJLahori must appreciate, you & your team did an excellent work #Damsa.

Highlighted the issue that we never thought about. More power to you.

— MSA (@ShahzadAkram2) January 29, 2020
Phenomenal, indeed!
@NJLahori What a beautiful ending of this drama #Damsa .The way this project showed issues of our society & how far a mother can go to protect her child was phenomenal. May Allah help us to end this child trafficking crime.Ameen. Hats off to you and the whole team. JazakAllah !

— Talha (@truetalha) January 29, 2020
Hoping for the same:
@NJLahori you deserve all the applauds and awards for Damsa…. an award winning performance according to my mother 😘prayers for you… keep highlighting the issue… may we get rid of it soon .. Aameen

— khan (@ooruj_khan) January 29, 2020
Every episode was perfect:
Best ending of #damsa ❤️🔥@NJLahori thank you so much mam for raising this kind of serious issue🙏🏻💕Your acting was so real🔥 The way you showed up women's struggle was so tremendous🔥.. Highly appreciated your work❤️

— Mujahid Malik 🇵🇰 (@iamMujahidMalik) January 29, 2020
Exactly:
@NJLahori Thank You so much for doing an eye-opening drama Damsa.. I hope gov't will start doing something for kids safety and future.. May Allah keep our kids safe! Aameen sum Aameen

— AmbrynTweets (@CrazyMirch) January 29, 2020
People were loving how it ended:
@NJLahori what an episode, what an ending…end of Rehman was what he rightly deserved. Superb, #Damsa had been great!

— Asma Kashif (@asmakashif29) January 29, 2020
A drama that taught so much more:
@NJLahori followed #Damsa , absolutely loved how it highlighted the darkest realities. Best moment of this drama was when Ayesha's mother encourages Areeja and prays that she finds her daughter. This is the compassion we need to learn as a society. Thnk u 4 this lovely message!

— Qurat-ul-ain (@Quratulain_Ib) January 29, 2020
Aameen!
This isn't only a drama but a reality. Ya Allah tamam bachon ko unke waledain se miladeyn, don't forget its message always pray for them we don't know whose prayer save someone's life and help someone❤#Damsa @NJLahori #ARYDigital

— Tuba Khan (@slothful_panda) January 29, 2020
People were lauding the quality of Pakistani dramas:
The 2 dramas I have loved & enjoyed ( as well as be inspired by) are #Alif and #Damsa.

Such dramas are great for self discovery & finding your inner strength. These writer have done an amazing service & credit due to all actors taking part.
That's the quality of Pakistan Dramas.

— Dr Moon (@shinningMoon22) January 29, 2020
Watch it right now!
Go and watch "Damsa" drama. If any drama should be hyped it should be this drama.

— ماہم سید (@WhoreSuna) January 28, 2020
People were glad that the drama not only portrayed the problem but also gave solutions:
Uffff! What an episode of Damsa. Absolutely love how they didn't make it an unsolved and hopeless ending.

— 🌻 (@ThattObserverr) January 28, 2020
Have you been keeping up with Damsa? Let us know in the comments below!