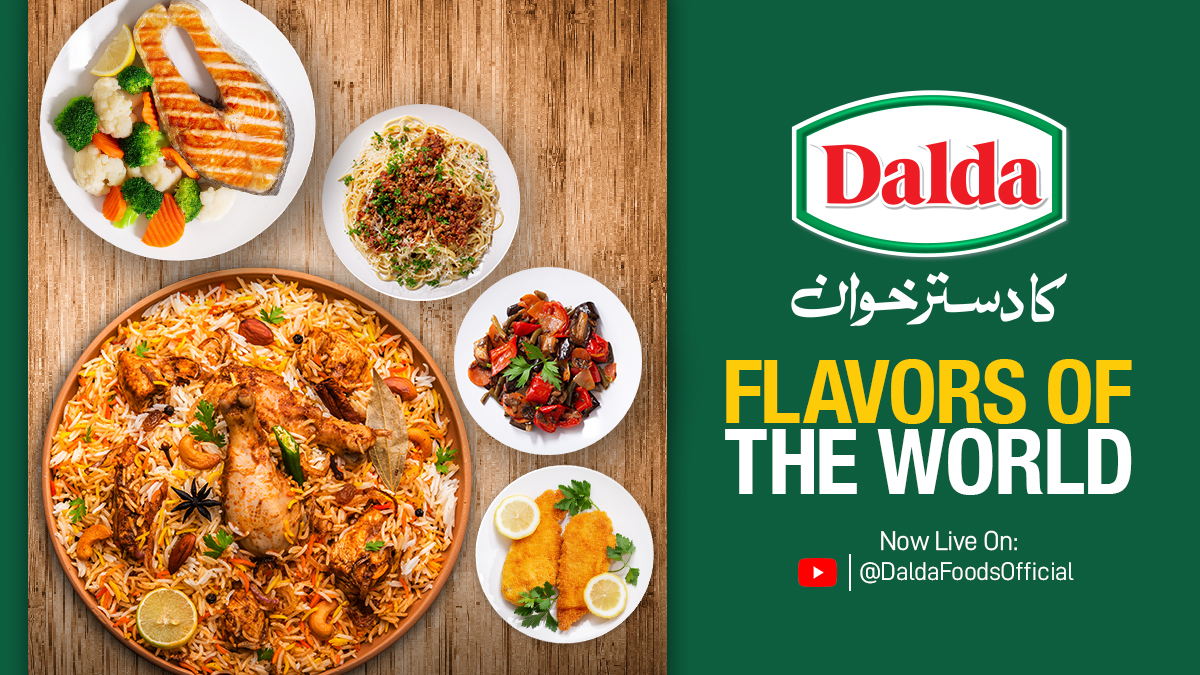 We all know that the process of coming up with new recipes everyday can be a frustrating chore in itself. This is your point of inspiration for the week! Experimenting with different kinds of meals, or adding some new twist to your routine dishes can bring about all the difference you and your family will absolutely love. Let's introduce you to some new and some old recipes with a new touch and that'll be just right for your dinner table!
1. Mutton Biryani is an all-time favorite and easier to make than you think. Marinate mutton with red chilli, turmeric, coriander, onions, and tomatoes. Combine yoghurt, saffron, and onions in a separate bowl. Heat Dalda Cooking Oil in a wok and add the marinated mutton. Boil rice in water, then simmer for 18-20 minutes. To find the full recipe visit Dalda ka Dastarkhwan's YouTube channel
2. Chicken Makhni is a succulent, tendered chicken dish served in a spicy tomato sauce. It's generally cooked in a tandoor, although it can also be grilled, roasted, or pan-fried, though the results are less authentic. Cook fresh tomato, garlic, and cardamom into a vibrant red pulp before making the gravy. After the mixture cools down, the pulp is pureed. Then, to get the most out of your Chicken Makhani, add butter, various spices, and Khoa (dried whole milk).
3. Aloo Gobi is a Pakistani gravy-less dish prepared with potatoes (aloo), cauliflower (gobi), and common spices. It has a warm, yellow-orange color because it contains turmeric, a common ingredient in all our Pakistani household's cuisines. Kalonji and curry leaves are occasionally used to add that essence in Aloo Gobi. Garlic, ginger, onion, coriander stalks, tomato, peas, and cumin are among common components. Put it all in the oven to roast or pan-sear it and you've created one of the most popular dishes in Pakistan.
4. Rogan Josh is a popular dish in Kashmir. It's a multi-course Kashmiri dinner. Rogan Josh is made with braised lamb pieces and gravy. Browned onions, yoghurt, garlic, ginger, and other aromatic spices are commonly used to make gravy. A typical Rogan Josh, known for its bright crimson color, makes heavy use of dried Kashmiri chilies. Kashmiri chilies are gentler than cayenne chilies, while being less fiery when de-seeded.
5. Another crowd's favorite is Achari Tikka – Made with chicken leg pieces, lemon juice, curd, garlic paste, red chilli powder, salt, a dash of food color, and our secret Achari masala. Check out Dalda Ka Dastarkhwan's video for the full recipe
Food recipes are an important part of our culinary culture because they allow us to prepare and enjoy a wide variety of delicious meals with organized guidance, whether you are a seasoned chef or a beginner level cook. Looking for more inspiration? Tune into Dalda ka Dastrakhwan's Youtube Channel for even more creative and delicious ideas!