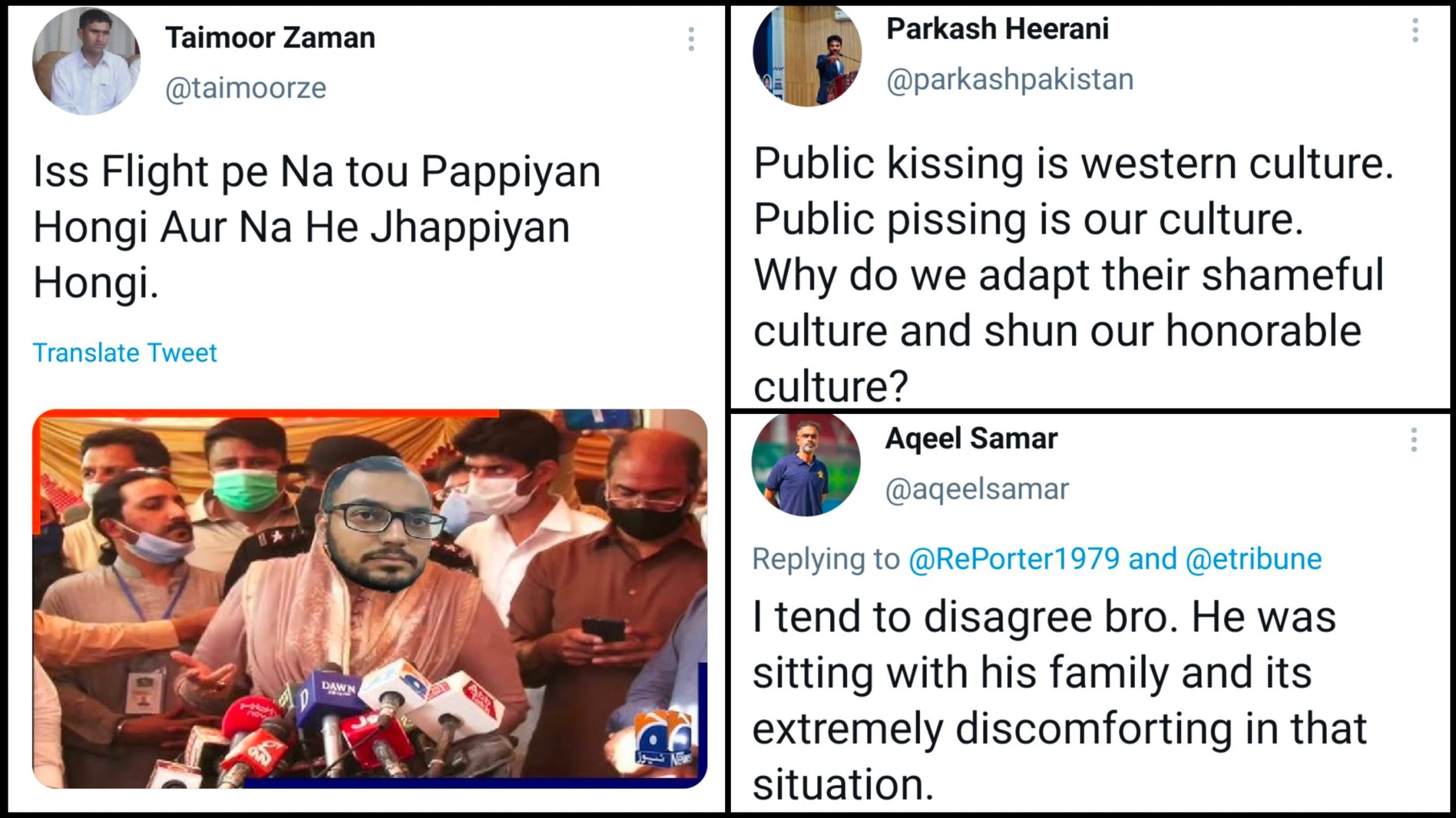 In a country where PDA is frowned upon, a couple on an Airblue flight was seen kissing which made fellow passengers uncomfortable and they asked the air hostess to intervene.
An 'amourous' couple was allegedly caught kissing each other on an causing an uproar on a domestic Airblue flight.

Click here to read our complete story:https://t.co/dXyUr0PmkH#etribune #kissing #Airblue #Pakistan #Publicindecency pic.twitter.com/cqBJTMRzX8

— The Express Tribune (@etribune) May 24, 2021
The news broke the internet and there was a sea of differing opinions and hilarious memes!
Did no one tell him he had the revolutionary option of…just…not looking…you know…instead of complaining to the hostess…then submitting a written complaint to the airline…and then making a video about it… https://t.co/LthLWpOgd1

— Noor (@NoorHSumra) May 25, 2021
😂
He was going to pleastine for jihad, but got distracted by a kissing couple https://t.co/5LXMUq9BBV

— moe (@pakbayarea) May 25, 2021
People were appalled at the outrage:
A couple consensually made out in a flight & that got Pakistanis riled up to the point that this is the national discussion of today?

Damn, if only you all cared this much about men publicly jerking off at the sight of women or catcalling or unconsensually touching women. (1/2) https://t.co/gGWG0ZUvQE

— شمائل رضوان اعوان (@thatsadshamyl) May 25, 2021
People wanted to remind him that he could look away:
Long story short, he wanted to say that he does not understand that even in public people can have their own space & he does not understand how to not interrupt in other people's business & get jealous of them.
He desperately wanted to tell the world he belongs to group of incels https://t.co/vB3M8ayLYE

— خراب عورت (@KharabAurat) May 26, 2021
People were sharing their own experiences:
😂😂 reminds me of PNS Shifa Islamabad,I was pregnant,waiting in emergency for a bed,extremely drained & couldn't sit straight so kept my head in my husband's lap.The guard came to us & told my husband "inko Bolein theek se bethein baqi log complain kar rahe hain" 🤷‍♀️😡 https://t.co/tmio1n5KVm

— W.H (@waj_huss) May 25, 2021
People weren't having the selective outrage:
selective outrage – always far more offended by affection in relationships rather than abuse in relationships https://t.co/Bs4lxOmktt

— d kamal (@daanistan) May 25, 2021
People were calling out on the society on being suffocating:
This is why I constantly keep saying how suffocating our society is. A married couple cant even display their affection through a small gesture such as a kiss. Fuck this country and this mentality. #Airblue https://t.co/zorjZodeWf

— Usman (@PseudoPsychotic) May 25, 2021
😂😂😂
He's barely holding his laughter in himself https://t.co/61IgQOidUe

— 🇵🇸 (@Broiler_Choocha) May 25, 2021
We can't stop hearing it in the background now!
*sad tune intensifies* https://t.co/bVYTFuIpwN

— Glorified Mazdoor (@naaninclusive) May 25, 2021
People were lauding the air hostess:
The winner in all of this is the air hostess who instead of listening to this idiot's complain, facilitated the couple further so that they can carry on with their love without disturbance.
Absolute legend 👏👏 https://t.co/IUlMLWk7l6

— A (@Bhuut_) May 25, 2021
Airblueee we love you!

The air hostess who gave the blanket! Promote her! 😂🙊

— Maha-Dar (@Kschessinska_M) May 25, 2021
Unfortunate, but true!
a man hitting his wife on an airblue flight would have been met w averted eyes, shushing, 'ye unke apas ka maamla hai', cz it's completely OK and normal for impressionable kids to see women being treated like property as opposed to actual human beings worthy of love and affection

— Shafique (@jennabahadur) May 25, 2021
The guy who complained, became a meme!
Iss Flight pe Na tou Pappiyan Hongi Aur Na He Jhappiyan Hongi. pic.twitter.com/Mr9NfpwfVO

— Taimoor Zaman (@taimoorze) May 25, 2021
😂😂😂
Live scenes for #airblue flight pic.twitter.com/C81M6tyazx

— Name cannot be blank (@djungelskong) May 25, 2021
The memes were unstoppable!
made one, all hail the air hostess 🤧😂 pic.twitter.com/qaLSQk2bhT

— anastipu (@teepusahab) May 25, 2021
Live scenes from Airblue.#Airblue #airbluekissing pic.twitter.com/DCO4lSxAEg

— Salmaan Sabir (@SalmanSabirH) May 26, 2021
Yar 😂
New Airblue policy draft leaked: pic.twitter.com/Rdu4pgRdqM

— Dawar Butt (@theLahorewala) May 25, 2021
Dead 😂
What actually happened today 😅😅👇#Airblue pic.twitter.com/AZ5ms37Eu1

— Madie_021🇵🇰🇦🇺 (@Hammad26354841) May 25, 2021
And while some were all supporting the couple, others were strictly against the PDA!
Just take strict action against them. No one allowed to do these vulgar activities in The Islamic Republic of Pakistan.#airbluekissing pic.twitter.com/4b33y4ETmW

— Raja Abdullah (@Abdulla53102948) May 26, 2021
People were adamant that the couple should have kept their hands to themselves:
If you can't control yourself then stay at home. Don't do these shitty activities in the public places.#airbluekissing pic.twitter.com/1JpwLfADGg

— Raja Abdullah (@Abdulla53102948) May 26, 2021
People were appalled!
I am highly appalled people hv forgotten their morale and values.I vehemently discourage couple's pessimistic N obscene act.this is not our values and there are some ethics which we have to follow in public.This is not their personal matter,was happening in public.
Wee! #airblue

— catch me if you can (@urhhtiichiiryaa) May 25, 2021
People were angry:
How can people justify a couple kissing in public/plane and that too in Pakistan ? Koi US ni hai yeh. Yeh sab ghar ja k b ho skta hai if they really were a couple. #Airblue

— J 🌺 (@Jannat_Imam) May 25, 2021
People wanted the couple to be fined!
Whose ingenious idea was it to give the blanket rather than separate & fine the couple who don't know how to behave in public?
Professional standards of @airblueairline need updating.

— Powinda Chaudhary (@PowindaC) May 25, 2021
People were sharing how it must have been uncomfortable for the fellow passengers:
Agar wo husband wife the to bhi ek lihaaz hota hai. Privacy unko plane mein chahye thi? Aur agar wo larka Apni Ammi k sath betha tha to obviously uske liye awkward hoga aise kisi ko dekhna. Hath pakarna, shoulder pe sar rakhna even cheeks pe kiss bhi theek hai. Bt this is too mch

— Honey Khan 🇵🇸🇵🇰 (@honeykhan9273) May 25, 2021
People were sharing how the kiss could have waited:
There should be some policy of kicking such people off the flying plane who make those around them uncomfortable. Ok forget religion, but ffs be considerate of those around you for once. That kiss could've waited 🙄

Also it's NOT a private matter when it's being done so openly

— 🇵🇸حalif (@donevenhaveapla) May 26, 2021
What are your thoughts on this matter? Let us know in the comments below!