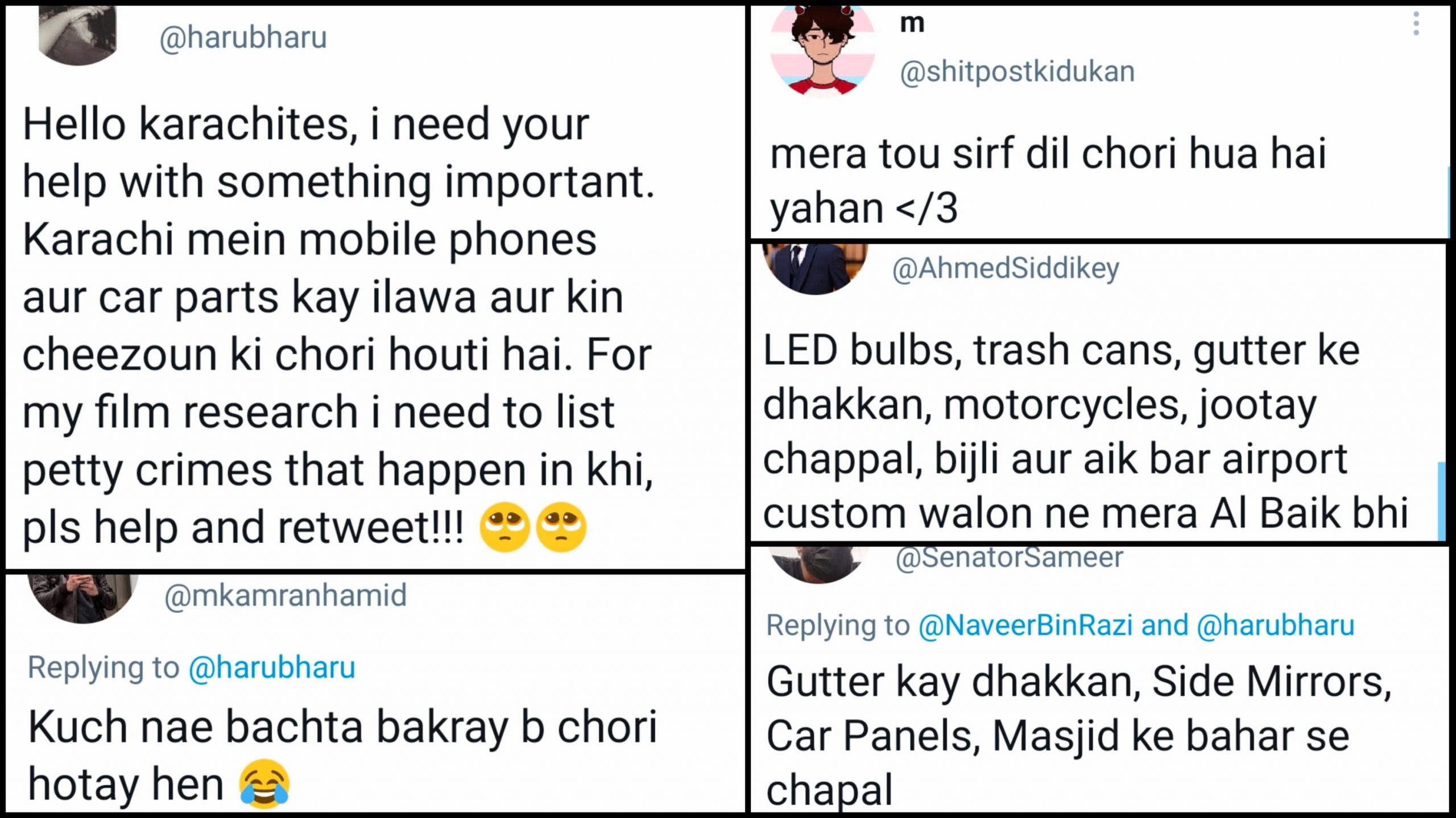 Living in Karachi is an experience in its own, the hustle bustle of the city to great food that it has to offer comes with a serious downside, theft!
A girl on Twitter asked her followers from Karachi about the items that have been stolen from them and they have served the most honest replies!
Hello karachites, i need your help with something important. Karachi mein mobile phones aur car parts kay ilawa aur kin cheezoun ki chori houti hai. For my film research i need to list petty crimes that happen in khi, pls help and retweet!!! 🥺🥺

— Sharu (@harubharu) May 23, 2021
Big relate 😭
GHAR KE BAHIR GALMAY😂😂

— .🇵🇸 (@notftmshk) May 23, 2021
Yep!
gutter ka dhakhan, believe it or not

— M A H E E N (@KhMaheen) May 24, 2021
Basically, everything we can!
Gutter kay dhakkan, Side Mirrors, Car Panels, Masjid ke bahar se chapal

— Sameer Siddiqui (@SenatorSameer) May 24, 2021
Noooo, not Al-Baik!
LED bulbs, trash cans, gutter ke dhakkan, motorcycles, jootay chappal, bijli aur aik bar airport custom walon ne mera Al Baik bhi 💀 https://t.co/esL5R88ge9

— i'm not ok 🇵🇸 (@AhmedSiddikey) May 23, 2021
👀
mera tou sirf dil chori hua hai yahan </3 https://t.co/kFcuB1TWdT

— m (@shitpostkidukan) May 23, 2021
"Mere dill ki" https://t.co/cgaYbQJLLq

— Replaceable (@Ghumhour_) May 24, 2021
Spot on!
Bijli https://t.co/EpJSQkhOaU

— World's Spiciest Ramen (@dezgostang) May 23, 2021
Sub!
Metal wires and metal things. As small as kitchen stuff to sell

— Meph⚓ (@UnitedsFreak) May 24, 2021
Oh, definitely!
Bike helmets. If you don't put it in a pipe lock, it's gone bro! Add to the list 125cc bikes… especially if you've a Karachi number plate!

— Naqqash Latif (@naqqash19) May 24, 2021
Hahaha 😂
Agar chath pe charsi ajae phir tou jo bhi chath walay store mein hoga sab jaega. Ranging from ceiling fans, 30 saal purane shadi ke kapre, unused kharab wrist watch. Personal experience :p

— 🌻 (@ThattObserverr) May 23, 2021
Ours too!
Someone took our dustbin from outside so i'd say anything goes

— SK✨ (@notsobs) May 23, 2021
KAISAY OMG!
Mostly metal items. Lekin hamaray ghar ke bahar se tou pura darakht gayab kar diya tha…

— ; (@zahreh_mar) May 24, 2021
Haye, side mirrors!
sideview mirrors, all of the gadgets basically inside a car

— Beezus (@blurmynamepls) May 24, 2021
Baat toh sach hai…
Har cheez ki.

— NS (@Nabihasidd) May 24, 2021
🤦‍♀️🤦‍♀️🤦‍♀️
Car batteries, car radio, car petrol.

— M. N. P. (@kafennarn) May 24, 2021
Kuch nai chhortay!
We also planted fresh marigolds once in our porch, someone ripped those from the ground. So flowers too

— Afifah (@afifahtweets) May 23, 2021
The season is right around the corner!
Kuch nae bachta bakray b chori hotay hen 😂

— Kamran (@mkamranhamid) May 24, 2021
Lmao 😂
They even snatch my gym glove on gun point, when they find out I have no mobile and wallet. 🤦

— 🤡 (@omoouu) May 24, 2021
You name it…
Garden chairs, benches, water coolers, locks, door knobs and pets

— symrun (@madrpidrazaad) May 24, 2021
Facts!
Zameen tk chori hojati hai. Baki jo cheez bhi bik skti hai wo chori hojati hai including any sort of scrap.

— Murtaza (@murtazazaidi_) May 24, 2021
Yes!
How can we forget 'Masjid k bahar chapalo ki' https://t.co/NtTitRBqz1

— SS. (@astaghz) May 23, 2021
What have you guys lost in Karachi to theft? Let us know in the comments below!