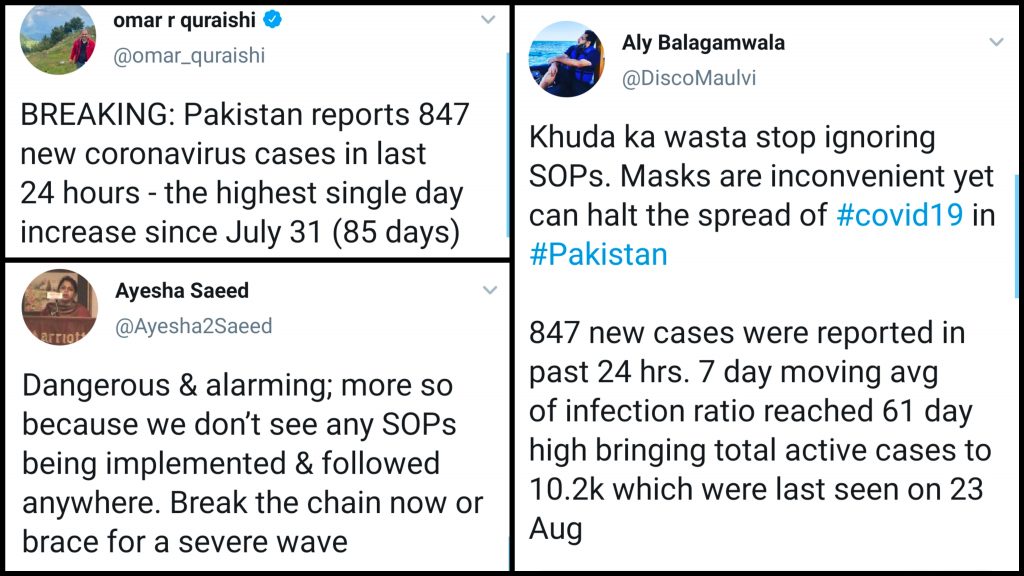 While most of the world has been suffering in the second wave of the corona, Pakistan was doing pretty well with the number of corona cases consistently low since July 2020. But with the lockdown restrictions easing down and people not following SOPs, Pakistan has reported 847 new cases today which is the highest it has reported in 85 days.
BREAKING: Pakistan reports 847 new coronavirus cases in last 24 hours – the highest single day increase since July 31 (85 days)

— omar r quraishi (@omar_quraishi) October 24, 2020
And people are worried!
Khuda ka wasta stop ignoring SOPs. Masks are inconvenient yet can halt the spread of #covid19 in #Pakistan

847 new cases were reported in past 24 hrs. 7 day moving avg of infection ratio reached 61 day high bringing total active cases to 10.2k which were last seen on 23 Aug pic.twitter.com/P9s0EkUSvi

— Aly Balagamwala (@DiscoMaulvi) October 24, 2020
Please 🙏
Dangerous & alarming; more so because we don't see any SOPs being implemented & followed anywhere. Break the chain now or brace for a severe wave https://t.co/f9ZVjBCXF7

— Ayesha Saeed (@Ayesha2Saeed) October 24, 2020
The alarming situation had people tweeting out on the following SOPs:
Getting alarming now and swift action required to control spread

1. People need to start taking SOPs seriously
2. Govt needs to do more to implement – SOPs only as good as their adoption and implementation @Asad_Umar @ImranKhanPTI @Jhagra @ArifAlvi #COVID19 #Pakistan https://t.co/HbOJH8TNWG

— Fauzan Naeem (@Fauzan723) October 24, 2020
People were calling it a team effort:
847 cases today, congratulations everyone, real team effort!

— Irtiza (@fortesyrup2) October 24, 2020
People were also complaining of traffic wardens not following SOPs:
Why these traffic police walas not wearing masks while doing chalan, are they corona proof , I think till these traffic police walas will not get covid they will not learn the lesson

— Azfar (@NizamiAzfar) October 24, 2020
People were wondering about the news not being loud enough:
😱
Why is there silence and no action over this. Do we want things to get out of hand before we react? #COVID19 #pakistan https://t.co/1iZQ8ldILD

— Madiha Saeed (@MadihaSSheikh) October 24, 2020
Rumours started pouring in:
Preparations for lockdown after 12 RabiualAwwal. Hot rumours. https://t.co/t8vTFQHJcQ

— Ali shah (@3sinns) October 24, 2020
People were urging others to follow SOPs:
Alarming. Follow SOPs https://t.co/wXRoL0Femw

— SaadiaS (@Saadia_SWMZ) October 24, 2020
Which is why we need to diligently follow the SOPs:
It's only increasing and increasing again everyday now https://t.co/1TOgQempK3

— Sarim (Manaal // Kaneez stan acc) (@ooyehoe) October 24, 2020
People were suggesting lockdown as a preventive measure to contain the virus:
With the growing surge in #Covid cases in Pakistan,given that the media and masses only believe in optics,it's high time for NCOC & the prime minister to make headlines. Announce/impose lockdown,no matter smart or partial but enough to make people take #Corona seriously. II wave

— Does it matter? (@asad21__) October 24, 2020
Yes, please!
Corona is creeping its way back with more than 800 cases reported in last 24 hours in Pakistan. Most of the patients are asymptotic which is more scarier. This is just NOT the time to let our guards down. Wear a mask n follow official SOPs. #StaySafe #CoronavirusPandemic

— Sana Tauseef (@SanaaTauseef) October 24, 2020
With a drastic surge in the cases, we'd like to request everyone to follow SOPs and take care of themselves. Have anything to add to the story, comment down below!