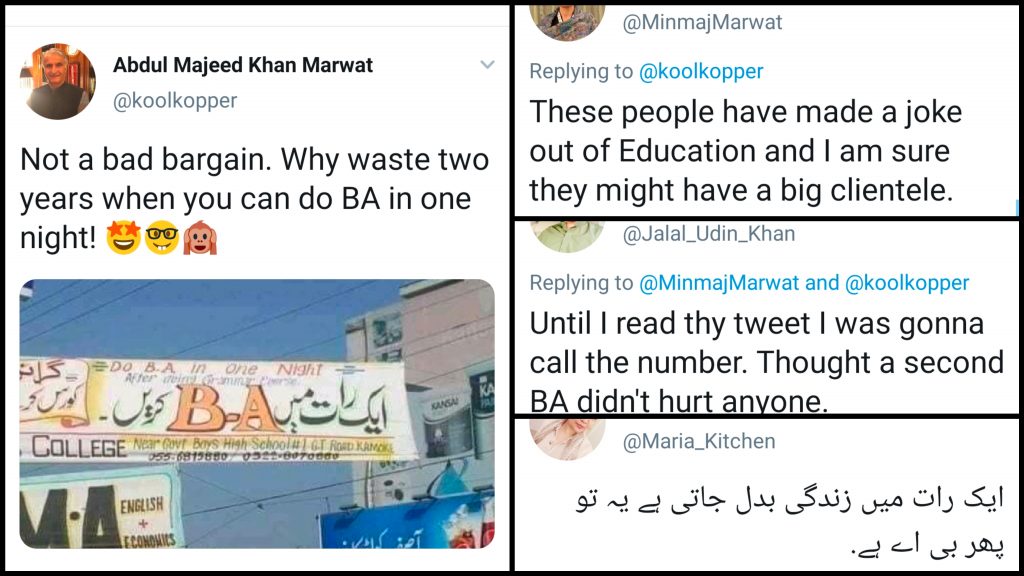 B-A, BA, B.A? There's an ad going viral on social media which promises changing your B to an A, or maybe completing your BA degree overnight:
Not a bad bargain. Why waste two years when you can do BA in one night! 🤩🤓🙉 pic.twitter.com/NhO6h4SvB7

— Abdul Majeed Khan Marwat (@koolkopper) August 23, 2020
And it has the netizens feel all sorts of way!
It takes one night to prepare a fake BA degree, get the agreed price & deliver it to the fake graduate. After all, all devilish deeds are done during night.😜😜😜

— S. Jamal Afridi (@SaidJam70822032) August 23, 2020
We had half the number copied…
Until I read thy tweet I was gonna call the number. Thought a second BA didn't hurt anyone.

— Jalal Uddin Khan (@Jalal_Udin_Khan) August 23, 2020
Some had questions:
Why not in a day?

— faheem wali (@faheem_wali) August 23, 2020
Hear, hear!
What's done is done but the aspiring BA candidates should be made aware of this golden chance lol

— Abdul Rehman (@Engr_AR) August 24, 2020
Absolutely!
This is next level of marketing

— Naznina Hakim Khan (@NazninaHakim) August 23, 2020
People were packing their bags!
And 2 nights for MA, 3 for PhD! That is so cool 👍 I'm off to Pakistan

— Riff khan Yousafzai (@RiffHinton) August 23, 2020
Maa ki duayein?
Any such remedy for CSS?

— Muhammad Khalid (@replyjadoon) August 23, 2020
Bilkul banta hai!
ایک رات میں خواب دیکھ کر بی اے کرلیں کا جواز البتہ بنتا ہے 🤔🤔 https://t.co/MNA2KqPYwe

— Akhunzada asad(ملیزے) (@asadjam66391282) August 23, 2020
True that!
ایک رات میں زندگی بدل جاتی ہے یہ تو پھر بی اے ہے. https://t.co/pRaD3XOwLW

— Maria Aziz (@Maria_Kitchen) August 23, 2020
Some weren't amused at all:
These people have made a joke out of Education and I am sure they might have a big clientele.

— Minhas Majeed Khan Marwat (@MinmajMarwat) August 23, 2020
Some were surprised at the nerve of the advertisers:
Doesn't the fact that such advertisements can be even displayed surprise you?Who would know better than yourself that the law books of Pakistan contain laws for nearly every small and big violation of law but the same are not fairly implemented.Thus,people act without fear of law

— MasoodSharif Khattak (@MSharifKhattak) August 23, 2020
Yeh cheez!
But it takes decade of education to have an insaniyaat degree..

— Ali Khan.. (@sadaat55) August 23, 2020
Chalo ek din ki chhutti leleinge:
بیچارے نائٹ شفٹ کرنے والے اس سنہری موقع سے محروم رہ جائیں گے۔

— خیام (@hassan_khayyam1) August 24, 2020
What do you think about this ad? Let us know in the comments below!