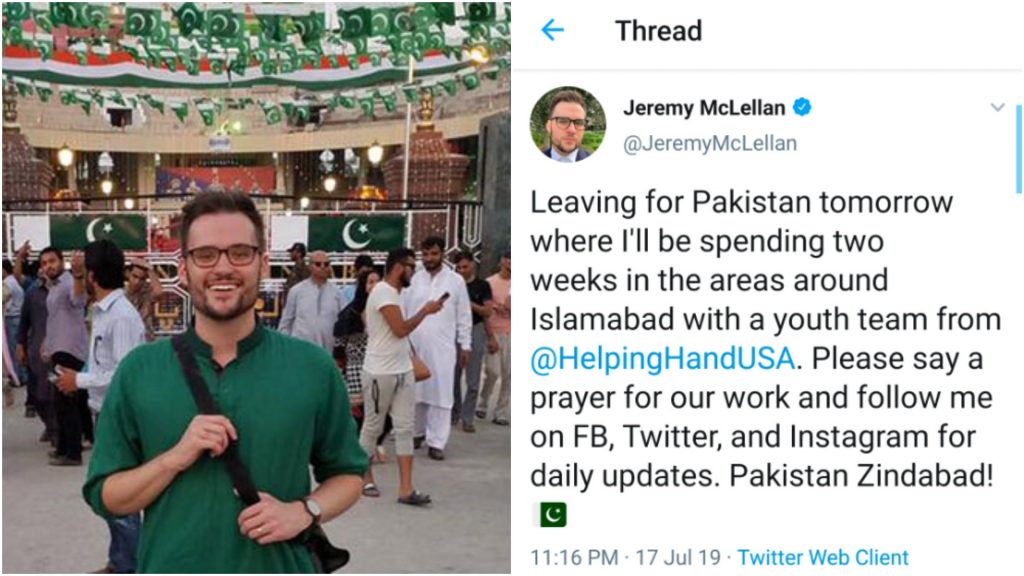 If there's one person who can be called the rightful ambassador of Pakistan, then its Jeremy. Ever since his first to Pakistan, Jeremy hasn't stopped talking about how much he loved it here.
Recently, the comedian shared how he was all set to return to Pakistan again as a part of a project where he'll be spending 2 weeks in Islamabad and surrounding areas:
Leaving for Pakistan tomorrow where I'll be spending two weeks in the areas around Islamabad with a youth team from @HelpingHandUSA. Please say a prayer for our work and follow me on FB, Twitter, and Instagram for daily updates. Pakistan Zindabad! 🇵🇰

— Jeremy McLellan (@JeremyMcLellan) July 17, 2019
And the netizens were ecstatic to have him back for the second time!
😍😍😍 looking fwrd for all the pictures and videos 💕

— Komal Wajih (@KomalWajih) July 17, 2019
Definitely!
Now Twitter will be interesting.

— AR🥊 (@ARfrom1947) July 18, 2019
Some came right back at him with jokes about him being an ISI agent:
Major Jeremy of ISI is coming back after a successful infiltration of US & offshore surgical strikes on India. 👍

Welcome home maj…

— Rizwan Yahya (@RizwanYahya) July 18, 2019
People couldn't wait to see him:
Don't tell me.
I'm so happy Jeremy. Plz keep updating us about all the events you'll be having in Islamabad. We wanna see you.

— Najia Zarar (@AylaZarar) July 17, 2019
Tea being fantastic jokes were made…
welcome to Pakistan
.. kindly have a cup of tea with us ,,
our tea is fantastic

— Javed Ali (@JavedAl52787683) July 18, 2019
People sent him tons of love and prayers:
Welcome to #Pakistan and lot prayers & best wishes for you on your great work here.

— Mushtaq Ali (@Mushtaq_989) July 18, 2019
Some warned him about the weather:
Welcome to Pakistan. I hope you will enjoy your trip. Don't forget to bring your shorts and T-shirt to enjoy rainy weather

— شاہ زیب خان (@ShahgPTI) July 17, 2019
Haha, yaaas, our Pindi boy is called Pindi boy for a reason:
Areas Around Islamabad Means *Pindi* 😂

— 🇵🇰 U S M A N 🇹🇷 (@Ux1B226) July 17, 2019
People shared how they loved him for portraying the real side of Pakistan:
This is the reason behind following you💚 your love toward Pakistan and pak people always make us happy 😀 very warm welcome sir🙃

— Bintmehar (@Bintmehar1) July 18, 2019
We bet the whole reason for the visit is just having good biryani:
Welcome to Pakistan. I hope you will enjoy our love, peace and traditional foods. 😊😘

— Shakir BUGTI (@shakir_bugti) July 18, 2019
Pindi boys shared how they've been missing him:
@JeremyMcLellan pindi boys miss you at centaurus as they can't go without tickets.

— iamusmanghani (@usmanghani394) July 17, 2019
And being the comedian he is, he added a little bit of Trump and taking over as the PM for some laughs:
I will also be filling in as Prime Minister while my dad is in DC meeting with Trump. Fingers crossed I do a good job.

— Jeremy McLellan (@JeremyMcLellan) July 17, 2019
People played along!
Can you appoint me as your special assistant during your tenure as PM?

— [email protected] (@mlatifawan19471) July 18, 2019
People were loving the idea:
😬woow Jeremy as next PM of Pakistan🤔hmmm, not a bad option!
You would be loved equally to IK

— Ujala Khan (@UjalaKhan8) July 18, 2019
I love that part !!!

— Arooj Tiwana (@t_arooj) July 17, 2019
We agree!
HAHAHHAHAHAHHA BEST ONE JEREMY

— Anusha (@Aplus6alphabets) July 17, 2019
All in all, the nation is really happy to see their most loved gora coming back!
What do you think about Jeremy coming back? Let us know in the comments below!