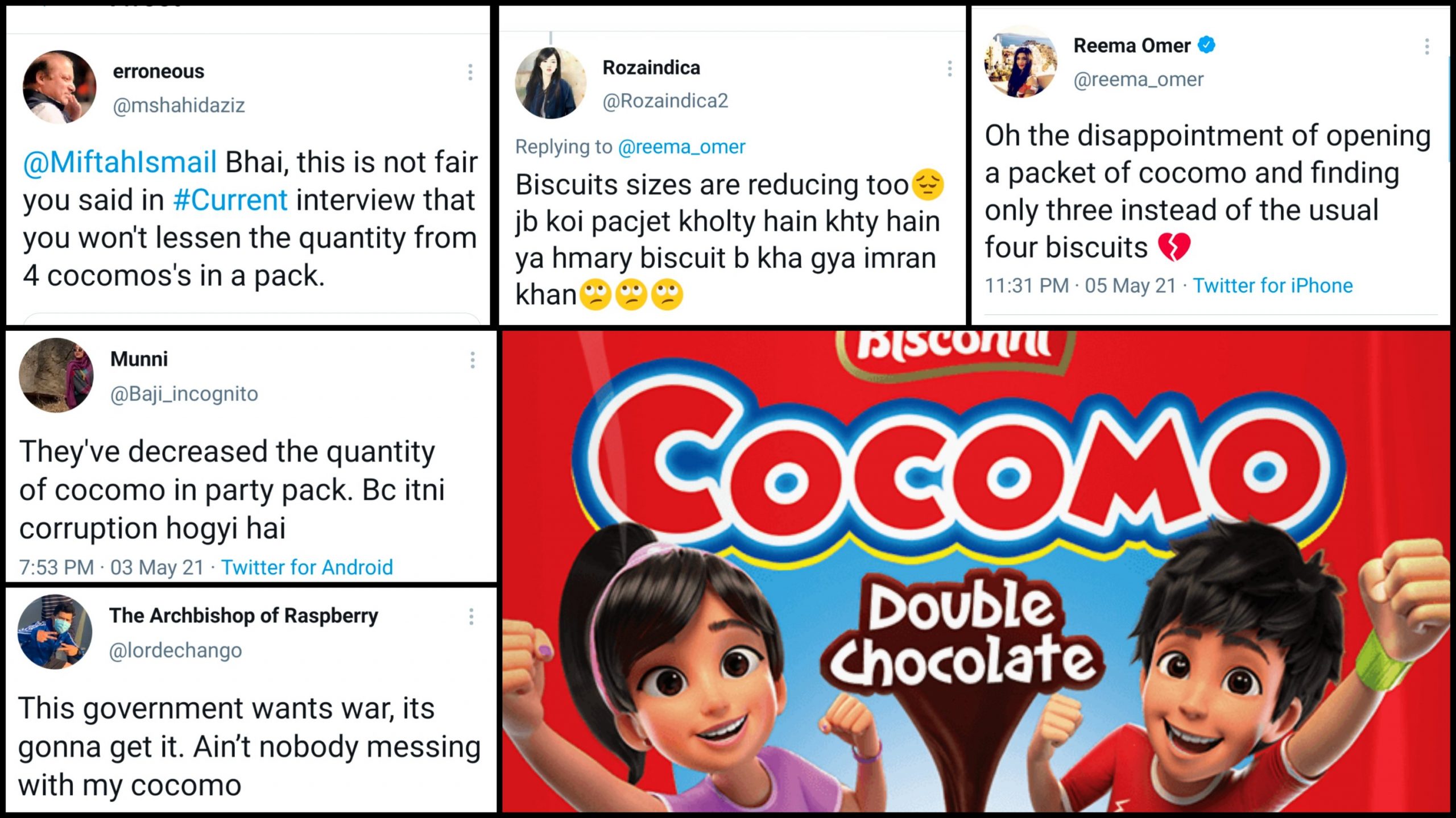 Cocomo holds a very special place in our hearts, from getting 6 cocomos in a packet that cost us 5 rupees, the quantity has drastically come down to only 3 cocomos in a packet and asal ziyadti toh yeh hai!
Oh the disappointment of opening a packet of cocomo and finding only three instead of the usual four biscuits 💔

— Reema Omer (@reema_omer) May 5, 2021
In a tweet by lawyer Reema Omar that would blow up later, she shared the disappointment of the number of cocomos being reduced to 3 instead of the usual 4. Her tweet has started a revolution where people are demanding Miftah Ismail, ex-finance minister and the owner of Ismail industries to stay true to his promise of packing 4 cocomos in a packet:
He said 4 hote hen. Recommends 5 hone chahye ideally par again defends by saying ke mehngayi barh gayi hai and cost of production is high. pic.twitter.com/RosiGTqz85

— Danish Ali Bhutto (@Danish_Bhutto) May 5, 2021
And netizens are ready to fight and hold Miftah Ismail accountable for the cocomo crisis!
@MiftahIsmail Bhai, this is not fair you said in #Current interview that you won't lessen the quantity from 4 cocomos's in a pack. https://t.co/qMd5500jm2

— erroneous (@mshahidaziz) May 5, 2021
Comedian Ali Gul Pir demanded justice!
Mr @MiftahIsmail we want our demands met. we want 5 cocomos in every pack! #5cocomoMujheBhiDo https://t.co/oP0tn7tu4Z

— Ali Gul Pir (@Aligulpir) May 5, 2021
😡
Biscuits sizes are reducing too😔 jb koi pacjet kholty hain khty hain ya hmary biscuit b kha gya imran khan🙄🙄🙄

— Rozaindica (@Rozaindica2) May 5, 2021
True!
Rs. 5 Cocomo is a scam now.
Genuine Cocomos come only in Rs. 50 Party Pack. https://t.co/CRUTmCgT3g

— Khurram (@RotiKholDeyo) May 5, 2021
Bari naazuk surat-e-haal hai:
This has to be the biggest scandal of the week. Especially after flour prices going back to 50/kg. @MiftahIsmail Jawab Do. Zulm ka Hisab do.
I have three kids and i always buy the 20 pack box. No wonder my kids are giving me weird looks lately.

— Mansoor Ahmad (@manidar) May 5, 2021
Thousands of votes!
@MiftahIsmail you are losing a potential vote here https://t.co/uXbG5ZqSD5

— Kamran Ali (@kamranalirao) May 6, 2021
Always happens!
At times, one odd is not filled with chocolate too. https://t.co/NJxjjknBO8

— Malik (@DissentingNote) May 5, 2021
People were not happy with Imran Khan:
The reason behind less cocomo is imran khan😭 pic.twitter.com/YVRGDRF74a

— 🌻 (@thisisemine) May 5, 2021
And it opened a whole Pandora's box of allegations:
Why opposition blame PM for everything 🙄😒😏 https://t.co/W9WKNMfeDp

— Javeria Siddique (@javerias) May 6, 2021
😂
Hashtag Not my PM 😡 https://t.co/kLpjLaABcs

— . (@theekhehai) May 6, 2021
Jo baat hai!
No economic indicator is more important that the reducing number of cocomo in a packet https://t.co/oNQX2xV7Io

— Ashar Imran (@asharnotasher) May 6, 2021
Turns out Reema Omar wasn't the only victim:
My son came complaining to me that his Cocomo pack had only 3 Cocomono (thats a term he coined for these biscuits). I believe previously there used to be 5 Cocomono per pack. Kya ho Raha hai ye?

— Shafaat Ali (@iamshafaatali) May 6, 2021
YES!
This government wants war, its gonna get it. Ain't nobody messing with my cocomo https://t.co/X80gQSOErS

— The Archbishop of Raspberry (@lordechango) May 6, 2021
Imagine…
Imagine if Cocomo turns out to be ultimate nail in the coffin for Imran Khan..

I'd expect no less from Pakistan tbh. We take our food seriously.

— Bissmah Mehmud (@bissmahmehmud) May 6, 2021
Corruption hi corruption hai:
They've decreased the quantity of cocomo in party pack. Bc itni corruption hogyi hai

— Munni (@Baji_incognito) May 3, 2021
What do you think about the cocomo crisis on twitter? Let us know in the comments below!