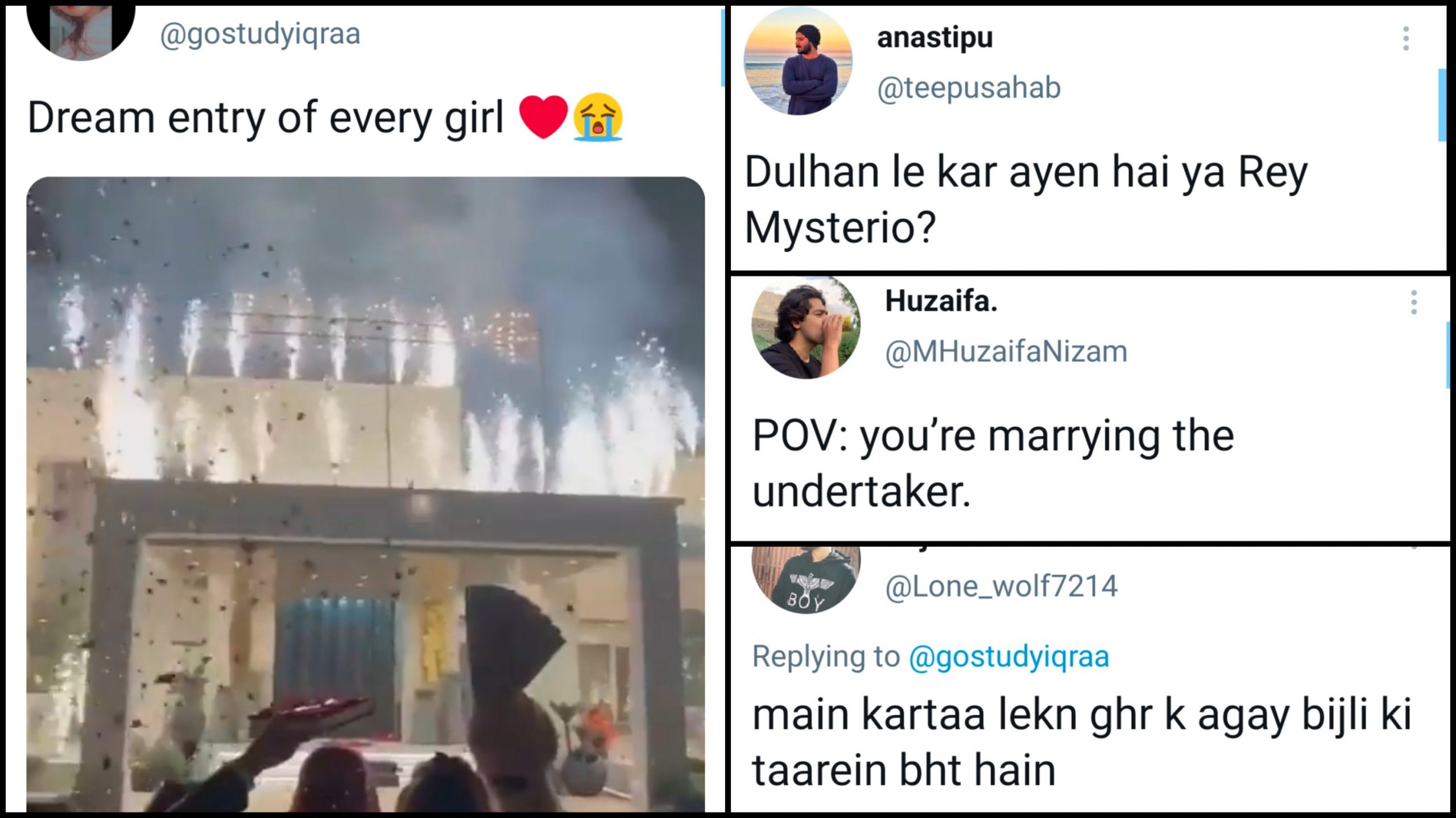 We've all seen our fair share of extra bride and groom entries, from helicopters to hover boarding their way into their life, people are real creative! And to add to the list, we have this bride and groom who lit up their house as they prepared to enter it:
Dream entry of every girl ❤️😭 pic.twitter.com/eU2FoyVq0w

— îق𝑟𝑎𝑎👅 (@gostudyiqraa) May 6, 2021
And netizens have the funniest reactions:
POV: you're marrying the undertaker. https://t.co/4YRY4gIqOg

— Huzaifa. (@MHuzaifaNizam) May 6, 2021
People were comparing it to the fireworks at PSL's opening ceremony:
PSL Opening Ceremony at its best 😍 https://t.co/1IuYcNNcqH

— J110 (@jawismm) May 7, 2021
YAAAAAAAAS!
POV: You are a WWE superstar and you just became the WWE Champion at WrestleMania. pic.twitter.com/xTGJ7YmFfI

— 𝒉𝒂𝒔𝒔𝒂𝒏 (@hi__hassan) May 7, 2021
And he's here to win!
okay Goldberg is here https://t.co/qPHRlZZWoy pic.twitter.com/WSo1E7NYsp

— ammar (@Allisonative) May 6, 2021
😂
Feels. https://t.co/8WvUChALVT pic.twitter.com/TgjxXYzoj7

— Obaid. (@Obaidahmed96) May 7, 2021
Dead 😂
Dulhan le kar ayen hai ya Rey Mysterio? https://t.co/cpobyvto8c

— anastipu (@teepusahab) May 6, 2021
Close enough!
Dream entry of every man ♥️😭 https://t.co/KfRh7hj41h pic.twitter.com/6eVWRqeNyl

— Saad (@SlimeDuniya) May 7, 2021
Same!
my fam when I finally wakeup early for once https://t.co/4Wk6tMHYmH

— a 🍃 (@bleedinblacke) May 7, 2021
People wanted to do it for when they bring their daughter to their house:
Okay I'll do this when I'll bring my daughter home for first time INSHAALLAH https://t.co/C5wI2qh7LZ

— Chandler Bing (@DotSohaib) May 7, 2021
Some had questions:
I literally wonder sometimes ke keya mere anay pe bhe kisi ko itni khushi hogi? 😔🥺 https://t.co/3q1TgIU9Qi

— Princess Consuela Banana Hammock (@shaanzeBasharat) May 7, 2021
👀
Found Tapes of the 1992 World Cup!!! https://t.co/TdI5sFupKR

— حسان🌌 (@hassansadiq989) May 7, 2021
Staaaaahp!
Same energy https://t.co/VPNtJaYPV1 pic.twitter.com/zv1FtmgPRV

— Faiq Shariff (@iFaiq) May 7, 2021
Jimin for me:
ma'am my dream is to be in taehyung's arms every night what am i gonna do with sparkly lights in the sky smh https://t.co/C2V5lesmMZ

— sv⁷🧈 (@vincentismyman) May 7, 2021
Boys were ready to go all out:
Can't wait to get married and welcome my girl like this https://t.co/qRDaKAk9yi

— Mohsin Mujtaba (@lumberoneceleb) May 6, 2021
LIT!
bts' 2020 ama dynamite performance: https://t.co/1i8jwmqtsR

— m*ha 🧈 (@pakillua) May 7, 2021
Warna na karay?
Moral of story.
Banda shadi karey to WWE arena mei karey https://t.co/fdUzOEGVE2

— Soulmate (@iaamir_khan) May 7, 2021
😂😂😂
aisa welcome tou jannat mein milta hai dost https://t.co/Ov8vCizuFd

— aadarsh (@aadarshless) May 7, 2021
Why is this so accurate?
Men doing the bare minimum

Society: https://t.co/HYbqyGyw80

— Taimoor (@T_A_101) May 7, 2021
🤦‍♀️🤦‍♀️🤦‍♀️
main kartaa lekn ghr k agay bijli ki taarein bht hain

— Raja Ali (@Lone_wolf7214) May 6, 2021
And while some had a comic approach to the entry, others deemed it as a waste of money, which the netizens did not like!
Yar he is welcoming his bride like this he is showing his love like this whats the matter with u all guys. Can't be happy for some one else? Start lecturing.

— In Search of Eloquence (@EloquencePeak) May 7, 2021
What do you think about this entry? Let us know in the comments below!