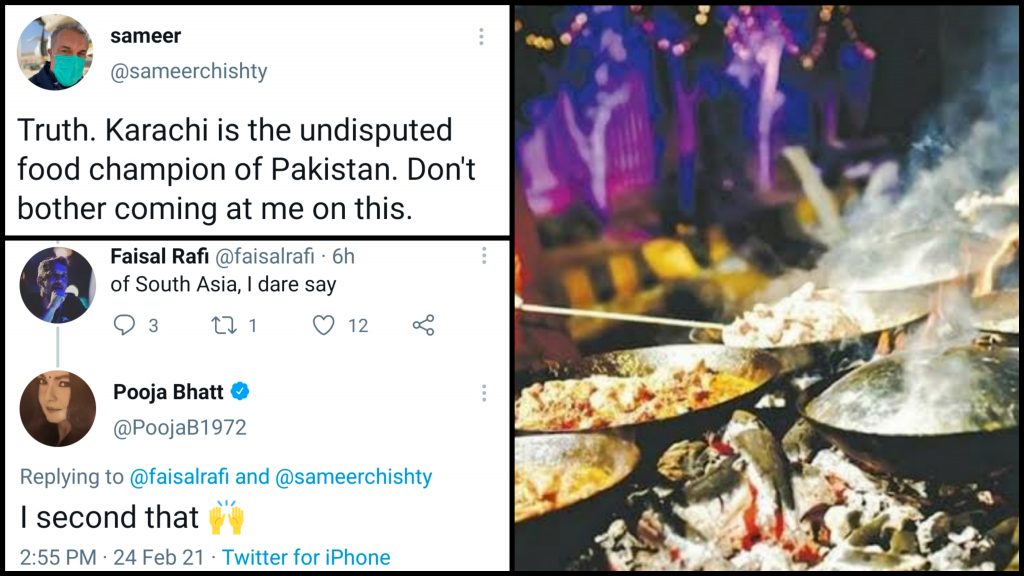 Duniya khatam ho jayegi but food wars nahi, you guessed it, tweeple are back again with their debate on which city serves the best food in Pakistan:
Truth. Karachi is the undisputed food champion of Pakistan. Don't bother coming at me on this.

— sameer (@sameerchishty) February 24, 2021
The tweet that called Karachi the food champion of Pakistan has sparked a debate on twitter and people have a lot to say!
That is a fact.

— Hareem Sumbul (@HareemSumbul) February 24, 2021
Yep!
of South Asia, I dare say

— Faisal Rafi (@faisalrafi) February 24, 2021
Even Pooja Bhatt agrees!
I second that 🙌

— Pooja Bhatt (@PoojaB1972) February 24, 2021
Jo baat hai:
People mentioning individual city dishes, Karachi is food champion overall not in an individual dish. Hands down

— Mehmoood (@_Mehmoood) February 24, 2021
BRB, adding Gujranwala to our list!
This is what I thought until I came to gujranwala. Food quality in gujranwala is the best in Pakistan especially meat products.

— Maroof Aziz Khan (@drmaroof) February 24, 2021
Some weren't too sold though:
Till karachi doesnt have mian jee ki daal & butt karahi it cannot make this claim

— Ovais (@Sabbandkardo) February 24, 2021
People disagreed with him:
Remove the Un. its disputed.
most major food attractions are disappointments. With no single popular, go-to Biryani place in the Biryani capital of the world, Karachities are banned from boasting their food as per Geneva conventions.

— samosa (@frezerati) February 24, 2021
Our list of places to eat keeps getting longer:
Have u eaten mutton in quetta?

— Dude (@KehRahaHai) February 24, 2021
True!
Best roll parathas in the world among other offerings

— Arbab Shaukat (@wanderlustArbab) February 24, 2021
Some Lahoris agreed too!
As a Lahori.
.
.
.
I agree.

— Zain (@ikorzain) February 24, 2021
This reluctant Lahori admits to the fact

— Mahroze Ali (@MahrozeAli) February 24, 2021
Haha!
Me after having one plate of biryani: https://t.co/QEB0QZZsU0

— Haris (@Har1sAkhtar) February 24, 2021
Haina?
Goes without saying. It's not even up for discussion https://t.co/2eo04mjsa9

— . (@FEDERMCF) February 24, 2021
👀
Agreed. Sorry to say but the tiliers are wayyyyyyyyyy ahead of us.. https://t.co/BKztQppgbm

— toors (@Burkos69) February 24, 2021
Ooof!
Jitni kisam ki karachi main rotiyan milti hain utne total khaane hain lahore main https://t.co/eynmE3loES

— A. (@alphaabaan) February 24, 2021
And while others were busy debating, some thought we should use our time for more important discussions rather than food:
I mean, why do ppl even talk about this. KHI waalon ne nai maan'na k LHR is better and vice versa. And like Peshawar waalay kahain ge k Peshawar is better.

Every1 has their own subjective experiences. They all matter.

Bas sukoon karo sab. Talk about smth more important instd https://t.co/U5DzNYNp4Y

— Ijlal (@ijhaqqani) February 24, 2021
What city do you think offers the best food? Let us know in the comments below!