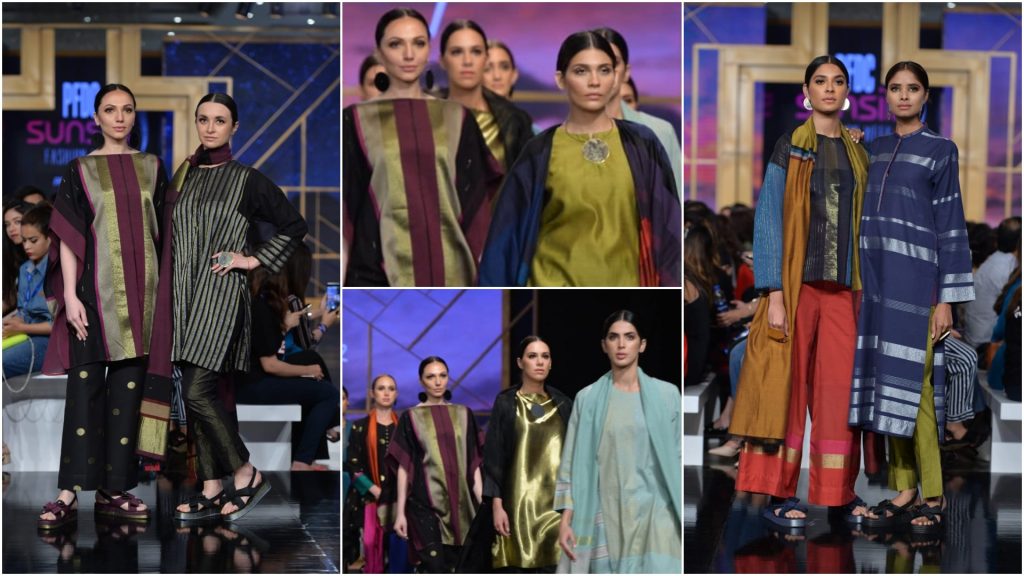 Chapter 2 showcased its Summer 2019 collection 'The 34-looks Threads of Time' on the second day of PFDC Fashion Week 2019 (PSFW19) opening the first round of shows with an artisanal collection created entirely from handwoven and handcrafted fabric inspired by the meticulous, diligent and time-consuming work of artisans and their craft.
Chapter 2's ethos has always been buoyed by a celebration of indigenous craftsmanship that is transmuted into a contemporary and urban aesthetic with a minimalist design philosophy which works with stark contrast; a careful merging and advancement of colour; bold configurations and balance.
Threads of Time had a decidedly more retail-friendly and fresh, younger vibe than previous Chapter 2 fashion week capsules which hitherto had a more archly 'high-fashion' and conceptual style although in either case the clean, unfussy and  androgynous silhouettes transcend age and continue to imbue the Chapter 2 woman with an indubitable confidence and comfort in her own skin.
COLOUR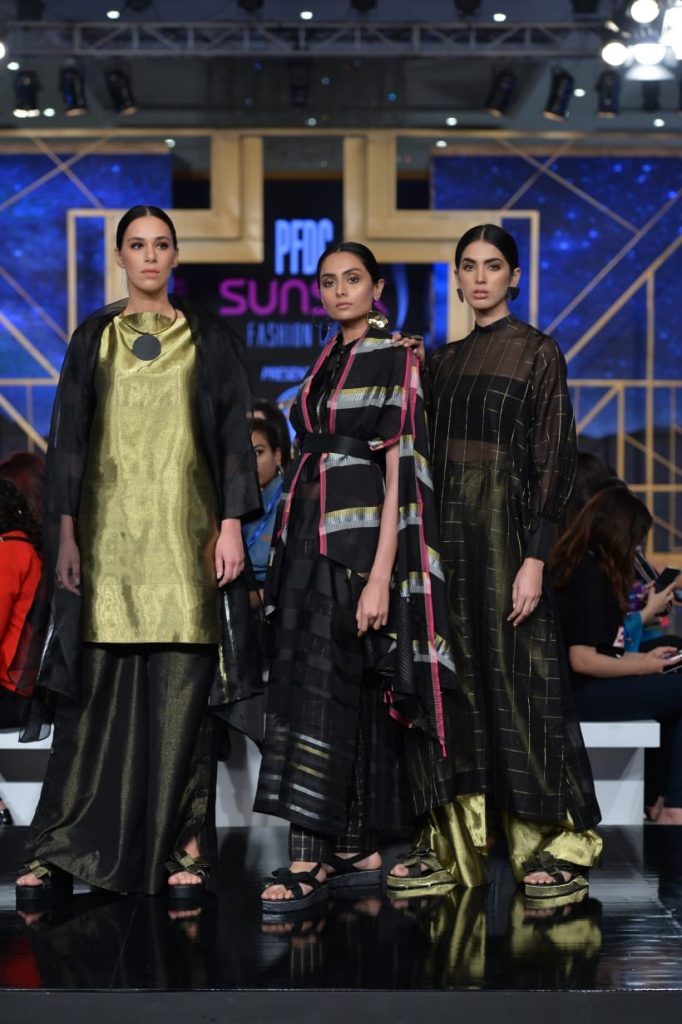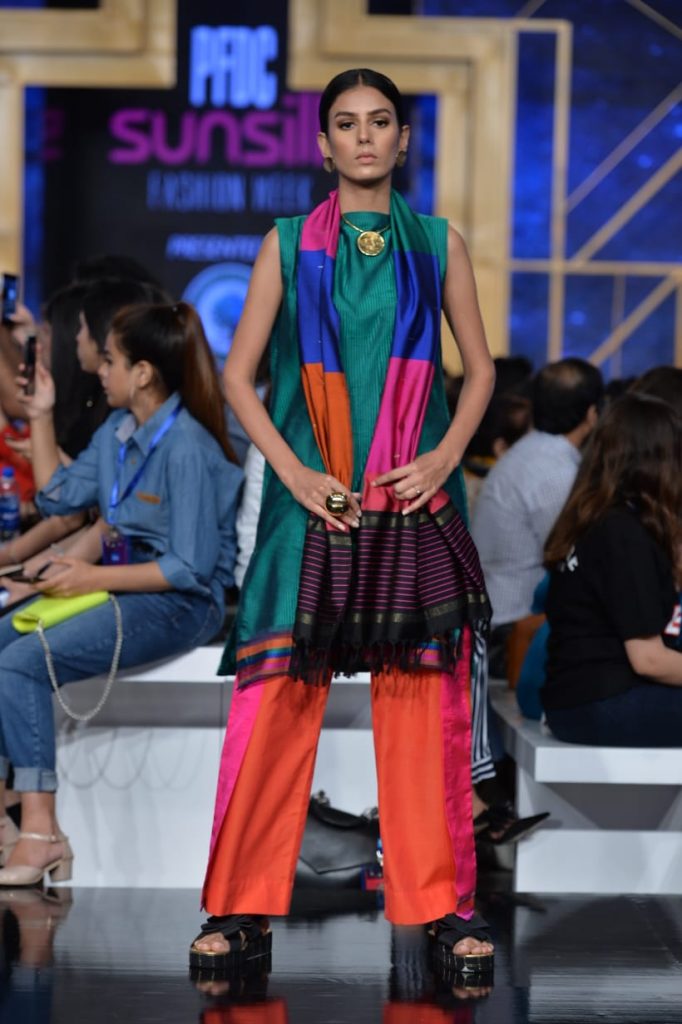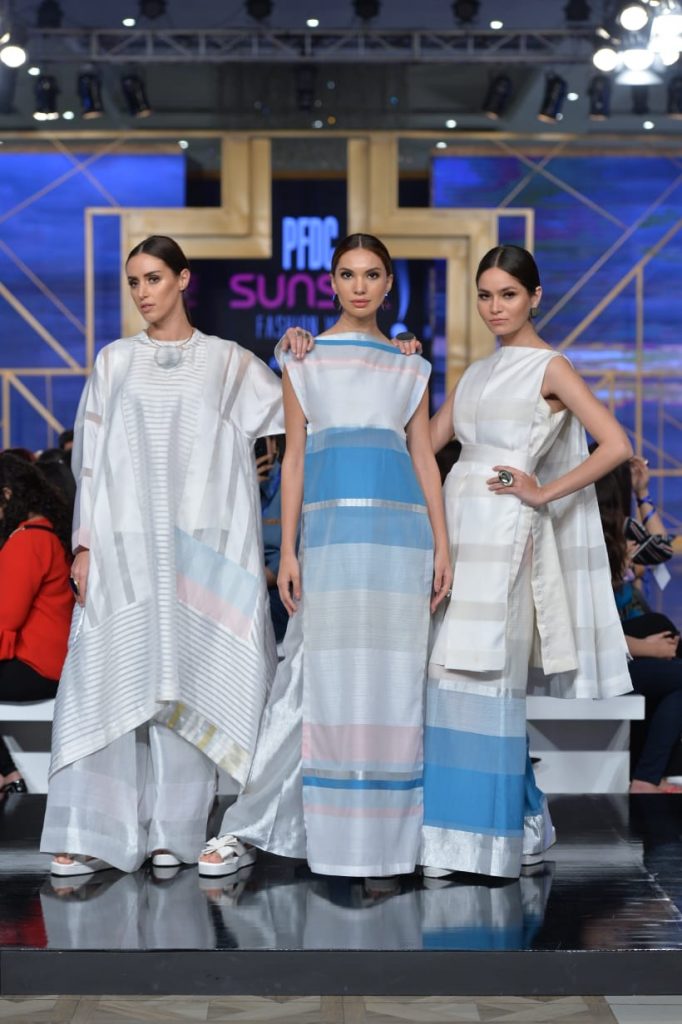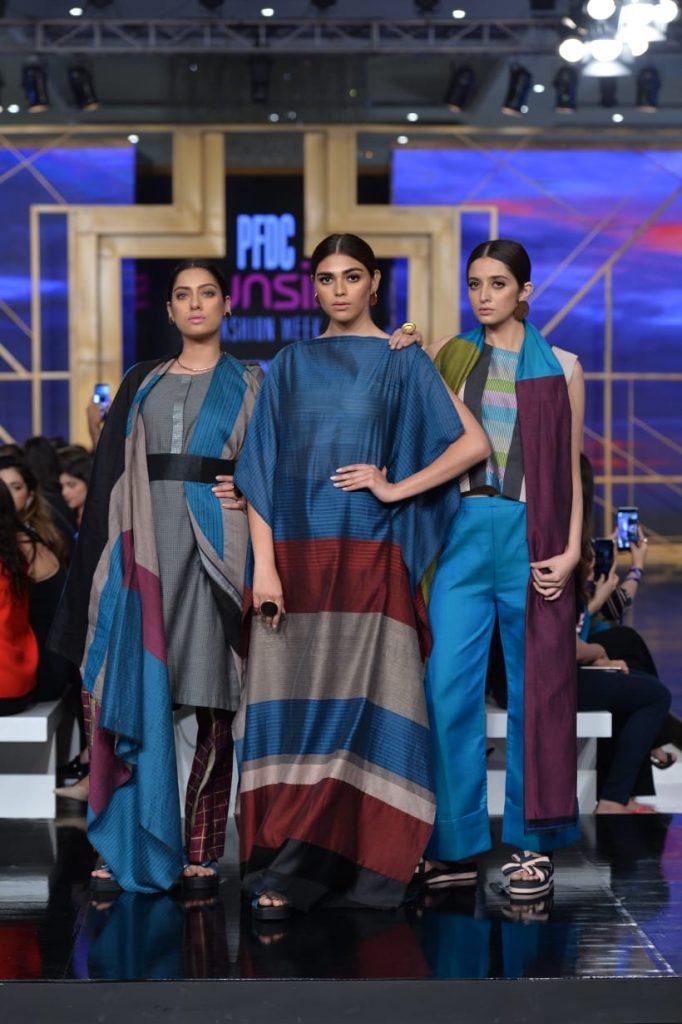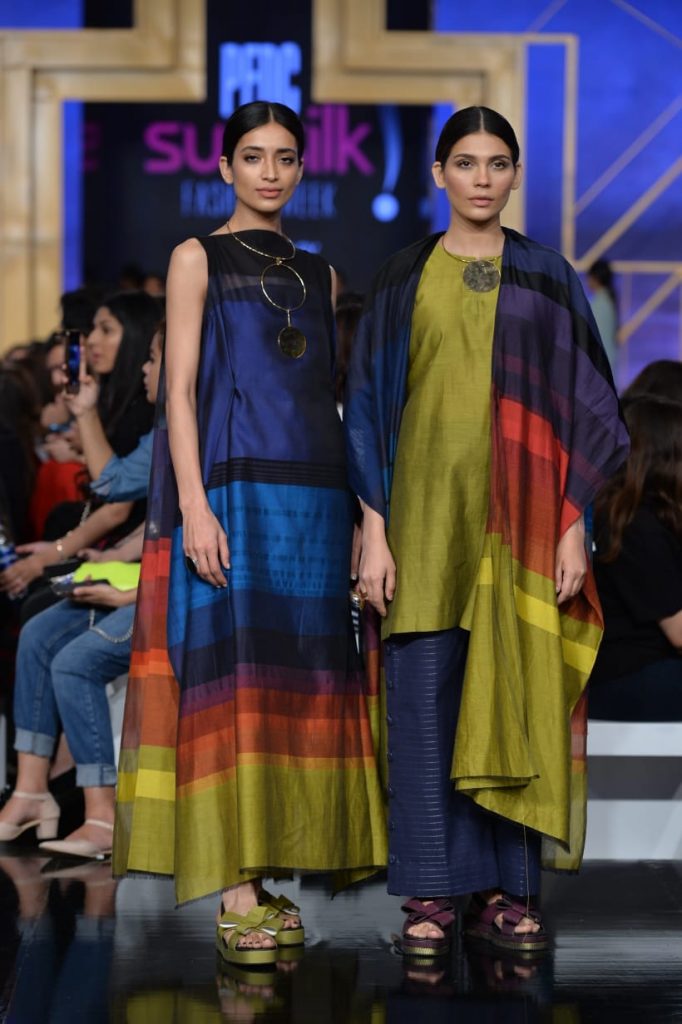 The individualistic style ethos of Threads of Time was created with a colour spectrum inspired by Nature and the transmutation of Time with hues like burnt sienna reflecting dusk melding with dawn's sky blue; the white of clouds and the navy blue of midnight offset with the gold of night stars.  A major part of the collection was also highlighted by kaleidoscopic and rainbow colours deftly patterned into bold, well-balanced swathes, stripes and colour blocks.
SILHOUETTE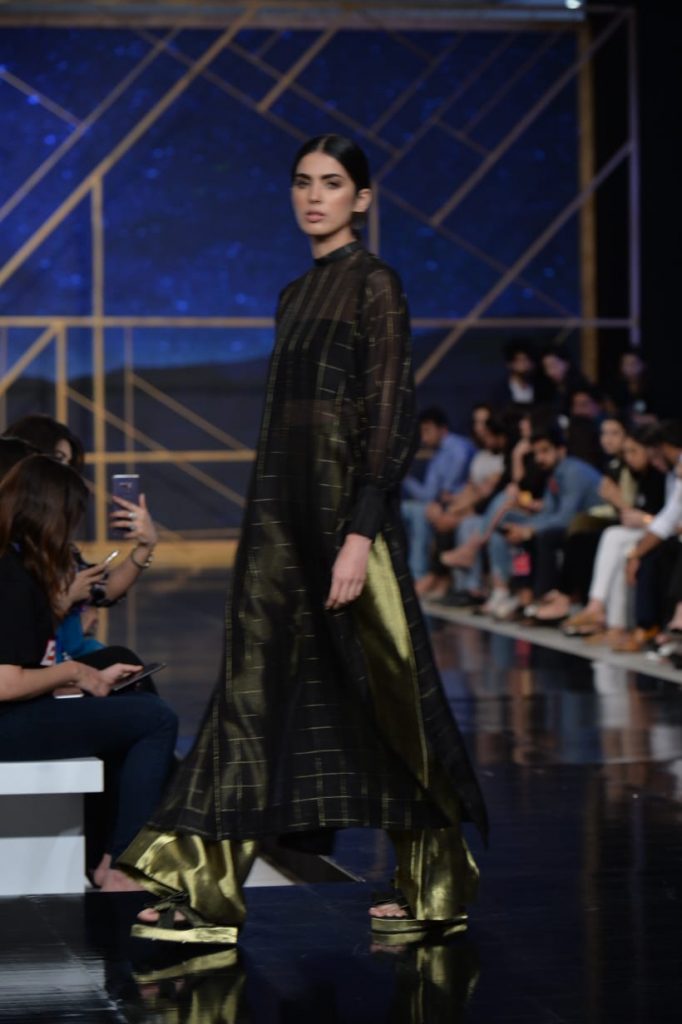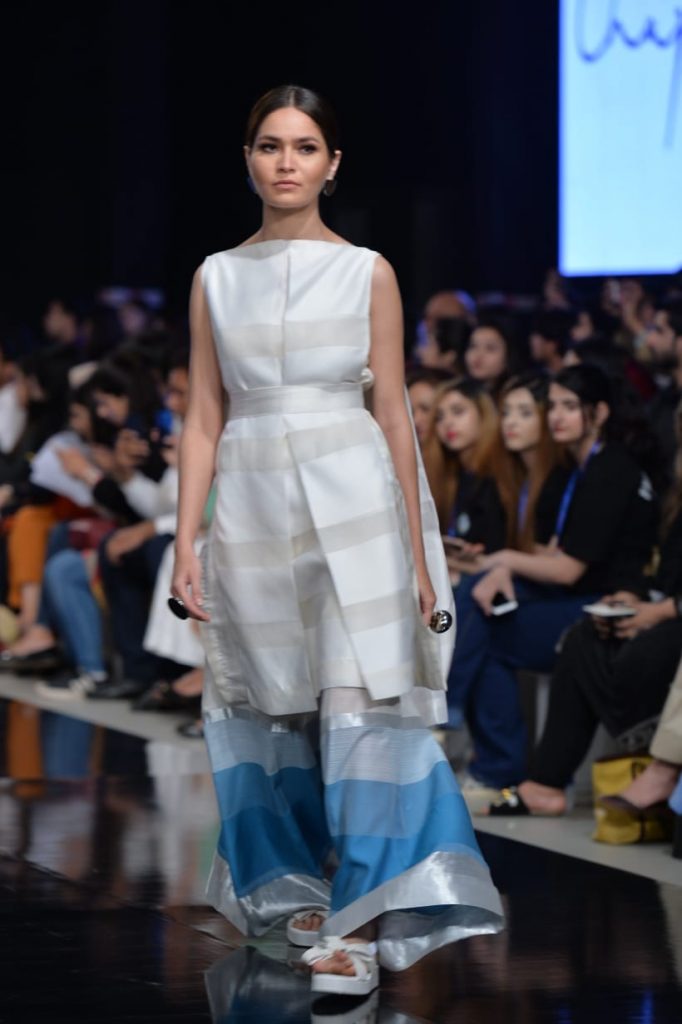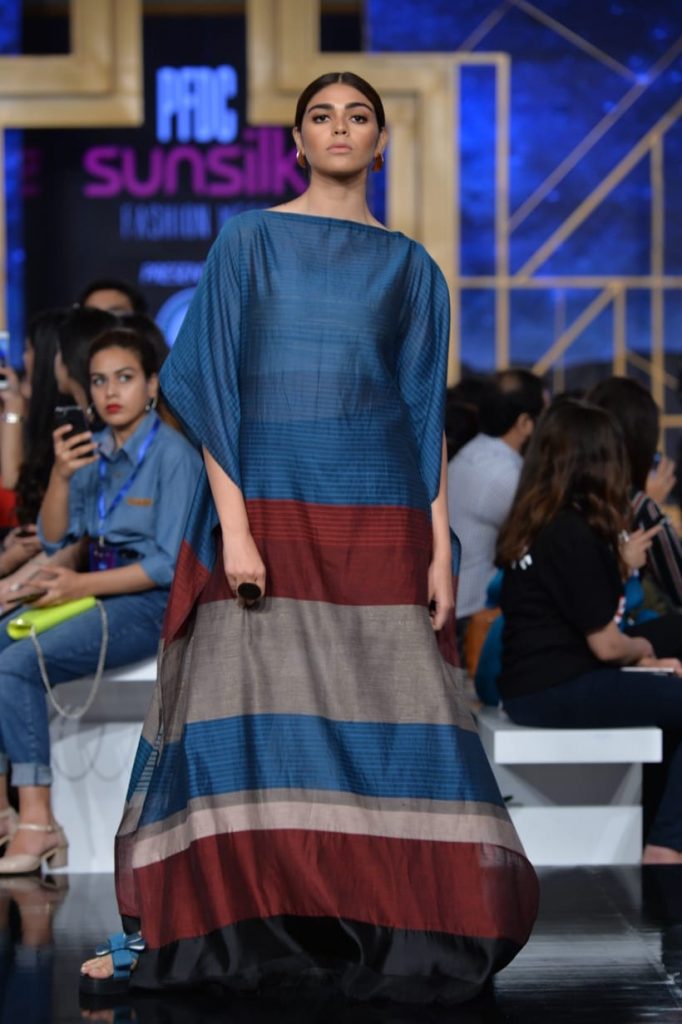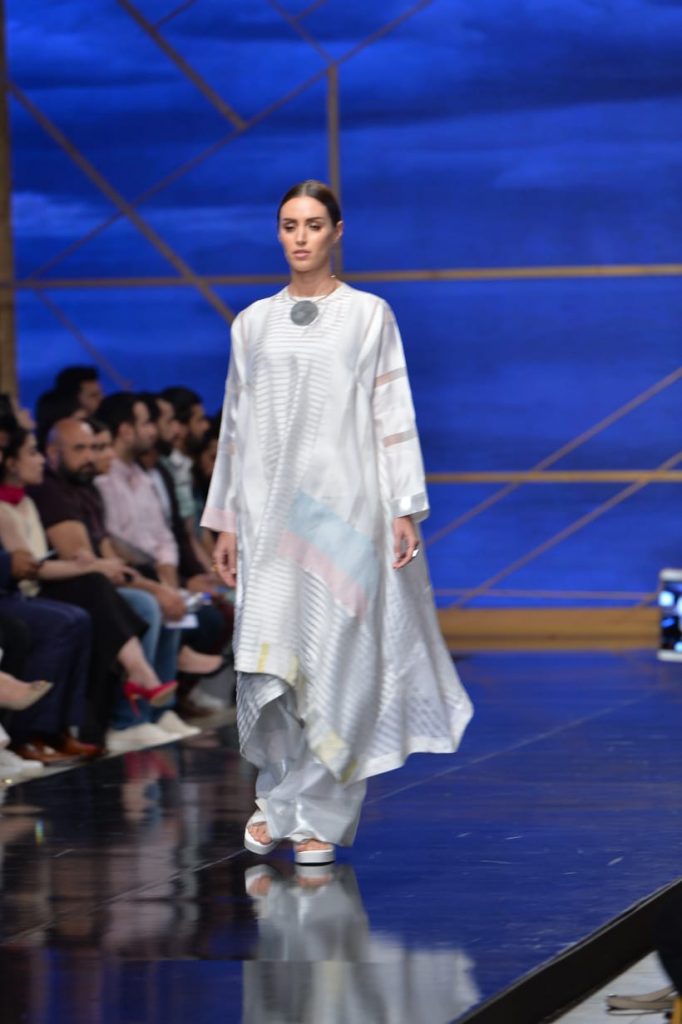 Remaining true to the innate clean, airy androgynous and almost seemingly Japanese deconstructed lines of quintessential  Chapter 2, 'Threads of Time' offered  boat-neck sleeveless straight tunics; Nehru-collared straight three- quarter navy and white textural kurtas;   short shirts; high-low  kurtis  worn with sheer obi-tied overlays.  Asymmetry was also at play with sharply cut yet voluminous kimono-sleeved tunics dovetailed with flowing Kaftans and trailing capes.
FABRIC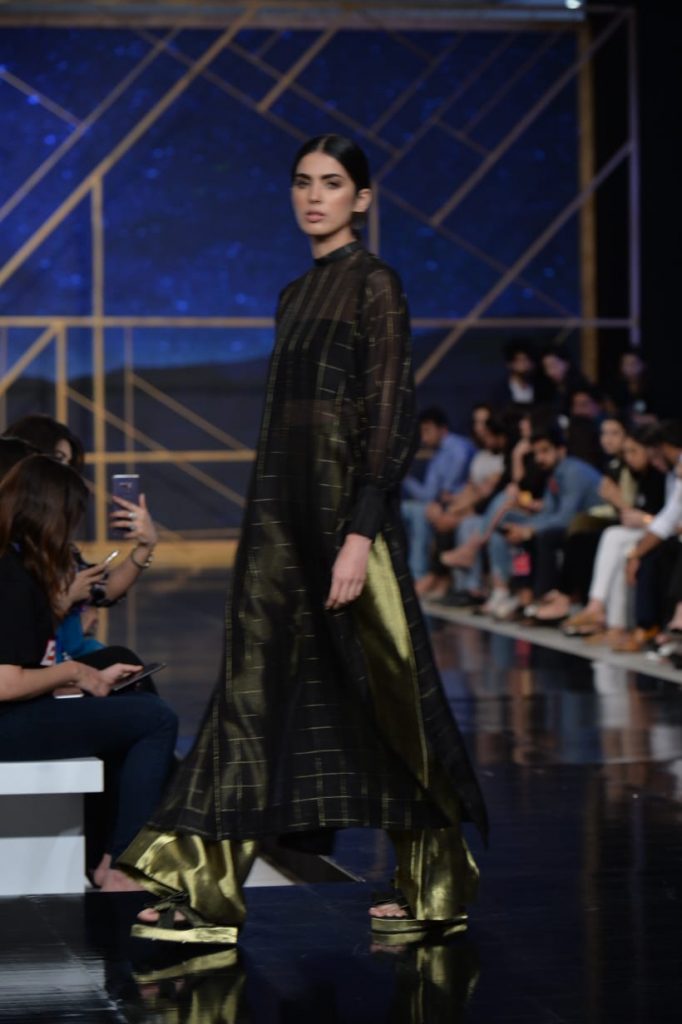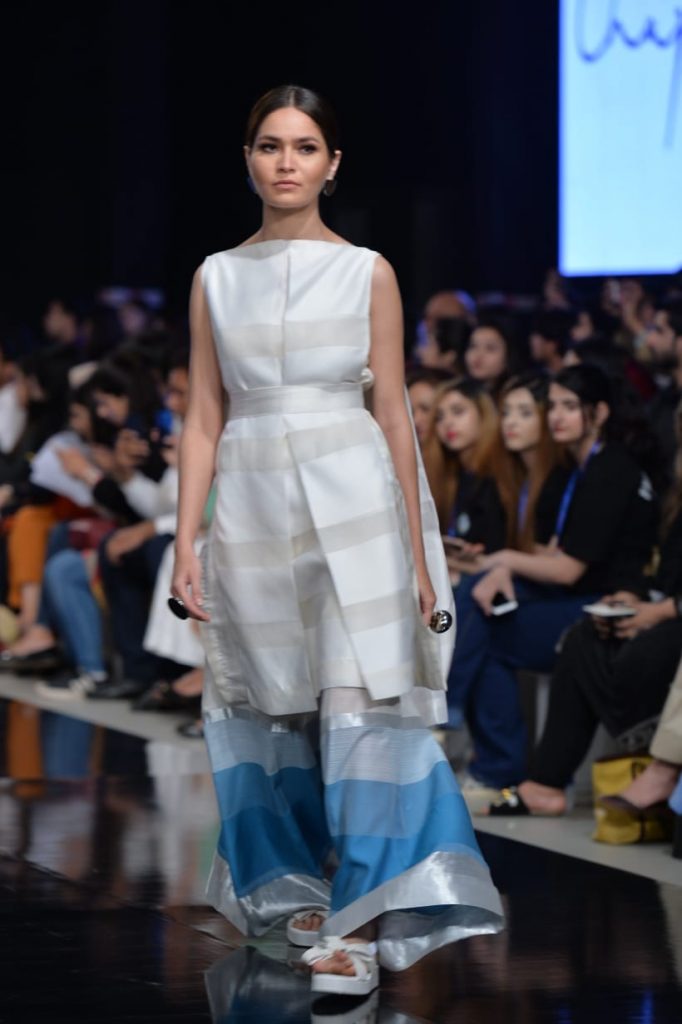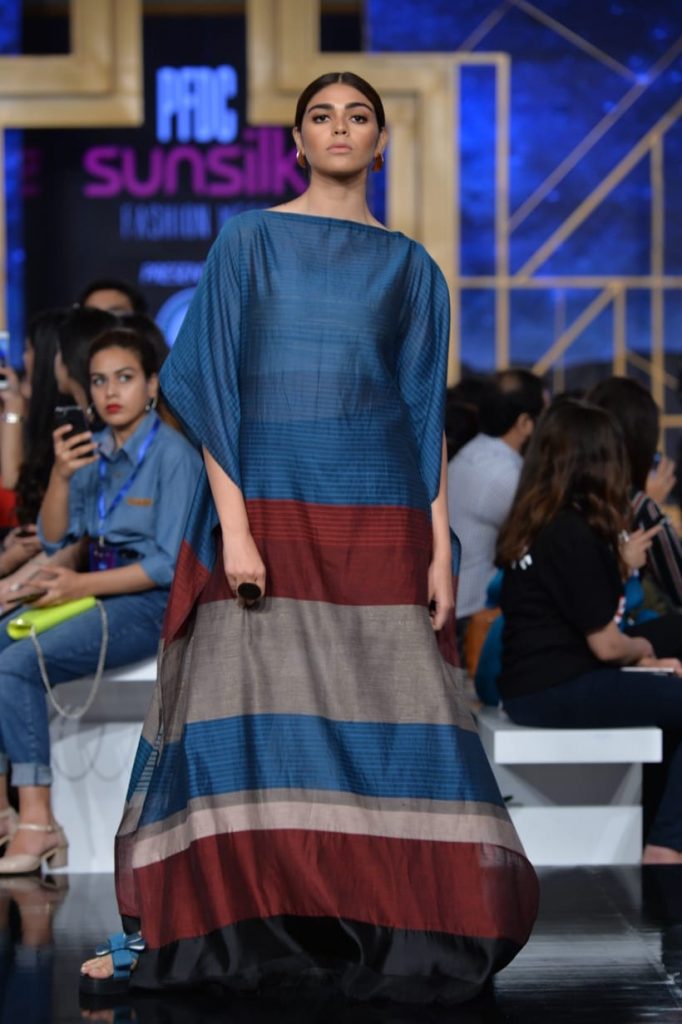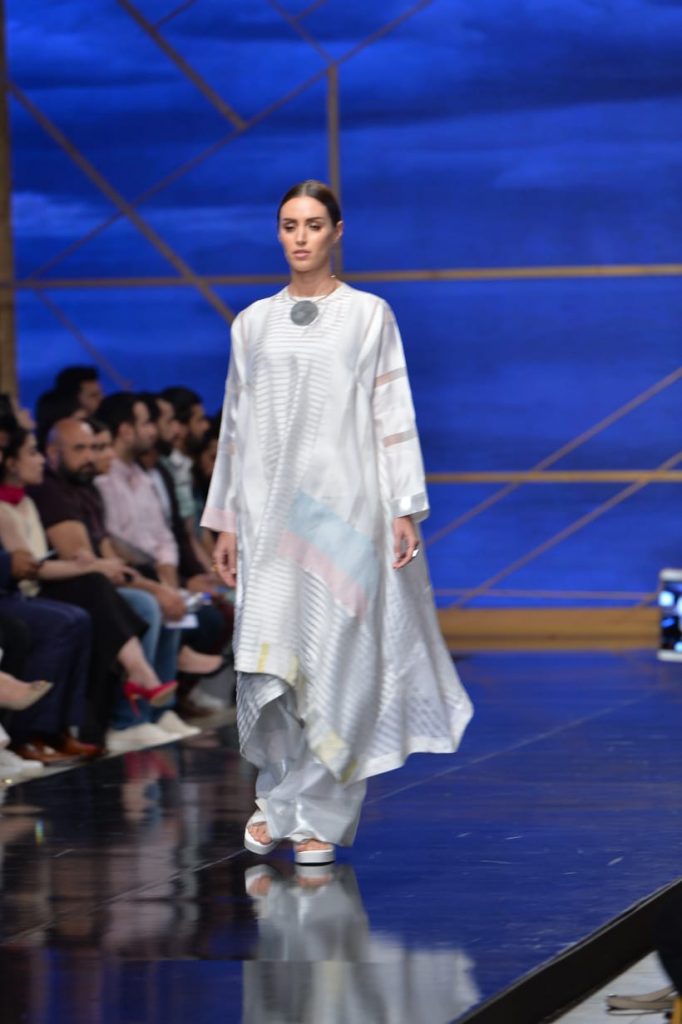 There was an element of surprise in the hand-woven fabric with an inclusion of sheen and gloss seen in oversize gold polka dots and gold grid patterns on the noir and midnight blue ensembles and boldly juxtaposed as textural gold accents on a plum boat neck tunic.
PATTERNS & DETAILS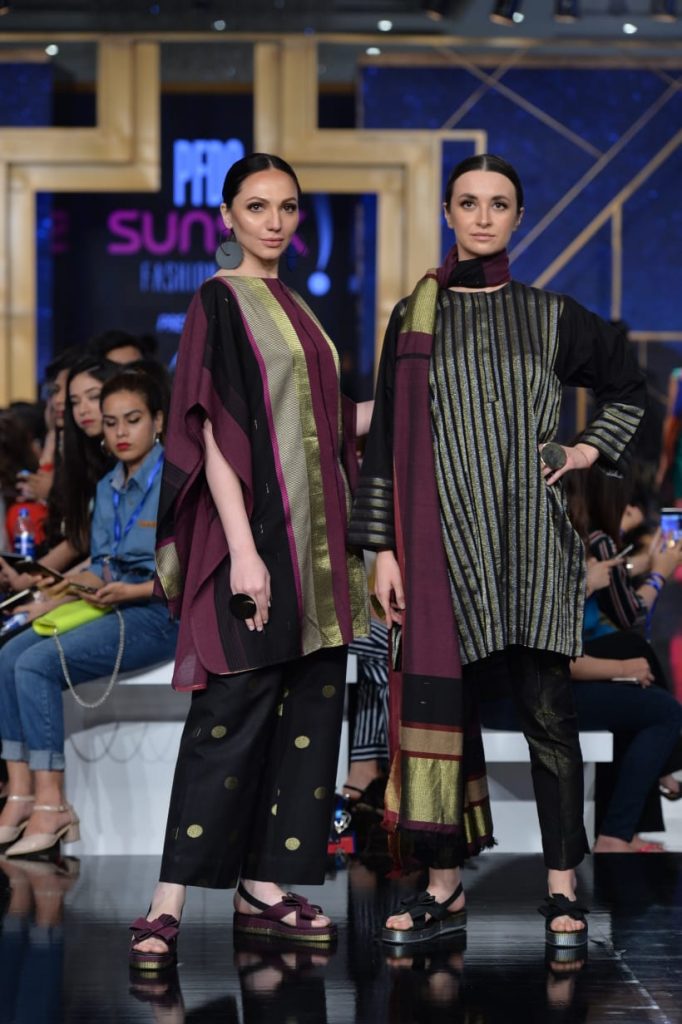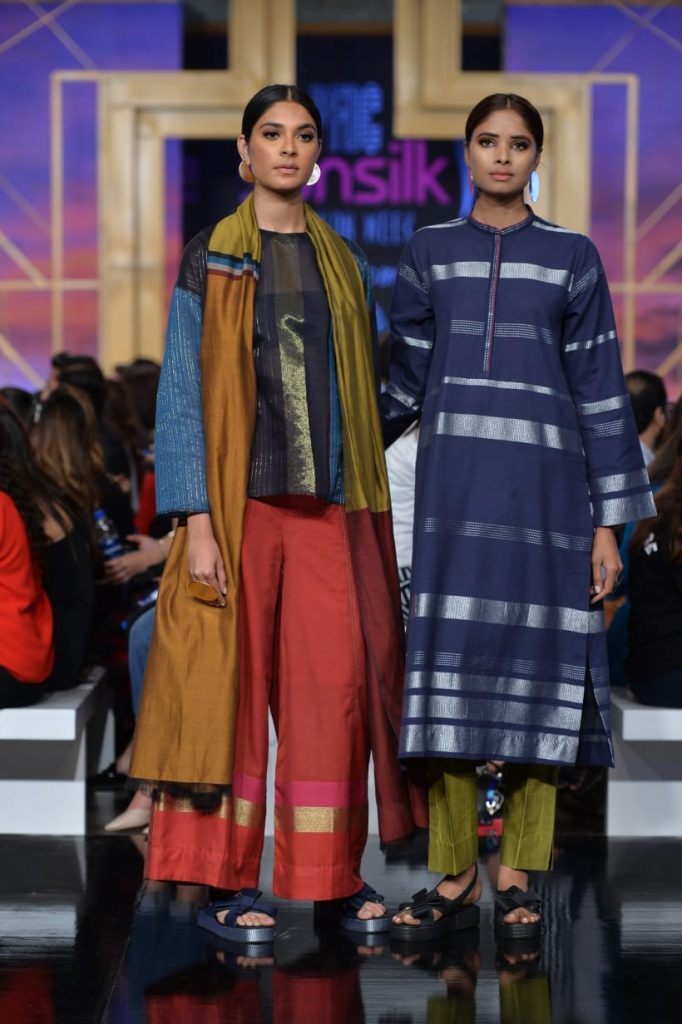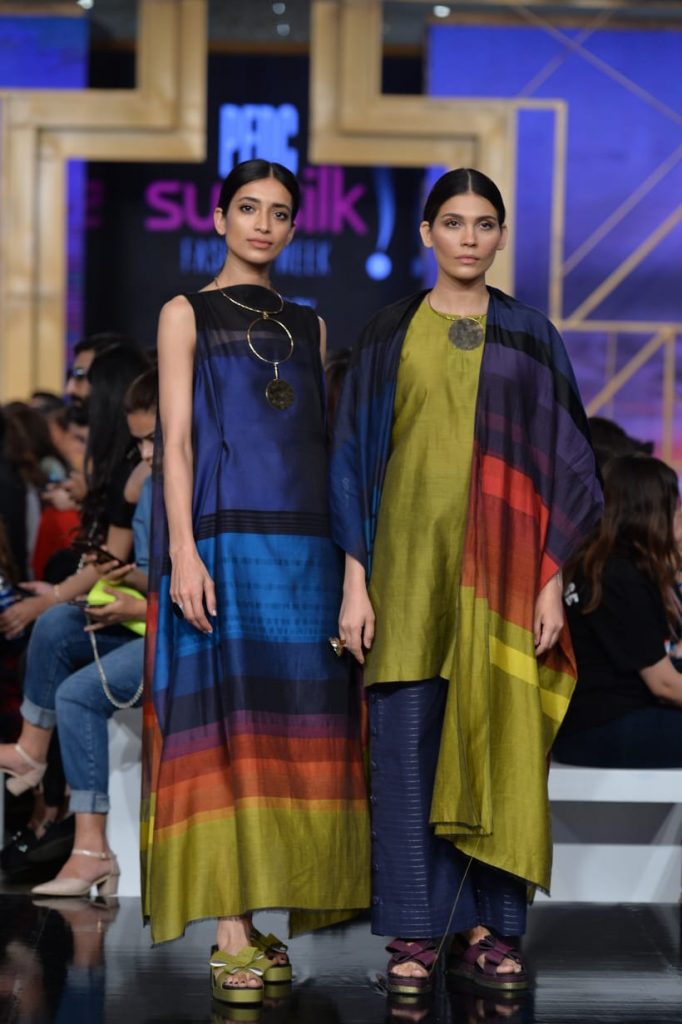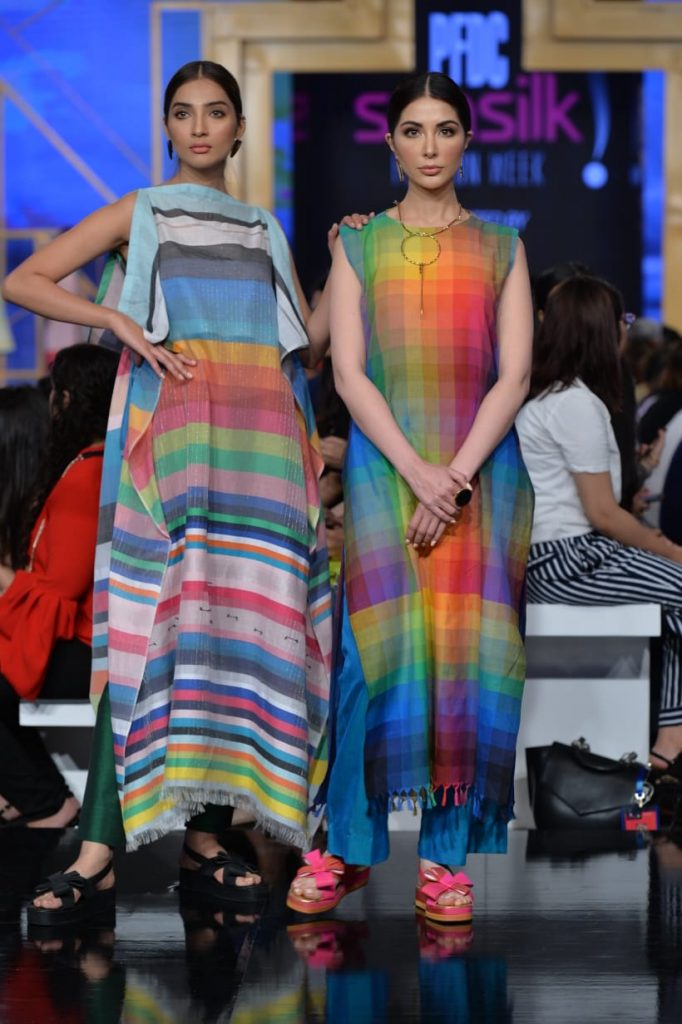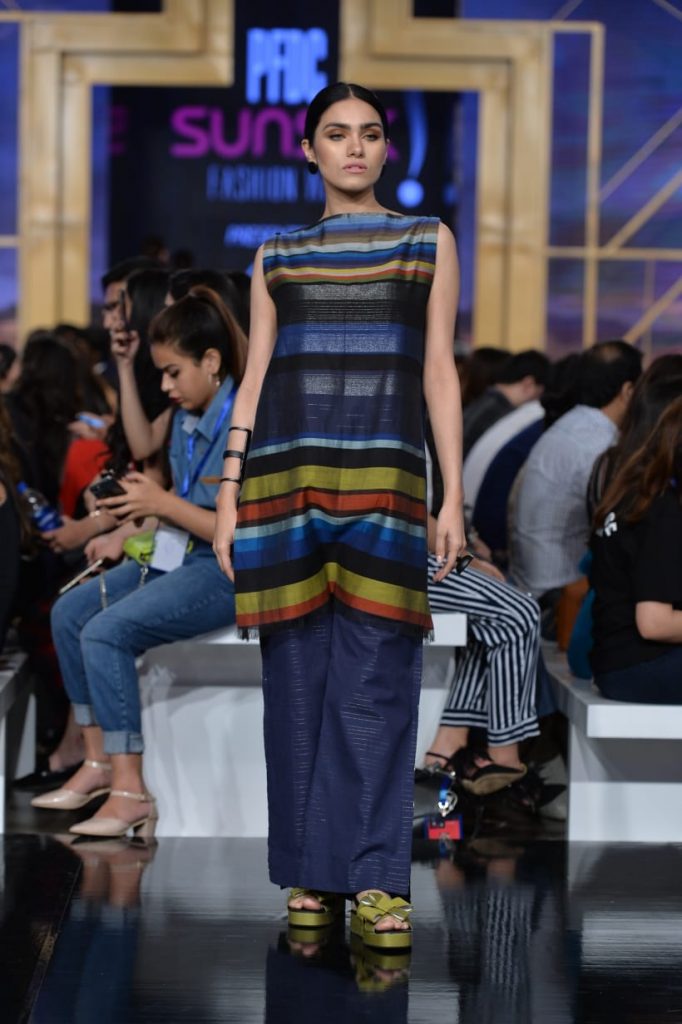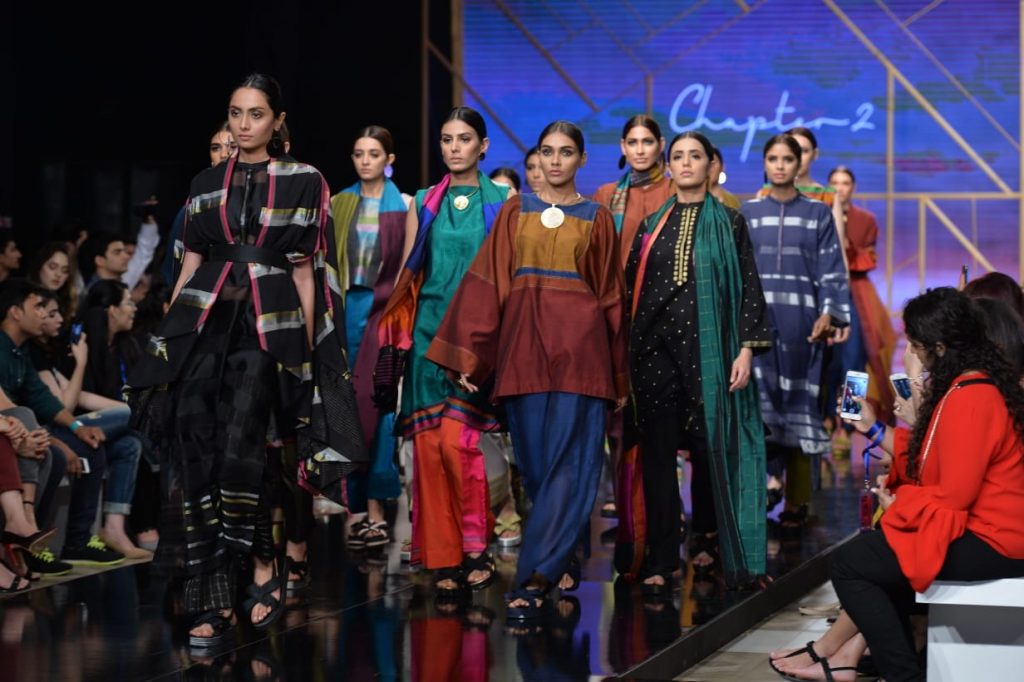 Renowned for stolidly eschewing floral, geometric or mosaic prints; instead focusing on cleverly juxtaposing lined patterns colour block gradation, Chapter 2's 'Threads of Time' added more texture and almost an avalanche of pattern contrast but were reined in by an almost scientific balance of proportion., Polka dots, pearl-buttoned trousers and shiny gold strips cut across pastel boat-necked long tunics and delicate ruchiug were some of the notable details of the collection.
TRENDS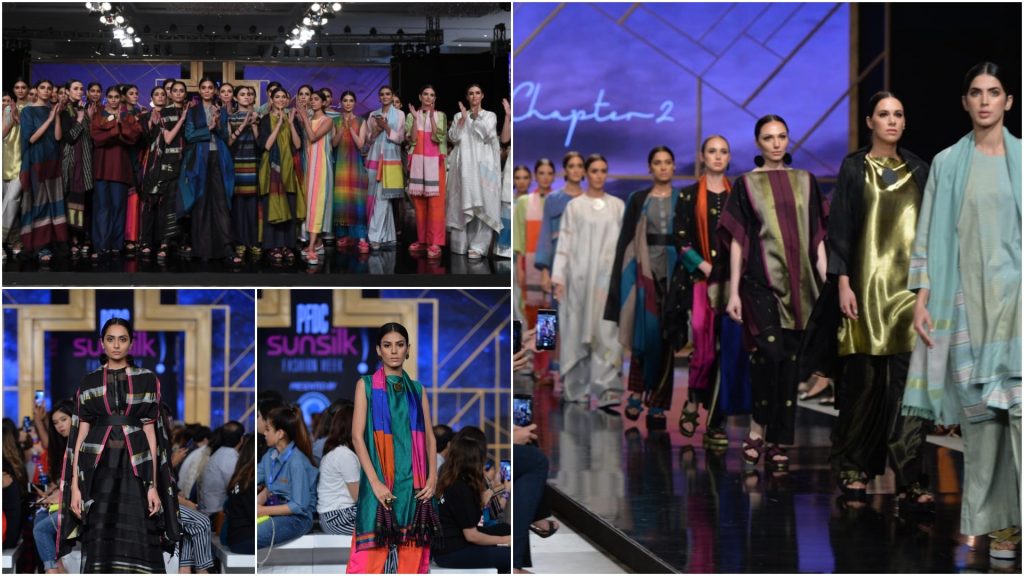 HIGH-LOW SHIRTS
LAYERING
OBI-BELTS
BOAT-NECKS.
STRAIGHT WIDE-LEGGED PANTS
POLKA DOTS
FINAL WORD:
Younger, perhaps more commercial and retail-friendly with a plethora of familiar and indigenous silhouettes and shapes that will resonate with every woman, Chapter 2's poignant homage to craftsmen is also an ode to the woman who carves her own style mantra and individuality rather than following trends to create an indubitably iconic look of her own.
Threads of Time is for individuals who appreciate and extol the complexity in a simple design and appreciate the intricate craftsmanship of creating and melding fabric.