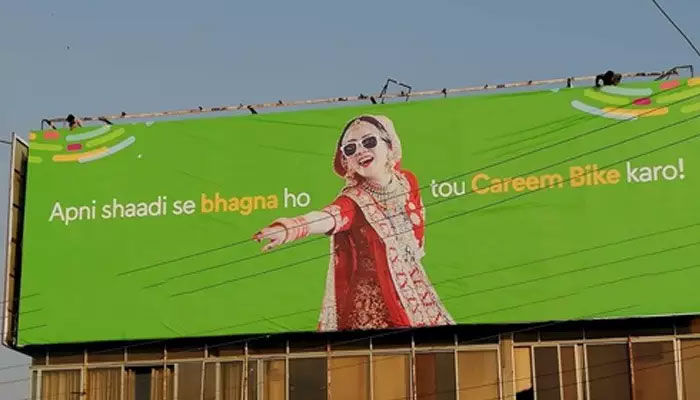 When it comes to marketing, Careem has always been on top of the game. Be it rishta aunties  or bakra shopping, Careem always has something different to offer and we love that about them. Their recent campaign has gathered a lot of mixed opinions. It's been trending at number 1 on twitter.
Some people were worried why it has triggered almost everyone
I don't understand how people can be triggered by free will. Usko nahi kerni shadi, would bhaag Rahi hai, tumhay Kya hai? Aur acha hai #Careem Kay sath bhaag Rahi hai, not some Anwar @CareemPAK pic.twitter.com/EecqznNMmy

— Ali Gul Pir (@Aligulpir) March 18, 2019
Some think it's against our culture, umm?
Kuch zyada hi open minded hone ke chakar main apna culture barbad kar rahe hain aap Media wale🙄

— Mir Osama Ali (@mummykaprince) March 18, 2019
Veena Malik too gave a piece of her mind, because why not?
Dnt play with our Norms and culture For ur Business Here…find some sensible script which will get Careem some respect not attention! #Careem

— VEENA MALIK (@iVeenaKhan) March 18, 2019
Some people found the billboards hilarious!
Hahahaha only #Careem can pull this off in a hilarious way 😂😂 pic.twitter.com/DR23fvnnth

— Kanza Sohail (@KanzaSohail98) March 18, 2019
This man however, is spot on and we really can't agree more
Considering how many people are forced into marriage in Pakistan, this is actually not distasteful at all. Why are people so offended? Have a sense of humour 🙂 #Careem pic.twitter.com/zmikDwv7FQ

— Usama Khilji (@UsamaKhilji) March 18, 2019
Some thought that bringing in Careem waalon ki baji was okay, because her baat mei maa behen lana zaruri hai… Tch tch
Fixed 😌 #Careem pic.twitter.com/MQScwPr2IC

— Dania ✪ (@_daniaHere) March 18, 2019
I mean the concept is bold but can someone please explain what this bhai sahab means?
Shameful Campaign To Hit Our Social Values By #Careem . Instigating Woman to Refuse Shadi & Nikah Through Their Planned Advertisement. #BoycottCareem #Pakistan pic.twitter.com/6BnCs4OMeF

— Syed Sohail Ali (@Syedsohailali) March 17, 2019
Some questioned the government and demanded that they fine Careem for bad advertising
Such a shameful and Worst advertisement by #Careem It doesn't depict our social and cultural values neither it represent our society norms. It is also a question mark on government regulatory bodies that how such advertisements come in the market? pic.twitter.com/yn1FI3fIpt

— Naeem ur Rehman (@NaeemRehmanEngr) March 18, 2019
Some even deleted the Careem app off their phones
Just deleted the app.. #Careem#BoycottCareem pic.twitter.com/820Ir2PotU

— Mohammad Saad (@hafizsaadriaz) March 18, 2019
Uninstalled #careem just to make sure that "Companies take it seriously when it's about societal norms." Careem management is not still bothering to accept its blunder.
#BoycottCareem pic.twitter.com/lP96zScMAL

— Ihtisham Khaliq Waseer احتشام خالق وسیر (@iK_Waseer) March 18, 2019
After such ridiculous and controversial adds just do the same thing and chill
You'll have to pay for it#Careem pic.twitter.com/X6KAiOx7B9

— Hammad Arshad (@ranahammad5369) March 18, 2019
Our celebrities too didn't shy away from sharing their opinion
Such a shameful and cheap marketing by #Careem pic.twitter.com/rBgxRrPeWO

— HaniaAmir (@haniaheheamir) March 18, 2019
Hania shared how she found the ad to be distasteful, but people had different things to say
When we see the same things on tv series and break advertisements, we enjoy it.
But it's haram on billboard.

— Ahmed Khan (@ahmedkhansahab7) March 18, 2019
Some people did figure out the reason behind such controversial campaigns
I don't think that this is so shameful as people are thinking it. It's just an advertisement and nothing to do with our morals. Remember one thing we make such people famous. I don't understand when our people will stop giving publicity to such things? #Careem pic.twitter.com/V4QiKAYIOp

— Lubna Abbas (@LubnaAbbas7) March 18, 2019
And then we had people who were sensible enough to acknowledge good advertising and the free will to marry!
I don't get what happened to ppl's sense of humor, why are so many ppl offended by this ad? and let's say even if this actually happens then she/he wasn't happy with the wedding and it's their choice to call it off. Get a life please! #Careem pic.twitter.com/9QFia42zwc

— Ayesha Khan (@ayeshakhan04) March 18, 2019
There is no concept of Forced marriage in Islam. The Prophet S.A.W himself asked the wish of his daughter Fatima R.A. The agreement of bride and bridegroom are a must in Islam. So if a person is being forced to get married. Why not run with #Careem ?
(1/2) pic.twitter.com/m781im3gRw

— Mubeen Khan (@SirMK10) March 18, 2019
I don't understand what whole fuss against this bill board is about. They wanted advertisement, it's already trending.
I've a solution for the ones got hurt.
Please na bhago apni Shaadi pay. And even if you have to run, don't order careem. Best Revenge #Careem pic.twitter.com/0LsLVlhQhf

— Mazhar Rafique (@MazhaRafique) March 18, 2019
Not all publicity is good publicity, but at the end of the day it still is publicity, exactly what the marketing team wants! The hashtag trended on twitter without paying any twitter influencers, paisay bhi bach gaye, publicity bhi mil gayi, a win-win situation!