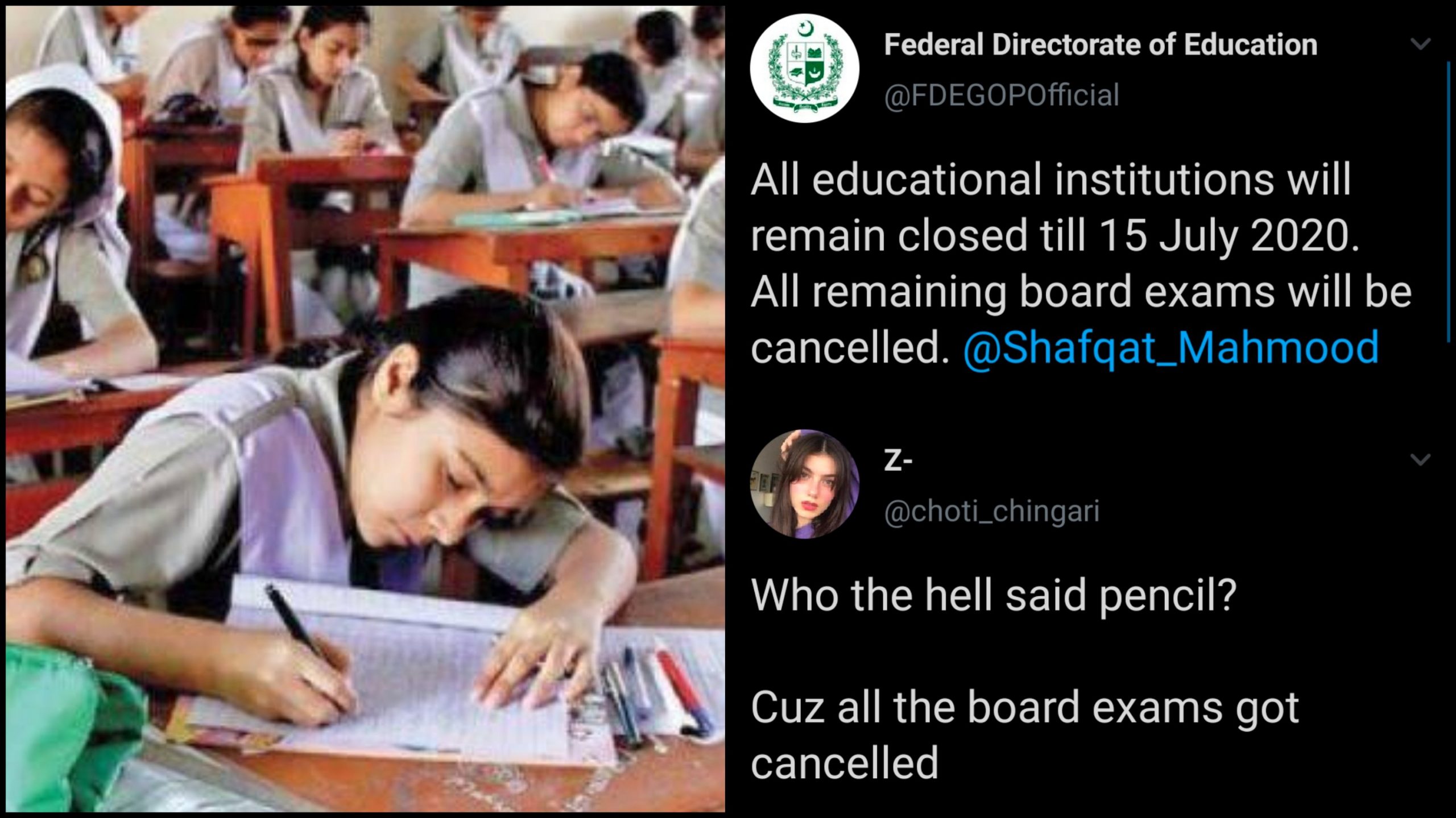 Whoever said pencil, the board students love you, because unke exams are now cancelled!
All educational institutions will remain closed till 15 July 2020. All remaining board exams will be cancelled. @Shafqat_Mahmood

Details to follow.

— Federal Directorate of Education (@FDEGOPOfficial) May 7, 2020
Federal Education Minister Shafqat Mehmood announced the cancellation of all board exams across the country as part of measures to contain the spread of COVID-I9 and twitter is flooded with memes already!
Who the hell said pencil?

Cuz all the board exams got cancelled#Noexam

— Z- (@choti_chingari) May 7, 2020
University waalon ko insaaf chahiye!
8th me aye to board exams compulsory hue 🙄
Matric me books change 😤
Inter me theory sath written practicals and grades 😣
Or ab university me hain to MATRIC or INTER k exams cancel 🤔
Ye kesa Insaaaaaf hai???😭😭😭#lockdown #BREAKING

— Exquisite Jay (@Chuzziiee) May 7, 2020
Haye, supply waalay!
Shaqat mehmood : Students would be assessed according to their previous result in board exams..

Student who gOt supply in their last board exams: pic.twitter.com/GOj8AQjXFL

— Atif Rana (@AtifRan52691962) May 7, 2020
Of course, elder siblings were jealous:
My younger brother was shouting and dancing with joy when he heard that all board exams were canceled. We never had this kind of joy in our childhood. *sigh*

— Dr. Nauman (@naumanuhk) May 7, 2020
So my sister is very happy because board exams are canceled and she's getting 85% marks in 1st year Awaeen muft mai. Itni achi Kismet lol

— Taha Farooq (@thetf10) May 7, 2020
Haye bicharay university students!
Govt: All board exams have been cancelled. Students will be promoted.
University students: Aur hum?
Govt: pic.twitter.com/efU13rn1v8

— Abdullah (@SaidbyAbdullah) May 7, 2020
Door door tak nai nazar arahi:
Board Exams are cancelled and students will be promoted on basis of previous results
Schools will remain closed till 15th July

Me looking for any good news for Uni students 🙄 : pic.twitter.com/zNUQUzpvN3

— Aima_dvn (@AimaDvn) May 7, 2020
Aag lagay basti mei, board students apni masti mei:
#boardexams 🚫😅 pic.twitter.com/fbIz1CSmZu

— Tariq (@__khaan) May 7, 2020
Some had their own theories 😂
#boardexams pic.twitter.com/zVgwFN7HxX

— Imam Thanos (@meemMudassar) May 7, 2020
Aj ki party board students ki taraf se:
Matric students after hearing that their board exams have been cancelled pic.twitter.com/h7v8nl5RK9

— Khawaja Subhan (@KhawajaSubhan14) May 7, 2020
People couldn't stop thinking about the university students:
Board Exams Cancelled…

All schools and colleges students will be promoted…

Meanwhile university students with online classes, projects, assignments, and exams be like …. 🥺🤷‍♀️ pic.twitter.com/w95dgSEJD0

— Afaq ur rehman (@Afaq35Ak) May 7, 2020
Would have been epic!
Imagine Sabir Shakir announcing Decision of Cancellation of Board exams the same way when he announced Nawaz Sharif case Verdict with Titanic Music .

— Ubaid Khan (@UbaidKhan010) May 7, 2020
Itni khushi, itni khushiiiiiiii 💃
Me after listening board exams has been cancelled 😂#Noexam pic.twitter.com/A7gU1xawlc

— Abdul samad (@Shalmeen34) May 7, 2020
Toppers ke apne hi ronay hain:
After Cancelled Board Exams

Meanwhile Toppers 😂 pic.twitter.com/TNJVsCY0B2

— Libra (@Ameer_libra) May 7, 2020
Zakhmon pe namak!
*Board Exams Cancelled*

Le University Students :#LockdownEnd #noexams pic.twitter.com/w0jpauDXtS

— Muhammad (@chacha_badmash) May 7, 2020
After hearing that government cancelled board exams but not online classes
University students rn: pic.twitter.com/z8P3bhARgk

— Muhammad (@chacha_badmash) May 7, 2020
To everyone who knows what this is about, sweet sweet luck!
Board Exams are cancelled, the girl who left 5 papers blank will get pass on basis of previous result …
not 5-1 now its 0-6 …

— Shahbaz ⚡ (@shahbbaazz) May 7, 2020
Lo bhaee!
Khushi

Bht khushi

Crush ke reply anay ki khushi

Or phir atii hai

Exams cancel honay ki khushi
Is khushi ka ek alag level hai 🥳🥳😍😍😍😍❤️❤️❤️❤️😎😎😎😎😎#Noexam #coronavirus #studentsuccess #boardexams #thnku #PTIGovernment #examscancelled #Congratulations

— Amna Saeed ✨ (@amnasaeed29) May 7, 2020
Timeline pe tidday aur tiddiyan nikal aye!
Suddenly whole twitter has turned into tidda tiddi twitter celebrating #Noexam Matlab abhi tak ap log board k exam day rhe thay 😕😕😕😕😕😕

— Maro Paro Taro (@mariaasaleem) May 7, 2020
What do you think about this decision? Let us know in the comments below!