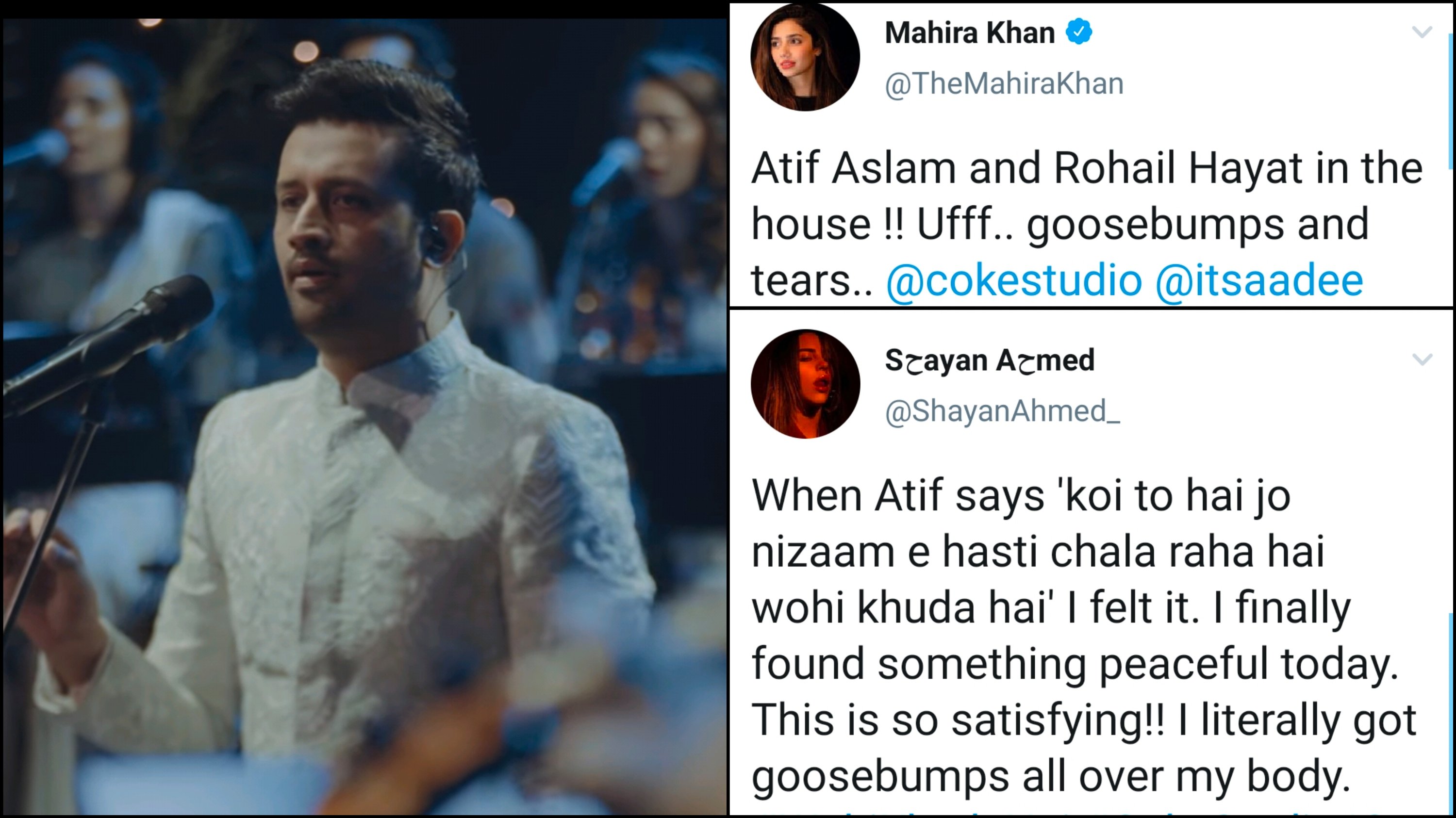 After teasing the fans with the BTS video, Coke Studio finally aired its first episode starting with Wohi Khuda Hai remastered by Atif Aslam. And honestly, no words can describe how beautifully Atif Aslam has executed the hamd!
Within a few hours of the release the hashtags #CokeStudio, #WohiKhudaHai and Atif Aslam were trending at top 3 trends on Twitter, gathering love and praise from people all around the country:
The hamd spoke to many on a very personal level and despite music being subjective for every individual, the internet was loving it altogether:
Imo, the only vocalist that comes close to doing any justice to something nfak has already perfected is atif aslam, and with rohail hyatt's brilliance, coke12 is off to a brilliant start.

— nma (@namaloomafraaad) October 11, 2019
Even Mahira Khan was moved to tears:
Atif Aslam and Rohail Hayat in the house !! Ufff.. goosebumps and tears.. @cokestudio @itsaadee https://t.co/0os16E2d4b

— Mahira Khan (@TheMahiraKhan) October 11, 2019
People found peace in the hamd:
When Atif says 'koi to hai jo nizaam e hasti chala raha hai wohi khuda hai' I felt it. I finally found something peaceful today. This is so satisfying!! I literally got goosebumps all over my body.#WohiKhudaHai #CokeStudio12

— Sحayan Aحmed (@ShayanAhmed_) October 11, 2019
Goosebumps throughout the video:
That moment when Atif Aslam Said #WohiKhudaHai#CokeStudio12 pic.twitter.com/nFYuyIUJ7W

— Aبdul ♡ (@cllmeabdul_) October 9, 2019
Say what you want about Atif but he has come a long way in his musical journey. He has always had a golden voice which is why people have always liked him but how his voice and singing has polished over the years is astounding. Literal goosebumps on his Hamd in #CokeStudio12 ❤️❤️

— Saad (@OverLord_Xd) October 11, 2019
Atif ended the hamd with Durood Shareef and it was beyond beautiful:
Durood ❤❤❤

There is something in Atif Aslam's voice. It is so mesmerizing and powerful. #CokeStudio12 #CokeStudio #AtifAslam pic.twitter.com/68mlydZbDc

— اُجالا (@lalatweets_) October 11, 2019
ending with durood shareef is too beautiful for words.🥺💕#WohiKhudaHai #CokeStudio12 pic.twitter.com/q2TLyDMt1P

— 🐒 (@shizaahahaa) October 11, 2019
This Drood Sharif at the end of #WohiKhudaHai is probably one of the best compositions of #CokeStudio12. pic.twitter.com/MAdvK8uWKE

— Fahad Malik (@Fahad4014) October 11, 2019
So precious!
Atif Aslam once again rocked ❤️
Allahomma Salle alaa ❤️
These words on in Atif Aslam Voice is just love MashaAllah #CokeStudio12 pic.twitter.com/EHhTLYxfwK

— PashaWiki (@PashaWiki) October 11, 2019
People found Atif's rendition to be gentle:
NFAK's version had the power of a man sitting on the peak of a mountain, absorbing some kind of celestial energy to sing. Atif Aslam's #CokeStudio rendition of #WohiKhudaHai is humble and submissive, like a man in sajda. It's gentle & it's beautiful.

— AHI (@aamnaisani) October 11, 2019
Some were asking very important questions:
what a beautiful start to the season. atif aslam, take a bow! aik hi dil hai yaar, kitni baar mom karo gay us ko? 💙 #WohiKhudaHai

— stop violence in kashmir (@yaamiithinks) October 11, 2019
People made sure to remember the writer of the kalaam:
Now that all the singers of "Wohi Khuda Hai" are being praised, let's not forget the writer who wrote this masterpiece.
Meet Muzaffar Warsi, ladies and gentlemen. Born in Meerut in 1933 & passed away in 2011 in Lahore.
And oh he wrote Tu Kuja Man Kuja too. Rip, Sir.#CokeStudio12 pic.twitter.com/6lSlc5CQqS

— Anwaar ul Mujtaba (@AnwaarMujtaba) October 11, 2019
Veena Malik too loved the hamd and the soulful nature of Atif's voice:
#WohiKhudaHai is so soulfully done. It gives you a feeling of being in your sujood and Durood Shareef at the end gave goosebumps. Wonderful job done by @itsaadee on vocals. #CokeStudio12 #AtifAslam @rohailhyatt 👏👏

— VEENA MALIK (@iVeenaKhan) October 11, 2019
The hamd was an experience so sublime for many:
i'm not joking when i say that i genuinely feel like i've died and gone to heaven for few minutes everytime i listen to this. atif aslam's voice is like heaven to you pic.twitter.com/jHcb3TpWo2

— مریم (@Maryammeh) October 11, 2019
Close your eyes. Put your headphones on. Listen to it. You'll cry and if not you'll be so relaxed. I love it I love it. #WohiKhudaHai #CokeStudio12 pic.twitter.com/k7YjoCVsFR

— Ayesha Imran (@chaichaiye) October 11, 2019
It transported people to another dimension:
Rohail Hayat has chosen the right man for this hamd, Atif Aslam has done it great; his voice is so mesmerising, touching my soul in this busy hours and I can't tell you the feel I am gonna get after 12am. This will hit you different when you all alone, and listening to this hamd.

— Matāf KHAN (@curlyheadsays) October 11, 2019
There were lots of tears:
Listening to #WohiKhudaHai and having goosebumps and tears. Just loving it. Atif Aslam you nailed it.😭❤️#CokeStudio12 pic.twitter.com/hXZ6dpvFf5

— Tayyaba (@TayyabaZee) October 11, 2019
Dr. Shahista Lodhi too was left mesmerized by the hamd:
#RohailHyatt nailed it, #WohiKhudaHai Soulful lyrics, soothing composition and beautiful rendition.@itsaadee best work till now and this is going to be historic.Mesmerising. Also credit goes to u 4 making the new generation love sufi music. #CokeStudio12

— Dr. Shaista Lodhi (@IamShaistaLodhi) October 11, 2019
Thank you so much for a hamd that will live with us for decades to come:
Jo khana-e-la'shaoor main jagmaga rha ha..✨💓
Thank you Rohail Hyatt and Atif Aslam.#CokeStudio12 pic.twitter.com/4SBTP803CA

— Hafsa 🌸 (@iamhaffsah) October 11, 2019
People were living for the old Coke Studio vibe:
now it actually feels like the real coke studio is back♥️#WohiKhudaHai

— Blue. (@bluecupcakes22) October 11, 2019
Absolutely!
Wohi khuda hai by Atif Aslam is so peaceful and Magical. This man right here just proved yet again why he is the best we have of this generation. The last part especially has a piece of my heart. ❤#WohiKhudaHai #AtifAslam pic.twitter.com/7mEb5NFpq7

— Ak47♛ (@HolaItsAk47) October 11, 2019
Even non-Muslims from across the border were in love:
Isn't it beautiful how someone is able to make even the non-muslims feel goosebumps!
You don't believe me?
Listen to #wohikhudahai by @itsaadee !!

Atif, thanks for blessing my ears🎵#atifaslam #aadeez pic.twitter.com/WcubGaXWhh

— Aastha Aadeez (@aastha_aadeez) October 11, 2019
Ik every muslim out there will relate a lot, but trust me even if I don't get a lot of words, I still feel like listening to again and again!
And it was possible only because of @itsaadee
Listen to #WohiKhudaHai for once, and you'll automatically listen to it on loop!❤

— Aastha Aadeez (@aastha_aadeez) October 11, 2019
Brilliantly done, indeed!
I love how they kept the music low and put more emphasis on Atif's voice. ❤️ #WohiKhudaHai

— Jay (@effthisfalooda) October 11, 2019
Only Atif can execute masterpieces like these:
I still wasn't over tajdar-e-haram and now I've Wohi Khuda hai. Brilliant #CokeStudio12

— 🔴 (@notyourmehrum) October 11, 2019
People are really looking forward to what the season has in store:
What a peaceful and beautiful start of coke studio 12 by @itsaadee
Perfect melody + Perfect Voice ❤
Looking forward to the next song by #atifaslam in #CokeStudio12
#WohiKhudaHai pic.twitter.com/S07hTEAUzz

— Adarsh Aryan⚡🇮🇳 (@_Maasumladka) October 11, 2019
We're completely smitten by the hamd. Let us know what you think about the hamd in the comments below!