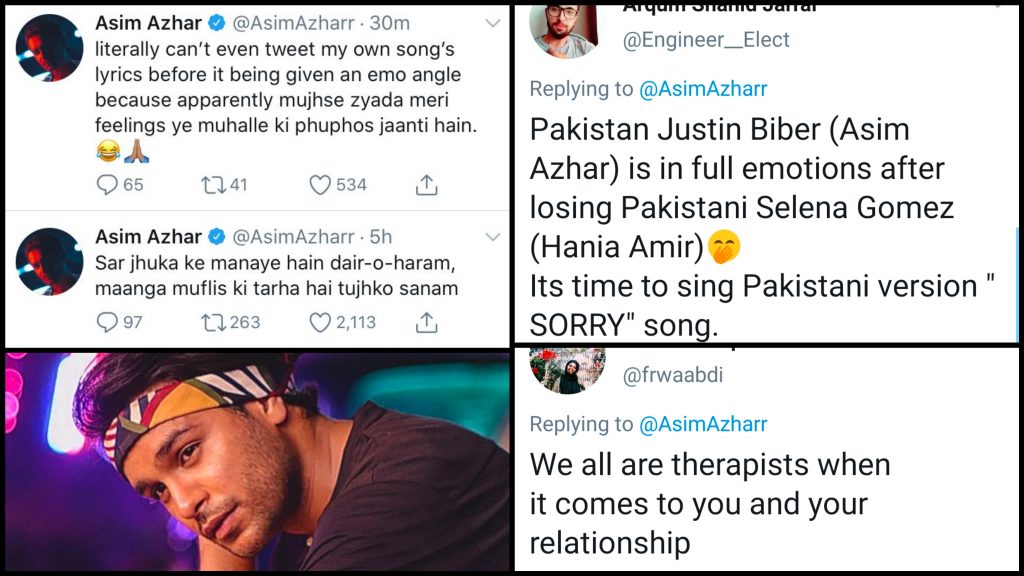 Asim Azhar has been quite the centre of attention since the past few weeks.
Celebrating the success of his new song Soneya, Asim tweeted out his (and our) favourite lyrics from the song:
Sar jhuka ke manaye hain dair-o-haram, maanga muflis ki tarha hai tujhko sanam

— Asim Azhar (@AsimAzharr) July 26, 2020
Oblivious to the song, tweeple quickly turned to phuphos, thinking the boy is heart broken:
Hayeee ♥️♥️♥️@AsimAzharr bhai. Tension ni lein in logon ko Allah puchy ga jo end py ye bol jaty hein k We are just frnds jab ky Purani yadein kuch or kehti hon😢😢😢

— Ghulam Dastgeer (@dastgeer9803) July 26, 2020
Ummm? 😂
Asim bhai aap k baaray main suna
Sun k dukh hua yaqeen karo
Khair choro yay dunya aisi hi ha dil par mat lo

— ruhaan khan (@ruhaankhan07) July 26, 2020
People were associating the word Sanam to Hania's character in Dil Ruba:
Where sanam is HANIA AMIR in DILRUBA.

Shit. My heart cries for him. https://t.co/69eOxsf54p

— Sana Khalid ♎ (@i_sannay) July 26, 2020
People were assuming things:
Breakup k bad ki post. 😔😔😔 https://t.co/pObOMpSqpu

— Saba Rajpoot❤️Ertugrul Bey❤️ (@Its_SabaRajpoot) July 26, 2020
Some were trying to console him:
You deserve better😂 https://t.co/XNc6HbLYXN

— Saman Ch (@Saman_Ch988) July 26, 2020
People wanted to know if he was doing okay:
are you okay???? https://t.co/lc4QhEHEmg

— Umer (@dotumer) July 26, 2020
Some thought he was broken:
The boi is broken. https://t.co/mfyeic2TOi

— Faisal. (@mianfaisal135) July 26, 2020
Assumptions hi assumptions:
Lol 😂
Kiya se Kiya bana Diya Hania ne. https://t.co/0yJDnOtr9P

— NA🇵🇰 (@grimm_re) July 27, 2020
Some had advice to offer:
Bhai bss kare de itna maat ro 2 mahina naraz rahege phr maan jaigi https://t.co/BfhEOFx2Mn

— فیضان کشمیری (@FaizanBinAslam1) July 26, 2020
And to put an end to the assumptions and break the Twitter phuphoun ka bubble, Asim shared how he can't even tweet his own lyrics:
literally can't even tweet my own song's lyrics before it being given an emo angle because apparently mujhse zyada meri feelings ye muhalle ki phuphos jaanti hain. 😂🙏🏽

— Asim Azhar (@AsimAzharr) July 26, 2020
And fans agreed!
Haha!! True that but we gotta give it to the phupo's as they know everything🤣🤣

— Mehvish Khan (@MevKhan1) July 26, 2020
Baaz ajao!
Phuppo Sab janti h bruh😂, iss tweet ny kafi had tak apky pain ko cover kia but Allah apko sabar den😂🖤

— isra. (@hawyysachiiii) July 26, 2020
True true!
It's okay. Art is subjective after all. People are going to be subjective. You don't have to address it. You addressing it will give ammo to people.

— no (@nosarangh) July 26, 2020
And here we were thinking therapy is expensive:
We all are therapists when it comes to you and your relationship

— Brown Vampire (@frwaabdi) July 26, 2020
Some fans did not like the use of the word Phupho:
Calling your fans "phophos" har dosrey din isn't good, they care about YOUR feelings, they love YOU, if you're tired of their love then just ask them to stop

— Ayeshay (@champagne_lassi) July 26, 2020
He did:
Oh no he said we're mohallay ki phuphos 😟😟 https://t.co/IOl8exbH0a

— 👩🏻‍⚕️ (@__LaalBaig__) July 27, 2020
Exactly!
See! this is what happens if you criticize someone, you are putting them into a position where they have to justify something. https://t.co/58ujBfvHXI

— Brown Dude (@drugskarao) July 27, 2020
People were appalled:
Sad how people treat public figures as public property. https://t.co/CpZYF7O9pI

— Zubia Naqvi (@NubivagantZ) July 26, 2020
Even after Asim gave an explanation, the phuphos were unstoppable!
I have a hania amir joke but you wont get it. https://t.co/GM1spBveF8

— bakht-yaaarr ➐ (@Bakhtyarr1) July 26, 2020
Okay.
Bro stop tweeting like you just didn't get played https://t.co/TdJNQebsHx

— KhushalKhurshid (@KhushalKhurshid) July 27, 2020
Leh!
I can understand is hansi ke peechy ka dukh bro 😢✌ https://t.co/9Pf9VgY2I3

— ♡Anaa♡ (@Areeba_hun) July 27, 2020
What do you think about people being a little too nosey about celebrities and their personal lives? Let us know in the comments below!