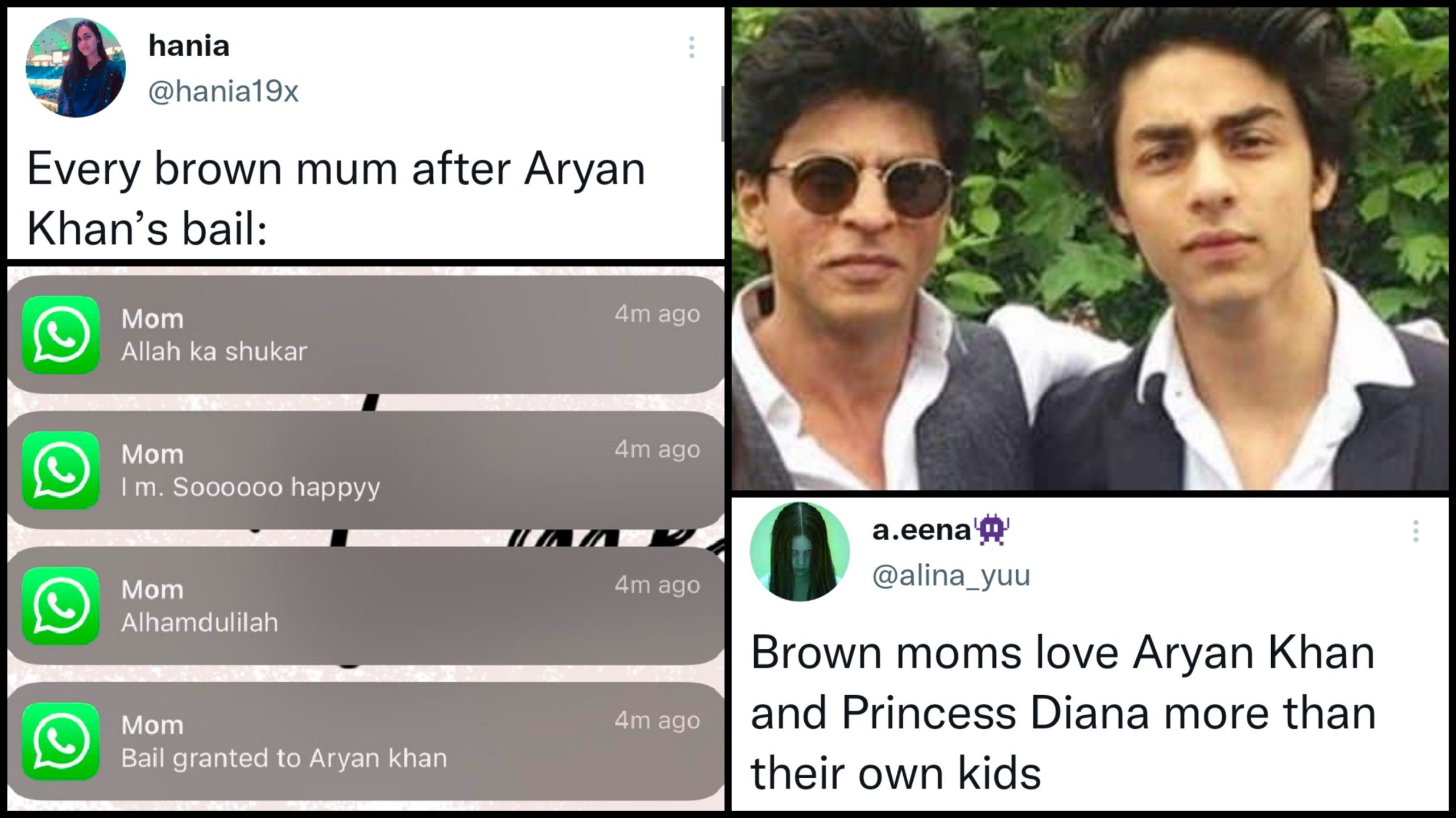 After being denied bail twice, Shahrukh Khan's son, Aryan Khan, finally gets bail and is expected to be released this evening.
The 23 year old has been in custody since October 3 for possession of drugs after a raid on a cruise ship party. And moms on both side of the border seem to be the happiest as the news of his bail surfaced the internet:
Every brown mum after Aryan Khan's bail: pic.twitter.com/NVjgLUpKnZ

— hania (@hania19x) October 28, 2021
Hahaha!
My friend's mood has gone up several notches since Aryan Khan got bail. I am not exaggerating.

— Aimun (@bluemagicboxes) October 28, 2021
Why is this so accurate 😂
Brown moms love Aryan Khan and Princess Diana more than their own kids https://t.co/N5YC5xkuQ9

— a.eena👾 (@alina_yuu) October 28, 2021
Iconic!
bail granted to aryan khan? lettsss gooo MY MOMS MAKING BIRYANI🙏🙏🙏🙏

— ♡ (@_robpatt) October 28, 2021
Yeah, we wanna know why!
But why? What did Aryan Khan do to get so much love? https://t.co/HnR6zgyDLL

— Sam (@gingerbonda) October 28, 2021
Yar 😂
i can't prove how but credit goes to pak*stan https://t.co/Nsr1lxG9Bo

— 💳 (@k1IIir) October 28, 2021
Jo baat hai!
with Aryan Khan's bail we're experiencing a culture moment of all south asian moms exhibiting warmth and concern, much like they did for Lady Diana, for absolutely no reason.

— Maryam (@maryamful) October 28, 2021
Acha bhaee!
no reason kia matlab😡😡😡😡😡😡😡😡😡😡😡😡😡😡😡😡😡😡😡😡😡😡😡😡😡😡😡😡😡😡😡😡😡😡😡shahrukh ka chota version lagta hai reason toh hai😡😡😡😡😡😡😡😡 https://t.co/K0W6MAvwAC

— zauq (@allergicbanda) October 29, 2021
Even the phuphos were celebrating!
https://t.co/rjVsz5vnif pic.twitter.com/7zY7PKaoik

— sukaina (@sukainazh) October 29, 2021
SRK sad, we sad!
Most of those south Asian moms are fans of SRK.. we don't want to see him sad 😢 https://t.co/zQOkip9HMh

— Sherry (@CherieDamour_) October 29, 2021
☺
reason is that srk raised us, next https://t.co/ehAuuPOmgC

— a (@ouchdavidd) October 28, 2021
Sub hi khush hain!
pls my khala literally said "bail hogayi usay? Allah tera shukar"

— smr ★ (@samewrr) October 28, 2021
Shots were fired!
Asian mums will feel sorry for Lady Diana all the while treating their daughter in laws like crap 🥴

— Rushna (@UrghAtEryting) October 28, 2021
Help! 😭
Asian mothers will do anything but show warmth for their own kids

— Meh. (@mekkoosh) October 28, 2021
💀💀💀
I want SRK to pull off a Bollywood script of revenge irl

— Baba (@BabaGlocal) October 28, 2021
Wow!
i want you all to know a friend of mine did a 313 time ya haseebu wazeefa everyday for srk's son to get bail
every single day. amazing.

— beezus (@blurmynamepls) October 28, 2021
😯😯
Wow someone I know took phool to Shah Ghazi Mazaar for Aryaan

— aleena (@aleenawho) October 28, 2021
Waqar Zaka too had something to say:
Aryan ki bail hogae. #AryanKhan pic.twitter.com/xgv8n6qBIM

— Usama Zafar (@Usama7) October 28, 2021
Uhhhh…
my mom will not stay awake till 12 am when my elder brother was missing but she'll stay awake till 2 watching videos of aryan khan's bail

— nimo⅞ (@nimrray) October 29, 2021
What do you think? Let us know in the comments below!