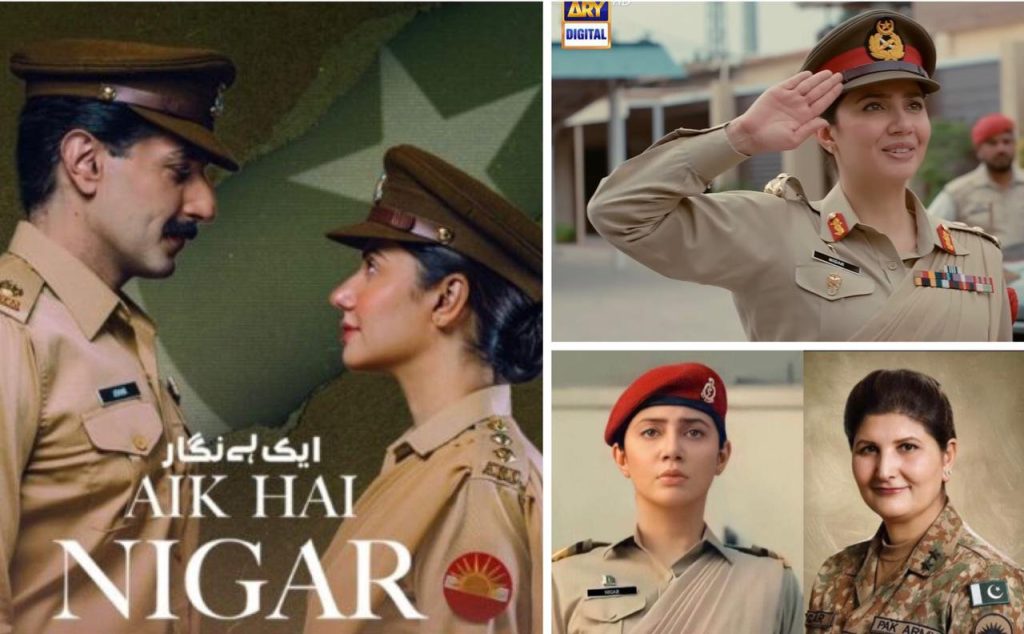 CREDITS:
Project: ISPR
Producers: Nina Kashif & Mahira Khan
Writer: Umera Ahmed
Director: Adnan Sarwar
Cast: Mahira Khan, Bilal Ashraf, Sohail Sameer, Khushal Khan, Sara Nadeem
Channel: ARY Digital
There are stars; and then there are actors. There are clichéd drama potboilers; and then there are engaging stories with solid scripts. There are celebrated directors who recycle the same content and producers with zilch vision; and then there are those who believe in change and push the envelope. Aik Hai Nigar falls in the second category – of each.
Based on the life of Pakistan's first female Lieutenant General Dr. Nigar Johar who's currently working as Surgeon General of the Pakistan Army, Aik Hai Nigar is a masterstroke. It is a biopic that inspires, engages, enlightens, and will keep you engrossed and captivated throughout.  A Winner All The Way!
Aik Hai Nigar superbly unfolds the passionate and courageous life of Lt. Gen. Nigar Johar. Umera Ahmad's screenplay is terrific from start to end and will leave you spellbound at many places. The script is undoubtedly the biggest strength of the telefilm.
We loved the depiction of Nigar's relationship with her husband, Johar Khan. Their cute, subtle romance is the high point of the telefilm. Not to forget how he stands by her side and encourages her to fulfill her dreams – it's positively heartwarming. The college ragging, the 100-rifles-shooting scenes, and when she consoles her baby brother after his breakdown – are all executed so masterfully and sensitively.
I particularly loved the scene between Nigar and her father when he says, "Tumhari shadi kar raha hoon, kisi ki ghulami main nahi dai raha. Allah na karay zindagi main kabhi aisa waqt ai, koi aisi parishani aye jis ka hul na ho, to wapis chali ana. Tumharay baap kay ghar ka darwaza hamesha tumhain khula milay ga, beta." How moving. And refreshing.
Adnan Sarwar's direction is outstanding. He infuses life into every actor, however small their role is, and handles each chapter of Nigar Johar's life with great imagination and skill. A job very well done! Cinematography is top-class. Editing is razor-sharp. OSTs, the delightful Pyar Tera and Kabar by Haroon Shahid, are nostalgic, recalling sweet memories of the 90s era.
Special mention has to be made of Nina Kashif, who has produced iconic serials like Humsafar and Baaghi, Hum Kahan Kay Sachay Thay, and telefilms like Ek Thi Marium in the past, and instinctively knows the pulse of the audience. This time she teamed up as the co-founder and producer of Soul Fry Films with Mahira Khan for AIN, and the outcome, like always, is awesome.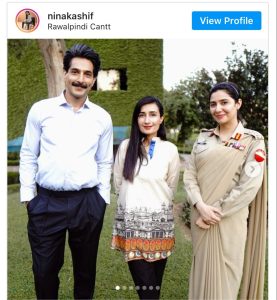 Performance-wise, Mahira Khan fits her character like a glove. She has a firm grip on her role, and delivers beyond our expectations. Her rock-solid, honest, and heartfelt portrayal makes this one of the best performances in recent times.
Bilal Ashraf is equally flawless and shines as Sir Johar. He plays the character so well you just forget that you're watching an actor! He deserves all the accolades and top honors for his work. Without a doubt, this is his finest role to date.
Sara Nadeem is superb in a brief yet important role as Mahira's mother. Kushal Khan also plays his part well. Tauqeer Nasir is wonderful in a cameo. Sohail Sameer as Mahira's father enacts his part like a pro. His performance is heartfelt.
On the whole, 'AHN' is a big winner! Strongly Recommended!