Ariel Pakistan aired their new advertisement a few days ago on television which features phrases like 'log kya kaheinge,' 'parh liya, ab ghar betho,' and 'chaar deewari mei raho.' The ad then shows Pakistan's cricket team captain Bismah Maroof who continues to say 'yeh jumlay nahi, daagh hain. Aur yeh daagh humain kya rokeinge?'
And people were outraged!
Ummm?
Ariel trying to redefine our women's domestic and social boundaries just for the sake of advertisement that is totally unacceptable۔ #BoycottAriel

— Saleh Hassan (@iamSaaleh) June 22, 2019
People were also shaming PEMRA for careless content monitoring:
Shame on PEMRA for passing the ariel ad positively on national tv. Inappropriate songs and ads being aired continuously #BoycottPEMRA #BoycottAriel this rubbish needs to be stopped immediately.

— Niña Loçà (@ButtercupSaem) June 22, 2019
I request @ImranKhanPTI that please desolve PEMRA and create a better regulately authority to control media in Pakistan.. These ads running on Pakistani TV channels are worse for society..#BoycottAriel pic.twitter.com/yD9IkIFAZX

— kamran khan (@Kamrankkj1) June 22, 2019
Mehwish Hayat, drama Ishq Zah-e-Naseeb and even Careem were dragged in:
Not just in ariel ad they are going against islam in everywhere.
So called pak cinema revival and showbiz.#BoycottAriel pic.twitter.com/dSWkC2AjV4

— Amna sajjad (@Amnasaj85417034) June 22, 2019
Lmao, Dajjal ko bhi nahi chhora!
This ad by Ariel is a manifestation of Dajjal's ideology. #BoycottAriel

— Osaid Abdullah (@AbdullahOsaid) June 22, 2019
Many said they were going to stop using Ariel from now on:
I am a user of Ariel but from now on i won't use it. Period!

All the brands must respect the cultural and religious values of an area. You can't ask your customer to buy more by disrespecting their religious and cultural values..#BoycottAriel pic.twitter.com/JrqaJYVmCM

— Jibran (@jibranNjibran) June 22, 2019
People even bought in the aurat march
#BoycottAriel
After Aurat march another stupidity, goofines,cheapness is here…
Please take action against🚫 these liberals, who promoting liberalism in Pakistan. They destroy the teaching of Islam & promoting fitna. Really the end is near…🙏 pic.twitter.com/scbJROGTeX

— S🆎🅰️ KhAn 🇸🇦 🇵🇰 (@SabaKhan18sabs) June 22, 2019
Lmao, talk about being this sensitive:
Ariel ad disrespects every woman who chooses to be a housewife and take the burden of the whole house. Does "freedom of choice" only exist when women choose to leave their houses in search of work? Can a housewife not be at home by her own choice.

— R. (@AjeebBaatHay) June 22, 2019
ChAr DeEwArI iS nOt A QAiD…
Whats going on in this country, after the xtart of nudity in our filmz xuch kind of adz?
Any thing can be xhown? Char dewari iz not a qaid itx a protection xuch dexi libralz like thexe Mera jixm meri marzi wali can't know…
The cheap librals then cry#BoycottAriel pic.twitter.com/zKXLvnFlH5

— XaiM_Ali (@Chaxhmixh) June 22, 2019
And while the ad garnered tons of misogynistic responses, there were some sensible people too!
I laughed so hard on this campaign of boycott ariel. I thought they were blasphemic or they made some remark over religion. Turns out that chardewari ad just challenged our patriarchy. Who says chardewari mein aurat ka rehna bura hai. But it's her call people. #BoycottAriel

— Huma_hussain (@getoverthings) June 22, 2019
Seriously, when?
Just checked out #BoycottAriel hashtag trending in Pakistan. Apparently Pakistani men are furious tht women r being told they shouldn't stay indoors and most cite religion as a justification. When will we get rid of such toxic [religious] masculinity?

— Taha Siddiqui (@TahaSSiddiqui) June 22, 2019
This tweet though >>>
HAHAHAHAHAHA I can't believe Pakistanis are having problems with the new Ariel ad. (Context: subjugation of women is a stain, pro empowerment ad). You don't own people, gtf off your shehanshahi high horse and stop trying to control/own the lives of other human beings.

— Zeeshan Hayat (@itsamemario24c) June 22, 2019
We're trying to figure out the same:
the ariel ad says that a women shouldn't be bound to the four corners of her home and should go out in the world and go what she likes to do. how exactly is that against Islamic values? #BoycottAriel

— a (@qweertyupfkna) June 22, 2019
Many quoted examples of Prophet (PBUH) and his wives:
Why is #BoycottAriel trending. Prophet's (pbuh) own wife H Khadija was a successful businesswoman. H Omar appointed women as the market controller in both Makkah and Medina.

— SocialPariah (@Non_granta) June 22, 2019
Some were worried how people were going crazy on women exercising their basic rights:
This Ariel ad has no issue in it and it just shows that women should not be stuck to these societal stigmas. These are not the only things that a woman is suppose to do. I see today and see the worst # trending "boycottAriel". What the fuck is wrong?

— Azaan Ali Wajid (@WajidAzaan) June 22, 2019
This post is life!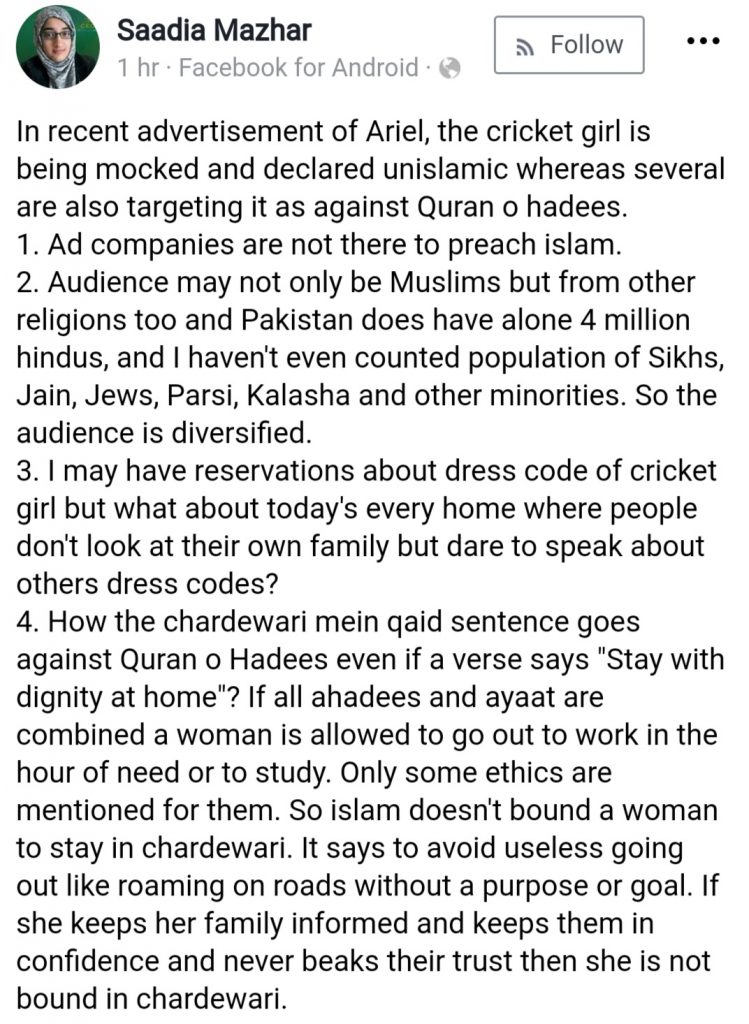 Some spoke of how we were living in the darkest times;
BREAKING NEWS: A washing powder is going to dismantle Muslim ummah with its corporate feminist girl power slogans.

We are truly living in the darkest timeline. https://t.co/OKASQsu2ee

— Mav (@404mav) June 22, 2019
Many spoke how Islam is only remembered as per convenience, sirf aurton ke liye Islam hai:
Most of guyz tweeting on this #BoycottAriel are those who have gf & bf . where your islam goes when u stare at a women in bazar , streets or roads?? We need to encourage girls to participate in development of Pakistan , without them we aint develop.

— Sayyed Ali (@ISICaptain) June 22, 2019
Yaaas, girl!
Its not ab8 being women its ab8 logic which u guys don't have in ur argument.
Ariel ad appreciated working women's. Don't forget Hazart Khadijaa was also a working women so its not something Un Islamic nd something to be ashamed of.

— Laraib Ali Magsi 🇵🇰 (@Laraib_Magsi) June 22, 2019
Yehi toh:
Don't know what's wrong with this ad & why you guys are offended , Kudos to Ariel which rattled the male chauvinism.#BoycottAriel

— Faisal (@FaisalViewss) June 22, 2019
People were living for it:
The new Ariel ad is so good and for some weird reason i knew that it'd cause an irritation among religious fanatics.

— Bilal Ahmed (@HBA_162) June 22, 2019
muslims are so offended by the ariel ad, i'm living lmaoo

— 𝚔𝚑𝚞𝚍𝚎𝚎𝚓𝚊 (@paneeripatakhay) June 22, 2019
What are your thoughts on the new Ariel ad? Let us know in the comments below!