Pakistan Super League (PSL) has had its fair share of successes and failures, but one thing that has always remained a fan favourite has been the anthems! However, this year, that too, fell into troubled waters with the release of Tayyar Hain and the drama that ensued after its release!
Featuring names like Asim Azhar, Ali Azmat, Arif Lohar, and Haroon, the song became a bane for their existence and troll-fodder for everyone else!
However, things really did take a change when everyone's favourite Bhai jumped in and rescued PSL 5 anthem for all of us! Yes, we're talking about none other than Ali Zafar, who managed to make it all right once again with Mela Loot Liya!
But, what exactly pushed him to salvage the PSL song and how did everything turn out in the last few weeks?
Diva has the timeline!
Tayyar Hain Comes Out
Worst ever anthem of the PSL 😩
Expectations were so high and in the end when I hear the anthem it was like "5 mint waste Kar die" 😑#TayyarHain pic.twitter.com/IlUpO3gTE0

— SARDAR ADNAN IMRAN (@Sardarspeaks) January 29, 2020
Slated to be the biggest anthem for PSL, the song was declared a complete dud by fans!
The official journey of #PSL anthems all 5 seasons#TayyarHain#PSL2020 pic.twitter.com/11Lm6VetvZ

— Faizan Rasul (@FaizanRasul11) January 29, 2020
Everyone couldn't help but question the song's composition, and the singers who were a part of it came under ire.
My life and PSL anthem both are getting worse with each passing year

— koshof (@drop0ut__) January 28, 2020
So much so, that some apologised, whilst others were clapping back to trolls!
After listening to TAYYYAAARR HOOOO, missing ali Zafar's psl anthem.😩#AliZafar

— Raphe Magnus (@rafayy_M) January 28, 2020
And in the midst of all of this, people couldn't help but remember Ali Zafar!
Asim Azhar Apologises
Things were only getting worse and it made the Ghalat Fehmi singer, Asim Azhar, issue an official apology!
Dear Pakistanis, pic.twitter.com/GRJTLAHiXX

— Asim Azhar (@AsimAzharr) January 31, 2020
However, people albeit understanding of Asim's apology still called for a change in the anthem.
It's not your fault boi
Ali Zafar ne 1st Anthem ke baad Anthem ka Standard he itna barha diya tha ke we don't like the new PSL5 Anthem….
Don't need to apologize….
That is true we don't Hate #psl5anthem we loved it and we enjoyed❤🌹
Pakistan Zindabaad 🇵🇰❤

— Nibba 🔥 (قلندری) (@shuja_haider512) January 31, 2020
Many of course, kept remembering AZ's anthem for PSL!
Ali Zafar Calls For Unity
Leave it to a rockstar like Ali Zafar, who called for unity amongst fans for PSL's sake! He tweeted out, saying every song is ours and to not make fun of fellow artists.
"Dear All,
As much as I am thankful for your love and support always, I would urge you all to remain equally appreciable towards efforts by all other artists. We are all one big family. So is PSL. It belongs to Pakistan and so does our music." AZ #PakistanZindabad #PSL5 #cricket

— Ali Zafar (@AliZafarsays) January 30, 2020
However, people were not as forgiving as AZ, were they?!
Still no one can beat you and your anthem "phir seeti bajay gi". That's it that's the reply. MA

— Asad (@sendfrieees) January 30, 2020
See what we mean?
But we only want you to sing because your voice is the identity of PSL #pslanthem @AliZafarsays

— Shahzeb Ijaz 💿 (@ShahzebIjazREAL) January 30, 2020
Opening Ceremony
Everyone thought the critique will finally end once the opening ceremony takes place. But, now we all know where that went!
PETITION TO NEVER HAVE AN OPENING CEREMONY IN KARACHI EVER AGAIN.

— butwhy? (@cu_rious) February 20, 2020
Even iconic names couldn't help but question what the opening ceremony was like.
This opening of the first match is very very weird #PSL2020

— Ian Pont (@Ponty100mph) February 20, 2020
Plus, let's not forget Ahmed Godil and the constant trolling he got!
The Most Hated Person in pakistan right now#Ahmed_Godil#Iqra_university_ka_ha😑 pic.twitter.com/59mkSbJDH2

— 2.0 (@meatifmalik) February 20, 2020
Ali Azmat on Waseem Badami's Show
After a questionable opening, Ali Azmat was quick to criticize PCB for a botched opening ceremony. Ali Azmat lashed out at the organizers for mismanaged events that led to a disorganized show. In conversation with the anchorperson, Waseem Badami, Ali Azmat expressed sheer annoyance on cutting down their performance on the PSL 5 anthem 'Tayyar Hain'.
Rockstar Ali Azmat is hugely disappointed with the much awaited psl opening ceremony. What really has gone wrong nobody seems to know. Even the main part of the official song sung by Asim and Azhar has not been played. https://t.co/ly5VOEWO7s

— Waseem Badami (@WaseemBadami) February 21, 2020
However, that wasn't all! He was also, of course, critical of Ali Zafar, pushing him into the controversy! "Won't say anything about Ali Zafar", he said. "People like him resort to court cases."
Ai Zafar enters as Bhai!
Now, this was the main pivot point of this story! Anyone else would have issued a statement or reacted angrily, instead, Ali Zafar goes into self-effacing humour mode and proclaims everything is done by him. Not the one to stay quiet when others drag him into controversy for no reason, Ali Zafar had the best way to reply!
Zindagi me koi masla ho. #bhaeehazirhai pic.twitter.com/WgBzZgRo2u

— Ali Zafar (@AliZafarsays) February 21, 2020
The video that was released after Ali Azmat's interview aired, killed everyone with its satire!
"if you're having any problems in your lives – personal, social, financial – your business isn't doing well, your event isn't doing well, or even your music isn't doing well – the reason for it has nothing to do with you. I am the only one responsible for it," he said.
"Aaj sy poori Pakistani Qoum ka aik hi Bhai, ALI BHAI ALI BHAI!"
(zindagi ka koi bhi masla ho Ali Bhai Zindabad😍) #Bhaeehazirhai #AliZafar

— AREEBA BAIG🇵🇰 (@TheAreebaBaig) February 21, 2020
People just couldn't get enough!
Ali Azmat Right now pic.twitter.com/2cx8nn02T0

— Nibba 🔥 (قلندری) (@shuja_haider512) February 21, 2020
Fans Request Ali to Make An Anthem!
The fans may have gone to new viral levels after the video release, but it was Waseem Badami's challenge to Ali that if he loves Pakistan, why doesn't he make a song for his fans, that changed everything! Ali asked Waseem to do a poll, and it received close to 90K responses asking for the song to be made!
I'm not sure. Are you ? https://t.co/knzrYfoQVl

— Ali Zafar (@AliZafarsays) February 22, 2020
See, what we mean?
The feel and vibes from Ali Zafar's anthems were unreal. At least, they synced with the video, lyrics, environment created & used to boost up the emotions. Ali Zafar's songs are irreplaceable & this is why only his songs are still played in our stadiums.#TayyarHain #PSL2020

— 𝓢𝓮𝓱𝓻𝓲𝓼𝓱 🇵🇰 (@itsmeSehrish) January 28, 2020
Gets Biggest Recent Digital Release
Now, was the real challenge! How to make an anthem, that could be as rocking as Khel Jamay Ga without major budgets or a conceptual video? Well, that's where AZ's creativity came to the rescue!
Bhaee Aa Raha hai! #bhaeehazirhai pic.twitter.com/amrYUgt01O

— Ali Zafar (@AliZafarsays) February 23, 2020
Bhai makes a video showing dance steps and the already-trending superstar goes even more viral!
Lo G! The song is ready. Now time for the video. But this time, you can be the star and feature in it. Watch this video to understand what you need to do! You can see the longer version on my YouTube and subscribe https://t.co/gBub1wo5R7 #bhaeehazirhai pic.twitter.com/0Oo0RMbx42

— Ali Zafar (@AliZafarsays) February 24, 2020
More than a thousand plus videos are received from all over Pakistan!
@AliZafarsays
BeaconHouse Margalla Islamabad hazir hai#bhaeehazirhai pic.twitter.com/B9SSrgb6rv

— Muizz Moeen (@muizzmoeen) February 26, 2020
We just love the energy!
– my babies make me so proud
Keeping that IVY spirit alive 😂#bhaeehazirhai #AliZafar @AliZafarsays pic.twitter.com/FYqTbBCW0h

— Slayha._ (@salehaali_15) February 27, 2020
Now, this is what we call true virality and real love from fans!
Shatters Records
This weekend was a mega delight as Sunday morning, Ali Zafar released the audio in the biggest digital release of recent times! Be it Spotify and Amazon to Jio or Savan, all at once, people couldn't help but think it was a leak and not an official release!
However, come Sunday evening, the official song releases and literally breaks the internet with one million views in two hours!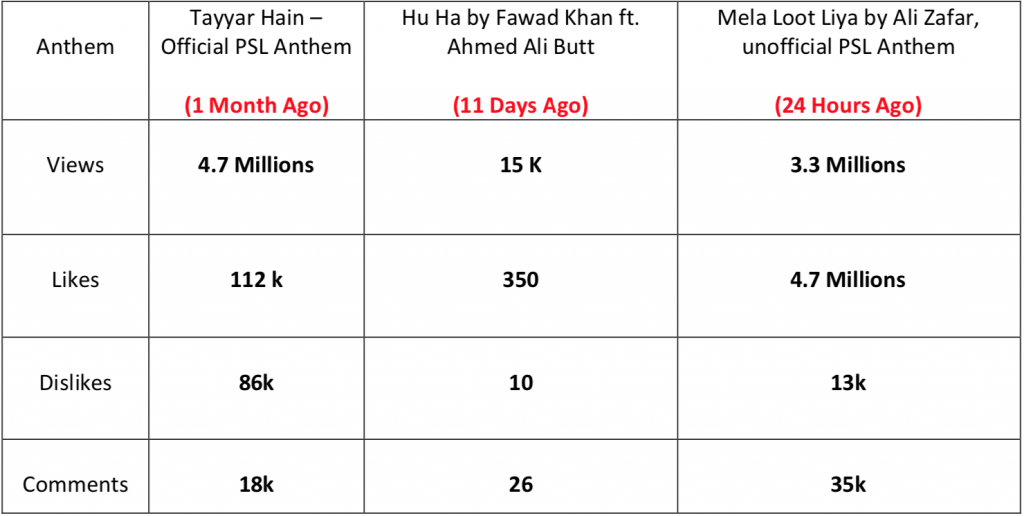 Mela Loot Lia, along with Bhai Hazir Hai and Ali Zafar trends on twitter together in a never before seen fashion!
In 20 hours, the song has achieved 3 million views and is taking over everything!
Itz 3.8million Veiws on Youtube In just 1 day… Many Many congratulations Rockstar @AliZafarsays
Thankyouu so much For the best anthem Of the year….♥️😍 #melalootliya Ap ne Tohhhh #alizafar pic.twitter.com/3WSLZD9AEU

— __nayab (@nayabzee) March 3, 2020
Even the PSL popularity has dwarfed in front of this song.
Literally in Love with #MelaLootLiya @AliZafarsays ❤️❤️

— Mehmood Yousafzai (@mehmoodyz) March 3, 2020
People couldn't help but love all that AZ has done for the love of cricket!
A song that composed, written, sang and shot in just a week. Appreciate it guys. Ali Zafar is a legend. Pakistani legend love you❤❤#MelaLootLiya pic.twitter.com/NcJy95HDSW

— +⁺💤 (@sleptts) March 1, 2020
This is truly what redemption looks like!
Dear @ThePCBofficials this is what you call passion, a song which gives you goosebumps whenever you listen no one gives a damn about your "Tyaar ho!". Ali Zafar alone is better than those 4 artists combined. We want this anthem in PSL matches, Rt if u agree.#MelaLootLiya pic.twitter.com/OcD1lZ5DlO

— Sed Nibba ♡ (Arisha♥️) (@iBadSoul) March 1, 2020
Public Demand Stadium Run of Mela Loot Liya!
Truly the fans are going crazy and now want it to be played in stadiums!
I have listened to #MelaLootLiya and I must say, I am in love with @AliZafarsays once again. What an energetic anthem and you 'll feel yourself dancing. The song is made in a very short period and made for public on public demand so appreciate it as much as you can❤️
Tayyar ho?

— Hassan (14th, Arishu's day 🎂) (@Edward_kollins) March 1, 2020
Fans just want it, and want it now!
Whole nation after listening to Ali zafar's anthem #MelaLootLiya #AliZafar pic.twitter.com/Gy4NMqYbDw

— Sidra (@sidraq1234) March 1, 2020
But it's not the official song so what's going to happen?! No one knows!
Tayyar Hain, the official PSL 2020 song manged to get 4.5 million views in 1 month where as Ali Zafar's Mela Loot Lia got 4 million in a day! Not saying it depicts quality but this guy has what it takes to spark and create a hype!#MelaLootLiya #AliZafar #PSLV pic.twitter.com/vQBaU3HTgz

— Abeer (@abeerberkat) March 3, 2020
But, we truly hope we get to hear it amidst hundreds of fans in the stadium!
Itna to kabhi annual exams k days main books nai open ki jitni dafa last 2 days main #MelaLootLiya sun liya hai.
Love this song❤️🔥😍
Love you Ali bhai.#MelaLootLiya#alizafarsays #bhaihazirhai pic.twitter.com/6Hxtk1R67e

— Muhammad Anees (Pasha) (@Aneespasha677) March 3, 2020
We love superstars who truly know how to harness the power of fans and showing their love for cricket! Ali Zafar is truly one guy, who along with his team did all of this without any help of backing from any sponsors!
Would you want to hear Mela Loot Liya in the stadiums? Tell us in the comment section below.