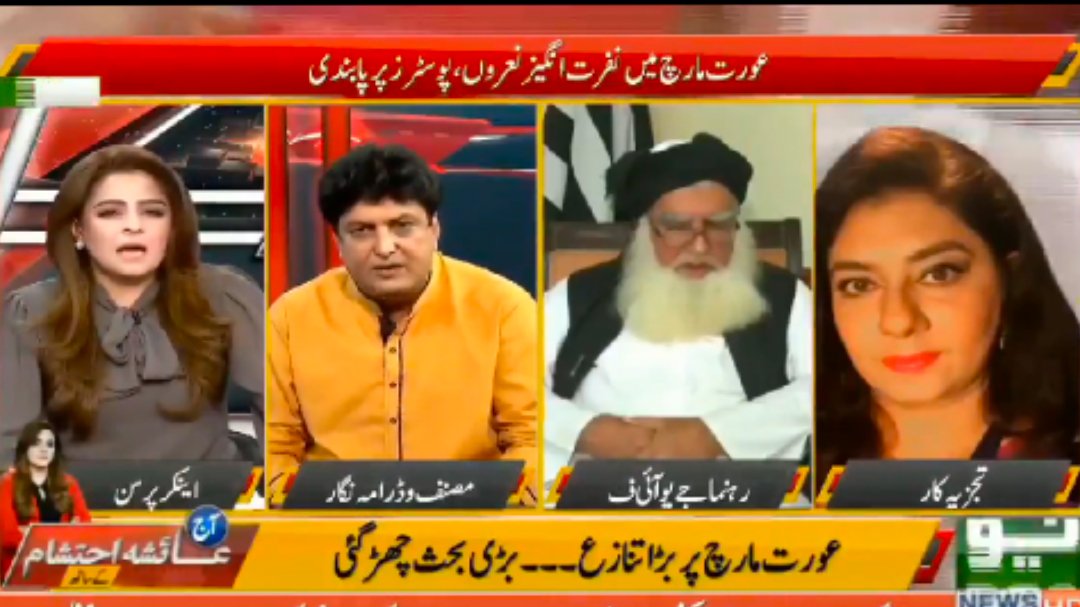 With the Aurat March being right around the corner and the Lahore High Court giving it's verdict in favour of it, the march, has triggered many, including the misogynist writer and producer Khalil ur Rehman Qamar to such an extent that he went on to abuse Pakistani journalist Marvi Sirmed on national television.
A panel that was to talk about the Aurat March on Neo News channel, had Khalil ur Rehman reaching a new low in replying to the 'mera jism, meri marzi' phrase chanted by Marvi Sirmed.
Things took a turn for the worse and the audience witnessed Khalil ur Rehman bashing Marvi Sirmed and using derogatory terms for her and people are fuming!
IS GHATIYA GHALEEZ ADMI K DRAMAY TUM LOG VIRAL KARTE HO??? Shame on entertainment media, all those actors, producers and teams who work with him. Beyond disgusting!! https://t.co/YWTZx7O4r9

— M (@madjabeen) March 3, 2020
People actually lost all hope for the women in this country:
In any country where women were seen as humans, Khalil Ur Rehman would've lost his job and never been allowed on television ever again.

This is fucked up and Pakistan has no future. https://t.co/oR3l3UvlTQ

— Hit me Bernie one more time (@BarneySendars) March 3, 2020
Many were calling for a petition to ban him once and for all:
Petition to ban Khalil ur rehman qamar from taking part in any activity on public forum. He's not only a misogynist but also an ill-mannered egoistic man with zero tolerance strategy for other's point of views. Such an idiot https://t.co/BLdpM0mCQB

— koshof (@drop0ut__) March 3, 2020
People were calling that the fellow artists boycott him:
about time artists start bycotting him as well as the audience, What a piece of scumbag https://t.co/3PdI8IvP1W

— Ali (@AleyFarooq_) March 3, 2020
Many also believed that the media was to be blamed equally:
THIS is what is wrong with pakistani media. Disgusting vile misogynists like this get air time on national television and get treated like authorities on imp issues. How long will we give these men platforms to unabashedly spew their garbage? How many more women need to be https://t.co/53HhLXfwyd

— bears beets battlestar galactica (@sooploops) March 3, 2020
People were really angry, like REALLY angry, and rightly so:
Who the fuck is this anchor? She kept asking Marvi to "wait her turn" while that dickwad Khalil kept abusing her. Wtf is wrong with everyone?

That man should be publically recircumcised and this time, they should snip the whole thing. pic.twitter.com/IGjvk31c5s

— Eurus (@Hexatiouz) March 3, 2020
People were sharing how men like him are actually trash:
To put it into perspective. Men like Khalil-ur-Rehman are trash. Men who support him and applaud this kind of behavior are trash. He's so threatened by women speaking up for themselves that he couldn't string together two sentences w/o making vile comments about her person. https://t.co/RLA1gEs6rA

— R. (@AbailRayy) March 3, 2020
He breaks his own record everyday for stooping lower and lower:
This degenerate asshole Khalil ur Rehman Qamar keeps lowering the bar every day. Why is he on TV as an analyst? What cred does he have to be speaking on issues in the first place? https://t.co/Qxqcj52BQP

— Hasan Zaidi (@hyzaidi) March 3, 2020
People were calling incidents like these the very reason to march:
Men like this are the reason that women should do aurat march. No men is allowed to disrespect any women like this. If your views are different from them, respect their views but no one has right to abuse someone like this. Media walon ne is admi ko sar pe charha dia hai. https://t.co/GyOzyI0Mux

— Hiraaa (@ihirarafique) March 3, 2020
Facts:
Khalil ur Rehman Qamar is unhinged, an ageing man who can't fathom a world where women make their own choices. He has consistently shown us his true colours yet he continues to thrive in our entertainment industry. WHY? https://t.co/oW4ErdI84G

— Anum R. Chagani (@Anumero_1) March 3, 2020
People were calling this the lowest of Pakistani television history:
Ban Khalil ur Rehman Qamar, Ban Khalil Ur Rehman Qamar from TV, Ban his Misogynist and trash ass for life.
Hurling derogatory remarks at co panelists body on a live television. This has to be the lowest of Pakistani television history.

— Super Maan (@ZameerMaan) March 3, 2020
Even people who think differently about Marvi stood up for her:
I hold different opinions on many things when it comes to Marvi Sirmed but this man needs to be
a) penalized/fined/banned by PEMRA including Neo
b) be forced to make a public apology

Utter utter trash https://t.co/FSeImfxJa3

— Asad Shabbir (@sceneawwn) March 3, 2020
Many were straight up mad at his indecent and vile comments:
THE AUDACITY, HE REALLY IS A SICK AF.. NEEDS TOLEARN TO SPEAK DECENTLY LET ALONE SOME ETHICS https://t.co/4tGm42WvhY

— Rabia. (@i_Rabuu) March 3, 2020
This is totally unacceptable. You can not abuse someone on television. Shame on you Mr. Khalil ul Rehman! https://t.co/iMXLuyGlld

— Maira (@mairaftab_) March 3, 2020
People were furious at the new lows Khalil ur Rehman manages to reach at every talk show:
so we are going to ignore the fact that he verbally abused her??& the clowns including the host did nothing except silencing the lady?Also the audacity of his illiterate self to call her ill-mannered while spurting bull crap on a live show,,idiocy of paki men knows no bound🤮🥴🤡 https://t.co/t7MPJiDVBZ

— 𝘮𝘦𝘳𝘢 𝘫𝘪𝘴𝘮 𝘮𝘦𝘳𝘪 𝘮𝘳𝘻𝘪𝘪🌈 (@_mad_woman) March 3, 2020
Many were wondering why the TV would even invite people like him:
WHY DO TV CHANNELS EVEN INVITE THIS MORON???? He called her a bitch and passed below the belt remarks and he was still allowed to sit there???? What does he even have to do with Aurat March? Its a march about women's rights and yet there's two men on the panel. WHAT FOR??? https://t.co/h7D8Q9wAUw

— . (@Choisaaab) March 3, 2020
Jo baat hai:
misogyny khalil ur rehman sy h aur khalil ur rehman misogyny sy

— zain (@GoGetMeTea) March 3, 2020
People were tagging PEMRA to do their thing:
Please do your job @reportpemra! Ban this man from appearing in any tv show, ban his scripts and drama serials. Also, ban this woman and her show who allowed all of this to happen in the first place. https://t.co/qAZD4TnPwi

— ᴛᴊ. (@tahseenjafri_) March 3, 2020
Some were worried how this was setting a very wrong example for young boys:
This is peak incel behaviour. This is someone young boys look upto and empathize with. And we continue to give him screen time, provide him with all the platforms women in this country can only dream of https://t.co/PfqEUQgIoM

— Rabia (@damselindupatta) March 3, 2020
People were waiting for the 'is this Islamic Republic of Pakistan' brigade to show up:
I'm losing my mind. This man is publicly abusing a woman on national TV and there is no up roar about this!? Where is the "Is this Islamic republic of Pakistan" brigade now? YE IZZAT DETE HOU TUM LOUG AURTON KO??? https://t.co/71qJ2TG3tY

— 🙁 (@meemelif) March 3, 2020
People were absolutely against the abuse:
Abusing a woman is NEVER an option, no matter what. https://t.co/p380KOeBWE

— N. (@easylifeni) March 3, 2020
Many were wondering why the man wasn't cancelled already:
All for conversation/engagement/ differing POVs but this man is repugnant with ugly views and full of hatred.

About time we call out all TV channels and artists who continue to work with Khalil ur Rahman and embolden him to directly threat women on TV. pic.twitter.com/bZJXeWfBUN

— Shehzad Ghias Shaikh (@Shehzad89) March 3, 2020
They may cloak it under notions of religious or cultural values but you see the naked stark fear of ugly old men in Pak who are afraid of Mera Jism Meri Marzi because they do not want women to have control over their bodies. For KUR a woman's body only exists for a man's pleasure https://t.co/5eLZUPrZLe

— Shehzad Ghias Shaikh (@Shehzad89) March 3, 2020
Women were actually scared to live in this country:
im so scared living in a country which has men like him walking freely on the streets please he should be hung to death https://t.co/t0CNefn3v7

— a (@shesunreliable) March 3, 2020
Shots were fired:
"Mera jism meri marzi jesay ghaleez naaray"

Yes! Indeed because Pakistan is the safest country for women because here they have freedom of choice, their consent is respected and they are not policed over for their clothing. Thanks khalil uncle u da best https://t.co/lTDcpY8kZE

— 👊 MERA JISM MERI MARZI 👊 (@amnaaww) March 3, 2020
Marvi herself took to Twitter to share how Khalil ur Rehman Qamar will get away with this:
If such piece of crap was a playwright in a civilized media industry, he would have been boycotted and would be reduced to ashes. But this is our beloved Islamic Republic. The misogynist abuser won't have to face any consequences. He'd be welcomed by every media house. https://t.co/2AVOe15keR

— Marvi Sirmed (@marvisirmed) March 3, 2020
People also suggested that programs like these be banned:
Multiple learnings:

– KRQ should actually be banned from appearing in a panel again.
-The host should have asked KRQ to stop with his foul mouth but instead chose to request Marvi Sirmed to stay quite
-Programs like these should be stopped if it gets ugly
-KRQ is a cunt https://t.co/Y3dAibDIwq

— Khushal (@Khushal) March 3, 2020
People were upset at people who were supporting him:
worst part about this is that he'll get away with this and we still have people who'll support him https://t.co/K9AOMn5KD9

— zain (@dedlad) March 3, 2020
The sad reality:
The host keeps asking her to stop talking and keeps enticing Khalil to go on. The Maulana sahab is silent. He keeps abusing, calling her a bitch, downright cursing her, shaming and objectifying her body, on live television.

The whole nation keeps loving him. https://t.co/a1vOE25EAv

— Uja kitna khao gi? (@UjaHashmi) March 3, 2020
What do you think about Khalil ur Rehman Qamar's vile comments? Let us know in the comments below!