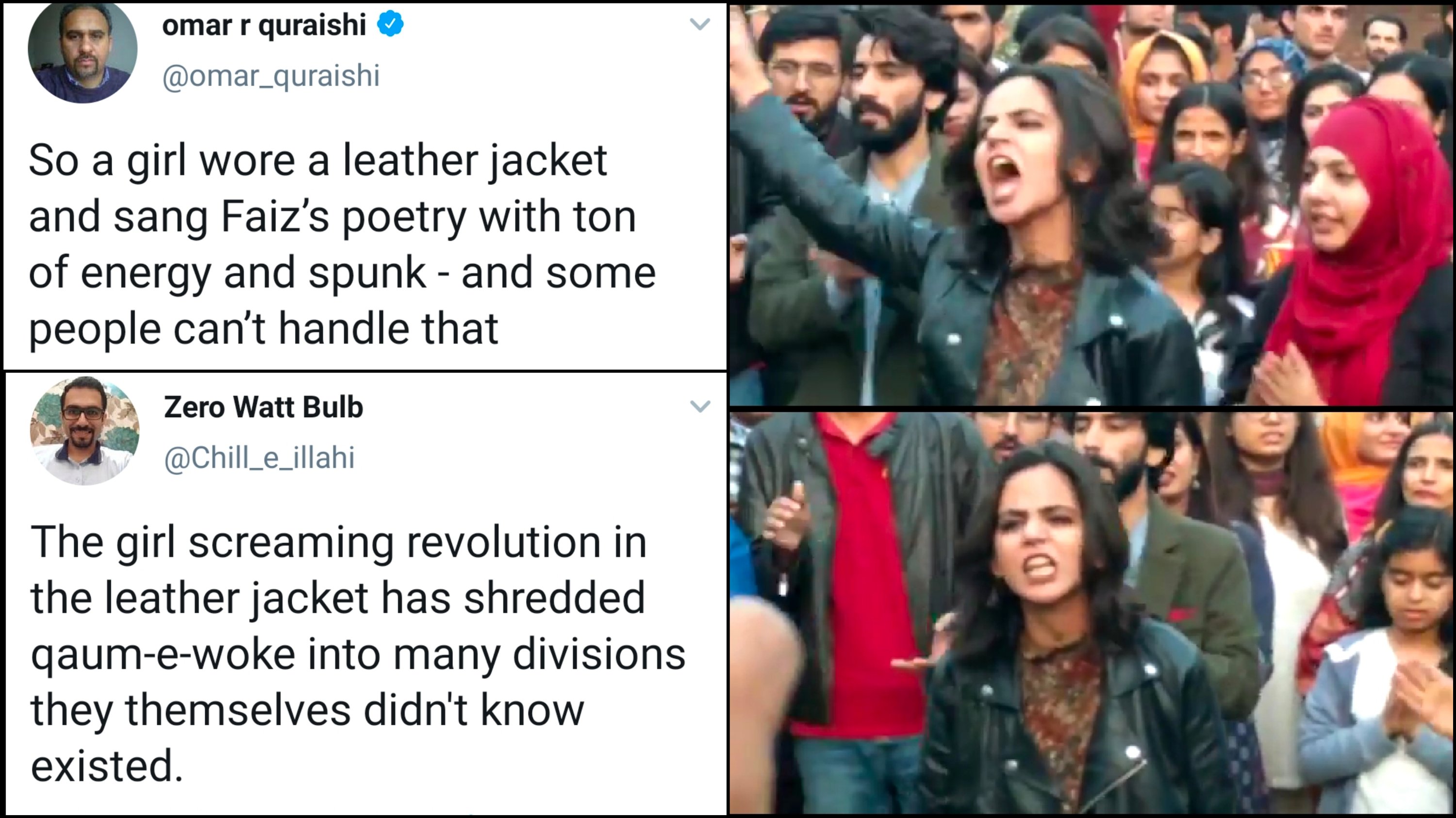 Yesterday was another eventful day on Twitter when someone shared a video of a group of students in Lahore chanting 'Sarfaroshi Ki Tamanna Ab Hamaray Dil Mei Hai,' at the Faiz Festival in Lahore.
sarfaroshi kī tamanna ab hamare dil mein hai
dekhna hai zor kitnā baazu-e-qatil mein hai #Lahore #faizfestival2019 pic.twitter.com/zGdL8uU11W

— Shiraz Hassan (@ShirazHassan) November 17, 2019
The group of students took this opportunity to invite other students to join them in the #StudentSolidarityMarch being held on the 29th of this month. But the internet was a little too quick to judge Arooj Aurangzeb, now being known as the 'girl in leather jacket.'
Judge karte hain Twitter walay Ek Leather jacket se…😏 https://t.co/DX67FmyQ7X

— 𝓝 𝖆 𝖟 𝖎 𝖘 𝖍 : 𝓐 𝖑 𝖆 𝖛 𝖎 (@naazzish) November 18, 2019
I think I downloaded the wrong Rang De Basanti. pic.twitter.com/aPlCDrp7Gz

— Hashim (@hashim_i) November 17, 2019
Some were feeling bad for her:
I feel bad for her, she is trying too hard 😜 https://t.co/f6aiIJa4WF

— Valar Dohaeris (@partisanofKhan1) November 17, 2019
People were calling her an elite based off of her jacket:
I'll be that guy. This kind of "revolutionary" shit doesn't look good from a crowd which will likely disperse and go home in their air-conditioned civics.

Gloria Jean's walay surkhay guitar aur dhol hee baja saktay hein. https://t.co/x0XtFUXCdG

— ظلِ الہٰی (@XilleIlahi) November 17, 2019
Ummm?
Election wale din Ye sab picnic rakh lete hain. https://t.co/XHiXY8NQQ7

— Ali (@KhattakMj) November 17, 2019
People had a lot to say:
everytime i feel the need to remind myself that i should do better and exercise my privilege to strive for an equal and just society, i'll watch this video. thank you, comrade. i don't feel nakaam(rade) anymore. https://t.co/Ty3xCfuPyI

— tarbooza kharbooz (@nakaamrade) November 18, 2019
Some were calling then DHA revolutionaries:
Second hand embarrassment hor rahi hay watching this shit by dha revolutionaries https://t.co/5W9OfWrU3J

— I (@imdadawan) November 17, 2019
Chaudhry Fawad Hussain was feeling it both ways:
Aik taraf tou bohat khushi hai k students politics ne kuch angrayi li lekin doosri taraf Asia Surkh hai se laga 45 saal peechay hein zamanay se… Communism ka na haal hai na mustabil mazi mein kiyoon rehna specially when you guys are so young and dynamic? https://t.co/F7YVZ4AeU9

— Ch Fawad Hussain (@fawadchaudhry) November 18, 2019
Not cool:
Kohsar revolutionaries getting mad as Mocca ran out of coffee. https://t.co/hGqMWQ7p0k

— 𝘙𝘪𝘻𝘸𝘢𝘯 (@ChupShaa) November 17, 2019
Some were calling them 'good for nothing':
It's November and the assortment of communists, leftists and atheist revolutionaries are out in force!

Don't worry, these good for nothing seasonal surkhay will soon disappear when the spring sunshine starts biting. https://t.co/DL2TVLHPQs

— Richard Harris (@HarrisRichard77) November 17, 2019
Umm Rishtata aunty in the house:
i think that the bearded guy and the girl in the leather jacket from the azadi video should get married

— HawkesBay (Löuche) (@HawkesBay) November 18, 2019
People were making memes:
Marx: "sieze the means of production"

Lahoris in leather jackets:pic.twitter.com/tUZAEJzjfs

— omer (@intellectroll) November 18, 2019
Well, yes…
Are we still outraging over leather jacket girl or nah?

— Zarrar Khuhro (@ZarrarKhuhro) November 18, 2019
Many were living for her leather jacket:
Fuck ALL of your discussions about the student protest. I just want to know where did ma'am get the leather jacket from. The classic biker jacket. Mango has one but cropped and for women only. Outfitters has one WITH A HOODIE ATTACHED fucking chootiya designers.

— shawarma lahme (@RizwanPehelwan) November 18, 2019
People would much rather have students who know their rights:
I would much rather see my country producing such brilliant students working for their due rights than seeing corrupt, morally degraded politicians shouting hollow promises atop their self-constructed pedestals. More & more power to these students! 🙌🏻💯🌟 https://t.co/OMoZ7i1FXg

— Zeeshan Fatima Rizvi (@Shanzzify246) November 18, 2019
Let that sink in:
The girl screaming revolution in the leather jacket has shredded qaum-e-woke into many divisions they themselves didn't know existed.

— Zero Watt Bulb (@Chill_e_illahi) November 18, 2019
If only people could understand:
What's with this hatred, negativity and judgements flying right and left? I see passion, starry eyes and voices and hear Faiz. Let people live, express and dissent and progress.

Perhaps, we all hold mirrors and we say what we see when we star at the mirrors.#Lahore #Pakistan https://t.co/QPRBUNiZZp

— Ahmad Rajwana (@ahmadrajwana) November 18, 2019
Many of her friends came forward to defend her:
I *know* the girl leading the chant. Her name is Arooj. Belongs to Punjab University. Has been trying to mobilize students for years now. Her friends were abducted when the military raided PU male hostels around the time PTM was mobilizing in Lahore.

— No (@Bluemagicboxes) November 18, 2019
Jo baat hai:
So a girl wore a leather jacket and sang Faiz's poetry with ton of energy and spunk – and some people can't handle that

Kaafi farigh hain yeh log

— omar r quraishi (@omar_quraishi) November 18, 2019
Never ending issues!
ab leather jacket sey bhi issue hai? activism mein poverty porn hoga tou you ll accept it as "real activism" haina?

— Atiya Abbas (@AtiyaAbbas_) November 18, 2019
Just do it!
Wear a leather jacket and go for it

— ℛaza (@razonater) November 18, 2019
How to be an elite 101:
People losing their shit over a leather jacket and I can't wear mine in this weather. Why Karachi? I wanna be elite!

— Danyal. (@PainduBourgeois) November 18, 2019
Many were arguing that had the roles been reversed, what would the response had been:
kurtey aur jeans ke uper leather jacket pehen ke koi launda "sarfaroshi ki tamanna ab humaarey dil mein hai" cheekhta tou sab ke ander ka faiz ujaagar hogaya hota lmao

— No (@Bluemagicboxes) November 18, 2019
Savage!
The only outrage I have is that I cannot, for the life of me, find a good leather jacket here in Amreeka. Therefore, since I am Pakistani, I will be outraged at her by default. The end.

— Maaz B. Badshah (@MaazBinBadshah1) November 18, 2019
People were coming forward to answer people who were calling them elite:
The lady you are seeing in this video is my friend Arooj Aurangzeb. She hails from a lower middle class. I can assure you a lot of people in this crowd do not have an air-conditioned civic (although no harm in having one).
Please divorce some biases and appreciate the gesture. https://t.co/n9NBoMSvYC

— Saad (@beingmsaad) November 18, 2019
People were loving it:
So refreshing to see this. #Pakistan https://t.co/VK6A86rT5o

— Sikander Bizenjo (@sikanderbizenjo) November 17, 2019
It sure is:
Everything about this clip is great. https://t.co/wChqE5mqUN

— Umair Javed (@umairjav) November 17, 2019
Oooooh!
If wearing a leather jacket makes you elite then Raja Bazaar is Pakistan's Bond Street.

— Danyal. (@PainduBourgeois) November 18, 2019
This!
There is a good chance that you are right, and these people likely will not be part of any revolution…

But there is a better chance of them being a part of it than everyone sitting cozy at home criticizing them. https://t.co/slYhecDA89

— Jibby (@JibbyD) November 17, 2019
Yaaaas!
i love their slogans, i love their style and i love what they are standing for, they will keep doing it, i bet they don't even know memona from pindi or ilyas from peshawar criticizing them for raising their voices against the oppressors.

— RED (@Theodahad_) November 18, 2019
What do you think about these students and their objectives? Let us know in the comments below