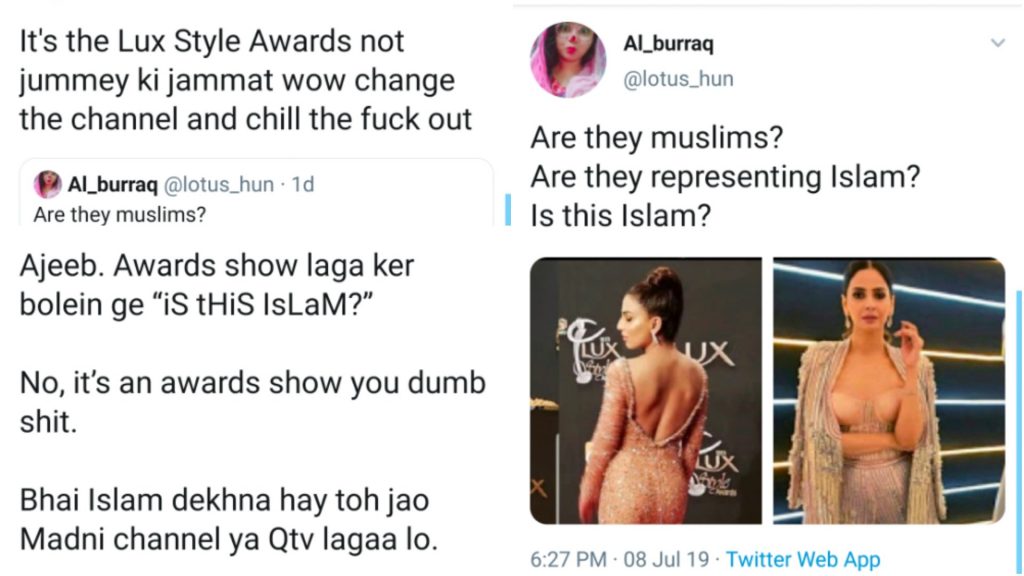 Lux Style Awards have been the talk of the town ever since the nomination list came out. But now that the event is done with, people still can't stop talking about it. A girl on twitter tried shaming the celebrities with the iconic 'are they Muslim' question but Twitter came to their defense and schooled the girl instead.
Are they muslims?
Are they representing Islam?
Is this Islam? pic.twitter.com/JUmY0A3kdT

— Al_burraq (@lotus_hun) July 8, 2019
Her tweet gathered tons of attention:
All I know is that they look great…oh and you need to get a life.

— Nida Kirmani (@nidkirm) July 9, 2019
Exactly!
they work for entairtainment, not representing a religion. if ur into that, there's different channels for it, why look at this?

— 🦄not_manal🌻 (@dafukk_dude) July 8, 2019
Yar Saba Qamar 😍😍😍
Bibi Lux Style awards thay Raiwand ka ijtimaa nahi pls sit down and appreciate saba qamar cause damnnnn. https://t.co/pRWADaIXUE

— Anas Tipu (@teepusahab) July 9, 2019
THIS REPLY THOUGH >>>>
Islam is in how we act, treat others and honor our Creator. Dressing to please Allah is only a small part of that. It is not our place to judge. We do not know what is in anyone's heart.

— Zee (@OwlieBird) July 10, 2019
Sadly, everyone thinks they have the right to judge others:
You are not the one to judge

— Anica Hasanat (@AnicaHasanat) July 10, 2019
Apply cold water to the area burnt:
No they aren't representing Islam and they don't have to either. It was an awards show and not a milaad. Also, stop assuming that everyone is born to represent either Islam or any religion at all. https://t.co/zv233oW4Ej

— Shummas 🌈🌻 (@CorporateMarasi) July 10, 2019
Ajeeb. Awards show laga ker bolein ge "iS tHiS IsLaM?"

No, it's an awards show you dumb shit.

Bhai Islam dekhna hay toh jao Madni channel ya Qtv lagaa lo.

Doesn't make sense 🤷🏻‍♂️

— Shummas 🌈🌻 (@CorporateMarasi) July 10, 2019
Oooooof!
Representing Islam? They're at the Lux Style Awards not Q TV's Ramazan transmission https://t.co/G3UhZPwGLr

— Mirza Moiz Baig (@MoizBaig26) July 9, 2019
Agreed, self reflection comes first!
With due respect, In Islam we R to mind our own matters. Who R we to decide for others? The Prophet pbuh has taught us to self-reflect.

— Sania sattar (@sattar_sania) July 9, 2019
Dekhna bhi hai, baatein bhi kerni hain:
#LuxStyleAwards has never been a platform for representing #Islam at the first place. Why are you expecting it from something not meant for it?
It's like saying why #Arab monarchs don't represent #democracy!

— Zaheer Wazir (@zaheerwazir1) July 9, 2019
Someone is clearly watching the wrong channels:
LOL. Award shows celebrate the industry lol not the scholars. R u seriously telling me you watched the lux style awards to get a representation of Islam LOL

— IqraNas (@NasIqra) July 9, 2019
Savage!
It's the Lux Style Awards not jummey ki jammat wow change the channel and chill the fuck out https://t.co/EsGT65zckt

— Madam Musibtey (@mustyoumustard) July 10, 2019
We didn't know it either!
Did not know you werr supposed to represent islam at the Lux Style Awards https://t.co/tjFtncI5df

— . (@Mahnxr) July 10, 2019
Someone please give this girl an award:
What we all should remember is that everyone is going to go in their own grave. Rather than criticizing and just pointing fingers at others, why don't we try to better ourselves???

P.s As far as I know, Saba is a Syed. And a Syed well knows about what is wrong and right. 1/2

— Nur Sehar (@NureSehr) July 9, 2019
So maybe her outer look won't matter to Allah when her inner self is pure and emaan is stronger than us.
We should worry about our faith and our aakhirat. We can advice someone but criticizing is not okay…

— Nur Sehar (@NureSehr) July 9, 2019
And while majority disagreed with her, there were some who shared the same opinion:
To impressed by western culture and too ashamed of their own 🙂

— Salar Abbasi 🇵🇰 (@salarabbasi507) July 8, 2019
Still trying to find logic here:
"cheez dekhay gi to hi bikay gi" they took it seriously

— Darbari (@sasta_ashiq) July 8, 2019
Okay, now that's a little too extreme!
These award shows must be ban

— Sarmad Ali (@BraveInsafian) July 8, 2019
What's your take on the situation? Let us know in the comments below!