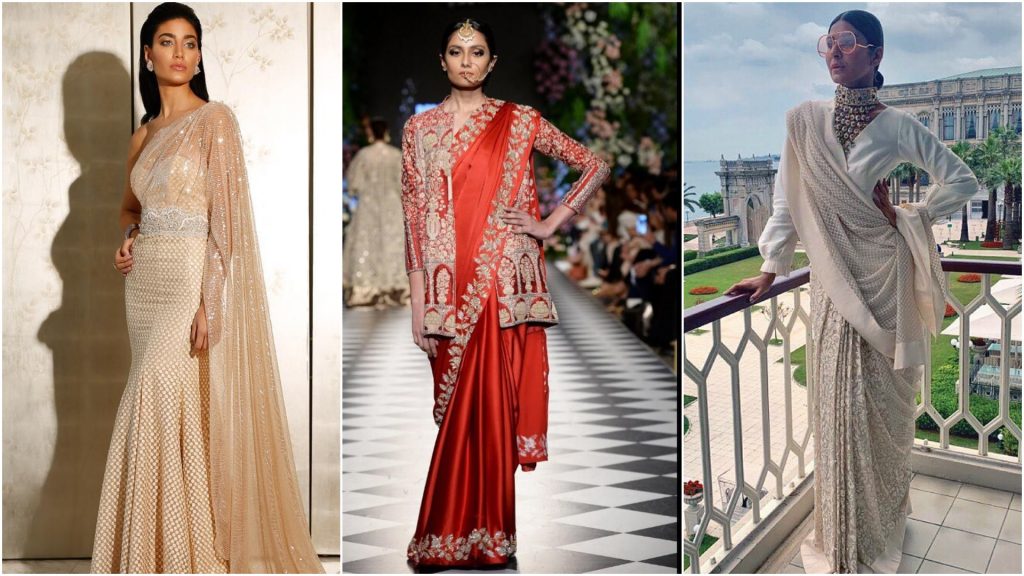 Admit it! There is nothing sexier than a good ol' saree. From edgy statement ones to the saree look-a-likes, keep reading to see our top picks for the best styles perfect for the festive season or an evening get-together.
The "power" saree:
The big mama of all the saree trends in town! The key to keeping it casual for a day look is to choose a soft, flowy fabric that neatly tucks in without your vest looking too stuffy. We love the oomph our girl crush Kiran Malik added with that corset belt cinching the waist, giving an hourglass look. For nights out, you can pair it up with your blingiest vest or even a studded one if you're not too scared to experiment.
Kimono cover:
Gained a few pounds? This one is a lifesaver for those times. The Kimono's forgiving cut not only looks just right a.m to p.m but it also keeps you covered at all the right places. We personally love this one from Wardha Saleem's block-printed collection.
The Doppelganger:
Is it a saree? Is it a dress? Or maybe it's both! Remember that time when all your favourite designers started tucking dupattas into lehngas making them look like sarees? This is a step further, recently seen on KKK (Kareena Kapoor Khan) at the Icon of the Year awards. We couldn't help looking twice at this Instagram-worthy nude shimmering number by Faraz Manan.
Ruffle romance:
One 'must try' trend for every It girl is without a doubt all-things-ruffle, and by that we mean LITERALLY all things! From pants to shirts and even sarees, a little ruff drama goes a long way.
Jacket please:
For when you need more structure to your saree or even just a little added grace, jackets and capes are always our favourite.
Mysterious case of the "Saree Dress":
What a jaw-dropping merger of an anarkali and dupatta looks like is this beauty introduced by Sania Maskatiya, perfect for mehndis if you're looking for a fuss-free dupe.
Dhoti saree:
This one literally never gets old. Nor should it.
Cute and contemporary:
If you're a millennial looking for a change, here are some definitely non-boring and non-usual styles you may want to consider.
New crush in town:                               
An honourable mention for the old-school trend revived by some of our beloved labels. The "chunna hua" or "crushed" material is a timeless technique that's gained enormous attention this year and a great way to add it to your wardrobe is with a feminine saree, like the one seen here on MK.