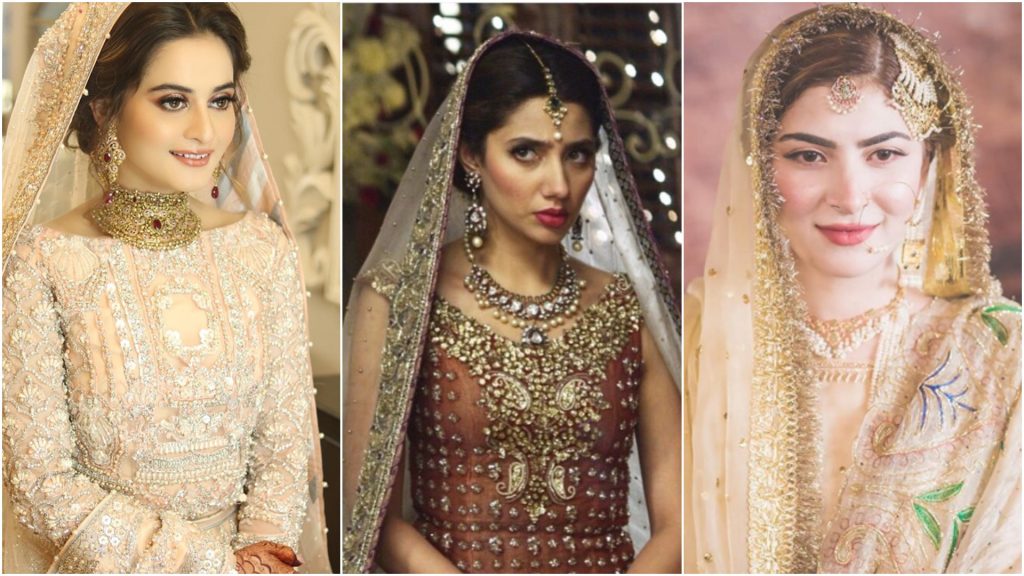 Transform your bridal jhora into something oh-so-gorge!
One thing you should never wear on someone else's wedding is your very own bridal jhora, let there be one bride please! But, there are a million other ways to transform your own bridal dress into something awesome without taking away from the actual bride.
Majority of the wedding dresses here are loaded with heavy kaam from head to toe, which obviously works if you're the bride. But if you're not the bride, wearing your bridal jhora as it is can be a little overwhelming and too over the top for some. It's also great if you think your bridal dress may be a little outdated. Here are a few ways which can help you turn your bridal jhora into 2 or even 3 different formal wear outfits.
Change the dupatta
If you really want to wear the outfit as it is, change the dupatta. Bridal dupattas are so heavy themselves that pairing them with an already heavy jhora can break the actual look and make it lose its focal point. Plus, it's a pain to carry off whether you style it onto your head or style it like normal dupattas. Opt for a plain-er dupatta, with maybe a little bit of sequins or booti on it, you can also opt for a starkly contrasting dupatta to step it up.
Change the shirt
If you want to wear your gharara/sharara/lehenga, get a new shirt made with it. If the bottoms are loaded with work, opt for a simpler and not as heavy shirt. You can also experiment with various lengths and cuts instead of going for a boring straight shirt.
Change the bottoms
Who says you can only pair your bridal shirt with your bridal bottoms? You can give your bridal shirt a whole new vibe by pairing it with a different pair of bottoms. Culottes, gharara, dhaka pajamas, shalwars, straight trousers, choori-daar pajamas and what not. Pick a style that compliments the length and cut of your shirt.
Utilize the dupatta
All it takes is the right dupatta to complete the look. And don't even get me started on how beautiful the bridal dupattas can be when paired with the right outfit. Instead of pairing your dupatta with your bridal dress, pair it with a more toned down and simple dress to let the dupatta be the focal point of the look. Pick a style that you love, and get it stitched onto your favourite fabric to your best fitting. Embellish the outfit with fancy buttons, minimalistic kaam on the neckline and sleeves, a little kaamdani all over the dress, a little something on the daaman or however you like. Pair it with your bridal dupatta and you have a brand new outfit to rock. Minimalistic dresses are also a great way to show off your jewellery, so make sure you go all out!
Applique the hell out of it
If you wore a long flared maxi to one of your events and the thought if wearing it again makes you uncomfortable, there's hope for you too. You can actually transform your maxi into a totally new outfit. All you need to do is get the hem work appliqued onto a dhaaka pajama or a flared bottoms and get the neckline appliqued onto a textured fabric and use the old sleeves to complete the look. Similarly, depending on what type of kaam you have on your maxi, you can get the length altered and pair it with a plain trouser. When it comes to getting the work appliqued on, the possibilities are endless!