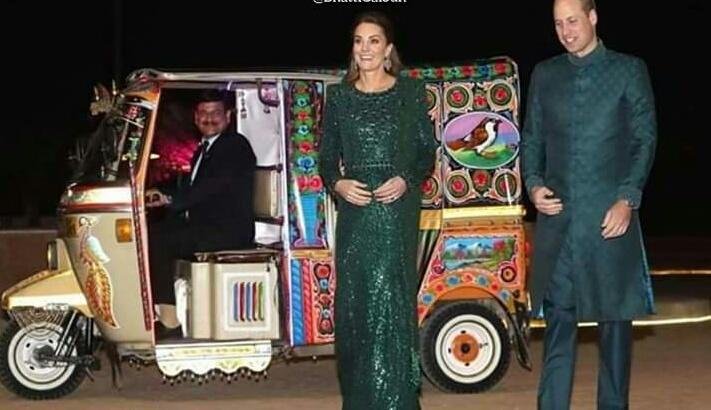 As the Royal Couple is visiting Pakistan, the hashtags #RoyalVisit and #RoyalTour have been the top trends on Twitter: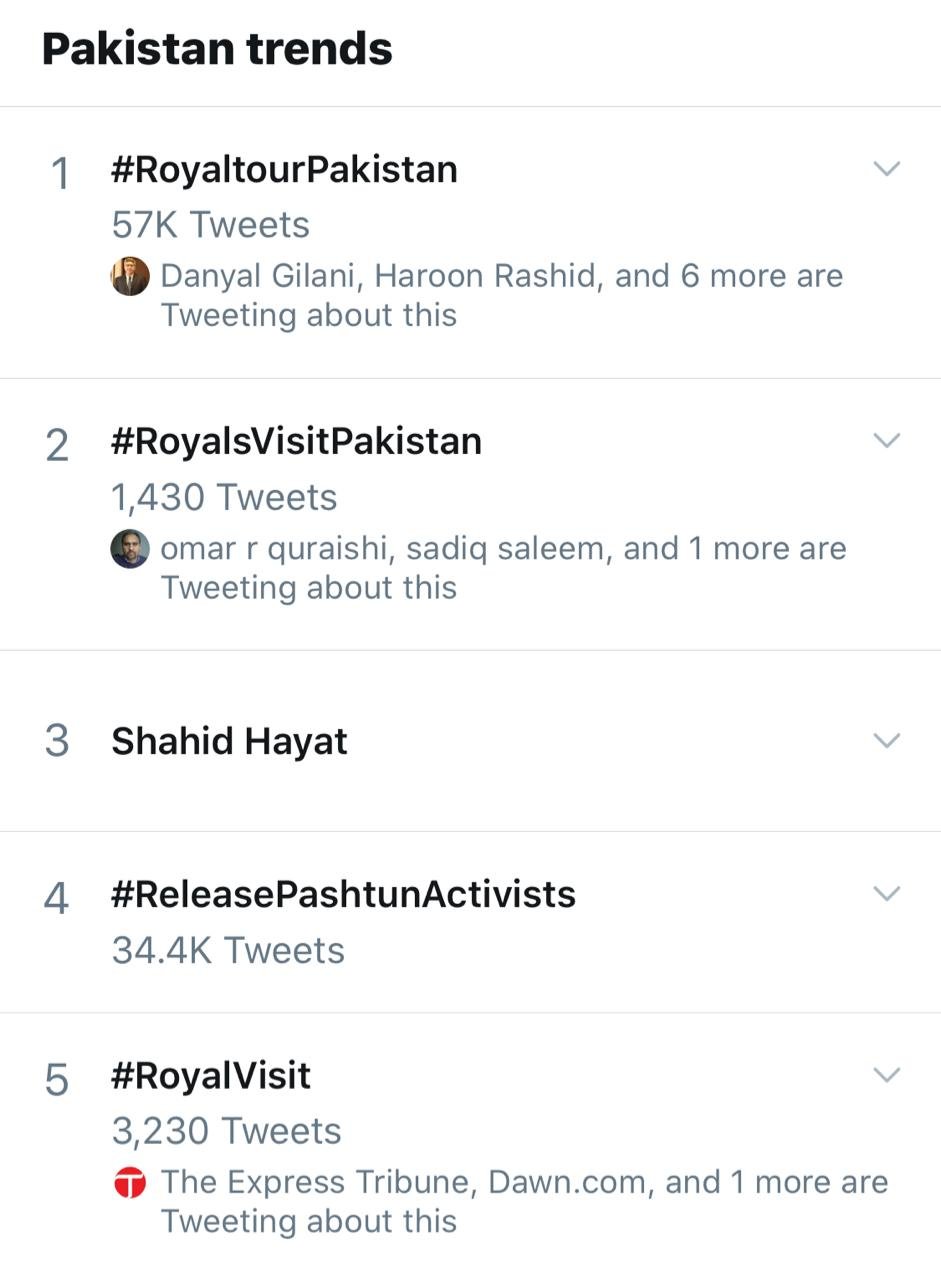 And the nation is delighted to have the royal couple on board, from loving Kate's graceful style to relating with the royals, the internet is having a ball!
BREAKING NEWS: The #royalcouple is surprised that the local Islamabadi accent is no different from their own

— Akbar Chaudry (@AkbarChaudry) October 15, 2019
Yeh cheez!
Mai ne dono ko kaha ke Pakistan jaa kar kisi morning show mai gaye tou mera mara hua moo dekhogay#RoyalVisitPakistan

— Queen Elizabeth (@MalkaEBartania) October 14, 2019
They absolutely do!
#RoyaltourPakistan Kate and William also make a superb couple. They match and compliment each other so perfectly. Very cute, easy on the eyes too.

— Trippie (@VanillaSeikh) October 15, 2019
We all did:
Anybody noticed that the Kate wearing our flag color 😘😘😍#RoyaltourPakistan pic.twitter.com/FZdpejS7MU

— Asif Ghafoor Fan_🇵🇰 (@SHABILA7878) October 15, 2019
Naseehatein:
"Achhi larrki hy yeh, iska dil na torrna kabhi" pic.twitter.com/39Ej1gJxC5

— Fareeha (@SabMayaHai_) October 15, 2019
Haven't related to a meme this much in a long time:
#RoyaltourPakistan #RoyalsVisitPakistan pic.twitter.com/wzpWD4t9cR

— Khadija Asim (@khadija_asim) October 15, 2019
Baji, yaad se 5 star rating dedijiyega:
Baji 5 star de dijiay ga yaad se. #royalcouple #RoyaltourPakistan pic.twitter.com/mKbYHNTgWW

— احمد علی ٹویٹس 🇵🇰 (@ahmedalitweets) October 15, 2019
Oye hoye!
I want someone to look at me the way rakshaw wala looks at Princess🤣🙊🙈#RoyaltourPakistan pic.twitter.com/QUjgXTVGIS

— M I S H 🔥 (@ugly_duckling08) October 15, 2019
We fall in love with Kate every day!
Kate Middleton wearing Pakistani flag colour dress is the best thing you will see on internet today.#RoyaltourPakistan pic.twitter.com/5qjfdRsQWG

— Tweetless (@tweetlessss) October 15, 2019
Iqra University ka graduate 😂
Sab Kate ke dress ki tareef kar rahe hain lekin koi peeche Iqra University ke graduate ko nahi dekh raha jo three piece suit pehen kar rickshaw chala raha hai. Respect! pic.twitter.com/6AmRqbo5M6

— SIR .. (@SirJohnRoe) October 15, 2019
This is what keeps me up at night:
I wonder if these royals still call us "the colonies" as an inside joke.

— Buffetkhor (@BilkulSahiKaha) October 15, 2019
Hazaar khwahishein aisi…
Kash royal couple hamaray waaldain hotay.

— Puffin Man (@junaidakram83) October 15, 2019
Can relate, all day, every day!
Condition after eating 2 plates of Biryani 😂 #RoyaltourPakistan #royalcouple #RoyalVisitPakistan #Cambridge pic.twitter.com/hx5MzclBIt

— Bakhtawar (@im_Bakhtawar) October 15, 2019
YES WE ARE!
HAHAHAHA BLOODY HELL WE JUST PUT THE ROYAL COUPLE IN A DAMN RICKSHAW!! YAR WE ARE AWESOME. ALSO, THEY LOOK FAB. https://t.co/uImdhYB2j3

— Rida (@RidaTHasan) October 15, 2019
I don't think our mothers will ever get over Diana:
Pakistani mothers and their obsession with Diana.

"Kate wi changi ai par Lady Dyna wali gall nai"

— Baji Please (@BajiPlease) October 15, 2019
The Queen has spoken!
Lads the Queen is angry 🙊#RoyalVisitPakistan #Pakistan @KensingtonRoyal @ImranKhanPTI pic.twitter.com/zPtJJuAvoJ

— MARY… THE IRISH INSAFIAN (@IRISHINSAFIAN) October 15, 2019
Star plus ki yaadein!
"Kya Kate naye ghar main apni jaga bana paye gi? Dekhna mat bhooliye is itwaar ki shab 8 baje." pic.twitter.com/0kkjq2xOyQ

— Hashim (@hashim_i) October 15, 2019
Iconic!
their royal highnesses, the prime minister of pakistan, the photo frame of muhammad ali jinnah, the national flag of pakistan & the union jack. the power this moment holds,,#RoyaltourPakistan pic.twitter.com/QqAK5uzyT0

— bilal's wife, ruks. (@chandikiguriya) October 15, 2019
Pakistan aye aur Usman se na milay? Aisa kaisay ho sakta hai:
Breaking News !!
Shahi Joray ny Kal during Lahore vist Usman se bhi milnay ki khwahish ka izhar kr dia uski friends k liye khidmat se mutasir ho k yeh faisla kia gya #RoyaltourPakistan

— KHAN PATHAN (@faheemkhan348) October 15, 2019
The important questions:
William: so if Bhutto is alive why do you guys celebrate his death anniversary?

YRG: Arghh…..
Asifa: *thinking*
Bakhtawar: What is dead may never die!#RoyaltourPakistan#KateMiddleton pic.twitter.com/NMlci2HOIV

— Rivaroxaban (@im_omair) October 15, 2019
And there were more questions, Samina Peerzada style:
Oh my, oh my 😂😂😂😂 #RoyaltourPakistan pic.twitter.com/yxjTn76lZ2

— Sara. (@BauhatSara) October 15, 2019
Bus yehi toh baat hai humare PM ki 💓
https://twitter.com/Mehrunissa16/status/1184065905141190656?s=19
Ummm:
"Nice to meet you, Prince bisc- apnaaa William" pic.twitter.com/yQu45wNWVw

— Hashim (@hashim_i) October 15, 2019
And well there were some who only cared about the real prince:
Who cares about Prince William. Apna Shehzada tou yeh hai pic.twitter.com/Aegikz39Ob

— Elon Khusk (@therealsnorky) October 15, 2019
Chai pani toh puchhnay doh pehle mehmaanon ko:
KOHINOOR KAHAAN HAI WILLIAM?

— No (@Bluemagicboxes) October 15, 2019
What are you loving the most about the Royal Visit? Let us know in the comments below!